If you've ever owned a small business or maintained a home office, you know how much paper work can be involved. Going completely paper-free is still the pipe dream of those of us who are perpetually looking towards a future capable of green sustainability. Printing is an expense that can easily fall under the radar. Paper and ink are not cheap. Based on volume alone, little ink cartridges are literally more expensive than gold. That's a big problem for someone who is on a budget (aren't we all?). Plus, if you're cranking out a lot of paperwork, your ink cartridges are going to be drained faster than your social security funds.
Maybe we're in the wrong business. Maybe we should just save a few bucks and invest in gold instead. People still like gold stuff, right? Wait a second. What were we thinking? Give up and forfeit this beautiful studio apartment? We don't think so. Shared bathroom or not, it's ours and we're not budging. Rather than selling everything we have for precious metals, it might be more practical to solve the problem at hand. Our printer.
Why are we still using the printer that was included for free with our PC? We knew it was cruddy from the moment we plugged it in, yet we continued to use it for the past who knows how long. We have come to expect little from our printers. If you're like us, printing technology wasn't one of your top priorities; not when we would have had to choose between a better printer and a better computer. Until we tested out the Canon G4210 printer, we didn't know what we had been missing, which means you probably don't know what you've been missing either.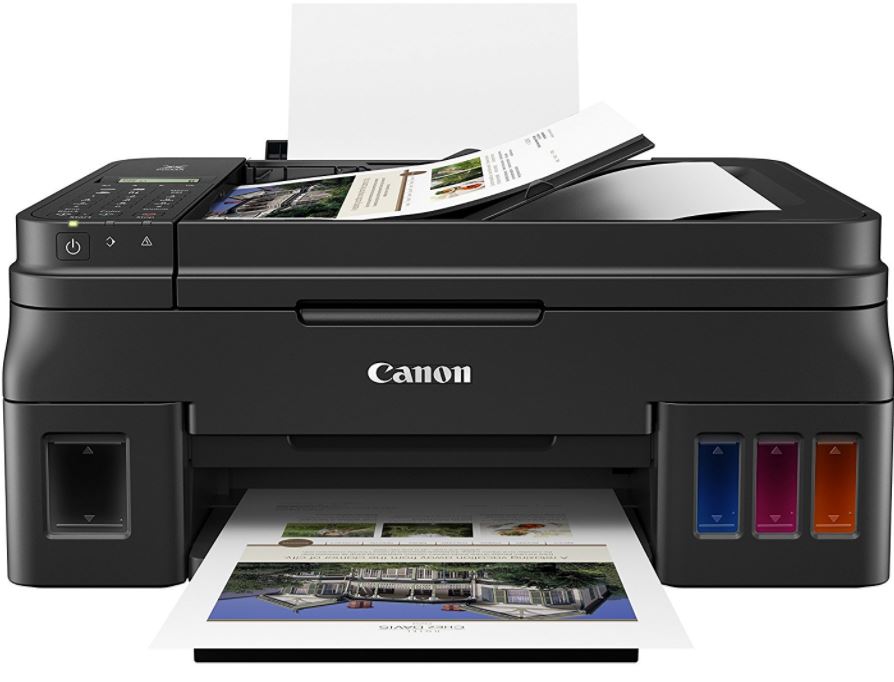 First Impressions
The Canon PIXMA G4210 Wireless Megatank Printer is a beast. There is just no other word that better describes it. It's big, and bulky, and completely worth it. The name "Megatank" couldn't be any more appropriate. This thing is mega in every way, with an emphasis on a mega ink tank. The extra-large ink reservoir is a godsend for anyone who is tired of changing their ink cartridge on a weekly or monthly basis. It's easily refillable with bottled ink and holds way more ink than the average printer.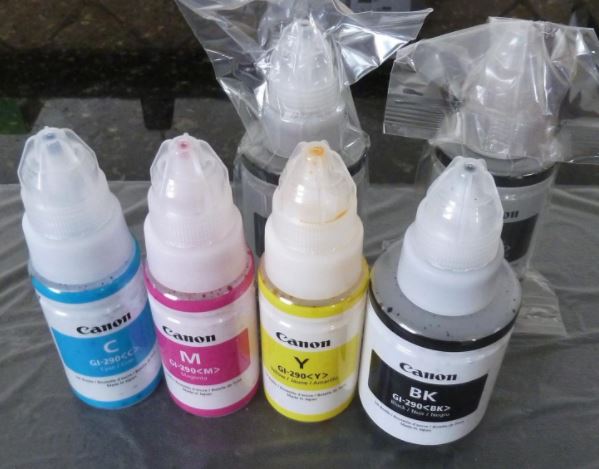 Ink Supply
The G4210 accomplishes the impossible. It pretty much eliminates any need for stacks of backup cartridges; that is, if you can afford stacks of extra cartridges. As we've already established, replacing your ink cartridge is a luxury all on its own. This PIXMA holds 30x more ink than your standard, run of the mill ink cartridge. The ink is refilled using separate ink bottles, rather than replacement cartridges. The front of the printer features translucent ink indicator windows which allow the user to see how much ink they have left. Standard ink cartridges just sort of poop out on you out of nowhere, leaving you to scramble for an expensive replacement cartridge. The integrated indicator windows allowed us to be better prepared for an inevitable refill.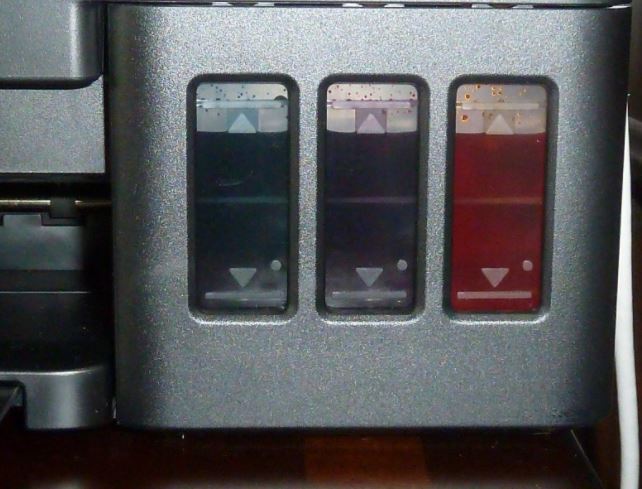 Ink Efficiency
According to Canon, a single set of fresh ink bottles will be enough to print out 6000 black prints or 7000 color prints. This number is completely astounding. A typical ink cartridge is capable of printing about 220 pages. Of course, this number is going to fluctuate based on the ink heaviness of your print outs, but this gives you a basic idea of how enormous the ink tanks are on this bad boy. This number makes perfect sense considering that the tanks are 30x the size of traditional ink cartridges.
The printer ships with a full set of ink bottles, as well as two extra bottles of black ink, so you don't need to make any additional purchases to get started. You need to be especially careful when you are filling up the ink tanks. It's important to make sure that you're pouring the right colors into the right tanks. If you pour colored ink into the wrong corresponding tank, you've pretty much ruined any chance of having completely color accurate prints. Cleaning a tank of all its ink without damaging the electronics would be next to impossible, even for a professional.
Luckily, you don't need to buy any sort of special printer ink for the Megatank. Canon slyly recommends that you stay with their ink, but this is certainly not mandatory. The integrated filling system also makes the refilling process a lot easier. Every time we need to change a standard printer it feels like we need to relearn how to do it. We could swear that it's different every time.
Print Quality
A lot of times you'll find that quantity doesn't necessary translate into quality. In the case of the G4210, the extra bulk doesn't seem to affect its print quality or speed. The newest PIXMA offers a print resolution of 4800 x 1200 dpi. The result is super sharp black text and ultra-vivid, sharp full color images. During our review process we printed out a large variety of different documents and images. We were not disappointed or displeased with any of the print outs. You can also print out borderless copies on up to 8.5 in. x 11 in. paper.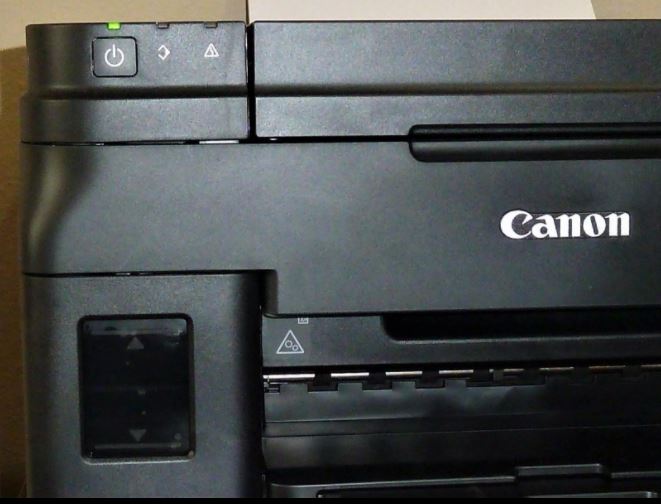 Print Speed
Another thing to keep in mind is the print speed. Waiting for a page of text to print out can be excruciating if you have a slow printer. If you're printing out a colorful image, the wait is even more excruciatingly slow. The G4210 is a premium printer in more ways than just its ink tank size. The PIXMA Megatank prints at speed of up to 8.8 ipm for black documents and 5 ipm for color prints. For our purposes, this is perfect. We're only typically printing out 1 to 3 pages at a time. Waiting 5 to 20 seconds is a heck of a lot better than the one minute plus that it takes with a typical standard printer.
The one glaring missing feature was the printer's inability to print double-sided prints. While, personally, this isn't a deal breaker for us, it might be something you want to keep in mind before making the jump. The only time we use double-sided prints is when we're printing out a document that would otherwise use up a ton of paper. Luckily, we almost never have a document of that size that needs printing. It might not be a huge deal for most of you, but it's definitely something to consider.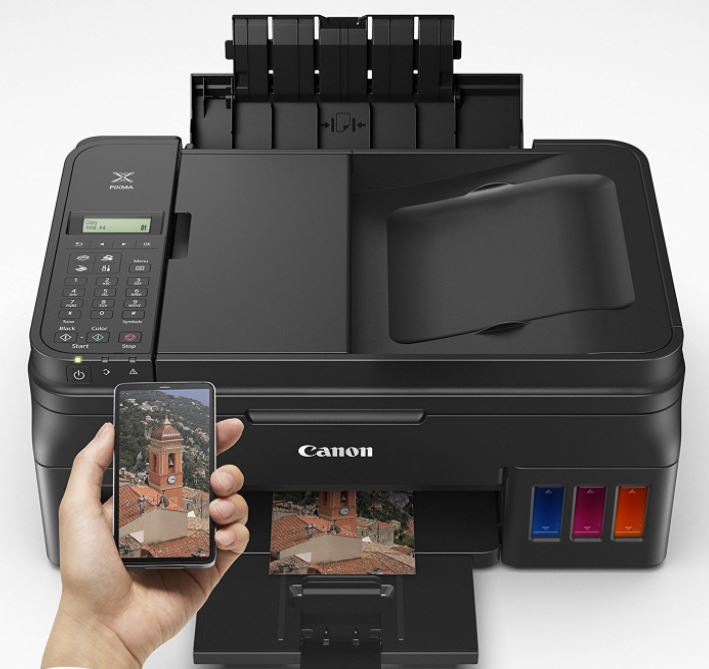 Wireless
The G4210 has complete wireless capabilities, supporting Wi-Fi connectivity in addition to its USB 2.0 option. On top of its Wi-Fi compatibility, Canon's new powerhouse supports multiple mobile printing protocols, including Apple AirPrint, Google Cloud Print, Mopria and, of course, their very own PRINT application. The printer's wireless connectivity was seamless and simple to set-up. During our testing we didn't notice any glaring issues such as loss of connectivity or slow syncing. The printer printed what we wanted it to print, when we wanted it to print.
The printer also contains a phone line for anyone interested in using the G4210 as a fax machine, as well. The only criticism we have concerning the wireless functionality is that the printer only supports the 2.4 GHz frequency band. We tend to stick to the 5 GHz network band whenever possible, since it offers faster speeds at closer ranges. If you are fine sticking with 2.4 GHz then you need not worry.
Scanning
In addition to printing, the G4210 also features scanning and copying functionality. This particularly comes in handy for scanning receipts for your bookkeeping software or for archiving any photographs you might want to protect on the cloud. The scanner bed measures 22 mm x 30 m (8.66 in x 11.81 in), which is about an inch longer than a standard piece of paper and a hair wider. If your looking to scan documents that are longer much longer than a standard piece of paper, then this might not be the most convenient option for you, but for everyone else, the size is perfect. The printer is already a hulking product as it is. The compact scanning bed ensures that it doesn't take up even more space unnecessarily.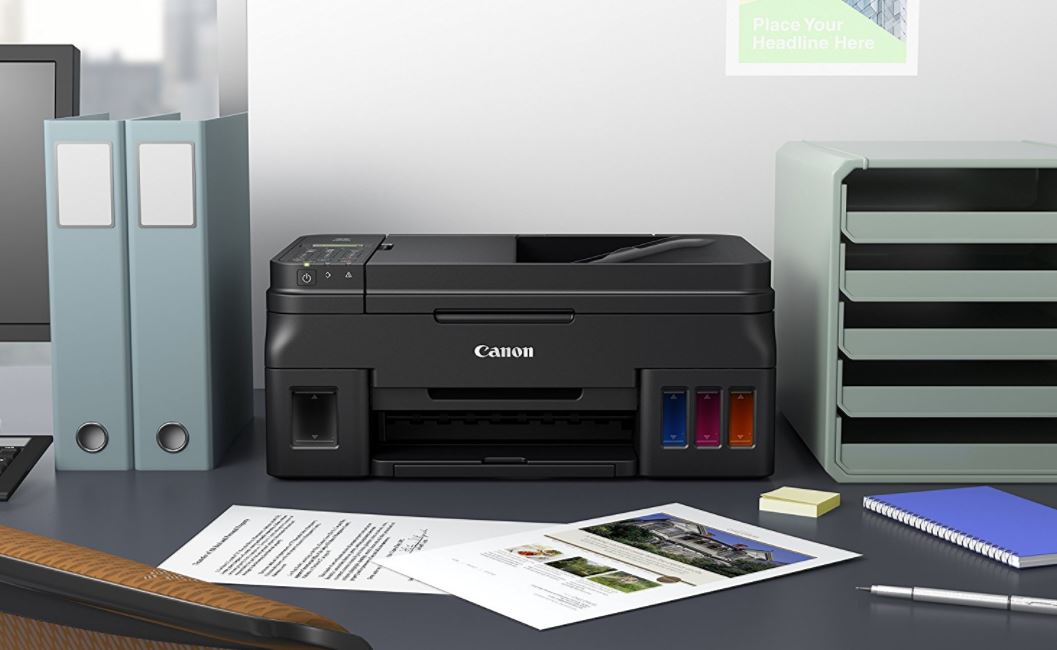 Copying
The copying feature worked exactly as it should. Our copied documents looked color accurate and clear. The UI for the scan and copy feature are a bit of an eyesore, and not as clear or simple as they could otherwise be. It's a bit of a mystery as to why Canon hasn't don't anything to improve their interface, considering all of the advances in affordable and pretty touch screen technology and touch screen software development.
The important thing is that Canon has chosen to focus on the things that matter with a printer; notably its printing, scanning and copying technology. We can handle a poor user interface if it means having stellar prints. We also absolutely loved the PIXMA's auto document feeder. A lot of auto-feeding trays we have tried in the past would get jammed too easily and would otherwise be pretty useless. The feeder on the G4210 worked like a charm. It really saves a lot of time if you are scanning or copying more than one document at a time.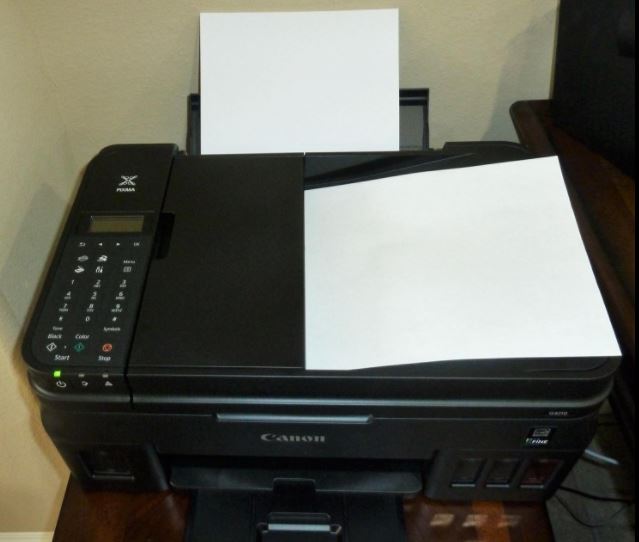 Final Thoughts
If you're tired of spending so much time and money on replacement ink cartridges, the Canon G4120 Megatank Wireless Printer might be exactly what you're looking for. If you're looking to upgrade from a cheaper printer, the newest member of the PIXMA line is a great first upgrade. It's not quite a high-volume business class printer, but it's a great option for anyone running a small business from home, or just anyone looking for a printer that doesn't take way too much time out of your day.
It's true; we are moving closer to a paperless future. In a perfect world, there would be zero waste and zero ecological footprint. Unfortunately, we're not quite there yet. We can all do the best we can, but we also must be realists. Paper is here to stay, and for the time being we're all still going to be in need of a quality printer. The Canon G4210 is a solid pick in a world chock-full of cruddy printing options. Its mid-level features offer a versatility that is attractive for most people's needs. Honestly, it's worth the purchase, if only for the money-saving gigantic ink tanks.