Staying on top of your fitness regimen takes discipline. It's a daily consideration for anyone who wants to stay in shape. Sometimes going to the gym, running or riding your bike isn't the most exciting activity. It takes time, energy and some days you may just not be into it. However, there are a lot of ways to stay entertained during your workout that make the whole process easier and more enjoyable.
Most of us have a smartphone in our pocket that can connect us to almost any form of media we choose. From watching movies on a treadmill, to listening to our favorite songs while we get ready for an intense strength training workout, our smartphones can do it all. That's why it pays to have the right accessories to make the overall experience even better.
Headphones are an integral part of any workout during which you want to listen to music or watch a video on your device, but they aren't all created equal. You likely won't have a great experience if you show up to the gym with a big, bulky pair of studio headphones with a long, annoying wire. Luckily, there are a variety of headphones designed specifically with the fitness enthusiast in mind. They tend to be wireless, lightweight and comfortable to ensure that you can not only get the most out of your workout, but also stay connected the entire time. Sound quality can sometimes be an issue with a pair of headphones that puts durability first, but it really depends on the model you choose.
In this review we'll be checking out the Hopday Bluetooth In-Ear Headphones. We'll be doing a thorough breakdown to see if they're the type of headphones that would work well for the average fitness enthusiast looking for a good mix of quality and convenience. We'll be checking out the design, the features, the sound quality as well as any drawbacks for an honest look at exactly what they can do.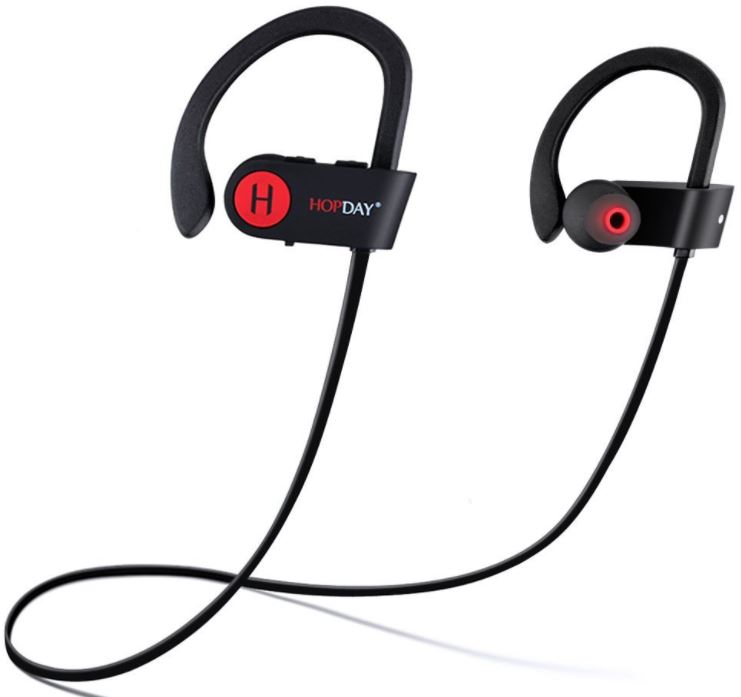 Design
The Hopday Wireless Headphones have a sporty design that's lightweight and comfortable. However, this isn't a true pair of wireless headphones, because each earpiece is connected by a wire. The wire goes around the back of the neck and won't cause a major distraction while you have them on, but it can still be felt during periods of heavy activity. The headphones only come in black and weight just 0.75 ounces. It seems a little nit-picky, but we felt that the weight was a little unevenly distributed. The earpieces were where most of the weight was, and the wire was extremely light. It made the wire feel a little cheap, like it could break if it got snagged on something.
Each earpiece has a secure fit due to the attached earhook that extends over the main earbud portion. To our surprise, the earhook is actually really well-designed. It goes around the entire ear, and keeps the earbuds firmly in place, especially while running or jumping. The earpieces themselves are black with a red letter "H" on the outside as well as the Hopday logo printed on the outside.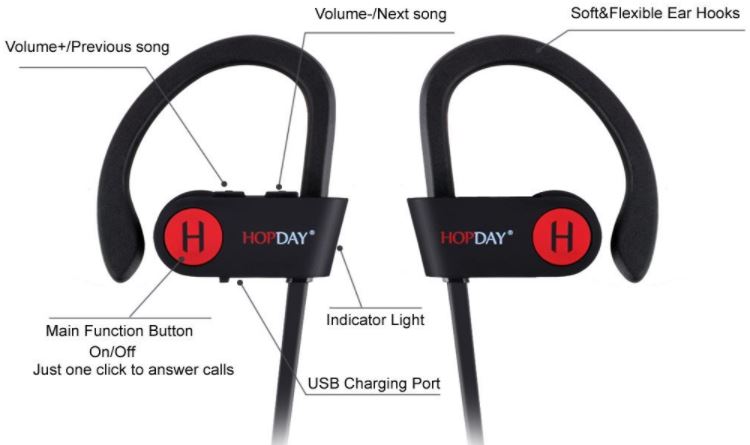 You'll find all of the main controls on the outside of the right earpiece. There's a combined volume and skip backward button, a combined volume and skip forward button, a main function button that turns the headphones on/off and allows you to answer calls. In addition, there's an indicator light as well as a USB charging port. Considering that there were two earpieces, we didn't see why the main function button couldn't have been located on the other end.
Having everything on one earpiece felt a little cramped and the buttons were on the small side. In the beginning, it was a little difficult to access them. It got better once we became accustomed to the earpiece, but we still would have liked for everything to be a little bit more spread out. Overall, they seem to be perfect for the gym and won't get in the way even during a strenuous workout.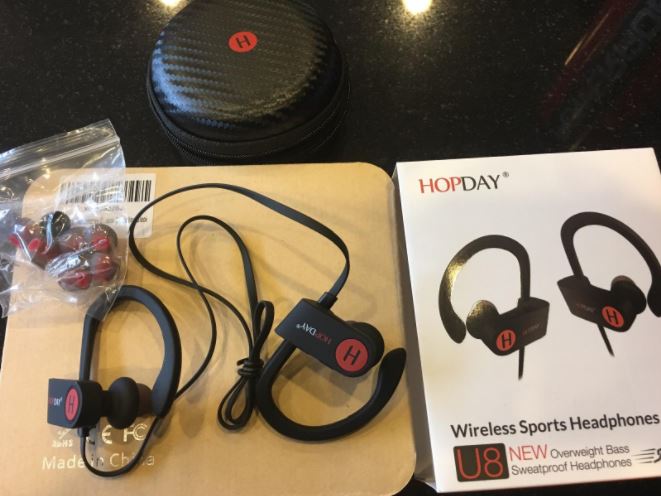 Noise Cancellation
The Hopday Bluetooth Headphones have built-in noise-cancellation that helps with audio quality in noisy environments. It utilizes Qualcomm CVC6.0 noise cancellation for a clearer transmission, especially when it comes to voices and background noise. CVC noise cancelling is a series of algorithms that automatically adjust the transmission and receiving path of voice calls to deliver a strong overall quality.
It can also automatically adjust gain, howling as well as equalize noise so that the overall listening experience is as private and immersive as possible. You won't be able to turn it on or off like some other larger headphones with noise-cancelling built-in, but it does work extremely well when it comes to blocking out background noise.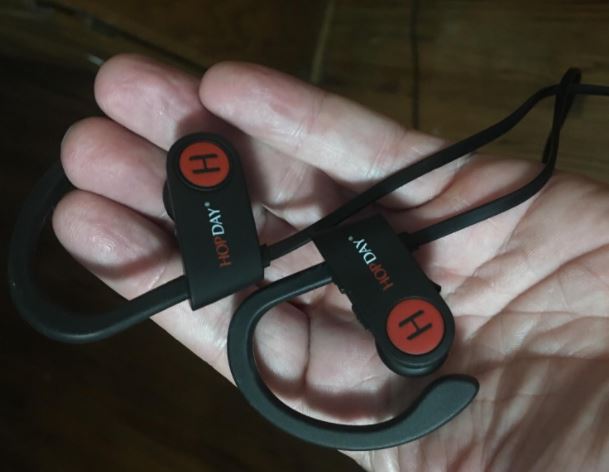 Bluetooth V4.1 and Built-In Microphone
They're fully compatible with Bluetooth 4.1 and have EDR audio decoding technology that enables faster pairing with smartphones and tablets. We didn't find it to be significantly faster than other Bluetooth devices, but the connection signal was strong and held up to a range of around 30 feet. As far as connection speed, it was still average, and took less than 10 seconds to connect. You'll also be able to connect them to up to two devices at a time. We really liked this feature because it meant that you could watch a movie or listen to music on your tablet while on the treadmill, and also take a phone call from your smartphone if need be.
The headphones have a built-in microphone for hands-free calling. Due to the noise-cancelling feature we were really impressed at how clear the hands-free calling was. There was hardly any static when we made calls, and the person on the other end could hear us clearly during conversation. You'll experience some minor background noise which is to be expected, but the overall audio quality on calls is exceptional.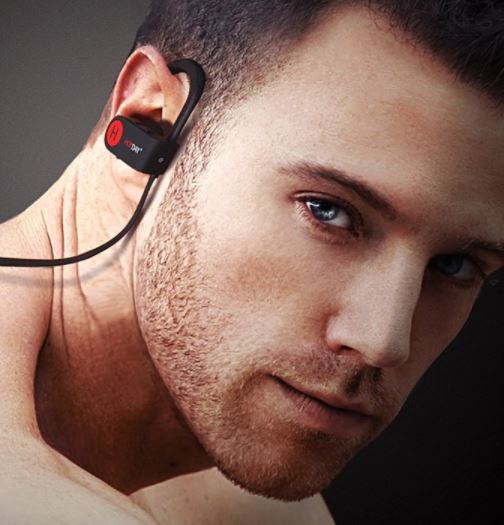 Charging and Battery
The Hopday Bluetooth Headphones have a built-in, lithium polymer battery and take about 2 hours to fully charge. We were really impressed by the fast charge time, but were a little bit let down by how quickly it could run out. From a single charge you'll only get about 9 hours of talk or play time. It'll be enough to get you through the day, but if you're the kind of person that thinks they'll wear these both to the gym and to the office, it may not be enough.
However, if you end up not using them, the battery will yield 250 hours of standby time, which is quite impressive. We still would have liked a longer battery life, and didn't see why the lithium polymer battery couldn't have had a larger milliamp capacity. They charge via an included USB cable, making it easy to add power to them whenever you need or wherever you'll be.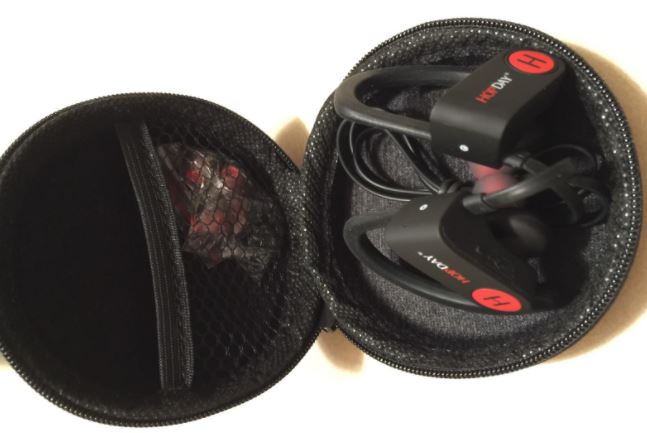 Sweat and Moisture-proof
The Hopday Bluetooth Headphones are both sweat and moisture-proof with a rating of IP68. We sort of expected this, considering that they're made for the fitness enthusiast and will likely get covered in sweat from time to time. Still, the moisture rating of IP68 was extremely impressive. This moisture rating indicates two things: first, the headphones are completely protected against dust, and second they can be fully submerged in water up to 1 meter.
While you likely won't be swimming with these headphones, it was nice to know that they could handle being dropped in water if such an accident ever occurred. Also, you won't have to worry about these getting damaged on long runs where rain could be a possibility, or during hard workouts where you'll expect to sweat a lot.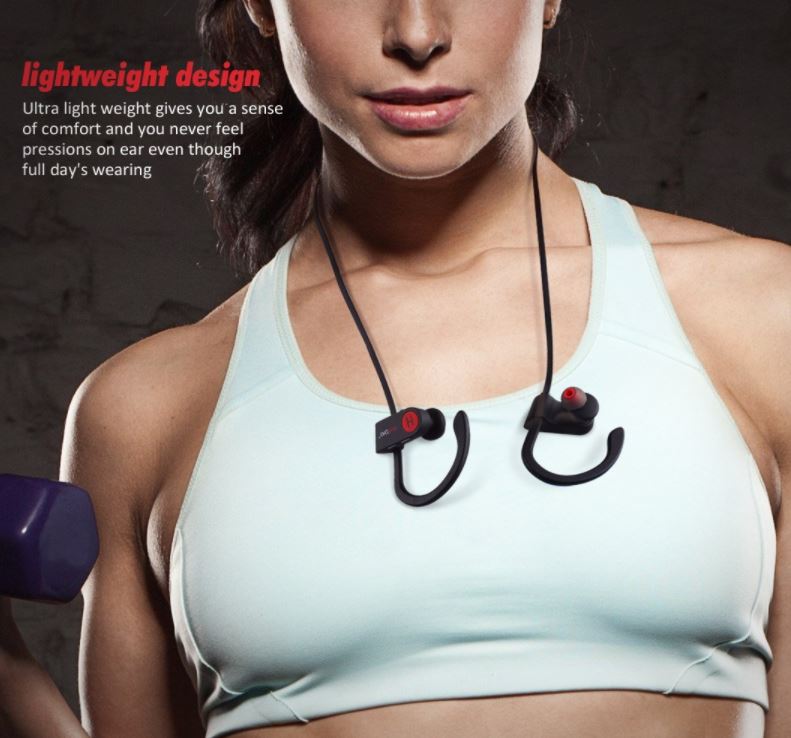 Sound Quality
The sound quality of the Hopday Bluetooth Headphones was good, but like most earbuds had some limitations. It won't give you the kind of big, studio-quality sound you might expect from a pair of over-ear headphones, but they do have some noticeable bass as well as some punchy highs and mids. The built-in noise-cancelling does seem to make the overall sound quality better than a regular pair of earbuds. We also noticed that the quality was better when it came to music as opposed to phone calls.
When it comes to a pair of headphones that's designed for convenience and portability, there are bound to be limitations in the sound quality. The Hopday Bluetooth Headphones are not disappointing when it comes to sound, but are, rather, appropriate for a listening option that is meant to get taken to the gym or on a hike. That being said, if you're looking for something that places sound quality above convenience, these may not be the right choice.
Drawbacks
Our biggest issue with the Hopday Bluetooth Headphones was the charging process and battery. While the charge time was good, we expected more from the battery. Of course, it'll really all depend on how much you use the headphones, but we still would have preferred a larger capacity. For a trip to the gym, 9 hours is more than sufficient, but it would have been nice to know that these could have been used for both a workout and a morning commute. We could easily see the battery draining after a long day with just a 9 hour life.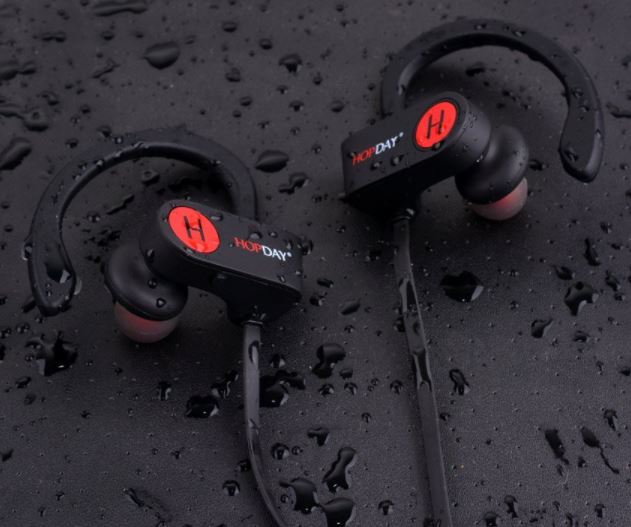 Final Thoughts
Overall, the Hopday Bluetooth Headphones are an undoubtedly high-quality pair of headphones that we found to be a great, budget-friendly choice for the fitness enthusiast. The noise-cancelling feature blocks out the kind of background noise that you might find in gyms or outside while running. Additionally, the sweat and moisture-proof design enables these to hold up against the elements without getting damaged.
For someone with an active lifestyle this is a pretty unbeatable combination. The sound quality, while not outstanding, was about what you would expect from a pair of earbuds priced this low. It's nothing to sneeze at, but is limited by the size and design of the headphones. There were a few things we didn't love when it came to charging and the lower battery life, but it was nothing that severely impacted our overall opinion.