Few things can improve a photographer's shot as quickly as a new flash. The majority of DSLR cameras come with a flash built-in. But frankly, that flash tends to be fairly weak. Even when the built-in flash is not totally underwhelming, its certain to provide little in the way of meaningful control.
Whether you're a talented photographer with years of experience, or you're a novice that's just trying to learn, the lack of meaningful control can be a serious issue. Because the hallmark of most excellent camera equipment is adaptability, which is exactly why people add a new flash to their kit.
Choosing a great flash isn't quite as simple as finding adaptability alone. You also want equipment that's sturdy, reliable, and easy to use. It should make your life easier, not harder. Whether it's expanding your creative abilities, or it's involved in a more mundane workload, what matters is functionality.
Canon Speedlite EL-100
Over the past year, Canon has been releasing a slew of interesting equipment. Among the most interesting of their new array of releases, one of the most noteworthy developments is without a doubt the Speedlite EL-100.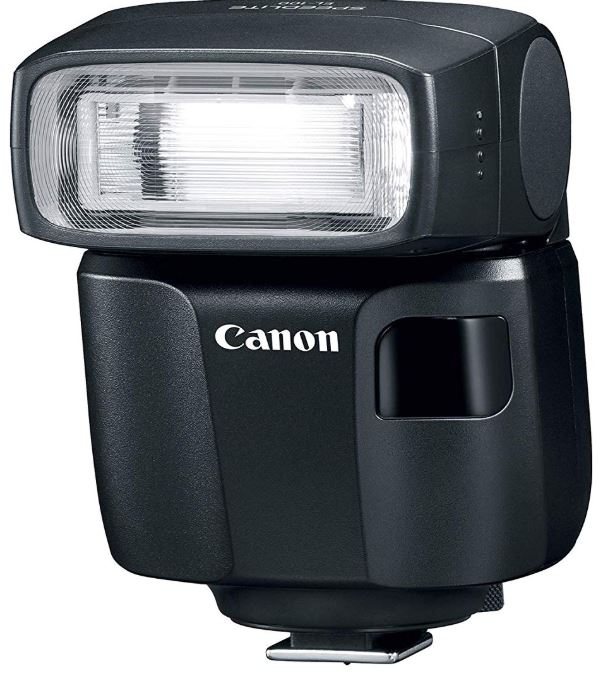 From a glance, the EL-100 looks like any other flash module. But from the perspective and standpoint of features, this module actually has quite an impressive set of capabilities. Both relative to its price, and relative to a more standard camera flash module, the EL-100 holds to professional scrutiny.
And that's because the EL-100 is nothing if not ready to adapt to new circumstances. It's that versatility will make the EL-100 an attractive choice for a variety of serious professional and amateur photographers, as well as a potentially permanent addition to a variety of standardized camera kits.
Build & Design
Measuring 2.5 x 3.6 x 2.8-inches, the Speedlite EL-100 is drastically more compact than many comparably powerful flash accessories. It weighs only 6.7 ounces without batteries, and roughly a single ounce heavier once you've loaded it up.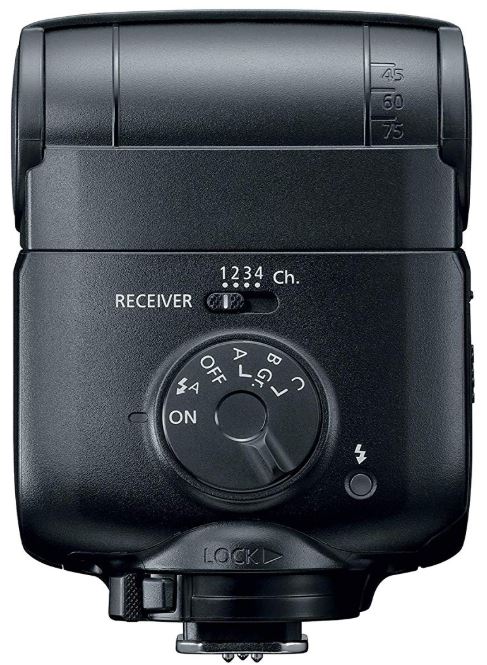 Aesthetically, the EL-100 looks like a fairly standardized Canon camera accessory. It's built with hard-shelled ABS plastic and a black matte exterior. It's construction largely revolves around a manual zoom head placed at the top of the flash.
Because a truly versatile flash really hinges on adjustability, Canon built the Speedlite EL-100 to be adjustable with both horizontally and vertical alignment. That makes it easy to help bounce light off the ceiling, walls, or otherwise control the directionality of the light you're using to make your shot. Further control can be found on the backside of the flash head, where listed numerical angles can assist in finely tuning the tilt of your next flash.
Just beneath that flash-head, you'll notice a four-switch slider, intended to give you control over the available receiver channels. And just beneath that, a circular control pad, which can be turned in the usual camera-fashion to a variety of different settings. Finally reaching the base, the EL-100 supports a metal locking foot, serving as a standard camera mounting mechanism. It's intended to be turned counterclockwise for locking into position, and is labeled to that effect.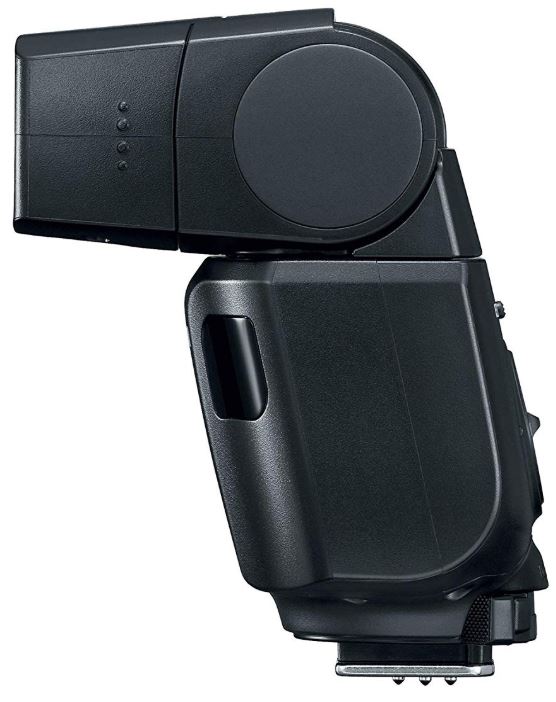 Adjustable Flash Capabilities
If you're looking for something that's as simple as plug and play, the Canon Speedlite EL-100 is ready to accommodate those needs. The AUTO setting allows your camera to determine if flash is necessary, while still giving you some degree of control over its intensity and direction.
That AUTO mode also has a dual setting, which lets you switch between the different flash groups. And you can select between those groups with the use of a slider on the topside of the EL-100, moving smoothly between 4 different channels. Each channel is clearly labeled along the backside of the device.
As any experienced flash photographer can attest, horizontal and vertical alignment of the flash head critical to any serious degree of control. The EL-100 provides a 0 to 90° of horizontal tilt, as well as 180° of vertical rotation. That helps you pivot and swivel the flash head, and allows you to bounce light off a wall or ceiling with precision.
Moreover, the base of the module provides a 330° swivel, ensuring few limitations. At F/1.4, the Canon Speedlite EL-100 can then provide broad operational distance, with adaptable output ranges from 1/1 to 1/128. Depending on the intensity of light necessary for the conditions in which you're shooting, you can generally get the EL-100 to service shots as far out as 85-feet!
With a rapid recycling time of 5.8 seconds, the EL-100 can help you stay ready to move from shot to shot without much of a wait. In other words, your control is quite adaptable, and it helps you make small degrees of adjustment relative to the distance of your subject.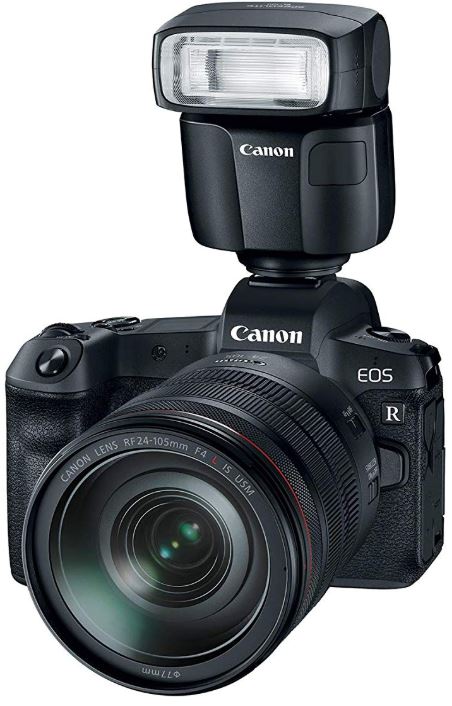 Flash Modes
Navigating through the Speedlite EL-100 settings control dial, all of its most obvious functions have been well labeled with intuitive symbols. The auto flash, power on, and power-off buttons are almost impossible to mistake. However, the other modes may be somewhat less identifiable.
Unless you're already familiar with Canon products, or you're an experienced photographer with many hours logged using different flash modules, then there will be a small learning curve to remember the meaning of each setting. Once you've got the hang of things, operation becomes quite simple because you can switch between auto modes and customized modes with the flip of a switch.
As mentioned earlier, the most basic way to make use of the EL-100 is through a set-and-forget mode, which automatically takes care of flash for you. Toggling over to using the optical wireless flash function, the Speedlite EL-100 is equipped for sending and receiving data signals from your camera or another network of devices. Switching to the stroboscopic flash mode sends off a series of rapid shots of light, suitable for creative effects with a long exposure and continuous shooting.
The EL-100 and its rear curtain flash mode can be truly stunning when done correctly. Given an environment with enough ambient light to not require a heavy flash, rear-curtain flash can be an amazing stylistic tool. It's a fairly common setting among advanced DSLR cameras these days. The flash fires towards the end of the exposure, moments before the shutter will close. This helps the subject remain sharp, while creating a motion blur in their wake.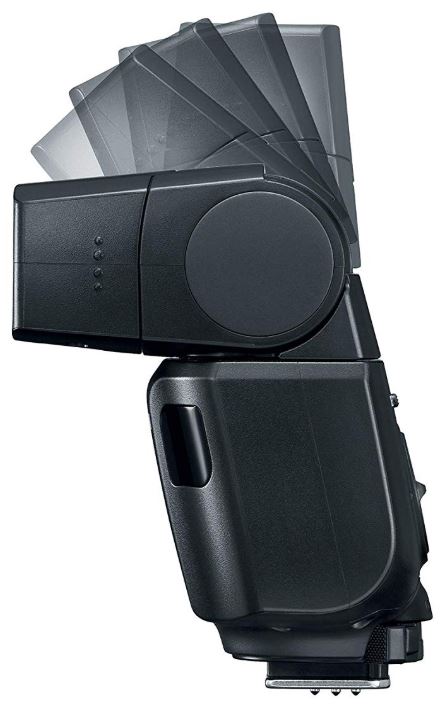 Adaptable Flash Support
If you couldn't already tell, the Speedlite EL-100 is built to be a team player. It can work as a receiver as well as an optical transmitter, supporting 4 channels and 3 groups. That gives you quite a bit of control over a lot of smaller-scale shooting conditions.
But there are a few limits which separate the Canon Speedlite EL-100 from even more powerful flash modules. For example, there aren't any slave timing modes. That alone may make the EL-100 inadequate for particularly elaborate, large-scale shoots. Consequently, you probably won't see the EL-100 being used on the set of a Hollywood blockbuster film.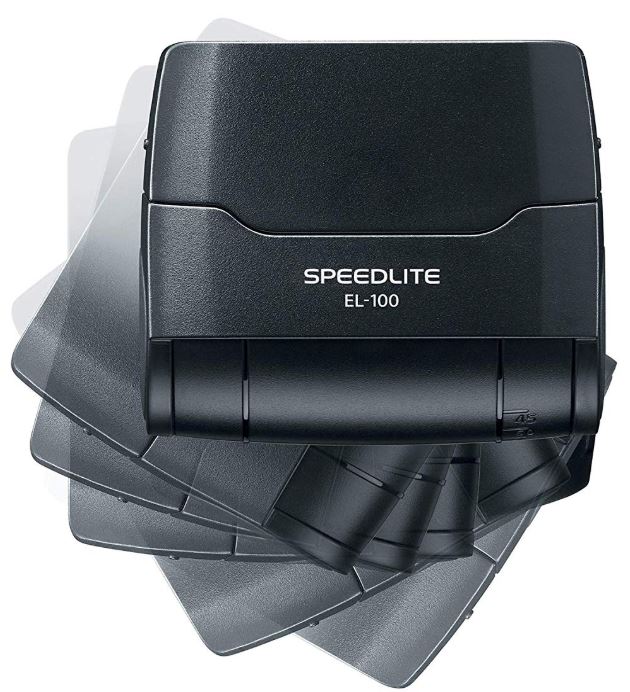 Connectivity and Recycle Time
Wireless operation for the Canon Speedlite EL-100 works through infrared, which gives you a maximum connection distance of about 33 feet. That distance drops drastically as you place objects between the EL-100 and its intended connection. Infrared needs line of sight for signal strength, and sturdy objects like walls can block the signal entirely.
The Speedlite EL-100 nominally provides 24mm wide angle coverage. But it can also be adjusted to accommodate 50mm focal points, making the module widely adaptable to a variety of different lenses. And the Canon Speedlite EL-100 uses a flash-ready indicator, which can be important for people taking consecutive shots because it means you don't have to guess when six seconds have elapsed.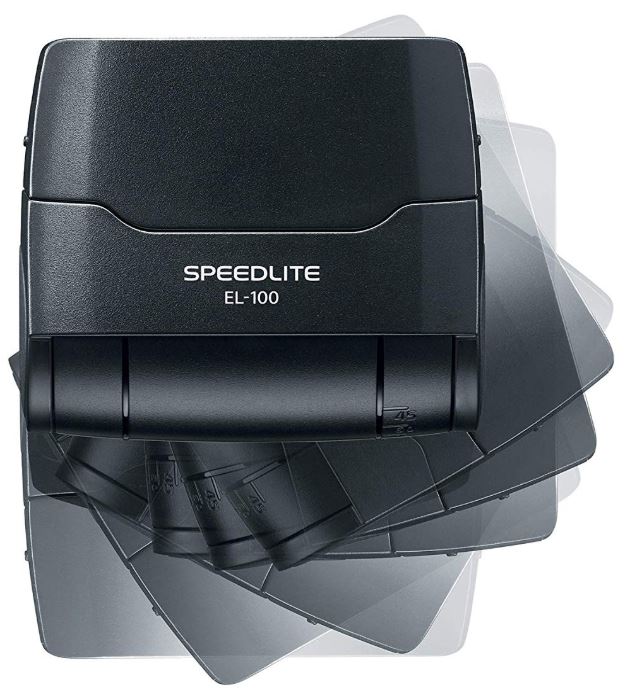 Other Considerations
Every photographer has slightly different needs. And that means the Speedlite EL-100 isn't for everyone. Photographers who are endeavoring into large scale shoots might find its power slightly inadequate. But everyone else will find something quite different.
Having all the right tools can help you do better work. Whether you're trying to snap close-ups or you're trying to strike a mirror at an angle from 30 yards, the Speedlite EL-100 can help you explore new creative avenues. It's a fairly smart addition for almost any DSLR camera, and would be warmly welcomed inside most photographer's flash kits.
The Speedlite EL-100 operates with two AA batteries, which actually last surprisingly long given the intensity of the bulb. You can let off dozens of flashes, one after the next, without the bulb giving any outward indication of lost intensity. Sooner or later you'll need to replace those batteries, but for better or worse, carrying spare batteries has never been a foreign concept to any experienced photographer.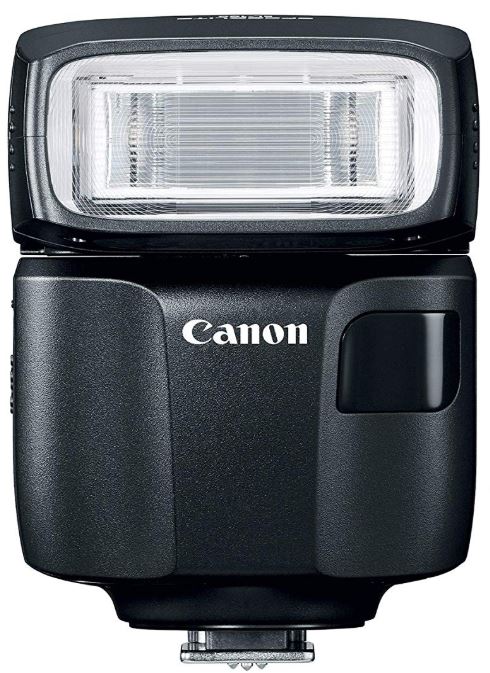 Who Should Choose the Canon Speedlite EL-100?
The Speedlite EL-100 can do many different things. It can prevent under-exposed images. It can multiply the performance capabilities of already powerful cameras, or greatly enhance the abilities of an entry-level camera. Adding to performance, the EL-100 makes it a little bit easier to capture gorgeous photos.
Whether you're mounting the Speedlite EL-100 on your favorite camera or you're using it in conjunction with several other flashes. The EL-100 is can bring highly specific amounts of flash to targeted areas, opening opportunities for your shoot. It delivers continuous shooting with little downtime, and a range of adaptability that may only fall short of industrial use.
The EL-100 can clearly be a strong choice for someone who's already working with a variety of Cannon equipment. But any creative photographer can enjoy the Speedlite EL-100 as the highly competent tool it is. In the right hands, it can brighten shots with precision, help you evade overexposure, and enable you to be ready to take-on challenging lighting circumstances. And with how simple it is to use, it's not hard to find the right hands to use the EL-100.