How many earbuds claim to be wireless, but are still wired together? With so many partially-wireless earbuds out there, marketers have been forced to switch to using the phrase "true wireless" instead. And if you're looking to escape all wires, true wireless earbuds might be able to help you out.
But going true-wireless does make things slightly more complicated. You've still got to pair those two earbuds together. You've got to manage separate batteries for each bud. And the ways these types of challenges are overcome is what really distinguishes mediocre earbuds from excellent earbuds.
Bluephonic Libre True Wireless Earbuds
Most true wireless earbuds have been constructed with athletes in mind. It's easiest to see with bright yellow and orange coloring. It's easier to see inside the battery life, meant to last for about as long as you're at the gym. But not everyone using true wireless earbuds is trying to run a triathlon.
The Bluephonic Libre True Wireless Earbuds are basically the opposite. They could be used for people who are taking on athletics, but athleticism is more of an afterthought to the Libre. It's more about delivering on call clarity, sound quality, and a 3D listening experience. Professional day-to-day use, enjoying music, and taking calls is what the Libre True Wireless Earbuds are all about.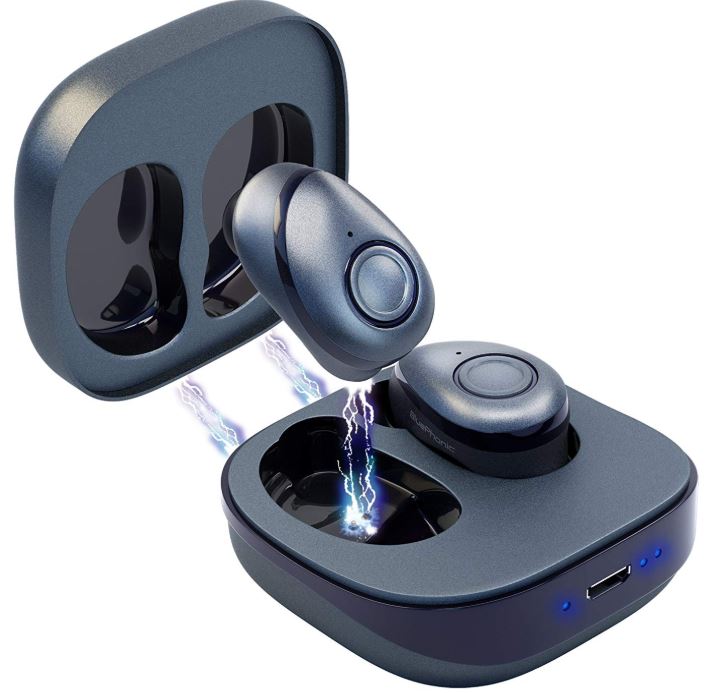 Build & Design
With a blue-gray exterior, the Bluephonic Livre True Wireless Earbuds are made to look professional, almost to the point of seeming bland. But the external chassis is made of ABS plastic, which helps give these earbuds a glossy sheen and a premium feeling sound. Both the buds and the charging case use the same color scheme.
On the outward facing portion of each earbud, a large circular multi-function button gives you easy access over all your media controls. You can turn the buds on or off, start playing or pausing songs, and manage all your call controls. Because this is the only button, and it's quite large, operation is rather easy, even while the Libre True Wireless Earbuds are in your ears.
Libre are protected with a IPX4 waterproof rating, which helps shield them from sweat and rain. The IPX4 rating is actually one of the lower waterproof protections, so you don't necessarily want to wear the Bluephonic Libre into the shower. But short of that, the waterproofing should hold up adequately.
One more thing to note about the design of the buds is their sound-blocking capacity. Each bud is firmly pressed against the ear canal, with the body of the Libre resting within the bowl of the ear. The resulting noise isolation equates to roughly 8dB, comparable to a pair of musician's earplugs.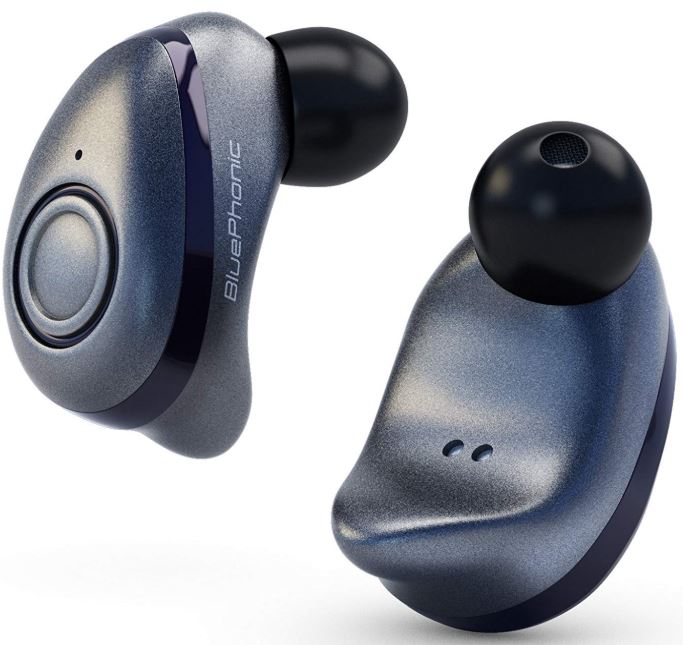 Charging Case
The Bluephonic Libre charging case measures 5 x 3 x 1.5-inches, and weighs only five ounces. The lid of the charging case pops off entirely, without the need to press a button. And the case snaps shut somewhat firmly. Being able to separate the two halves of the charging case makes it far more durable than cases held together by a small hatch. But the absence of a button to unlock the hatch means squeezing it open can be slightly difficult with wet hands.
The way the buds fit into inside their case is made quite clear, based on the outline of their shape. The shaped casing ensures it takes no effort to correctly orient your buds inside for charging. Once plugged in, you won't need to micromanage anything, you can simply wait for the battery to finish charging.
Battery Life
The Libre True Wireless Earbuds are almost twice as powerful as a basic pair of similarly designed athletic earbuds. Each earbud bud has an individual charge that's estimated to last about 4 hours. As with any pair of true wireless earbuds, the actual battery life you get will depend on a variety of factors. Those factors include the temperature of the room, how often you use the microphones, and so forth.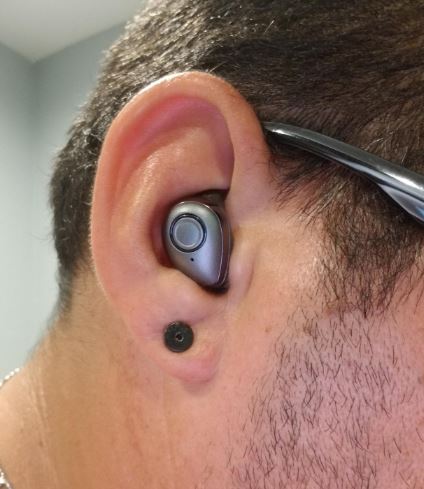 Under strenuous use and high volume, you might see actual battery life slip towards 2.5 hours per bud. Apart from the charge in each earbud, you can charge from the case about 5 times. It translates out to about 18-hours of total charge, or about a dozen movies. Provided you don't mind occasionally dropping your earbuds into their case to recharge, the Libre can keep you going through the better part of a full day.
Sound Quality
True wireless earbuds like the Bluephonic Libre are fighting an uphill battle. They've got tiny batteries, and tiny dynamic drivers. Those are not ingredients for great sound quality, which is what gives almost all wireless earbuds a similar characteristic within their sound. It's a signature sound that's only partially masked by the differences in sound effects used from one manufacturer or another. For example, brands like Sony tend to lean heavily on boosted bass for their wireless earbuds.
The Bluephonic True Wireless Earbuds are more of a natural, balanced sound. The bass is about average for this type of headphone, in other words, it's nothing to write home about. However, it's also not much trouble to make some adjustments in an equalizer and help give the bass a little more bump, if that happens to be your taste.
But the Bluephonic Libre really shines when it comes to the mid-tones. Designed with a slight emphasis on call clarity, the Bluephonic Libre really shines when it comes to the mid-tones. The Libre sounds more than adequate with respect to music, but it's real strengths are in replicating the human voice. Listening to podcasts, watching movies with lots of dialogue, taking calls over Bluetooth, these are all well-inside the Libre True Wireless Earbud's wheelhouse.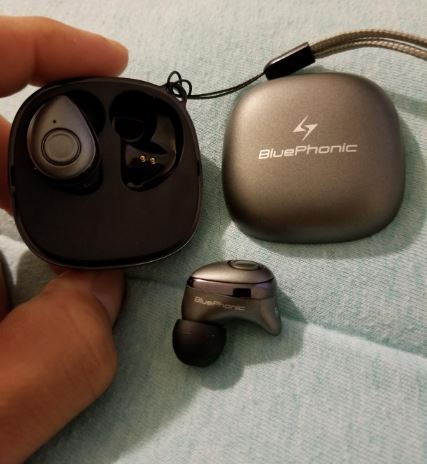 Microphone Quality
Typically, unless microphone quality is a top-billed feature, the microphone you end up with tends to be pretty underwhelming. But the Libre earbuds use microphones which perform surprisingly well. The key word there being microphones, meaning more than one.
The Bluephonic Libre True Wireless Earbuds recording performance is almost entirely the result of each earbud using its own microphone. When it comes to microphones, the more the merrier, especially when those microphones can communicate with each other to reduce noise.
When a train starts roaring past you on your left side, your call quality is going to drop. But clarity won't go out the window thanks to the differential effect of having a microphone on your right side as well. Headed through an airport terminal? Shopping for groceries in the middle of the day? No problem. Just about the only place the Libre microphones start to falter is in extreme conditions, like being directly adjacent to a train or jet engine.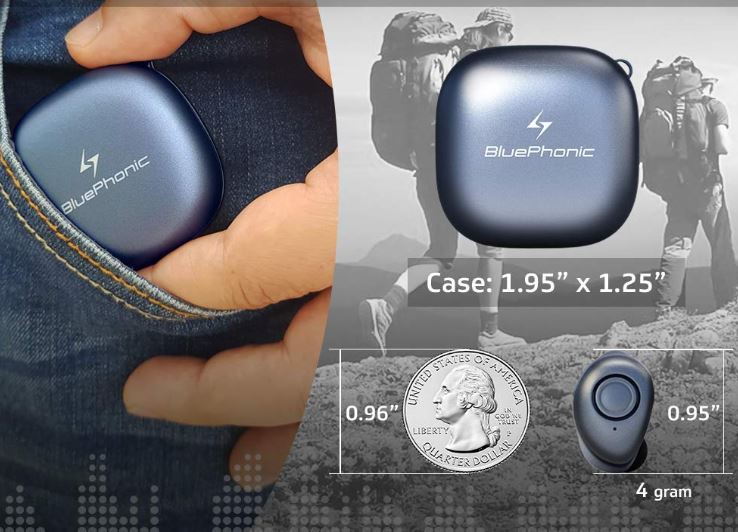 Headphone Comfort
Typically, comfort for true wireless earbuds really comes down to the included silicone ear-tips. Like a pair of athletic earbuds, the Libre True Wireless are made to not chaff or slip with regular use. And the soft silicone design helps the Bluephonic True Wireless Earbuds to be snug without slipping within the ear. In short, it's great for maintaining comfort while you're cycling, hiking, running, or otherwise staying active.
The Libre includes a standard 3-set of ear tips. For most people in more circumstances, the standard range of three ear tips are more than adequate for finding a comfortable fit. It's certainly not the largest selection on the market, and there are zero size options or replacements for the flange ear-hooks. Nevertheless, the Libre wireless earbuds delivers on comfort that's about average compared to other silicone earbuds, or slightly high-average relative to this price point.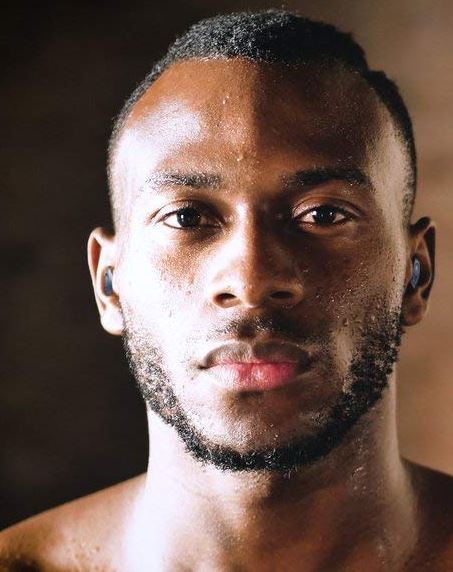 Connecting with Bluetooth
Bluetooth 5.0 allows nearly instant pairing, completing the process in about two seconds. It also helps provide a considerable 40-feet of range for a stable and unwavering connection. That 40ft figure drops closer to 15-feet as you place obstacles between yourself and the signal. As with any Bluetooth connection, you need line of sight for best results.
Setting up the Bluephonic Libre True Wireless Earbuds for the first time, you have to manually pair each bud together, and then pair with your streaming device. After you've completed that setup process once, you don't have to do it again. You can take them out, turn them on, and they'll pair to whatever device they'd previously been synced with.
Other Considerations
The Libre has a microphone and control button on both earbuds, but there isn't a native mono mode. It doesn't take too much creativity to use these buds as mono-devices, but it's not a one-step process.
Although the Bluephonic Libre True Wireless Earbuds don't have much in the way of native support for audio assistants, it does support Siri. The Libre includes charging power case, micro USB cable for charging the case, and a one-year manufacturer's warranty.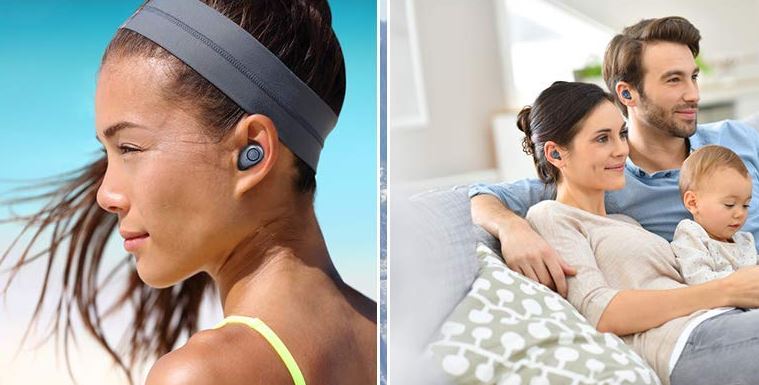 Who Should Choose Bluephonic Libre True Wireless Earbuds?
The Libre are not specialist earbuds. They haven't set out to do one thing in particular. Instead, the Libre is a broad-tent product. It aims to please not just athletes, but professionals, movie-lovers, music-enthusiasts, and essentially anyone else who wants to listen as they move through the world.
The closest the Libre comes to having a specialized design is its heightened support for calls. Multiple microphones and a fair amount of noise protection helps keep call clarity crisp on both ends. Which is why the Libre is a good choice for people who are on the go. The 18-hour total battery lifespan is impressive in its own right, and each individual bud performs quite well before needing to be returned to its case.
The Bluephonic Libre True Wireless Earbuds have an athletic-friendly design, but are ubiquitous enough to be used by almost anyone. As with any pair of true wireless earbuds, you've really got to be willing to haul the carrying case around with you. But with the Bluephonic Libre, the case is about as compact as a smartphone. Whether you're headed to the gym or headed to the office, almost anyone who's looking or true wireless earbuds might find the Libre a real bargain.