It might happen a hundred different ways. You were walking through the rain, and some water seeped through your jacket, ruining your notes. Maybe you're tired and accidentally spill your coffee. Maybe you simply can't find something you'd written down earlier. Whatever the circumstances, you're pretty close to being out of luck.
Unless you were using a smart pen. As you write, a smart pen writes down your notes, syncing them to other devices. And if your thoughts start to get ahead of your ability to write them down fast enough? You can activate a voice recording and annotate one of your notes. It's quite easy to see the appeal of a smart pen.
But pens are a personal thing. Your favorite pen might feel awkward in the hands of a person with smaller hands. Even the texture and grip of a pen can really be a matter of personal preference. Some designs are intended to reach wider audiences, while others are frankly difficult to understand.
Livescribe Aegir Smartpen
The earliest digital pens in the market made some fairly critical mistakes. There's little question that their features were impressive. Uncomfortably scraping across the page while barely spilling any ink, they tended to be bulky, both in terms of size and weight.

It's from this viewpoint that you can most clearly see the accomplishments of the Livescribe Aegir Smartpen. It's essentially the antithesis of many of the earliest smart pens, including many Livescribe pens. Aegir is lightweight, portable, and more powerful than ever.
It offers four combinations of style options, and makes syncing your data as streamlined a writing with a pen. While many of these factors are ultimately a matter of taste, the Livescribe Aegir Smartpen has nevertheless taken great steps towards being an objectively better instrument.
Build & Design
Measuring 7.4 x 1.1 x 3.7-inches, Aegir weighs just short of one ounce. For the sake of comparison, that's nearly the same dimensions and weight as a standard ballpoint pen. But from a practical and aesthetic standpoint, it's safe to say the Aegir stands out among other pens. Whether it's in your hand, shirt pocket, or on your desk, it's clearly meant to catch the eye.
As with previous Livescribe writing instruments, starting it up is a piece of cake. Aegir will be ready to start digitizing notes with a fully paired connection. While you're not writing, it can be put to sleep. And if let to rest idle, it will eventually go to sleep on its own.
Modern Style
Like choosing a fashion accessory, there's an element of personalization in choosing a pen. But you can do far more meaningful customization than simply having your initials printed on the side. Most smart pens tend to look either boring in an attempt to be professional, or gaudy in an attempt to look cool. Aegir elegantly rides the line between cool and professional, offering two bright and stylish variants of teal and purple.
Apart from those two colors, there are also two versions of each color: The Marlin Edition and Dolphin Edition. The Marlin design is the solid color of your choice, teal or purple, highlighted only by cap of the pen. By contrast, the Dolphin design gradually fades-to-white towards the bottom end of the instrument. It's an aesthetic decision, but the Dolphin Edition looks slightly more professional than the Marlin.
Comfort of Grip
When you find a pen you love, you might try changing the ink inside, to keep it as long as possible. You might try to remember the name of the pen so you can get another set later on. Whether you love the comfort of the grip or the smoothness in how it writes, comfort matters. And when you write plenty of notes out by hand, it's hard to underestimate the importance of a having writing instrument that feels like it fits.
The standardized size of the Livescribe Aegir makes it feel similar to using almost any other ordinary pen. The notable exception is the smooth metallic grip, which feels texturally pleasant, especially compared to a standard plastic pen. The Livescribe Aegir Smartpen is a pen you can fall in love with, it's designed in such a ubiquitous way that the average person's worst reaction to holding it may be indifference.
Writing with Aegir
Some people were disappointed with past generation of Livescribe instruments because they didn't deliver on the pen portion of their pens. Having your notes in the cloud is nice, but you probably also want your notes to be on paper, and to be legible or even totally clear. You probably want the ink to run smoothly as you move from one space to the next. These are the basics of any good pen.
Although Aegir doesn't quite have the same smooth glide as a gel pen, it does perform admirably. It's really best compared to a typical ball point pen. You don't need to press firmly, and you don't need to start making changes to the way you hold the pen, or the way you write. The total lack of adjustment period is actually quite convenient, especially when paired with the simplicity of syncing your stored data.
Capacity
With respect to memory, the Livescribe Aegir Smartpen can load up with 1,200 pages of content. After that, you'll have to move some of those pages to a synced device. That happens with the help of Bluetooth, which opens possibilities for connecting with iOS, Android, and Windows desktop services. Most people will probably end up syncing through a smartphone, but the Livescribe storage app works equally well on both the mobile and desktop platforms.
Unfortunately, the battery capacity isn't quite as limitless as its memory capacity. The battery runs about 14-hours before you've got to recharge. On the end of its base where an eraser might otherwise be, you may have noticed a micro USB port. You've got to connect the included USB cable to the end of the pen, and then give it about three hours to get back on its feet. Those figures can be sped up slightly with higher amperage USB ports, but it will take at least two hours to refill the battery regardless.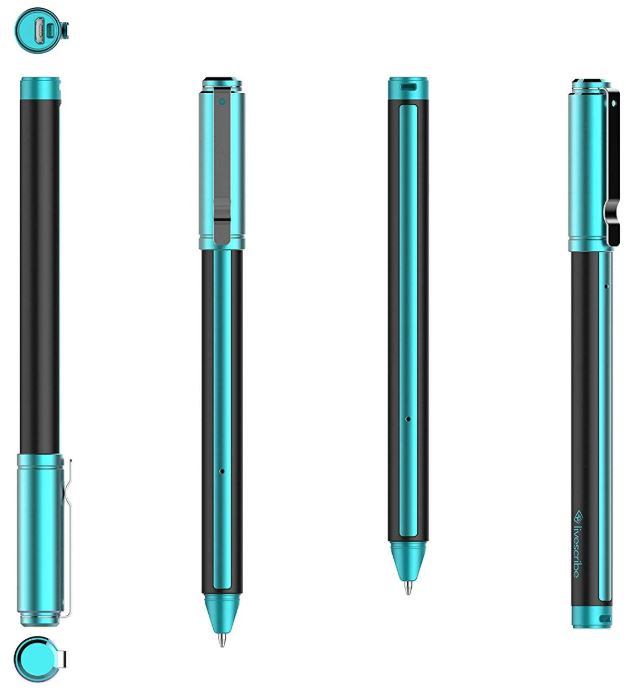 Searching Notes
After you've synced your notes, you're still only scratching at the surface of Aegir's capabilities. Synced notes can then be shared in a variety of common formats, most notably including PDF, text, image, or MS Word. Furthermore, that content can be distributed through a cloud service like Evernote, MS OneNote, Google Drive, or Dropbox.
Looking for one note within a mess of notes? The Livescribe+ app lets you search your notes to see what you need. You can perform a search for words within your own handwriting! The software is actually exceptionally good at reading handwriting, to which you can probably credit millions of people filling out millions of CAPCHA letter responses while logging into websites. Even sloppy handwriting is recognized fairly well, provided it's still legible.
More importantly, the search function doesn't have to be used in a reactionary way. You can use it to create customized tags within the structure of your notes, helping to organize your notes in your own way. Additionally, the Aegir can actually recognize 22 languages while it does its real-time transcriptions.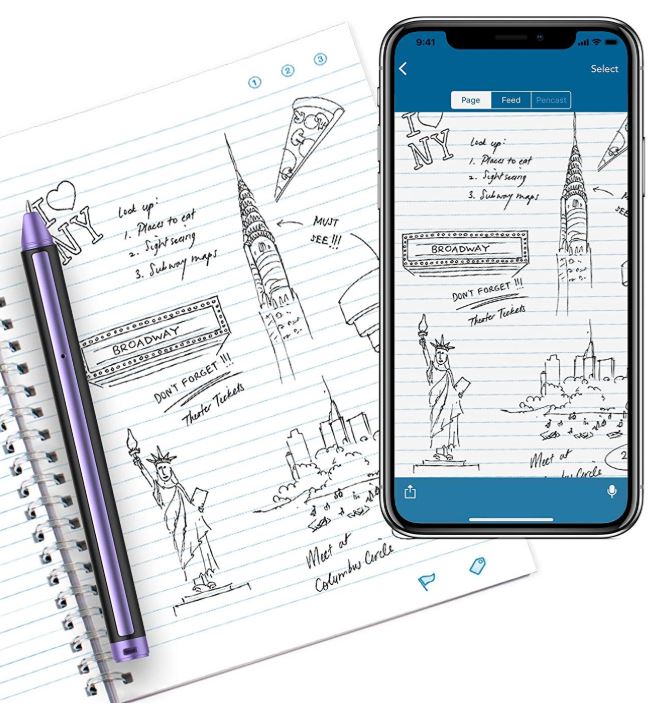 Voice Recording
Activating the voice feature works the same was as previous generations of Livescribe instruments, the only way is to use the iOS or Android app. The actual placement of the voice recordings within your written notes is facilitated through the Livescribe+ app. You can go back to the playback you've saved when you need to recreate some key moment.
Voice recording features have been fairly standard among smart pens for a while now. But microphone quality for smart pens tends to be pretty weak. It's something that you can usually forgive because these devices aren't first and foremost for audio recording. Taking audio notes is more of a secondary feature, for most people. Luckily, the Aegir utilizes your smartphone's integrated microphone to record audio.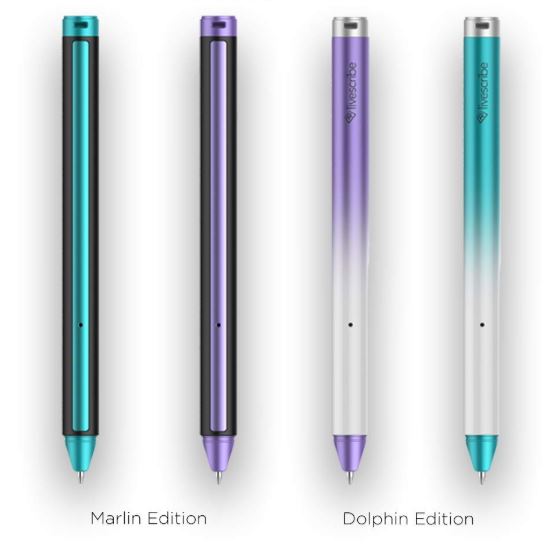 Other Considerations
The Livescribe Aegir Smartpen includes a pocket notepad, quick start guide, and a USB charging cable. It also comes with a soft matte cover you can use for storage, and some unlined white paper. If you plan on using a smart pen like the Livescribe Aegir for a prolonged period of time, you'll probably want to pick up some Livescribe paper.
Who Should Choose the Livescribe Aegir Smartpen?
The Aegir has seen substantial improvements over previous generations. As opposed to a bulky monstrosity that feels unnatural in your hand, Aegir is quite close to feeling like any other pen. And with raid syncing and support for the cloud, Aegir's improvements in design haven't only been physical.
Just about any smart-pen can be a good choice for someone who's taking handwritten notes. But the Aegir is more than just any pen. It's stylish, professional, convenient, and comfortable. Helping digitally transcribe your notes in a useful manner is no small feat, but Livescribe does an excellent job with their app.
Finding the right pen can be a personal decision. But thanks to its ubiquitous design, whether you've enjoyed using a smart-pen in the past, or you're starting for the first time, the Livescribe Aegir Smartpen is worth a close look for almost anyone who takes handwritten notes.