Nobody likes to experience battery anxiety. With your laptop battery getting low, you turn down screen-brightness to squeeze out some extra power. Maybe your phone only has a sliver of battery remaining, but your day isn't done. That anxiety of being out of contact even has a name: nomophobia.
In other words, nobody likes to be worried their battery won't make it through the day. But if you're someone who chews through a lot of battery, your phone is more than a year old, or you're spending lots of time outdoors, then you're going to run into battery anxiety. It's just a matter of when.
Goal Zero Sherpa 100AC Portable Power Bank
There's a pretty big difference between an entry level power bank, and something towards the top of the shelf, like the Goal Zero Sherpa 100AC. It's about as strong as you can make a portable power bank before you'll need to strap on some wheels.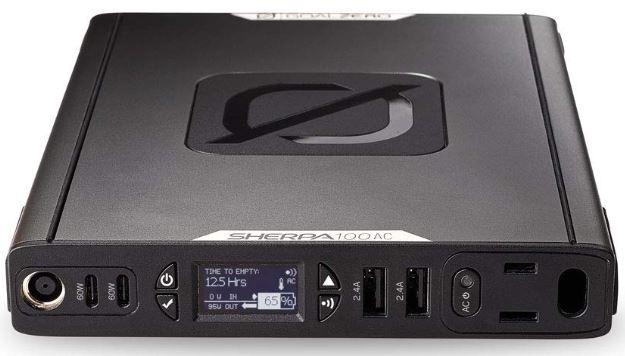 That's true in an almost literal sense. The FAA has a variety of regulations regarding the size and quantity of batteries you can carry on a flight. But the Sherpa 100AC has been deftly designed to scrape just under those regulatory standards. Which is pretty smart. After all, how portable would the Sherpa 100AC be if you couldn't fly with it?
Power Bank Basics
In spite of the large amount of power it can store, the Sherpa 100AC is actually a rather small unit. Measuring 7.5 x 1 x 5.7-inchs, it's only about one inch longer than a smartphone. And the Sherpa 100AC is lightweight, weighing roughly 2 pounds. Most of that is battery weight, although the aluminum chassis adds a little extra while also helping the 100AC to feel more high-end.
Running down the body of the power bank, black silicone strips ride out slim patterns towards each end of the pack. At first, these patterns appear to only decorative, but they're actually an effective gripping surface to prevent the aluminum from sliding on smooth surfaces. It certainly doesn't hurt for holding in your hands, either. Between its fairly lightweight aluminum build and the gripping surface, the 100AC is really quite portable.
Functional Design
Another seemingly aesthetic but practical design decision can be found on the sides of the 100AC Portable Power Bank. It's here that charging cables can be slid into a slot on the side other the Sherpa 100AC, allowing you to not forget cables and carry them easily. Though the charging space really only has enough room to carry one cable of the three provided. That just means you'll need to predict which cable you'll need for charging so you can store the other two.
The topside of the Goal Zero Sherpa 100AC Portable Power Bank is a professional gray color palate, accented only by a handful of things. The first is the Goal Zero logo, helping indicate which side of the power bank can serve as a wireless charger. The other accents are an attractive OLED display and a variety of charging ports, but we'll get to those in a moment.
Before dipping into charging, it's worth thinking about durability. Generally speaking, Goal Zero makes some of the sturdiest portable power equipment on the market. Many of their designs are literally intended to be taken into jungles or deserts. The Sherpa 100AC is not one of these models, however. Its construction is more in-line with professional use, intended to be lightweight and portable as opposed to heavy and indestructible.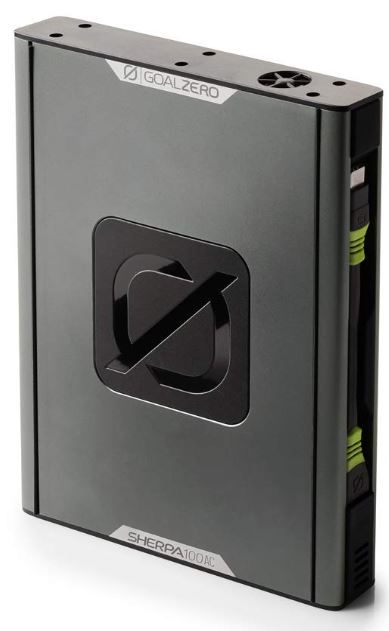 Battery Capacity
Internally, the majority of the Sherpa 100AC is made up of a huge 25,600mAh battery. That's as measured at 3.7 volts. Operated at 14.8 volts, that battery works out to 6,400mAh. What does that mean in practical terms? Basically, you're not going to have a problem with three smartphones charging from the Sherpa 100AC. The Sherpa 100AC is ready to charge an iPhone 7 Plus about eight times over.
But more than just capacity, it's sheer output that really helps mark the power of this unit. Want to charge your tablet, phone, and laptop at the same time? Again, no problem. The Goal Zero Sherpa can even be connected with a tablet or laptop and operated as a power source. But like its name suggests, the Sherpa 100AC has a 100-watt limit.
If you've got a gaming laptop, then playing a graphically-intensive game on a higher setting will probably pull more than 100 watts. And that would cause the Sherpa 100AC to shut-down. But outside of those somewhat extreme circumstances, the Goal Zero Sherpa 100AC Portable Power Bank is more than ready to power a laptop. Something like MacBook Air can run at least three or four hours before exhausting the battery life, and without interruption.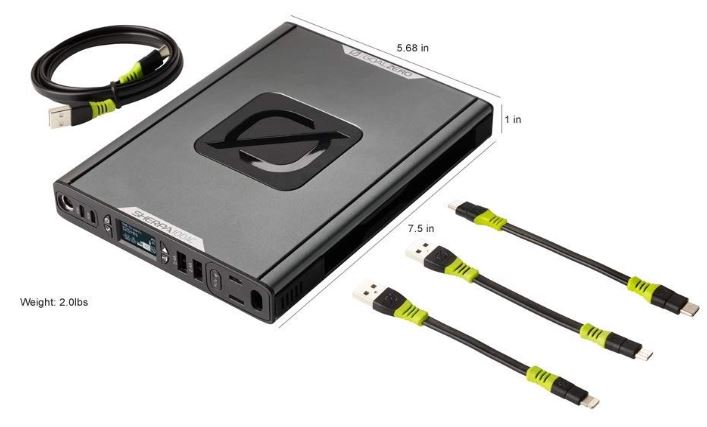 Wired Charging
What kind of charging options does a high-end portable power bank have? Basically, everything you can imagine. For starters, there's a 100W AC outlet that can be jacked straight into a wall. That alone goes a long way towards distinguishing the Sherpa 100AC from many of its counterparts.
Continuing from there, there are a pair of 60W USB-C ports, which keeps this power bank adaptable to multiple smartphones. And then there's another USB port, a USB-A design with 2.4A current. That basically means whether you're using USB-C or USB-A, you're getting some of the fastest charging options on the market.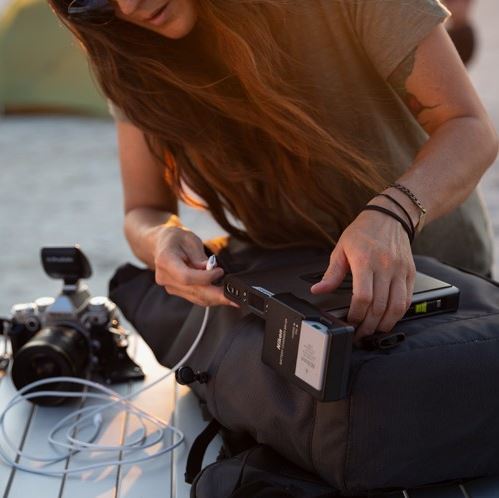 Another feature that's becoming somewhat standard for any high-end power bank is being adaptable to solar panel support. The Sherpa 100AC Portable Power Bank falls into this trend. How quickly you can charge from a solar panel depends on the weather and the panel, but a 4-hour to 7-hour charge is obtainable with the right circumstances.
One small complaint against the Sherpa 100AC; it does not include a power adapter. Like any other power supply, it only includes a USB cable for charging. But charging a massive battery, like the one used in the Goal Zero Sherpa 100AC Portable Power Bank, can take quite a bit of time with a 2.4A charging cable. It actually takes the better part of a day, or about eight hours in total.
If you pair the Sherpa 100AC with a simple 45W wall charger, that time can be whittled down to less than 3-hours. But as with its solar connection, you'll need to supply your own cable to go that route.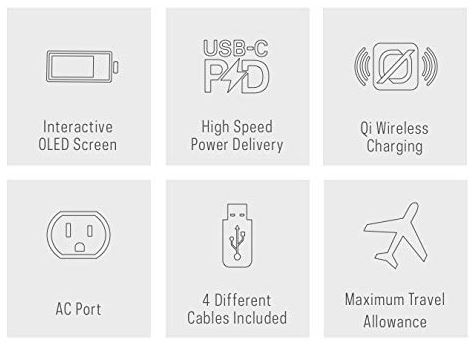 Wireless Charging
Returning to the topside of the Goal Zero Sherpa 100AC, you'll recall the Qi wireless charging pad. The most important thing to note about this pad is the Qi output has a maximum output of 5 watts. And that wattage is the maximum most devices can accept, with the exception of a handful of iPhones. What's the difference in charge time between 5-watts and 7-watts? When starting from an empty battery, it's in the ballpark of a 20-minute difference.
Power Limits & OLED Display
One of the best features of the Sherpa 100AC is that integrated 100W AC outlet. As mentioned earlier, when you push beyond the 100W limit, the Sherpa 100AC Portable Power Bank will shut down under the stress. How do you find out what happened? That's where the OLED display comes in, giving you information about what to do next.
An OLED display is quite useful anytime you're managing a large battery. It can let you see information about the battery including current charge, time remaining on the charge, or even detailed information about the power draw at specific ports. The only issue with the display is that its text is quite small. But the test is also exceptionally crisp, so even if you don't have great eyesight, it's not impossible to use.
Beyond power limits, heat can also cause shutdowns. Which is why along its backside, the Goal Zero Sherpa 100AC has a small internal fan. It clicks on when under extremely stressed loads like a gaming laptop, but not under more moderate workloads, like browsing YouTube on a notebook.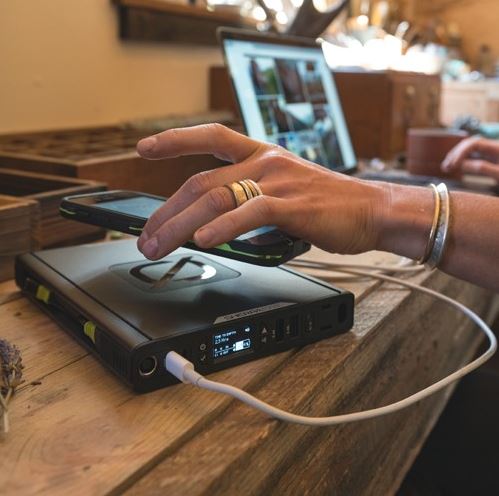 Other Considerations
However, the point at which it will begin cooling will be slightly affected by operation inside a warm environment as well. Like almost any portable power bank, the Goal Zero Sherpa 100AC has a standard operating temperature between 32-104F. And if you're not going through the battery at a frantic pace, between charges, the shelf life for the battery is about three to six months.
On rare occasion, some USB equipment should not be charged with anything higher than one amperage. For the small handful of people with these types of special devices, the Sherpa 100AC does not offer any low-power ports. The slowest portion of the entire power bank is somewhat impressive 2.4A USB ports.
The Sherpa 100AC does include a USB-C to USB-C cable, micro USB cable, lightning cable, and a USB-C cable. The USB-C cable is 30" long, and is intended to serve as the charging cable for the Sherpa 100AC. Last but certainly not least, Goal Zero includes a one-year warranty with the Sherpa 100AC Portable Power Bank.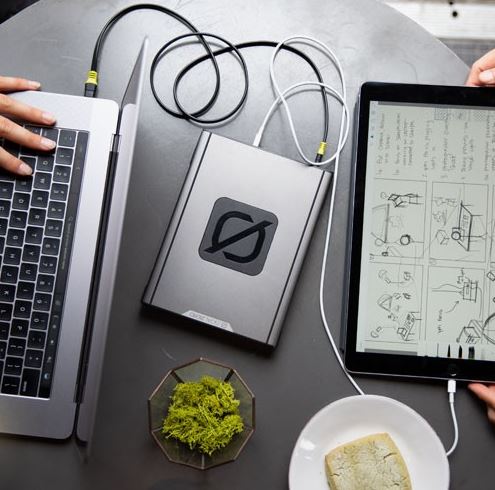 Who Should Choose the Goal Zero Sherpa 100AC Portable Power Bank?
The Sherpa 100AC isn't quite strong enough to power a refrigerator. But it's in that neighborhood. Carrying it around gives you enough power and charging options to essentially eliminate battery anxiety for good. The integrated cable storage compartment is smart design, and so is keeping the Sherpa 100AC within FDA regulatory limits for air travel.
For someone who spends lots of time outdoors, the possibility to throw on a solar panel is a nice addition to what was already a wealth of charging ports. And the OLED display is a nice touch as well. Clearly, the Sherpa 100AC Portable Power Bank comes with a lot of bells and whistles.
If you're not satisfied with entry-level power banks and you're looking for something that's a full step above, the Sherpa 100AC is considerably more powerful than carrying around two separate power banks. It offers a wide range of charging options, and there's real power behind those plugs. It's worth a look for anyone who's really mobile with their mobile devices.