Spontaneous shots are among the most special ways to capture a memory on film. Sometimes. The problem is a spontaneous shot can develop poorly almost just as often, especially if you're trying to capture motion. Moving from one attempted photo to the next, the cost of film can start to stack up when you've got to print every shot before seeing if you actually want it.
Fujifilm Instax Square SQ20
When it was launched in May 2017, the SQ10 was the first Instax camera to be redesigned as digital. Since then, the Instax Square SQ20 has picked up where its predecessor left off. Adding new features, and fixing a handful of issues with the previous design, the SQ20 is probably best summarized as a continuation of existing trends within Instax cameras.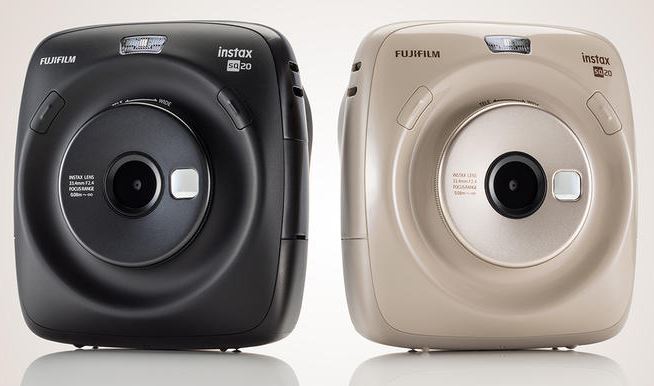 Traditionally speaking, one of the biggest weaknesses of instant film cameras is being forced to pull the trigger on a print before you can see how it looks. With the help of digital processing, the SQ20 helps you to get around those issues, allowing you to pick and choose from amongst the best moments to share in print.
Like the SQ10, the Instax Square SQ20 is great for on-the-spot printing. It also allows you to process, edit, and otherwise augment your images on the camera. But it can do so much more. Among its new features, the most prominent is a motion mode, which allows you to print snaps from video motion capture. These types of dynamic adaptations are characteristic of the SQ20 throughout its design.
Build & Design
The Fujifilm Instax Square SQ20 makes use of the same iconic symmetrical design as the SQ10. It measures 4.6 x 5 x 1.9-inches, and weighs about 0.85 lbs. before film. That weight is pushed quite close to precisely 1lbs once film is loaded inside, still quite a lightweight device.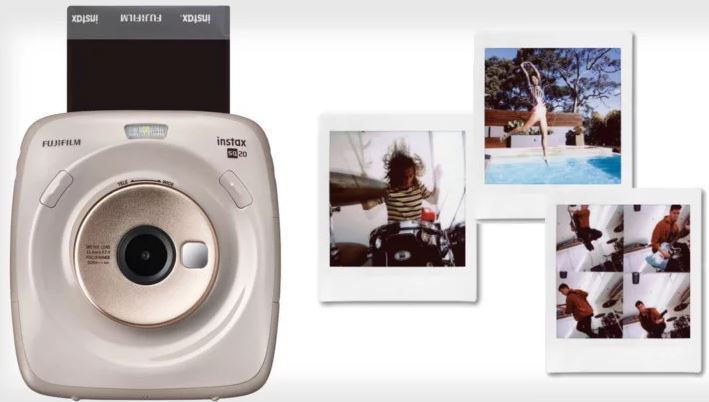 As with previous versions, the chassis of the SQ20 is quite stylish, and made rather specifically to be small enough to hold firmly in your hand. Apart from the obviously labeled buttons, the only other thing to immediately notice about the SQ20 is the existence of two separate shutter buttons. They're positioned on opposing sides of the camera, allowing you to take shots with either hand.
The SQ20 is available in matte black or beige. The beige option is bright and stylish with a slight rosy tint, while the black option looks like a professional camera. On its backside, the 2.7" LCD screen provides navigation and clear insight into your shots. The relatively small screen is crammed with 230k pixels, giving you an exceptionally clear view of your photos before you dedicate yourself to making a print.
Batteries and Film
Input and output terminals for the Instax Square SQ20 include a Micro USB and Micro-B port. As you may expect, those ports are responsible for helping charge the internal lithium ion battery. And as with the SQ10, the SQ20 is capable of running through about 100 prints before it needs to be recharged. Charging time takes about 2-3 hours, depending on temperature of the room and the amperage you're charging with.
Much of the credit for the Instax Square SQ20's prints can be attributed to the renowned quality of FIJUFILM Instant Film. The SQ20 uses standard Instax SQUARE film, used in similar Instax cameras, and sold separately. If you're not familiar with that Instax film already, it's sized at 86mm x 72mm, and supports 800 x 800 dpi prints.
Photo Editing
Getting creative shots really comes down to the person holding the camera. But the Fujifilm Instax SQ20 does give you quite a few tools to make the task easier. And even a few tools to give you some inspirational ideas.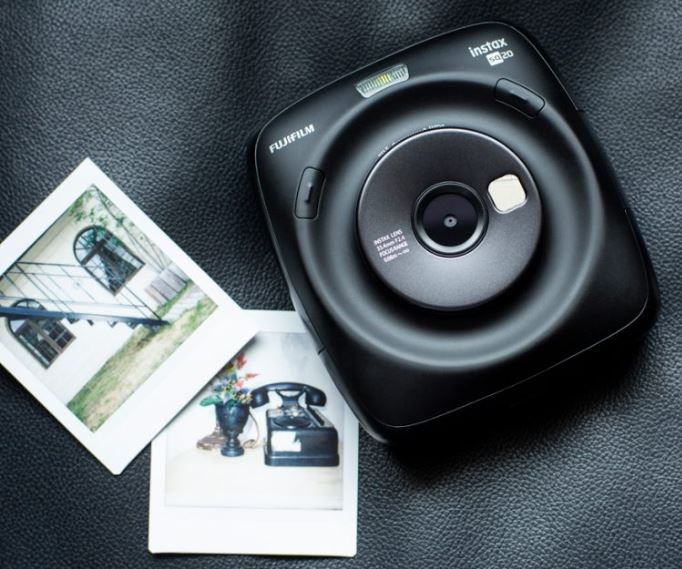 For instance, once you've got some photos, and before you make prints, you can apply one of sixteen filters. Most of these filters are among the standard selection, like monochrome, sepia, and amber. The retro filter to create a grainy noisy across your prints, similar to watching an old movie. And there's a vignette filter, with full scalability to give a central focus to your images.
And you can even filter images to one color, making all other parts of an image monochrome. For example, a yellow taxi cab against a shot of the city that's entirely gray. Many of these filters are quite simple to use, and excellent for creating striking high-contrast photos with little compositional effort.
Shooting Qualities
The SQ20 allows you to toggle between compulsory flash, suppress flash, and auto flash. For the standard image mode flash will automatically come on with low light. The bulb will keep shut open as long as you depress the shutter button, that's great for shooting photos in the dark.
The Instax Square SQ20 has a flash with an effective range of about two meters. That's actually fairly good for any camera of this size. And the Instax Square SQ20 delivers brightness between -1 and 2/3, that's a wide range of exposure that's comparable to full-fledged digital cameras. With programmed automatic exposure control, auto white balance, and a lighting fast 1/7500th of a second maximum shutter speed, the SQ20 hardware can just about stand on its own merits.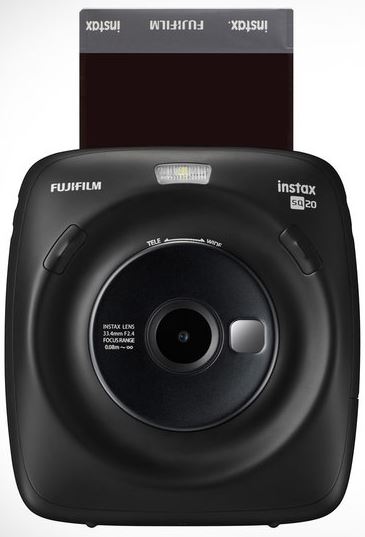 Continuing with more solid hardware, internally you'll find a 4x zoom, providing a focus range between 4" and the horizon. That allows you to get tight and close shots a bit easier, or take advantage of telescopic differences in your shots. Speaking of telescopic differences, the SQ20 uses a unique focal length of 33.4mm, but have no concern, it's functionally equivalent to the 35mm format.
You'll most likely want to stick and SD card inside the Fujifilm Instax Square SQ20. Even a fairly small card can extend storage capacity considerably. The built-in memory for the SQ20 only amounts to about 50-shots, or 30-seconds of video. Adding an SD card helps pad that out further. And each shot is well compressed in the .jpeg or .pim file format, allowing you to fit about 1,000 images per gigabyte of storage.
Expandable Memory
As mentioned earlier, among its most prominent features, the Instax Square SQ20 features a totally new video mode. That mode allows you to use a dial on the backside of the SQ20 to capture and print the best moment of a moving subject. With the built-in memory, you only get 3-seconds of motion. But videos can be recorded to a microSD card, that brings the maximum recording up to 15 seconds.
Creative Shooting Modes
Using split mode helps divide your frame into a pattern, then take photos with a variety of vertical or horizontal divisions. The sky is the limit with many of these shooting modes, but the split mode can be especially handy for snapping together a visual storyboard, helping show the transition from one shot to the next.
There's a double exposure mode, which allows you to superimpose two images, one over the next. The results can be a fantastic success or a terrific failure, it does take some experimenting to make these kinds of modes work. Fortunately, operating the double exposure is quite easy because you simply release the shutter two separate times.
Similar to the split mode, there's a time-shift collage mode, which lets you take four images with a time lapse. Each press of the shutter helps to compose one of the squares of the image. Likewise, the collage shooting mode is great for expressing creativity. It's not quite as orderly as the split mode, dividing frames irregularly from many images to create one larger photo.
Last but not least, you'll note there's a selfie mirror attached to the lens. That mirror can help to check the range of your shots. It's ideal for taking great selfies, and even better with the help of the self-timer, which can be set between two and ten seconds. Selfies with the SQ20 are not quite as easy to do as using a smartphone with a front-facing camera, but it's far better than trying to take self-shots with trial and error.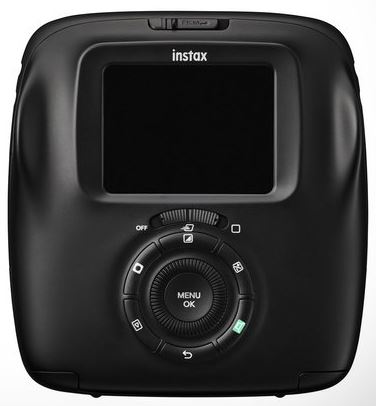 Other Considerations
The SQ10 suffered from one chronic problem. Prints always came out somewhat overexposed, relative to the preview on the digital display. The SQ10 may have helped you adjust a dark shot to make it brighter, only to then discover your print is washed out. Fortunately, the SQ20 has largely overcome that issue. The new LCD display provides a far more accurate presentation of the true brightness and exposure of the print.
As with the SQ10, the SQ20 makes use of single autofocus for images and continuous autofocus for video. Both work fairly well, with their support fairly comparably to the cameras inside of modern smartphones. Yet another similarity, the SQ20 can sustain a maximum to 10 prints within its body, which equates to one full pack of Instax film.
Similarities can be a good thing. Because the Fujifilm Instax Square SQ20 continues to use the same square form as the SQ10, the SQ20 can make use of the same adapters and supplies designed for the previous model. It's always nice when a new product enters the market with a wealth of existing support available.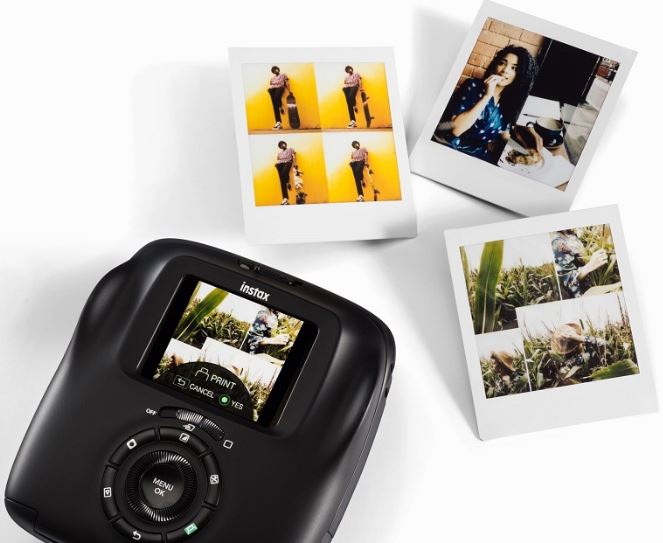 Who Should Choose the Fujifilm Instax Square SQ20?
If you really want to appreciate the SQ20, then you have to understand that it isn't a digital camera that coincidentally prints images. It's an Instax camera that just happens to have digital controls. The idea is to help you take fun shots, add some glamour to those shots, and being a little more conservative with your use of film.
There's another fairly big advantage of digital adaptation: you don't actually have to carry film with you. You can shoot now and print later, so the next time you run out of film, or are waiting for film to arrive through shipment, the SQ20 remains operational. That should make the SQ20 attractive to people who really love Instax cameras.
But above all, an Instax camera should be fun. And it's a pleasure to use the SQ20, from taking photos to spicing the up, you've got tons of power to edit and improve your shots. It's a clear improvement over the SQ10, and an excellent choice for anyone who's a fan of Instax.
Meet Derek, "TechGuru," a 34-year-old technology enthusiast with a deep passion for tech innovations. With extensive experience, he specializes in gaming hardware and software, and has expertise in gadgets, custom PCs, and audio.
Besides writing about tech and reviewing new products, Derek enjoys traveling, hiking, and photography. Committed to keeping up with the latest industry trends, he aims to guide readers in making informed tech decisions.