Whether you're a professional film maker or just someone who enjoys capturing the finest memories with the best quality, the newly released Canon VIXIA HF G40 Camcorder offers a compact, feature-rich, and easy to use design with all the bells and whistles. With advanced 1080p recording at 60p, Wi-Fi integration, a high capacity battery, a super-lightweight design, and an incredibly vibrant OLED screen, the VIXIA HF G40 from Canon is loaded from head to toe with a wide array of attractive features that cater towards the efficient and cunning edge film maker.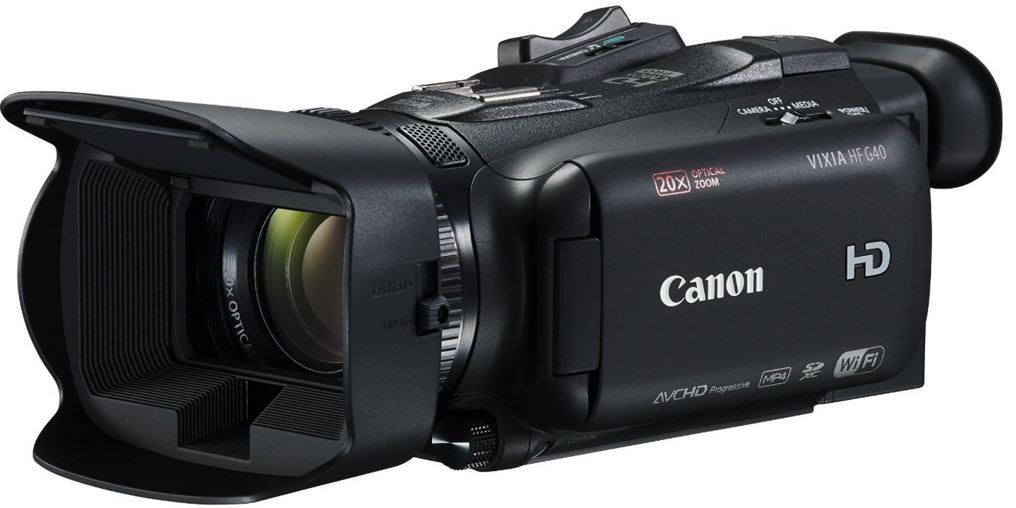 Recording Quality
Equipped with a new advanced HD CMOS Pro Image Sensor, each and every recording is captured in a sharp and detail-rich manner while maintaining full 1080p recording capabilities. With stellar low-light performance, it captures in dim scenes without affecting the true 2136 x 1362 pixel resolution. Thanks to the low-luminance noise rating of +3 dB, there's never any issues capturing any detail in any kind of poorly lit environment.
Capable of recording in both MP4 or AVCHD files, 1080/60p recording captures double the amount of fine details and information than prior 60i technology. Since it records in a true 60 frames per second, there's never any issue with the camcorder picking up any diagonal noise or distortion that can alter the quality significantly. This way, quick motions and fast moving scenes are retained to their true clarity for stunning playback without any loss with moving edges or other rendering processes that can affect the overall outcome of your recordings.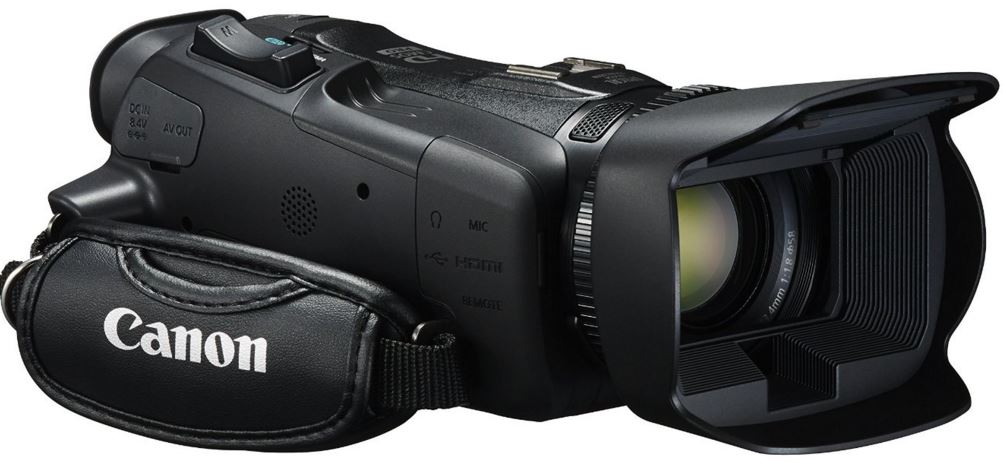 Additionally, the MP4 format is best for those who enjoy sharing videos on the web – it's the standard video file format for the best quality at a 35 Mbps bit rate. However, if you'd like to record in AVCHD, you can retain a maximum bit rate of 28 Mbps. Either way, the recordings retain the best quality for all situations.
Last but not least is the new Native 24p Progressive Mode. It allows recording up to 24 frames per second for those who want to achieve a classic cinematic quality. Many film makers prefer thise mode since it offers a different in the standard 60i recording that most camcorders utilize.
Zoom
A healthy and capable zoom feature is of huge importance for many. Canon incorporated a 20x optical zoom HD video lens into the VIXIA HF G40 in order to give you the ability to sneak into a detail rich scene from a great distance away. Pair this with the new HD CMOS Pro Image Sensor and the amazing DIGIC DV 4 Image Processor and you'll achieve stunning quality recordings each and every time you put it to use.

There's also a variable "Power Zoom" feature that can be used in conjunction with the optical zoom in order to provide better far-distance capabilities. Select from three different modes – fast (1.9 to 60 seconds), normal (2.5 to 180 seconds), and slow (4.0 to 285 seconds).
WiFi
With fully integrated dual band WiFi, the Canon VIXIA HF G40 Camcorder lets you access and share your videos with ease. Over the 2.4 GHz and 5 GHz bands, you can connect to networks, hotspots, and even use your smartphone or tablet with the free Canon Movie Uploader app to transfer and publish your video files on demand. You can even transfer selected files to an FTP server for backing up or storing them in a safe and secure cloud-location.
Sharing with friends and family is easy too. Thanks to the Canon Image Gateway, you can store photos and upload them to your ideal social networking sites to share publicly via Twitter, Facebook, etc. Even simple viewing from the memory card can be done without actually taking it out of the camcorder. Playback via any smart TV, computer, or mobile device is easily achieve with the Remote Browse function since it utilizes a browser rather than a third party app.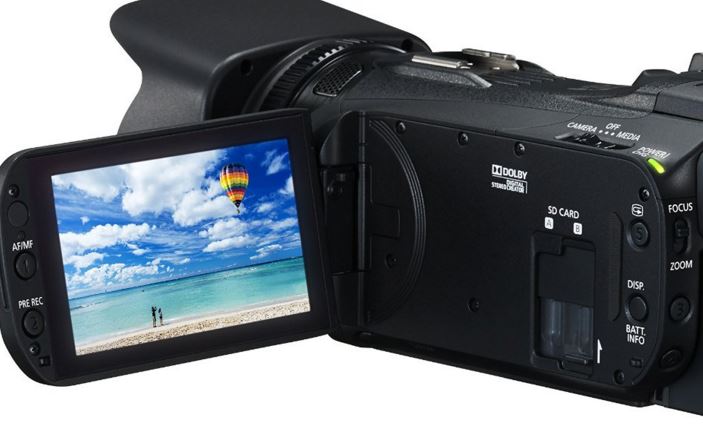 Screen
One of our favorite and most enticing features that we love about the Canon VIXIA HF G40 Camcorder is the 3.5 inch OLED view screen that's located as a flip monitor on the side. Just like any camcorder, you can spin, flip, and adjust it to your specific needs, but OLED is a definite step above the rest. With an incredible 10,000:1 contrast ratio, and touch screen capabilities, it offers smooth and sensitive movement and selection with the tip of your fingers. Take full advantage of the Touch & Track, Touch Exposure, and Touch Focus features and you'll surely fall in love with the screen.
Adjustments to the OLED view finder can easily be configured to a variety of positions with it's 45 degree range of motion. At just 0.24 inches thick and with 1.56 million-dot colors, no detail is left out of view. In fact, it offers better usability with an integrated joystick so you can control it all with a single hand. It's positioned in a natural position for your thumb to access it at anytime.
Dual Recording
With two SD cards, you have the option of recording in AVCHD format on one card and in MP4 format on the other card, simultaneously. Utilizing the latest DIGIC DV 4 Image Processor, it's built to handle high demand tasks like this without any hiccups. Since MP4 files are best for online uploads and offer easy sharing, some may want to have the option to always record in MP4, even if they're primarily needing to capture in AVCHD format. Additionally, inside there's a transcoding function that can convert any of the recorded AVCHD files into MP4 files.
Optical Image Stabilization
Nothing is more frustrating than a shaky hand or unstable shooting situation that can take away from the final quality. Thanks to advanced Optical Image Stabilization, it'll automatically correct any camera shake instantaneously so it never becomes an issue. Even scenes shot from a vast distance where you utilize the zoom to it's best abilities won't have any affect on a shaky hand. It even stabilized rotational camera shake, thanks to the extra compensation that's applied when you're constantly adjusting the zoom. Each vertical, horizontal, and roll axis is always smooth and free of any unwanted distortion.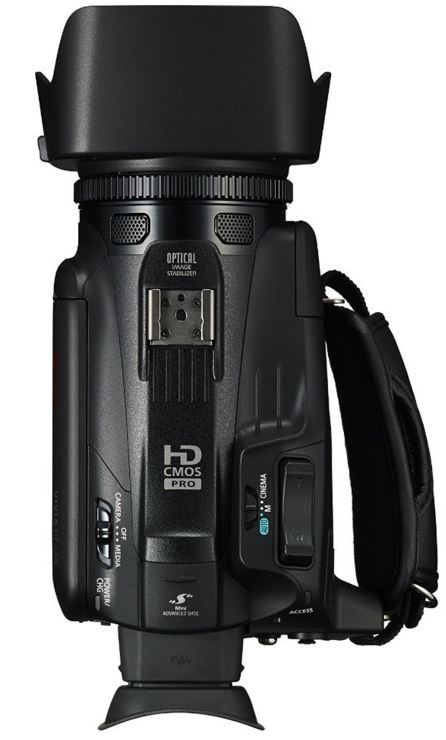 Portable Design
The portability of the Canon VIXIA HF G40 Camcorder is apparent right from first glance. Weighing in at just around 2 pounds and measuring just 7.2 x 3.3 x 4.3 inches, it offers plenty of compactness so you can take it with you on the go, wherever you end up. It has a very solid build to it as it feels sturdy and ready to go right out of the box. With the integrated and fully adjustable hand strap, it stays sturdy in position while filming, even if you're moving through bumpy or poor terrain that can usually cause stability issues.
Battery
With an included Lithium Ion battery, you can go for hours of continuous use without having to worry about recharging it. The high capacity ability of the battery pack pairs well for those who want the absolute best efficiency and don't want to deal with outdated rechargeable batteries that simply don't last long or can't handle the conditions. It's nice to see this included since Canon could easily sell it separately and not include it if they wanted to.
Final Thoughts
As you can see, the Canon VIXIA HF G40 Camcorder is built with an impressive list of features and technical advancements that make it a great investment for professional and hobby film makers who seek a full-featured camcorder that's loaded with greatness. Full 1080p recordings at 60 frames per second, and the ability to capture in both MP4 and AVCHD at the same time is pretty amazing. Pair this with the 3.5 inch OLED touch screen display and you're left with one of the most user-friendly camcorders for the new 2016 year.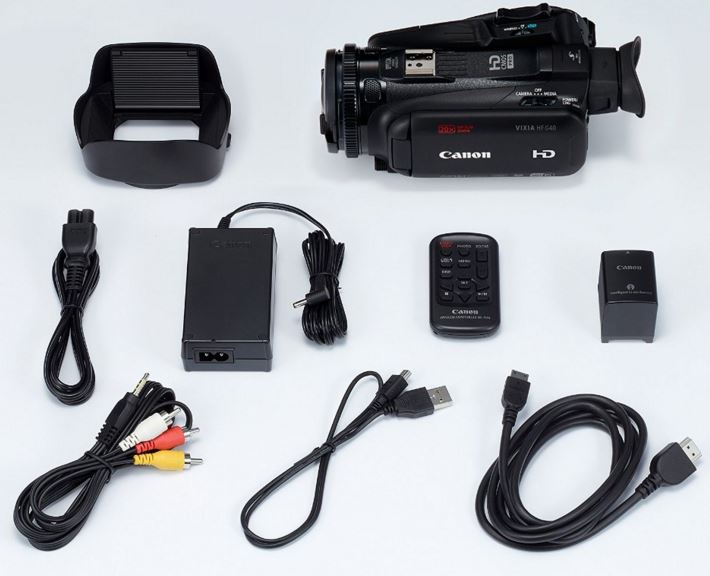 With an included assortment of accessories including a variety of cables, a lens hood with barrier, wireless controller, HDMI cable, and more, there's nothing additional you'll need to buy (except for an SD card) – everything you need to get started comes in the box, ready to go. As one of Canon's latest and most proud releases, we're excited to see this compact, user-friendly camcorder make a real difference to those who enjoy the best quality and ease of use.