If you're on the market for a high quality digital video camcorder, you're in luck. Canon has recently revamped its budget conscious R series camcorders. The latest model we took a look at was the Vixia HF R800. For the money, we found that it was one of the best video cameras on the market. But if you're looking to save a few bucks, you still might want to consider the Vixia HF R80 and R82. These camcorders have many of the same features of the R800, but come at a much more affordable price. We'll go in depth to help you understand what these two powerful camcorders can do. After, we'll help you decide is this is the right choice for your home videos.
First Look
Both the R80 & R82 are identical in design, with the exception of the internal storage. The R80 has 16GB of internal storage while the R83 has 32GB of internal storage. But both camcorders are designed to be extremely compact. In fact, almost the entire volume of the design is occupied by the high quality optics that cannon is known for.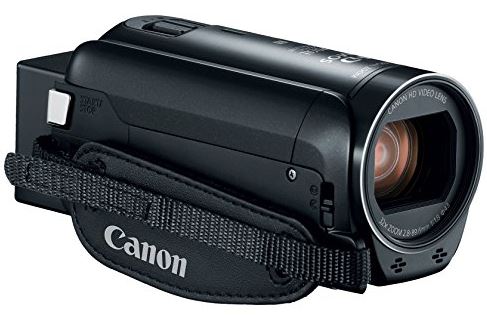 Design
Beyond a little extra internal storage and a streamlined profile, you'll feel as though you're already familiar with many parts of this camcorder. The zoom trigger is located along the top, and the record button is conveniently placed by your thumb. The entire left side folds out to reveal a large 3-inch touchscreen. This display can be used to control many aspects of the camcorder's performance, allowing Canon to shave many unsightly buttons from the now-sleek exterior.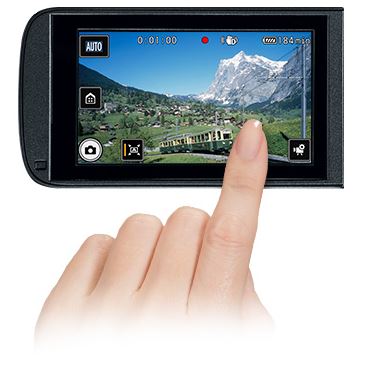 The compact design of this camcorder makes it very easy to wield. We found that it was small enough that we could throw it in our bag, without having to worry about the extra weight or bulk. This is just another example of the high tech shrink ray hitting the devices we use all the time, making it easy for consumers to take advantage of the technologies presented to them.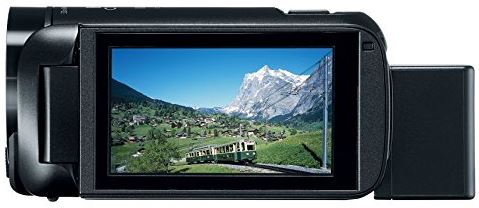 Image Quality
If your camera can't produce great video, it's hardly worth its weight in sand. Fortunately, the R80 and R82 have the full 3.2 megapixel CMOS sensor that can be found in the R800. This image sensor is capable of shooting crystal clear video in both day and night. Files are saves as 1080p videos with a total frame rate of 60 frames per second. This allows your recordings to look buttery smooth, without any hint of stutter or frame drop.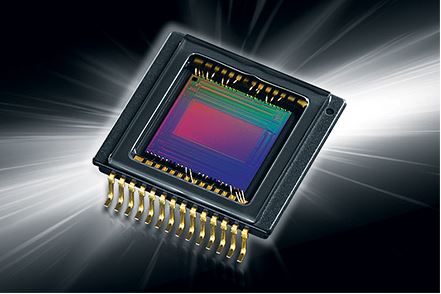 One of the most stand out features of the camcorder is the fact that the video is almost completely free from distortion. The DIGIC DV 4 Image Processor plays a major role in this. The DIGIC DV 4 is heavily based off of the chips used in Canons DSLR lineup, but with several modifications made that allow it to work better with full stream video. What this processor does is carefully analyze the signal coming from the image sensor to determine which is sent in error. These signals can be cancelled out, leaving a video stream that looks better than anything coming from a similarly priced model.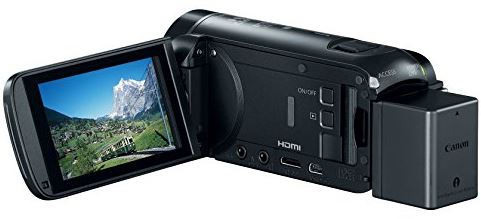 Video Features
This powerful camcorder has some helpful editing tools built right in. Our personal favorite is the Highlight Priority mode. If you've ever taken a video and found that it's blown out, or where everything appears whitewashed, you'll love this feature. What it does is force the camcorder into a high dynamic range mode, with special preference given for the light portions of the video. This is incredibly important to have when you're shooting in bright sunlight.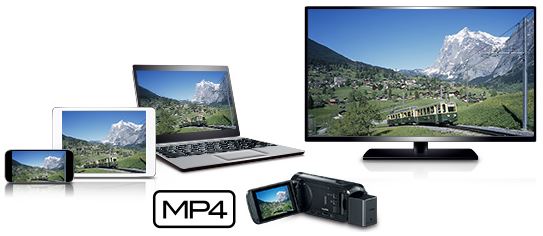 You can also use the onscreen display to switch into slow or fast motion video. You can take 1.5x or 2x speed changes in either direction. Thanks to the smooth 60 fps the camcorder can shoot at, this doesn't impact your video quality at all.
Optics
A lot of Canon's success in the photography industry can be attributed to their high-quality optics. Some of their popular L-series DSLR lenses are priced at thousands of dollars, and consumers happily pay for them.

Fortunately, the optics in this camcorder don't cost thousands of dollars, but they're churned out at the very same factory. Canon is using a series of glass lenses that are motorized. With the touch of a button, you can zoom the camcorder out as far as 32.5mm, or as far in as 1853mm. This nets an impressive 57x optical zoom, one of the best in its class.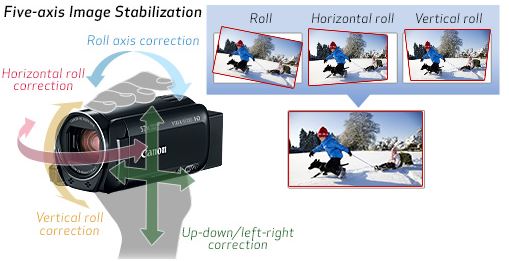 The problem is that when you're zooming in an image this much, the image tends to shake and blur as the tiniest movements of your hand are translated into large movements. This is corrected with the optical image stabilization. The image sensor itself is connected to a precision motor and an accelerometer. It's capable of moving the sensor up and down, left and right, and back and forth. These motions take place in equal and opposite ratios to the natural shaking of your hand, so your image can look as if it was taken professionally.
Connectivity
One of the most impressive features is how easily it connects to your other devices. Of course, it still supports standard methods of file transfer. You can plug in a USB 3.0 cord, hook up your computer, and transfer the files to your local hard drive as if you were using a flash drive.

But is camcorder has been brought into the 21st century, and that means wireless communication. It's got WiFi built right in, so you don't even need to connect a cable to transfer files. The built-in file server means that you can access content at any time from any computer that's on the same local network as you.

If you install the Canon Connect app on your phone, you'll even be able to livestream video directly from the camcorder. This is a great way to get your friends in on the action, as it happens. If you're not actively shooting, you can use the app to browse the camcorder's local storage and stream files as if they were your favorite TV shows on Netflix.
Battery Life
One of the unique updates to the R series camcorders is the BP-727 battery pack. This powerful lithium ion battery is capable of lasting for up to 16 hours. This means that you'll be able to fill up your entire storage space before you need a recharge.
But Canon didn't just extend the single use life, they've also improved the life cycle of the battery. These lithium ion batteries are using a new formulation that allows them to have more total charges. This means that you won't be stuck trying to find a new battery in three years because your no longer holds a charge. This particular model is rated for 10 years of use. Chances are, 10 years down the line you'll be ready to upgrade to a new camcorder.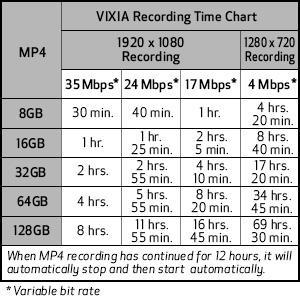 Final Verdict
The R80 & R82 camcorders are, at the moment, the best mid-range camcorders on the market. They have most of the same powerful hardware found in the Canon Vixia HF R800, but are available at a significantly reduced price.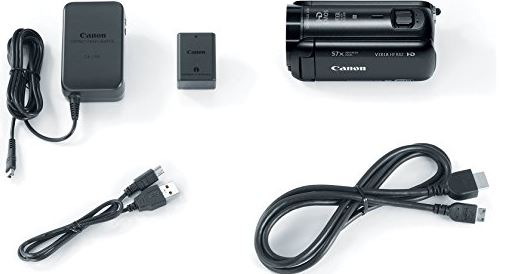 What we like most about this camcorder is the fact that it's so compact. This is something that you can chuck in your bag, and have it ready to go when you want to capture the best moments in life.
If you're the type of person who likes to pinch every penny, you'll be happy with the fact that the R80 and R82 are both sold as kits. They have everything you need to get started right out of the box, so you won't have to spend any additional money on memory cards or cables.
We're happy to see how far video camera technology has come over the years. If you're still using a smartphone to record video, we'd highly recommend you consider getting a dedicated device. The video quality is simply night and day. This is one of those products that, once we've tried it, we'll never want to go back.