As a brand, Zinsoko is fairly new to the headphone market. As stated on their website, their goal is to provide affordable audio equipment to consumers who demand quality. They claim to stand somewhere in between the giant companies marking up their product prices and the bargain bin products that fail to deliver in quality.
For many, this is a story they've heard before. There is such a huge market for quality headphones at an affordable price that is can be especially difficult to set your product apart from the competition. This is especially true for lesser known brands like Zinsoko who seem to live in the shadow of more established brands like Bose and Sony. That being said, this makes it especially rewarding when you come across a product that does deliver in sound quality without the price markup often seen in bigger brands.
But as we've seen time and time again, the smaller manufacturers are putting out products that are more than competitive. The Zinsoko line of headphones has been receiving favorable reviews from consumers, so we decided to put them to the test ourselves.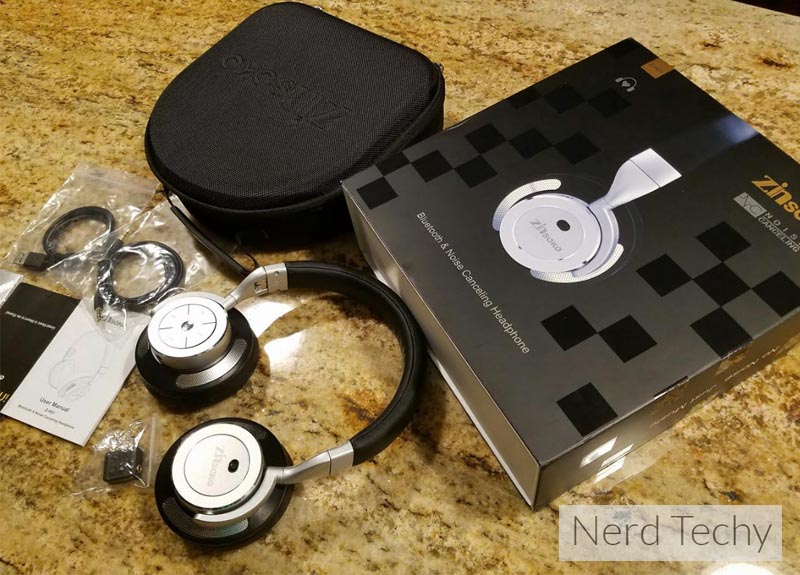 First Look
The Zinsoko Z-H01's are a very stylish looking set of headphones. In contrast to the flashy colors and bulky designs of some brands that appear to be marking their prices up for design rather than quality, the Zinsoko Z-H01's fall within the perfect medium of stylish but subtle. Zinsoko also opted to give its users varying color scheme options, including black, silver/black and rose gold/brown. There is always something about brown leather that just screams luxury, but all of Zinsoko's color schemes offer a sincere and luxurious feel.
The Z-H01's are a sizeable over-the-ear headphone without having too dominant an appearance. There are two LED lights, one to indicate the noise cancellation feature and the other to indicate Bluetooth. All the controls are conveniently located on the outside of either ear cup, giving the headphones a charmingly techy look to them. Overall, the appearance of the headphones seems to reflect Zinsoko's mantra of quality and affordability.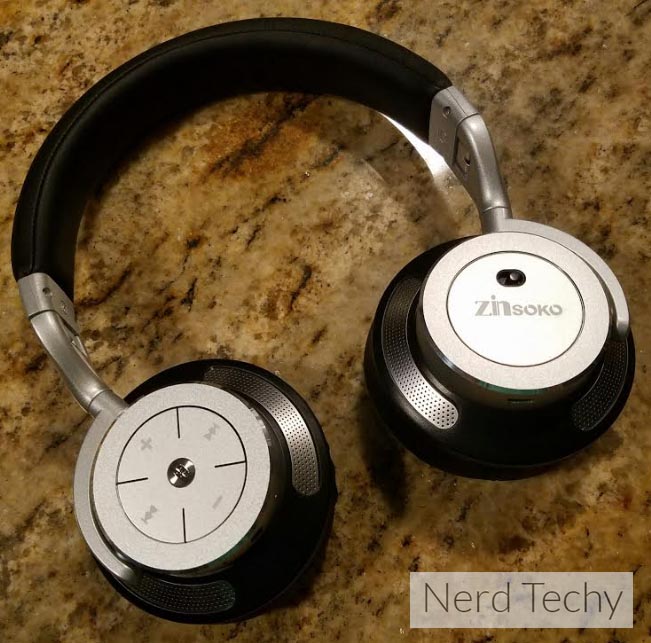 Build Quality
The Zinsoko Z-H01's are well designed. They have a foldable, lightweight design that makes them easy to store and transport. This is ideal for users who tend to get the most use out of their headphones while travelling, or generally while on the go. The ability to fold and store them also gives them an edge durability-wise. The headphones come with a hard storage case for extra protection, and it makes them easy to stow away.
Even while the headphones are out and exposed to the elements, Zinsoko made sure to use quality materials. The soft, leathery fabric covering the ear pads and headband are capable of standing up to daily wear and tear. The other components of the headphones are made mostly with plastic, but feel sturdy and well-crafted as you hold them in your hand. The adjustment maneuvers on the headband and ear cups are also sturdy, with movements that are purposeful and solid rather than feeling loosely held together. When you hold a pair of cheaply made headphones, you can tell almost instantly. The Z-H01's, despite weighing only 12 ounces, feel well-crafted and durable.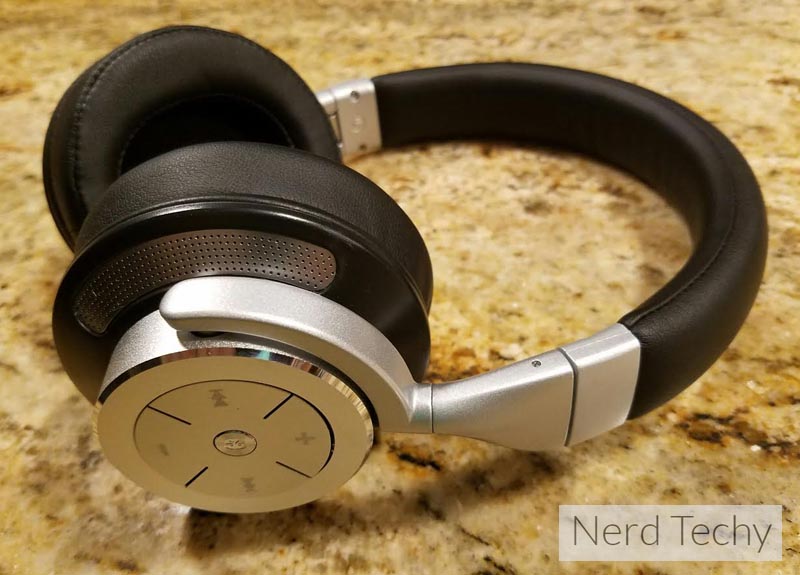 Sound Quality
Particularly in mid-range products, the sound quality is what really counts. Since so many mid-range products rely on the look of their headphones to sell, too often users pay marked up prices for products that provide disappointing sound quality. This is so prevalent that many consumers are shocked when they hear a good set of headphones, having never heard what is possible with properly engineered headphones. We were pleasantly surprised to find that Zinsoko is among the upper echelon of headphones we've demoed.
The Z-H01's offer a crisp, clear sound that beautifully balances a heavy bass with a bright treble. The mid-ranges are subtle but smooth, and even at higher volumes, the distortion is virtually undetectable – a rare treat for a product in its price range. Once the Bluetooth is activated, a highly-practiced user might detect a slight decrease in sound quality. However, the vast majority of users should be pleased to find the wired and wireless sound quality virtually the same.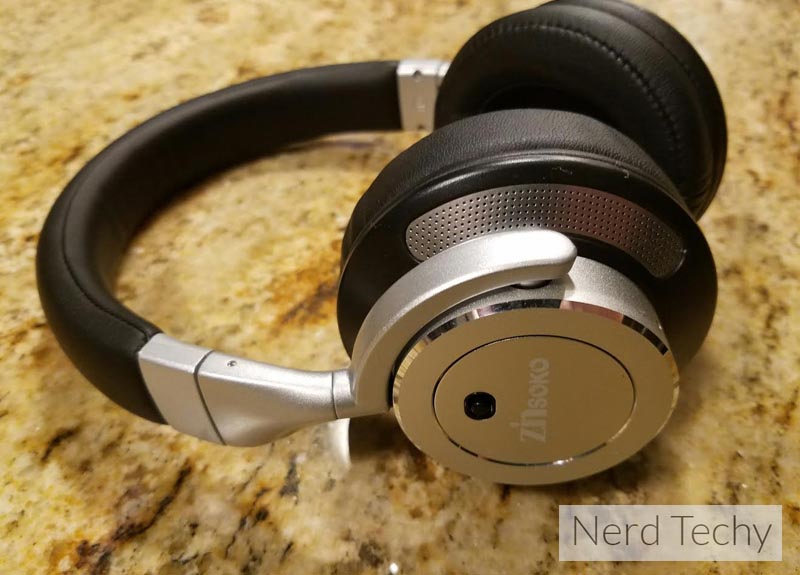 The best sound feature of the Z-H01's is definitely the noise cancellation. Many wireless headphones now come with some sort of noise cancellation feature, but many people don't realize the difference between passive and active noise cancellation. While passive noise cancellation can help reduce the volume of incoming ambient frequency, active noise cancellation acts directly against it.
The technology combines acoustic noise with wavelengths resistant to incoming ambient noise signals in order to create a sound environment that completely cancels out the ambient noise. Not only does this have the effect of providing a silent environment for your music, it also appears to amplify the sound, creating a more immersive listening experience. This feature is especially beneficial for travelers on planes or busses where the ambient noise is particularly invasive.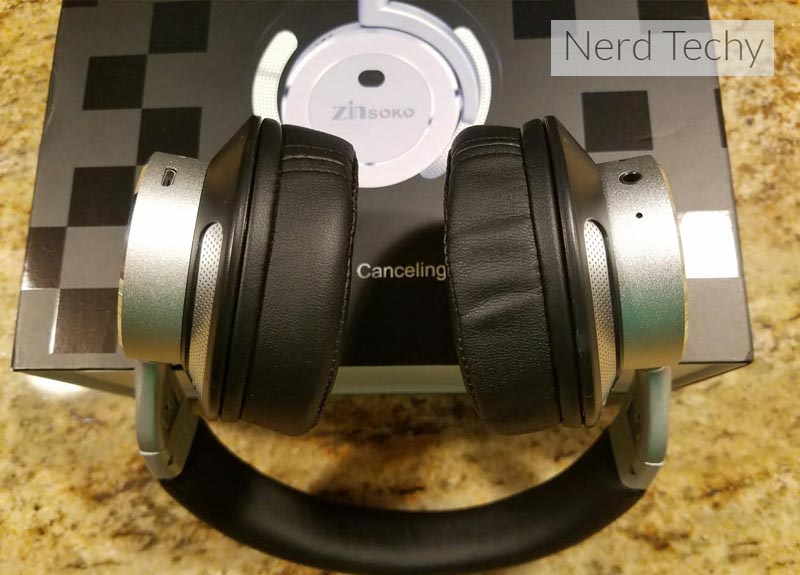 Comfort
Given the benefits of active noise cancellation for traveling users, long term comfort is an important factor for headphones. Many users rely on their headphones to get them through those ten-hour flights without sustaining a headache from the noise, but active noise cancellation is not much use in those scenarios if the headphones can only be worn for a fraction of the time. We were pleased to find that the Zinsoko Z-H01's delivered in this category as well.
Their ergonomic design boasts an adjustable headband and 90 degree rotating cups so users can optimize the way the headphones fit on their heads. This allows users to wear the headphone for extended periods of time, as they can adjust and readjust as necessary. The headphones were also crafted with what Zinsoko labels "pressure relieving fluffy cushions" on the ear pads. Anyone who's endured the discomfort of poorly designed or poorly fitted ear pads can appreciate the value in a pressure relieving pad. The headband is also cushioned, and both the headband and ear pads are covered in a soft, leathery material that feels nice on the skin. They're ergonomic, lightweight and well-crafted for an impressive level of comfort.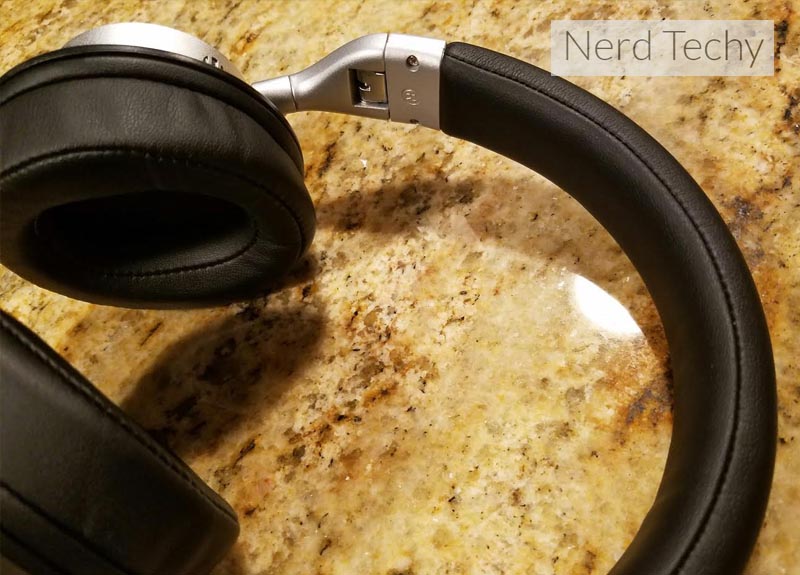 Functionality
The Zinsoko Z-H01's are a functional set of headphones that are easy to use. When you connect wirelessly, they support Bluetooth V4.0 devices for optimal wireless sound. They also come with a 3.5mm audio adaptor that you can connect to the AUX socket for wired audio at any time. The Z-H01's also have a rechargeable battery that offers up to 16 hours of use on a single charge. The headphones are not only easy to set up, but also extremely easy to use.
All the controls are located on the outside of each ear cup for instant access. Buttons on the right ear cup allow you to change tracks, control volume and turn Bluetooth on or off. It is also where the audio port is located. The left ear cup includes controls for the ANC feature and a USB charging port. In all, the Z-H01 provides users with all the basic functions within hands' reach, making them both functional and user-friendly.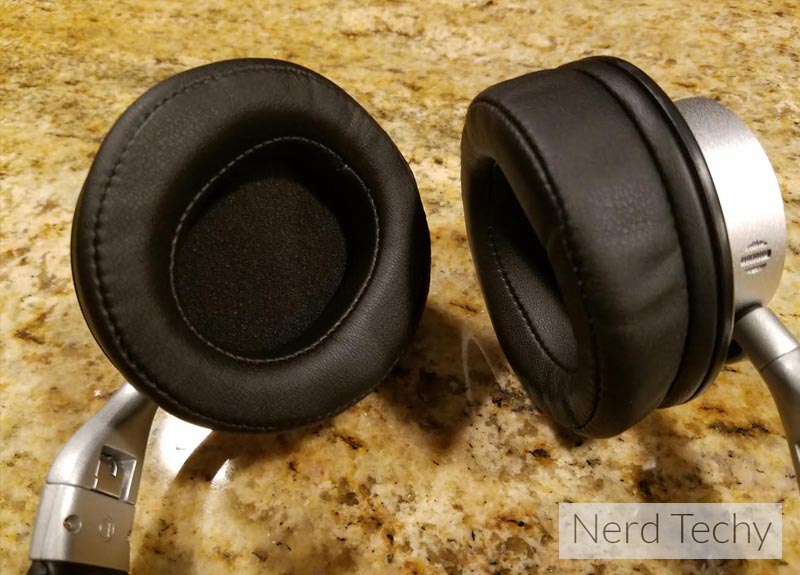 Disadvantages
Although Zinsoko strives to make products that are priced affordably without sacrificing sound quality, they simply aren't premium quality headphones. This should come as no surprise to audiophiles who are well informed as to the quality and technology required for premium sound, and which is next to impossible to find in this price range. The limitations on bass and treble frequencies in a mid-range product mean that invested classic or heavy metal fans might find the sound of the Z-H01's a bit harsh or underwhelming. That being said, the Z-HO1 were a refreshing and pleasant surprise given how many mid-range priced brands claim to deliver in sound quality but simply fall short. For users whose preference lie with pop, country, or folk music, the Z-H01's are perfect.
They are also a fairly big pair of headphones, which some users might find a bit too big. Keep in mind, however, that this is a good indication of quality audio equipment being fit into a compact device. The case is also rather bulky, which can be a nuisance for light travelers on their way to work. However, this does provide extra protection which, in the long run, means a longer lasting product.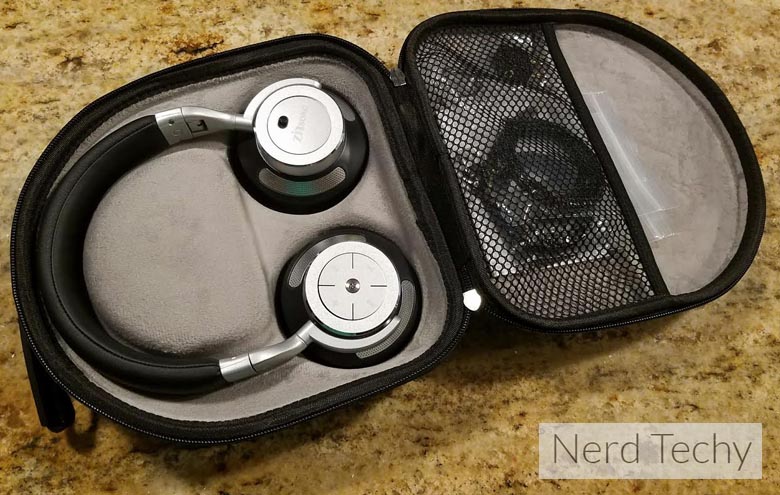 Final Verdict
If the Zinsoko Z-H01 Bluetooth Headphones are within your budget, they're some of the best bang-for-your-buck options you can buy. Their forward presented sound quality lends itself well to bass heavy music like pop, hip-hop, and electronic music. This makes them an excellent alternative to Beats By Dre or other fashionable headphones that are advertised for the younger generation, but their high-end styling gives them a much more executive look.
If you're looking for something that's audiophile grade, you might want to consider the Beoplay H9 headphones. They keep the same executive styling as the Z-H01's, but they're in a class of their own when it comes to sound quality.
Users who are looking for portability might find that over the ear headphones are too bulky. In this case, the Phaiser BHS-750 provide premium sound in an ultra-compact package. Alternately, those who want to enjoy their music without cutting themselves off from the outside world might consider bone conduction headphones. By bypassing your ear canal, you're free to hear everything going on in the outside world. But you still get to enjoy the one thing we're all here for – world class sound.