Whether you're into casual exercise or a rigorous routine, you likely understand the importance of listening to your favorite music. Not only does it help motivate you, but it can play an important role in the overall success of your fitness. For some, getting in your 'zone' and tuning into your favorite track is almost important as a proper warm up. Needless to say, most of us put a lot of importance into selecting the right pair of headphones to workout with.
If you've been searching high and low for a new pair of "sport" headphones or earbuds, you may have come across the new Phaiser BHS-750's. They've been gaining quite a bit of popularity as of late, so they caught our attention. Although they're not manufactured by a major, well-known brand, Phaiser has made a name for themselves in the budget-friendly space for a few years now. This is their newest release and we're quite excited to take a closer look at them.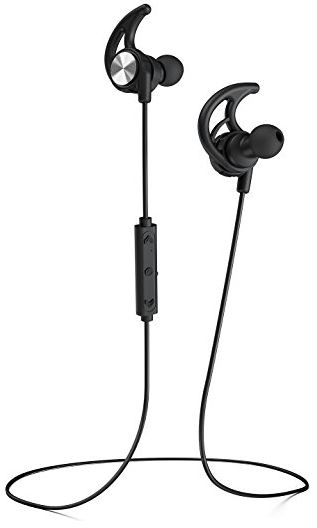 First Look
With a simple and minimalist appearance, the new Phaiser BHS-750 Wireless Headphones boast an attractive style. Available in three different color choices (blue, black or red), there's a good variety of options to choose from. We choose the black color, but it's nice to seem some options. Not everyone is a fan of the generic black, but we think it looks great with the small amount of silver in the center of each earbud.
Upon their arrival, we were glad to find that there were a wide range of accessories included. You get a compact protective case, two different varieties of ear hooks with multiple sizes, comply ear tips, line clips and a micro USB charging cable. There's an instruction manual as well, but many of us won't ever need to look into that much.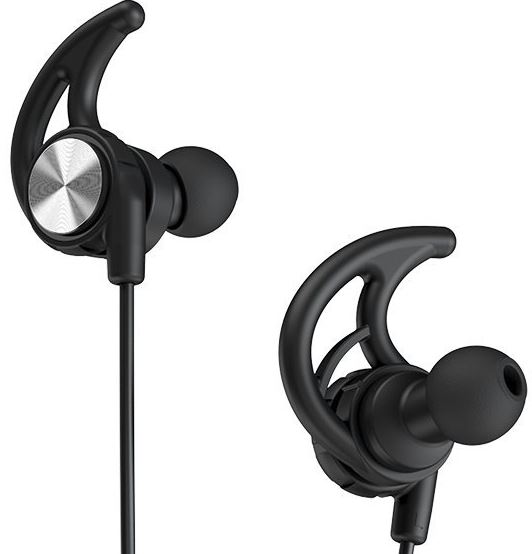 Fit
The BHS-750's have a small ear hook located right behind each ear tip. This small hook is to be pressed within the concavity of each of your ears. It wedges within and locks into place with a bit of pressure. The key here is to find the right size that works for you. Not all of us have the same size ears and everyone is unique. Before you use the headphones, take a few minutes and play around with included ear hooks and tips. You can freely pull them off and replace with a smaller or larger size. There shouldn't be any pressure points, but you need to make sure that they don't 'wiggle' around when you shake or move your head.
Luckily, the material that the tips and ear hooks are made out of is very soft and forgiving. Additionally, most won't need to adjust them a whole lot. They come shipped with standard, medium-sized tips and hooks installed. Take note because there are two different ways to wear them. You can have the wire coming up and over your ear, or down and lower. Either one works, it's really just all about your own personal preference.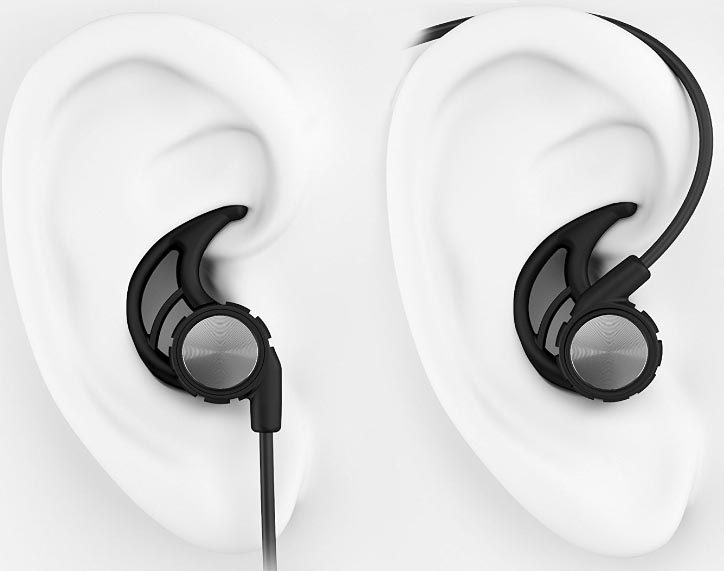 It's also worth mentioning that Phaiser threw in a set of Comply T-400 memory foam tips. These are typically an upgrade and made of much softer material than the standard tips. This softer material conforms nicely to your inner ear and helps seal out unwanted background noises or distractions. It's nice to see, and a pretty sweet addition!
Overall, we like the fit. They seem to stay nice and snug and they don't really become bothersome after hours of continuous use. They have a nice, flush appearance and they don't stick out of your ears as much as the original model.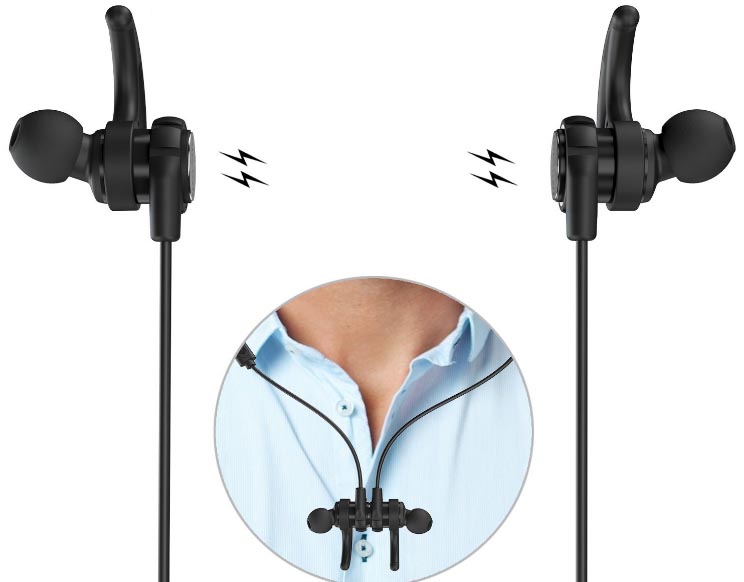 Magnet
A really neat feature that sets these apart from other models is the magnetic feature. Located on the backside of each ear bud is a small neodymium magnet that clasps together with the opposite one to hold securely around your neck. Think of them to be worn like a necklace, with the magnet making the loop. We found that this came in handy when you're using them, but not immediately listening to them. This feature is great for scenarios like going to the restroom or taking a break at the gym. Situations where you need to hold onto them, but you don't want to put them away in your pocket or in their case.
Pairing
Since the Phaiser BHS-750's are wireless, you'll need to 'pair' them with your device. Virtually any iOS or Android smartphone or tablet is supported, even most newer laptops. Basically, if your device supports Bluetooth, you'll be able to use it with these headphones. But first, you need to make sure that Bluetooth is enabled on your device. Ensure that it is by taking a quick look at your settings.
Once you've done this, you'll need to turn on the headphones by holding down the play button on the inline controller. Next, you should see 'Phaiser' show up on the list of available connections. Select it and you're good to go. Something that makes this process easier are the built-in voice prompts that verbally notify you when you've successfully paired.
As for wireless distance, you can expect around 30 feet between your device and the headphones. This will increase or decrease depending on obstructions in the way, but it's a good, general limitation to be aware of.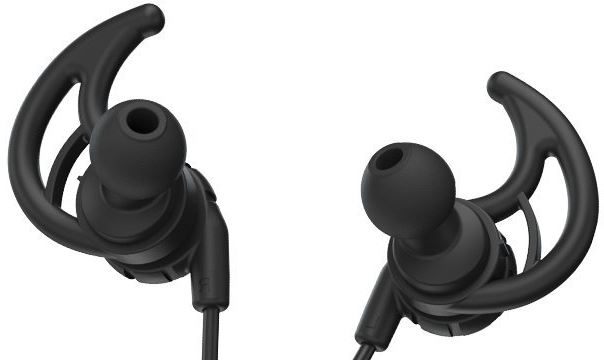 Sound
Once you're assured that you've fit the headphones properly to your ears, it's time to listen. Each earbud is equipped with a 8mm speaker, which may not sound impressive, but it works in conjunction with A2DP to make the most out of its small size.
Turning on music for the first time was a real treat. We were quite impressed with the amount of power and volume that these headphones are capable of. Throughout a few different songs of varying genres and styles, we can safely say that they excel in audio performance. We were initially impressed with the amount of clear treble that came through. But the treble only sounded good because there was a nice balance of bass to back it up. This isn't the kind of bass that we were expecting. The bass is really full of power with a rich, deep tone.
Cranking up the volume all the way wasn't really something we'd find necessary, but we had to do it. The volume range is pretty decent. Not absolutely incredible, but acceptable for earbuds. After all, you likely wouldn't need to crank them up if you achieve a proper fit first. We can't stress it enough – make sure your fit is dialed in, and then start listening.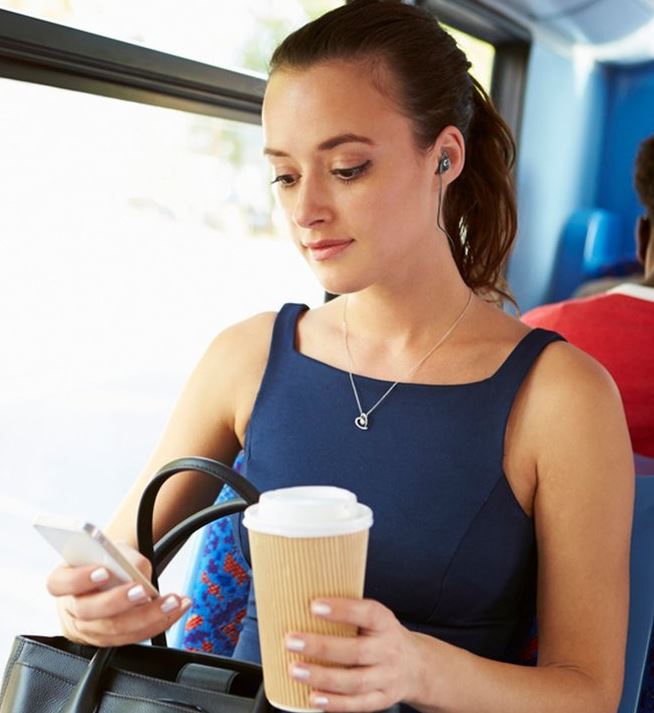 Durability
Holding them in your hands, you'll notice that they're equipped with metal pieces on the outside of each earbud. This is aluminum magnesium alloy, the same kind of material found in airplanes. It gives the headphones a solid and high-end feel while adding quite a bit of durability to the design. Rather than plastic, this metal will hold up a lot better over time.
You'll notice that the cables are rounded. Not exactly our first choice, since flat cables tend to tangle less, but we haven't had any issues with the wire becoming problematic in any way. It seems to be securely built and able to hold up to some abuse just fine.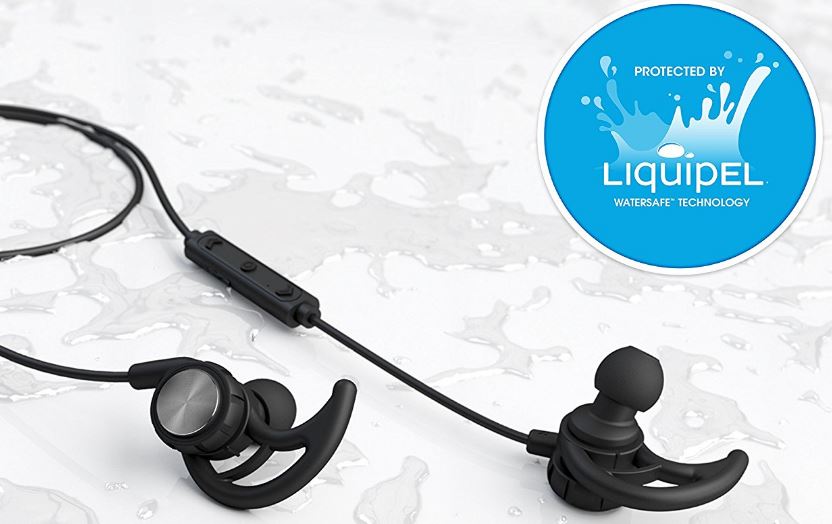 As with any pair of headphones that you bring along while working out, they're likely going to be exposed to moisture. Luckily, Phaiser thought ahead and made sure that the BHS-750's could stand up to moisture and sweat without issue. Now, these aren't the kind that you'll want to take swimming or into a torrential downpour, but they're designed to be 'sweatproof'. They're equipped with a special Liquipel Nano Coating that repels sweat and moisture so it never becomes an issue. We didn't expose them to that much water, but we did use them for two weeks of working out at the gym. Each time they've been exposed to sweat, and moisture hasn't been a problem at all.
Battery
Utilizing the latest in Bluetooth 4.1 technology, they're quite efficient in the battery life department. Rated for around 5 to 7 hours of continuous use, we found this to be quite accurate. They may not last this long if you have them turned up all of the way, but most can go days of working out without having to charge them each time. Although we recommend just making a habit out of it and throwing them for on the charger after each workout. However, avoid overcharging them if you can. Leaving them charging for too long can wreck havoc on the battery over the course of time.
A really cool feature that you don't see in all headphones is Phaiser's new LifeState technology. This lets you directly view the remaining battery life of the headphones while they're paired. Supported with the newer version Android and iOS devices, this can definitely come in handy. It gives you a clear indication as to when you need to charge them up. As far as charge time goes; we found that a 2 hour charge time was sufficient enough to top off the battery when it became really low.
Microphone
Built into the inline controller is a small pinhole that's actually a microphone. This lets you make and receive phone calls without having to take the headphones off or pause your music. If you're receiving an incoming call, you can simply accept or deny it with the inline controller and your music will resume once you've completed it.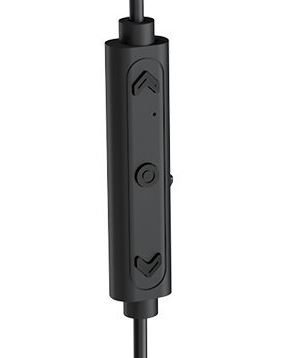 Testing out the microphone was a piece of cake. We tested it with three different incoming calls and all of them did great! The voice came through clear on both ends, just be certain that you're not too far from your phone. Keep it within 30 feet or less – the closer the better.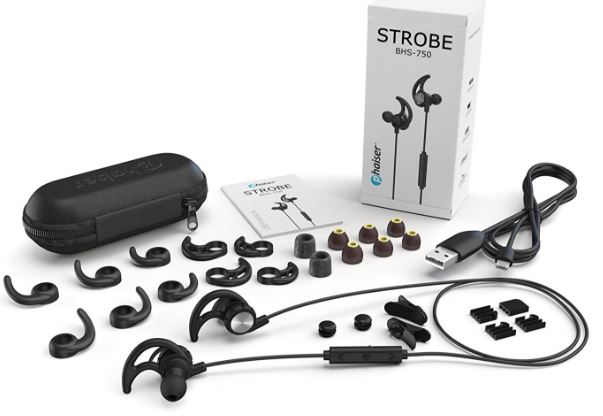 Final Thoughts
It's always nice to find a pair of in-ear headphones that sound well, fit comfortably and are built with good quality in mind. The new Phaiser BHS-750 Bluetooth Headphones seem to be the ideal blend of everything that we look for in a great pair, without an enormous price tag. They've even thrown in a lifetime warranty against sweat to assure that they're built to last and worthy of an investment. Sure, they're not the most well known brand, but Phaiser has a lot going for this newest release of theirs.
Overall, we wouldn't hesitate to recommend them to anyone looking for a nice blend of value and quality. But if you're looking for a pair of workout headphones that pack a little more 'oomph', be sure to checkout the new Powerbeats 3 or the Sony MDR-XB80BS. Sure they're quite a bit more expensive, but they're manufactured by some of the most reputable and high-end audio companies out there.
Meet Derek, "TechGuru," a 34-year-old technology enthusiast with a deep passion for tech innovations. With extensive experience, he specializes in gaming hardware and software, and has expertise in gadgets, custom PCs, and audio.
Besides writing about tech and reviewing new products, Derek enjoys traveling, hiking, and photography. Committed to keeping up with the latest industry trends, he aims to guide readers in making informed tech decisions.