The latest Intel Kaby Lake motherboards have just hit the market, and along with them a new set of chipsets. Although there are five new chipsets on the market, there are only two targeted towards consumers. H270 and Z270 motherboards are both very similar in many respects, but also very different.
Z270 is geared towards consumers who want to push the limits of their hardware, and are willing to put in the work necessary to build a stable system. H270, on the other hand, is designed to provide consumers with highest level of stability. You don't have to be incredibly technical if you want to use these boards, although there are a number of options available if you want them.
The H270 chipset provides users with a maximum configuration of one X16 PCIe slot and a total of 20 lanes. You can use these lanes for up to two PCIe storage devices, three active display port connections, and one graphics card. Manufacturers can equip their boards with up to 14 USB 3.0 slots, and six isolated SATA 6 connectors.
H270 motherboards support Intel Smart Sound, Optane, and Rapid storage. But of course, support for these technologies is just available to manufacturers. It's still up to them to build a motherboard that can handle everything you need. In this guide, we'll be taking a look at the three best H270 motherboards on the market. We'll help you understand what all these technologies do, and help you find a board that suits your needs.
Asus Prime H270M-Plus
The Asus Prime line has been used by budget minded consumers for years. Even though it has a number of high end features, this motherboard provides some of the best bang for your buck. For that reason, we figured it was a great starting point for anyone looking for an affordable H270 motherboard.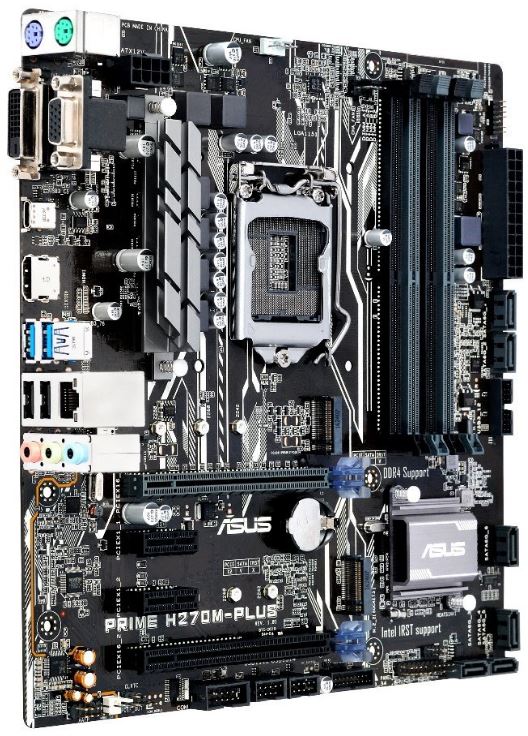 Design
Designed to fit within a standard mATX form factor, the Asus Prime H270M-Plus should be compatible with virtually all cases, both large and small. Asus uses a multi-layer PCB that buries most of the copper connections behind several layers of composite, which freed up space on the top for them to decorate the board with their iconic grid pattern. Despite the printing and the decorative coolers, Asus didn't let form get in the way of function. The coolers still do a great job of keeping the Northbridge cool, and the two PCIe x16 slots are intelligently placed far apart so you can still fit graphics cards in with large coolers.
The Back Panel is a little cramped, but Asus managed to squeeze in all the connectors you could ever need. You've got two USB 3.0 ports, two USB 2.0 ports, Ethernet, sound, USB 3.1, HDMI, VGA, and DVI. Other than display port, there isn't much else we could ask for.

Supported Components
The H270 was designed for the latest generation of i-series processors, although it's still compatible with last year's 6th generation models. This is a smart choice for budget minded consumers. Generally, the prices of Intel CPUs drop a few months after release. You could easily set up a new system with your current processor, and upgrade once the price comes down a bit.
There are a total of four DIMM slots for your memory. This motherboard runs in dual channel, so you can have two 32GB kits (16GB per slot) for a total of 32GB. Dual channel allows the board to access two sticks of ram at the same time, while you could use cheaper single channel RAM, you're really going to want to use dual channel if you want to take full advantage of everything this board has to offer. As an added benefit, you can use up to 2400Mhz ram, providing extremely high access times.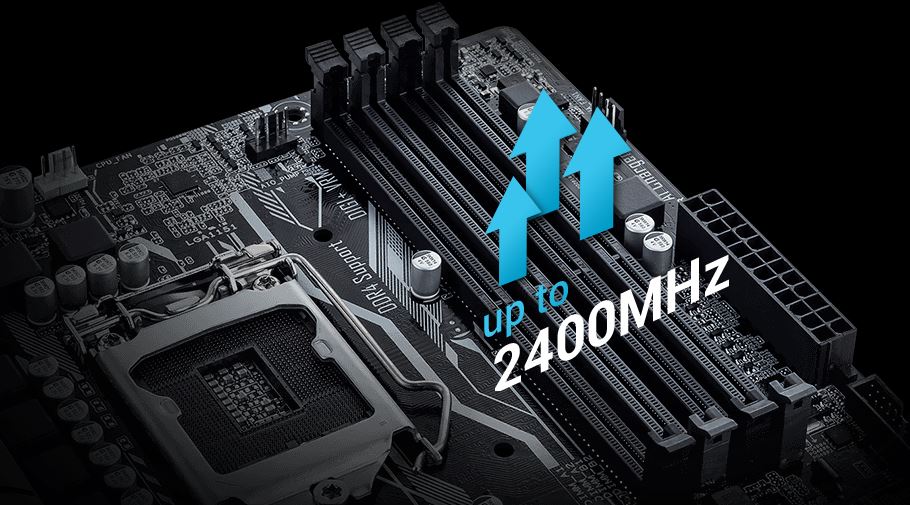 You can use one graphics card from any manufacturer, or dual AMD graphics cards. It's a little unusual for a manufacturer to only support one vendor's crossfire technology, but the limited PCIe lanes prevents Nvidia cards from working.
Storage wise, you can have either 6 SATA devices, or 4 SATA drives and two PCIe drives. You must be using a Kaby Lake processor to use PCIe storage. If you're still on 6th gen, the M2 slots can be used in SATA mode.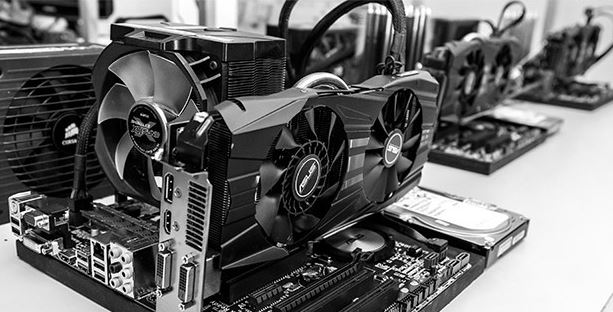 Features
ASUS is a company that's known for the reliability of their products, and you get a little more with the Prime H270M-Plus than you would with other models. The PCIe x16 ports are both reinforced, preventing you from damaging them even if you're using very heavy graphics cards.
The board also supports a program called FanXpert 4 Core. This is included with the board, and offers dynamic modification of your fan speeds to produce either the best cooling or the quietest operation.
MSI Gaming H270 M3
If you're looking for a motherboard that offers a little more in the gaming performance, MSI's H270 offering might be for you. The board is one of the most attractive ones we've come across, but is still available for a surprisingly low price.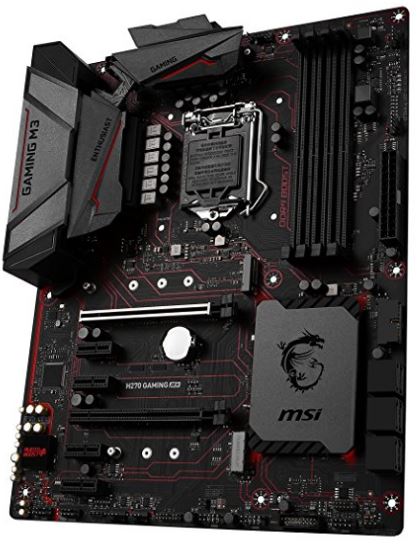 Design
The all black color scheme of the MSI Gaming H270 M3 is certainly striking, but the red and steel accents really bring it to life. One of the PCIe slots is made from a metal frame, and various parts of the board are decorated with blood-red highlights. The metal is polished to a near-mirror finish, giving it a sleek yet aggressive appearance.
From looking at the layout alone, you can tell that this board has a few things not common on the H270 platform. There is an advanced Northbridge cooler, and a number of bright LED's that can be used with MSI's "mystic light sync" software. But this board is more than just a pretty face, as it can be used with some of the most powerful hardware on the market.

Supported Hardware
There are several non-standard upgrades found on the M3 motherboard that are designed specifically with gaming in mind. For starters, you can use dual graphics cards from both AMD and Nvidia. Graphics cards are often the main component gamers focus on, so the freedom to select whichever cards you feel is best is a nice touch.
But one of the most underrated things is storage. Waiting for levels to load off a dusty old hard drive is a frustrating experience. Currently, PCIe storage is the best on the market, and the two M2 slots can be used in RAID. This allows two storage devices to be seen as one, effectively doubling the total bandwidth. MSI refers to this as "Twin Turbo," although it's effectively identical to RAID.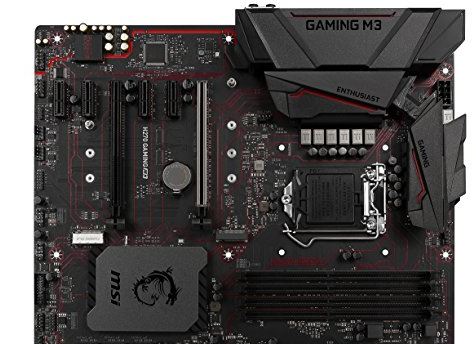 Although this board is compatible with 6th generation processors, you should only consider it if you're using a Kaby Lake CPU. Using the 6th gen processor loses you a lot of the features that make this board great. Only the 7th generation supports 2400 Mhz ram, Twin Turbo, and PCIe storage.
Features
Your gaming experience all boils down to two things – video and audio. That's why MSI made sure to go all digital with this board. HDMI, USB 3.0, DisplayPort, and DVI are all supported, although you'll need an inexpensive adapter to use DisplayPort.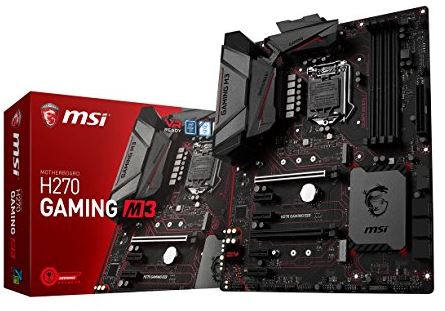 The audio itself has also been significantly improved. MSI uses a high and OPamp in what they call the "audio boost" chipset. This allows for full 5.1 surround sound, and all of the connectors are provided for you to do so. If you'd rather connect your own amplifier, MSI's provided a optical out for pure, unmodified digital sound at 24 bits.
ASRock H270 Pro 4
If you're looking for the crème of the crop, the Pro4 motherboard by ASRock looks to be the one you want. Not only is the board attractive, but it's got the full support of every feature available on the H270 platform.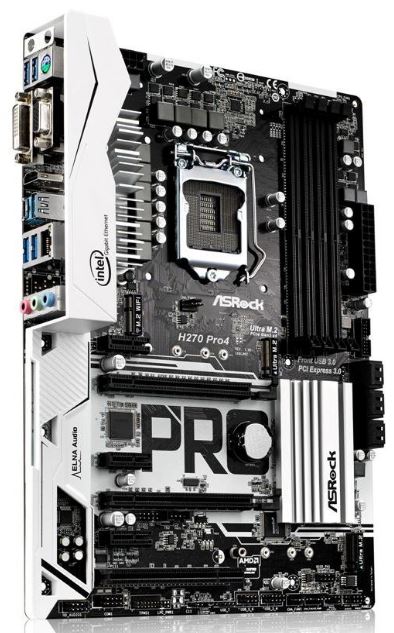 Design
While most motherboards go for a more reserved look, the high contrast appearance of the ASRock H270 Pro 4 far stands out from the ground. Behind the PCIe ports is a massive white bar with the model name plastered into it, which lines up with the white cooler. This is accented with the massive white I/O port cover that's styled with the Intel logo.
Beside the black and white styling, the board is fairly standard in terms of layout.
Supported Hardware
One of the nice things about the H270 Pro4 is the fact that all of its features are supported on both 6th generation and 7th generation processors. It will accept virtually any CPU using the 1151 socket from I series processors to the budget minded Celerons. You can pair these CPUs with up to four 16GB DIMM memory modules, and two graphics cards in Crossfire from either Nvidia or AMD.
The one nice thing about Crossfire on this motherboard is that you're getting true dual X16 PCIe lanes. Most boards operate in either single card X16 mode, or dual X8 mode. But this board allows you to have it all, giving you twice the potential bandwidth of most.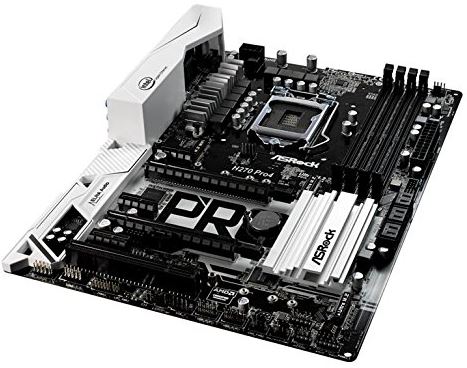 You can pair those cards with a total of three additional PCIe lanes. These can be used all as add-in cards installed in the PCIe x1 ports. You can also use one of them in the M2 slot. But if you don't have any available PCIe lanes, the M2 slot can also operate in SATA mode. But one of the unique things about this board is it's support for SATA express. Essentially, SATA express is PCIe storage, but using the standard SATA port. These drives are becoming a little more common, particularly with high end external drives. This compensates for the single M2 slot, and gives you access to a rising standard.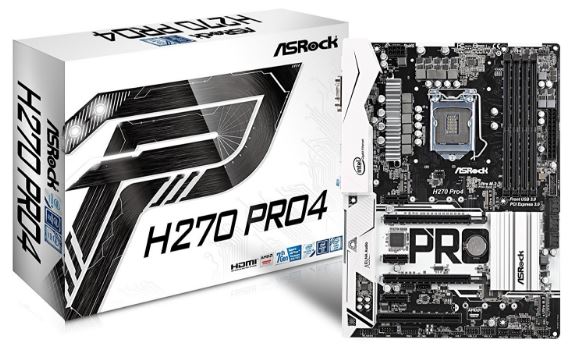 Features
This board is built for durability. ASRock used platinum capacitors for every component on the board, providing an expected 20% increase in life. The caps they've used are made by Nichicon, a Japanese company. These caps have shown to increase stability in stressful environments, allowing you to push your hardware a little further.
Which H270 Motherboard is Right for Me?
With so many similarities between H270 motherboards, it can be difficult to make a decision. But the subtle nuances of each board can make a world of difference when put into use.
For the budget minded consumer, the Asus Prime H270M-Plus provides the best price to performance ratio. You gain access to virtually all of the features supported by H270M, at once of the lowest prices we could find. Sure, it may not be the cheapest board on the market. But is the cheapest board that supports all of the H270 specifications. In our eyes, if you're buying a board that restricts the performance of the latest generation CPUs, there isn't really a point in upgrading.
Some of you aren't going to be upgrading your computers all at once. If you're planning to upgrade a few components now and hold off on the CPU until later, the ASRock H270 Pro 4 is a great choice. This is the one board that won't hold you back by going with a 6th generation chip, and the addition of Express SATA means that you've got more storage options.
For gamers, the obvious winner is the MSI Gaming M3. This board has the best sound and video options we could find, and the ability to use RAID can drastically improve your load times.
Couldn't find a board that was powerful for what you wanted? It's possible that the H270 platform isn't for you. We just did a roundup of the best Z270 motherboards on the market. These boards will also let you use Intel's latest processors, but their powerful performance and overclocking capability make them the current crème de la crème.