Wearables are the current hot trend in today's tech industry. For consumers, this means that shopping for one can be an exciting, but challenging time. There are many different competing designs on the market, with each option tailored to a specific segment of the population.
Finding the right watch requires two things. You need a clear understanding of your needs. Not necessarily which features you're looking for, but an idea of how a smartwatch can improve your life. Secondly, you need a clear understanding of what each option can do.
Casio is a fixture in the watch industry, and their smartwatch offerings have received nothing but praise. The latest entrant to their line is the WSD-F20. Let's take a look at the specifications, and see what this means for you.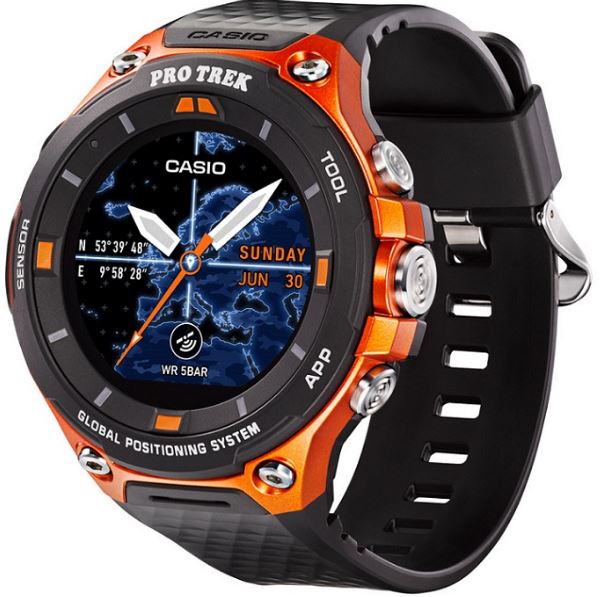 First Look
The WSD-F20 is one of the more industrious watches on the market. While some manufacturers are going for the sleek, ultra-modern appeal, many consumers find that this eye-catching design comes at the expense of durability. But Casio is known for their rugged design, making their offerings the first choice for active users. What this model brings to the table is more of an update on their previous success. The design is tried and true, but some of the features are cutting edge.
Software
When you're shopping for a phone, your choices are obvious. You can go with IOS or Android. But the smartwatch industry hasn't evolved quite as much. Although most vendors started using android wear, they often turned to their own systems once they gained market share. The advantage, for some, is a highly-specialized piece of software that does one thing better than competing models.
Even though Android Wear isn't the most promoted operating system, there is still one clear advantage to the platform. It gives you flexibility. That makes this watch a jack of all trades. It ships with the essential features that everyone wants, but a large database of apps available means that it can be customized to your own specific application. The latest version of Android wear is a must have on this platform, as many older versions have incompatibility issues. This specific version has been out for a little while, but several updates have been rolled out. For you, this means that your watch should continue to stay up to date in the future, preventing you from having to upgrade early.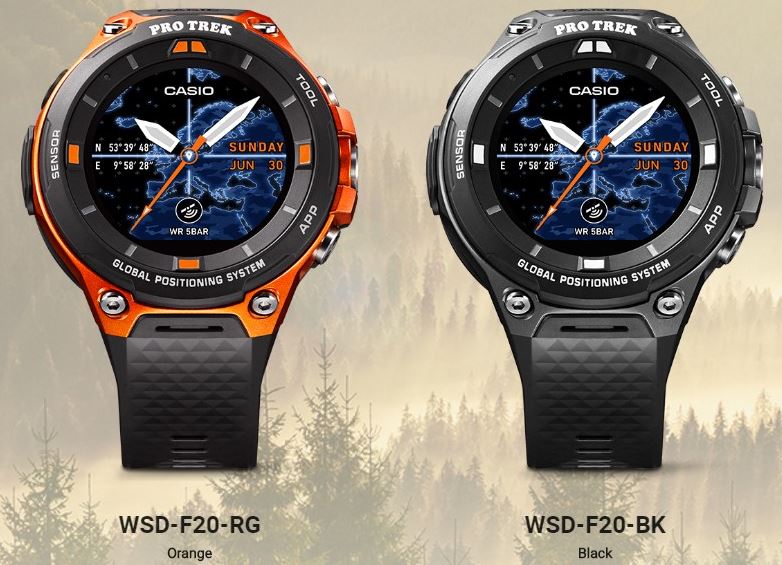 Display
The display measures 1.32 inches diagonally, and has a resolution of 320×300. In real life, the display is crisp and vibrant. The resolution, on paper, is a little higher than your average watch. But in our tests, we found that the difference wasn't easy to notice. This might seem low compared to the high resolutions of modern phones. But when you look at it in terms of pixel density, you'll find that this screen is just as clear.
One of the unique features of this screen is that it's dual layer. Essentially, this is two screens stacked on top of each other. One is full color, while the other is monochrome. The advantage to the monochrome screen is battery life. Without the color display on, the battery can last a very long time.
What's unique about Casio's application is the fact that the monochrome screen can be used for apps. Most watches use this only for telling time, enabling the screen when you access any app. In power saving mode, you can display apps like GPS and messaging on the monochrome display. When you're out for a hike, you can just leave the app open and refer to it when necessary. You won't kill your battery as fast as other watches, which is a much more practical application of this feature.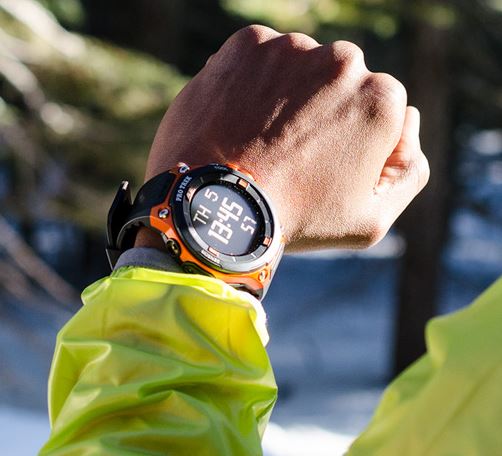 GPS
The GPS feature is relatively new to this line, and one of the most requested features of modern smartwatches. Casio isn't the first to offer low-power GPS technology, but the latest generation is much more accurate than the last. This means that using the GPS won't kill your battery as fast, and the accuracy is comparable to a modern smartphone. One thing that we will mention is that the mapping app looks amazing in color. While it's possible to use in black and white, we wouldn't want to use this for an extended period of time. It's a better option when you're simply logging data. For example, you could track your run, then look back on your data at a later time.
Design
The Chunky appearance of the watch may be off-putting to some, but we were big fans of its appearance. It as a tough, military like look. Casio offers two different color options. The orange model is very eye catching, and our personal favorite. While the face of the watch and the band are still black, the powder coated metal ring has a sheen that you'll never see on a plastic watch.
The black option is much more utilitarian. If you want your watch to blend in a little more, this is a great option.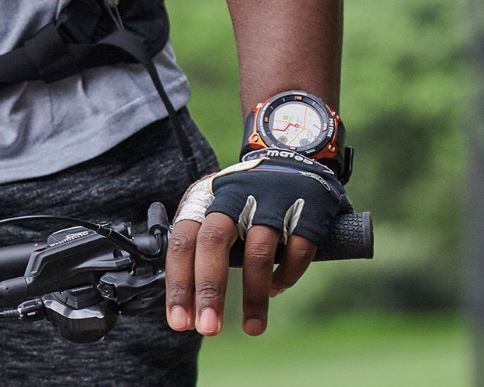 Durability
Weighing in at 810 grams, this watch has a lot of heft to it. This is because every structural component is made from metal. It's earned the military standard for watches, ensuring that it will survive even the toughest environments. Heat, cold, rain, or even snow won't harm it. It's water resistant down to 50 meters, which is one of the best ratings in its class. All of these features were available in the previous generation, but this latest option is surprisingly 0.8mm thinner.
Features
Vendors who use Android Wear can choose what functionality they want to ship their watches with. Casio has included virtually every option available. This means that it has a built in compass, altimeter, and accelerometer. These features are most useful in the activity tracker, giving it a pretty accurate read on where you went, and what you did. It also has a microphone, which increases functionality as a communication tool. You can take your hands-free calls through the watch, and leave your phone in your pocket.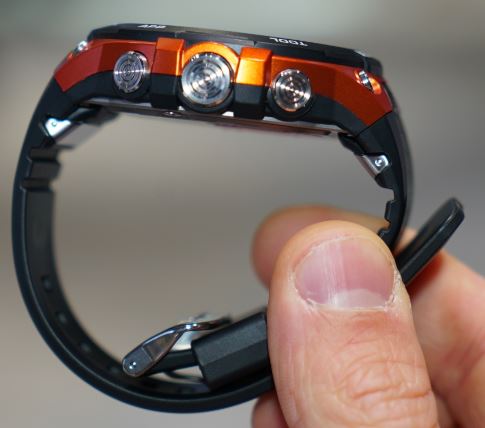 Moment Setter
One of the unique selling features of this watch is the moment setter. This is integrated into the watch face, and can be set using the dial. Casio is working hard to promote this as the ultimate outdoorsmen's watch, and recommends using the moment setting for reminding yourself to hydrate, or any other activity based reminders. But we found that it was useful for cooking, remembering garbage day, or anything where you want to set simple reminders for yourself throughout the day. Think of it like the timer, but without all the hassle.
Battery Life
What surprised us was how long the watch lasted. If you're using the black and white screen exclusively without much app activity, it will last you a whole month. With the GPS and screen on, we got 25 hours. This means that even if you're a heavy, daily user, you'll still make it through a full day without having to charge. Most users will be able to make it several days, although this depends entirely on your usage.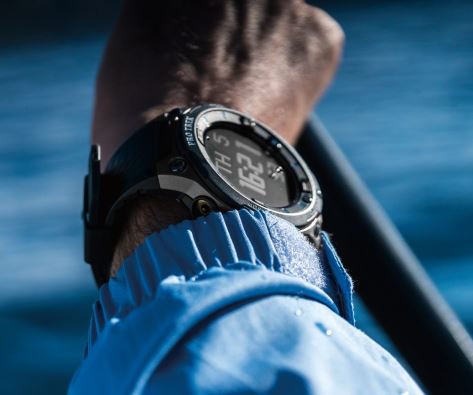 Disadvantages
The only thing that this watch is missing is a heart rate monitor. These can be found on our phones, and were popular on early smartwatches. The problem is that standard heart rate monitors are not very accurate. Dedicated fitness watches often include a high-end heart rate monitor, although at significant consumer expense. Even if the accuracy isn't perfect, we still consider having a general idea a handy tool to have.
Final Verdict
The Casio WSD-F20 took everything we liked about the last model, and improved it. We probably wouldn't recommend that you upgrade, as the changes are minor, but welcome. That being said, if you're looking for a new smartwatch that isn't going to break the next time you go camping, this is a great option. Most durable smartwatches are packed with hardware for high end physical training, so these aren't always a viable option for consumers. If you want a watch that can survive anything, but are more interested in standard smartwatch functionality, this is a great option.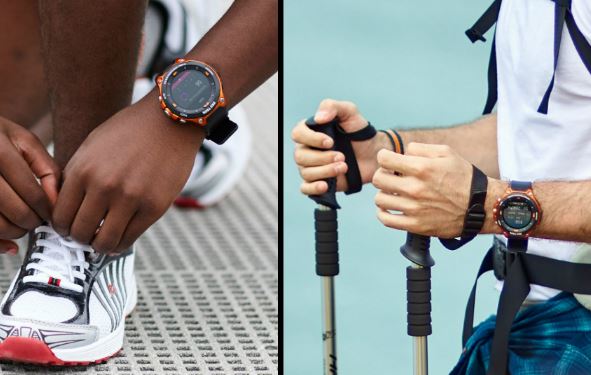 If the lack of a heart rate monitor is a deal breaker for you, there are plenty of other options that still have durable cases. Our personal recommendation would be the Fenix 5X. You aren't using android wear, Garmin's operating system of choice is great for personal fitness.
In spite of minor differences, we're happy to see that there are so many options available for consumers. The smartwatch industry is still an exciting place. If you haven't had the opportunity to use one, we'd highly recommend that you do so.