The ILIFE V5s Pro is a top-of-the-line robot vacuum ready to keep your home clean. With its multiple cleaning modes, smart features, and durable features to keep it safe, you won't have to vacuum your floors yourself again.
Oh, and did we mention it has a mop mode? If all of that sounds like it could make life in your household better, you should keep reading.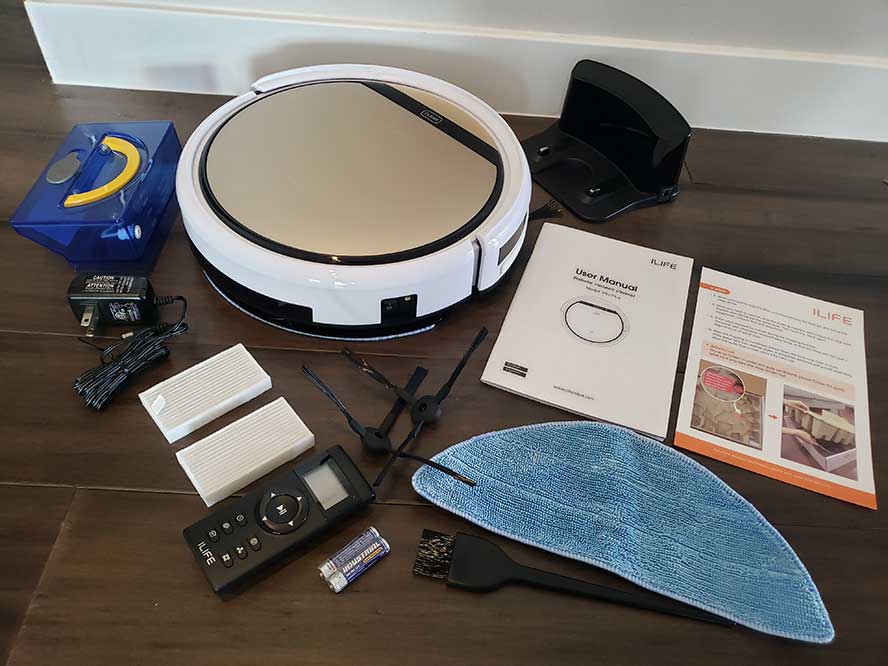 Easy to Control with Smart Capabilities
The ILIFE V5s Pro is packed with smart features to make cleaning your home a breeze. To start, it's able to be controlled and programmed via Wi-Fi and the ilifehome app. The app allows you to set up a cleaning schedule and tell it which cleaning modes to use.
It also lets you review the cleaning history to make sure your vacuum worked when it was supposed to. If something goes wrong, the app lets you see what parts maintenance should happen.
Another cool controllability features it's compatible with is voice control. If you have a Google Home or Amazon Alexa, you can pair the ILIFE V5s with it. Then, you're able to simply tell your voice-controlled device to start cleaning when you want it to. If you'd rather control your vacuum with a remote, there's one included in the packaging.
Cleaning Ability
When it comes to cleaning ability, there's a lot to like about the ILIFE V5s. There are multiple cleaning modes pre-programmed for you to choose from. They include auto mode, max mode, edge mode, and spot mode.
These modes all utilize the powerful built-in suction power. This power allows the vacuum to pick up dust, debris, hair, and more. Pet hair is a highlighted item that it can handle extremely well, making it ideal for homes with pets.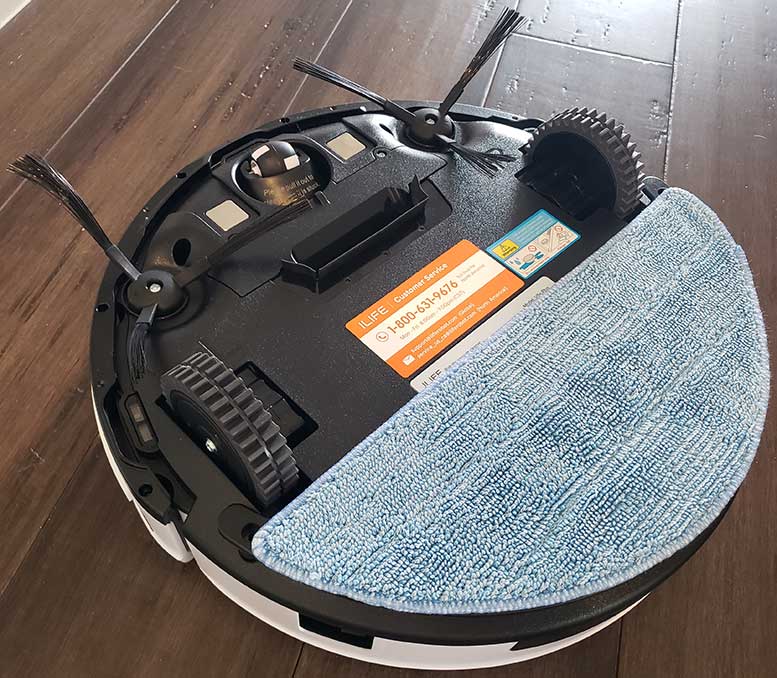 If you live in a home where you have multiple flooring materials (hardwood, laminate, carpet, etc…) it can handle them all. This vacuum can transition easily between flooring materials so there won't be any gaps in cleaning. Some reviewers note that when operating on area rugs it can get stuck.
Additionally, there is a 300 mL water tank to enable mop mode. This lets the device help clean even the toughest stains and dried-on dirt. All of this cleaning is enabled by a 2500 mAh battery. It can run continuously for 100 minutes, and then drive itself to its charger to charge back up.
Anti-collision Features
The ILIFE V5s is a durable vacuum that can keep itself and your home safe. On the front of the device is an infrared sensor. This allows it to "see" obstacles approaching and slow down. It likely will completely stop itself from running into anything.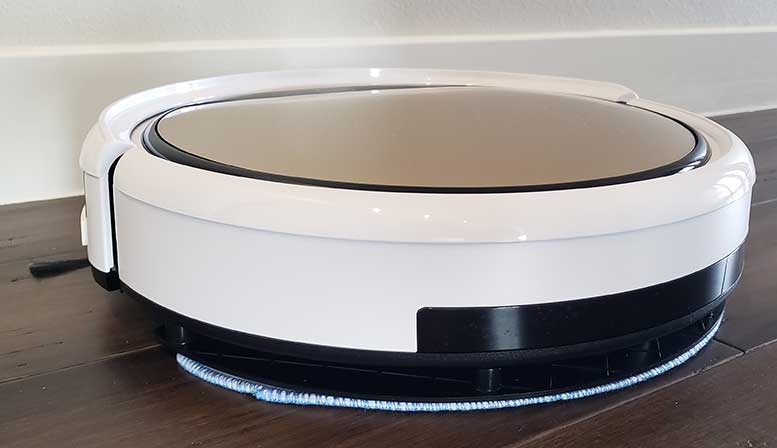 However, if it does make contact, it has a movable front that makes it bounce safely. This also keeps your furniture and home from being damaged. Additionally, it won't drive itself off stairs or ledges. Using multiple sets of sensors, it can detect when it's coming up to a ledge.
When it senses this, it comes to a stop and re-directs itself to avoid falling and being damaged. In the event that it does get stuck or tangled in something, the vacuum will shut itself off. This helps to reduce any further damage to itself or your belongings. When this happens you can simply free it and have it continue cleaning as usual as long as it didn't get damaged.
Sleek and Functional Design
The overall design of the V5s has been done nicely. It's a powerful cleaning machine wrapped in a compact package. The diameter is 11.8 inches, while the height is only 3.19 inches. This low height allows it to go under couches, beds, chairs, and more with ease. For most pieces of furniture, you won't have to move anything to get the deep clean you're looking for.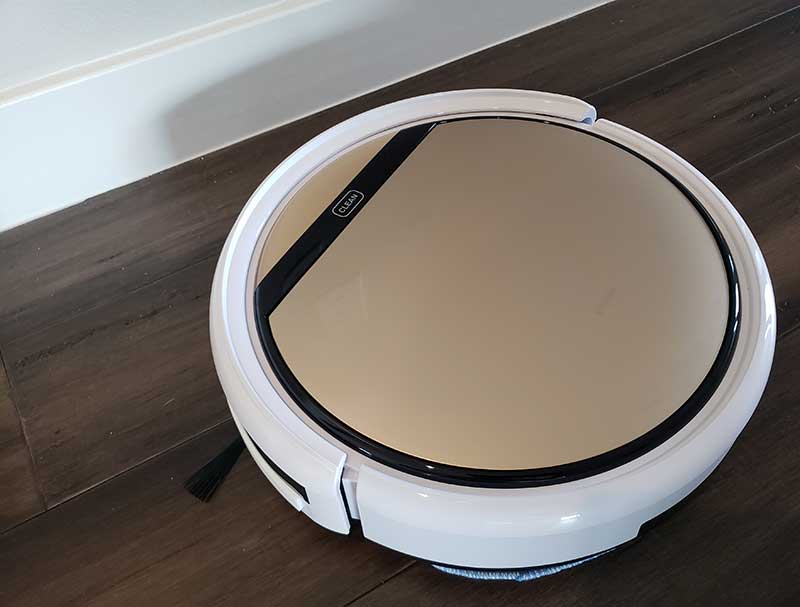 Multiple wheels move it around and allow it to swivel in place. As long as it can fit somewhere it will easily be able to maneuver and clean. As for the actual looks of the device, it's very modern.
On the downside, there is only one color available (gold with white features). This has the potential to make it either blend in nicely or stick out depending on the interior design of your home. If it doesn't match, you can simply put the charging station somewhere out of sight.
The top of the vacuum has a button to initiate cleaning and a light to indicate a Wi-Fi connection. Additionally, there's a physical button to press that allows access to the internal water tank and dust filter.
Who is ILIFE?
ILIFE is a manufacturer of cleaning devices that use current technologies to make your life easier. They have been in business since 2010, selling their products in over 40 countries.
Millions of families have been positively impacted by their vacuums and other cleaning devices. They specialize in designing and producing robot vacuums, and the V5s is proof they know what they're doing.
Should You Buy One?
The ILIFE V5s is a fantastic robot vacuum that will keep your home clean. The ability to vacuum and mop with one device is a major plus in our book. If you're someone who loves smart features in their devices, you can't go wrong here. Whether you want to control it with your phone, a remote control, or your Google or Alexa device you can do so.
Its sleek design allows it to clean nearly everywhere in your home. You also won't have to worry about it getting damaged, as it has state-of-the-art sensors to keep it from crashing. The only downside we can find in reviews is that it can sometimes get stuck or tangled in rugs and cords.
However, it shouldn't damage itself or anything else in those cases and shouldn't deter you from checking one out. If all of that sounds like a great set of features, then the ILIFE V5s should be your choice. Best of all, it comes in at only $179.99, significantly less than other competitors.