In the quest for the best 200mm case fans to keep your computer cool and running efficiently, we have compiled a list of the top five options available on the market.
These fans not only provide exceptional cooling performance but also maintain quiet operation to ensure an uninterrupted computing experience. Here's an overview of our picks with a few key highlights:
We will provide an in-depth review of each of these fans while sharing their pros and cons. By the end, you'll have all the information you need to make an informed decision on the perfect 200mm case fan for your needs.
Noctua NF-A20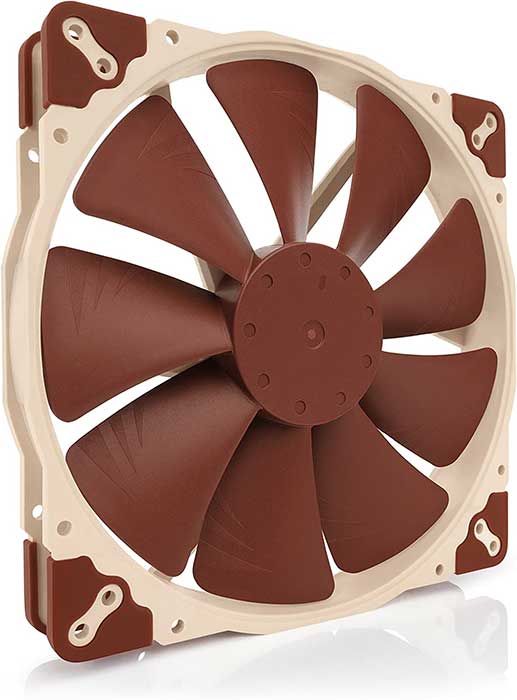 Key features:
Premium quiet cooling performance
Advanced Acoustic Optimisation frame
Flow Acceleration Channels
SSO2 bearing for smoothness
The Noctua NF-A20 is a premium 12-volt fan measuring 200 x 200 x 30 mm (7.8 x 7.8 x 1.18 inches). This fan is an excellent solution for those looking for high-quality cooling in the 20cm form factor. It is essential to ensure sufficient space in your case for the fan, and this one certainly allows for this with its compact design.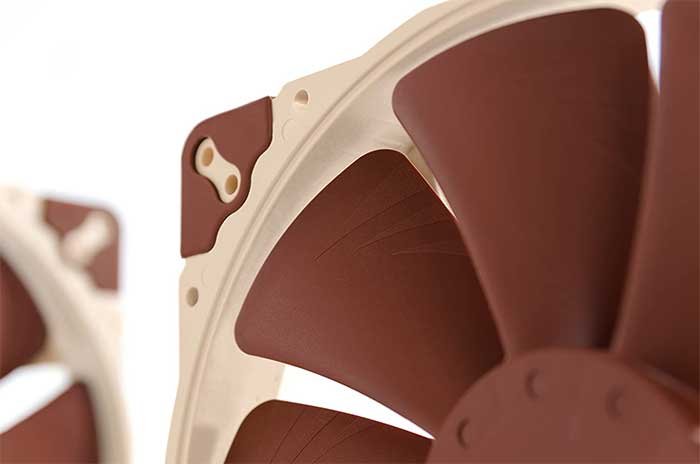 An Advanced Acoustic Optimisation (AAO) standard frame is present here, along with Flow Acceleration Channels and a second-generation SSO bearing (SSO2). The result is not just cool performance but also quiet performance. With a maximum rotational speed of 800 RPM and a noise level of just 18.1 dBA, it's capable of delivering high airflow at exceptionally low noise levels. The fan is compatible with desktop devices and uses a 4-pin power connector.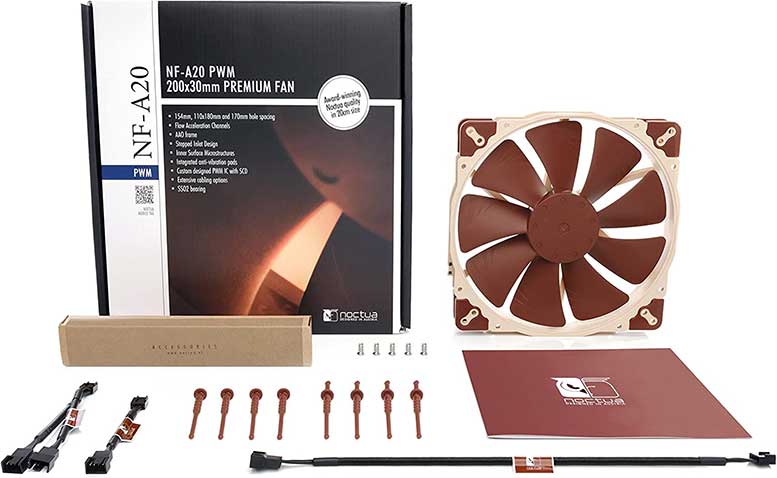 The NF-A20 comes with extension and y-cables, fan screws, anti-vibration mounts, and a low-noise adaptor. The included y-cable enables you to connect two PWM fans on one header. Moreover, the fan is designed with three sets of mounting holes (154 x 154, 170 x 170, and 110 x 180 mm) to ensure broad compatibility with various PC cases. It's worth noting that this fan sports a beige and brown color configuration. It's a unique and attractive aesthetic, but it might clash with your setup. Color is sure to be a moot point for many, but those with clear cases may balk.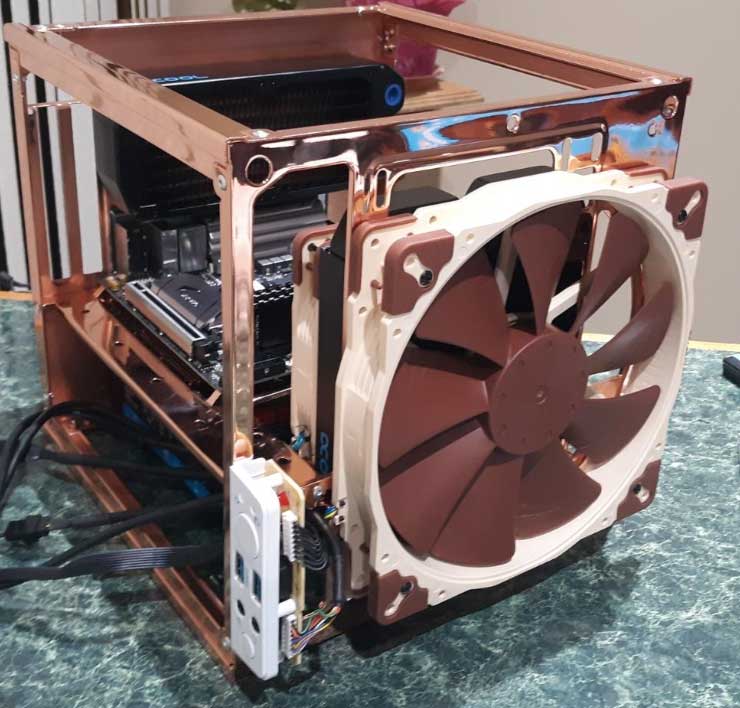 Of course, a little mismatched hardware colors is a small caveat when you consider the performance and reliability of the NF-A20. In our testing, it performed exceptionally well, delivering efficient cooling while maintaining its quiet operation. The fan's aerodynamic design and SSO2 bearing contribute to its outstanding performance, making this one an elite choice for those with high cooling demands.
What we liked:
High airflow at low noise levels
Broad compatibility with PC cases
Anti-vibration mounts included
Versatile mounting hole options
What we didn't like:
Requires sufficient case space
No fixed industry standard size
Cooler Master SickleFlow 200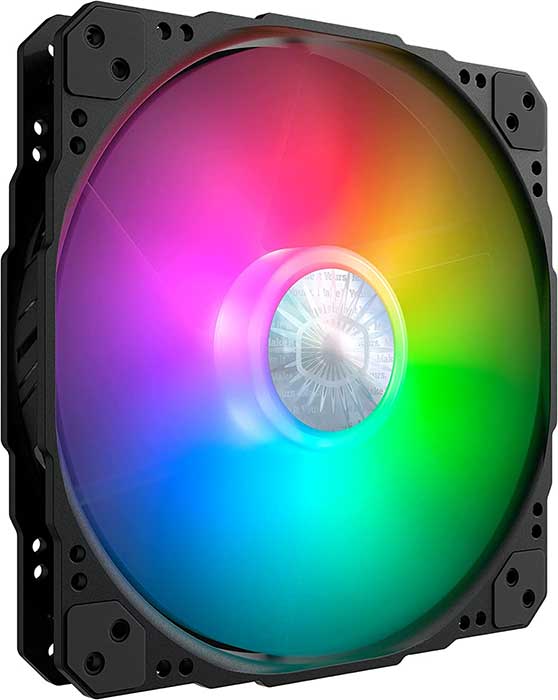 Key features:
Addressable Gen 2 ARGB lighting
Enhanced fan frame, reduced noise
Sealed bearing structure, improved lifespan
Dynamic PWM fan control
The SickleFlow 200 from Cooler Master is a cutting-edge, square-frame fan that's perfect for computer enthusiasts who value performance and aesthetics. Measuring 200 x 200 x 25 mm (7.9 x 7.9 x 1 inches), this fan is designed to provide efficient airflow with minimal noise. In fact, its maximum sound output is just 15.7 dBA.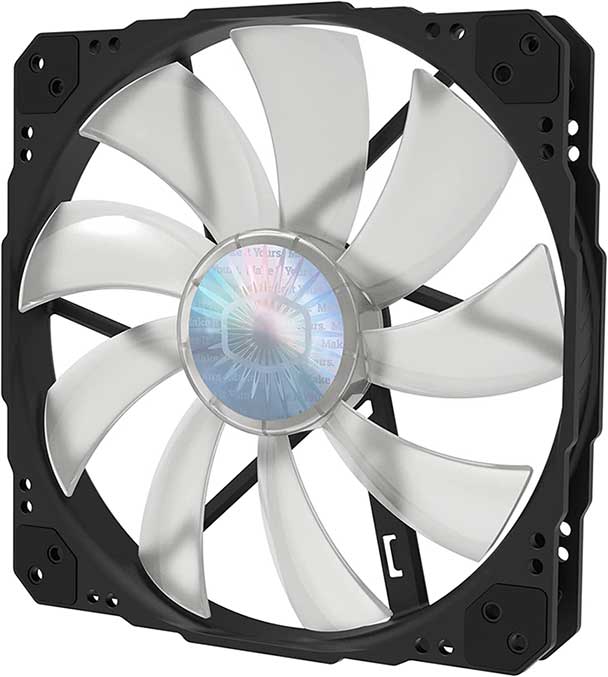 We appreciate the enhanced fan frame, as it's reinforced with added rib support. This effectively reduces turbulence and noise while improving overall durability and efficiency. And the new blade design of the Air Balance fan blades further contributes to impressive airflow and air pressure.
With the 12-volt fan comes with Addressable Gen 2 ARGB lighting, which allows for versatile customization of each individual LED's color. The only downside here is that you have to supply both the controller and the software. But once you're up and running, the frosted fan blades enhance light dispersion, creating a stunning, colorful effect.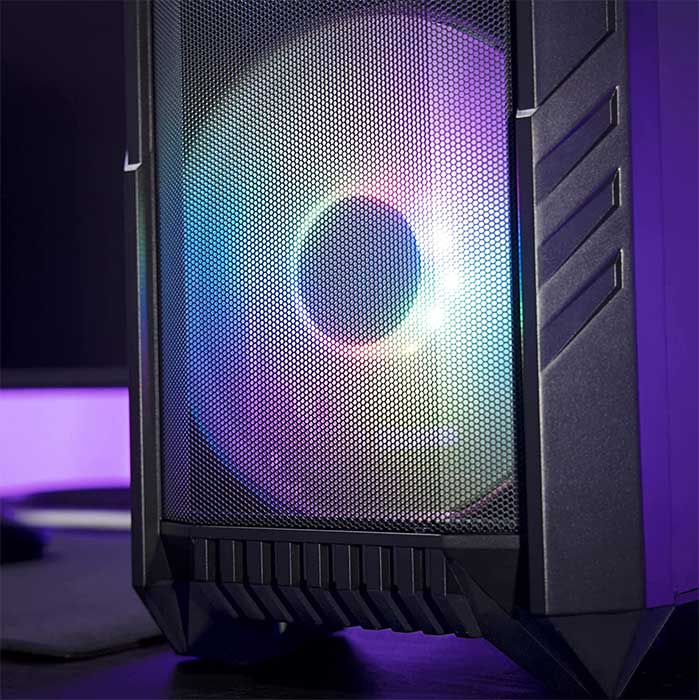 This fan also boasts a sealed bearing structure that serves to block out dust while preventing oil leakage, thus improving its lifespan and performance. Additionally, the PWM fan control enables dynamic speed adjustments between 0 RPM to 800 RPM, allowing users to balance noise reduction and optimal airflow.
Cooler Master's SickleFlow 200 is an exceptional choice for those seeking a customizable, high-performance cooling solution with minimal noise output. Its innovative design and attention to detail make it an ideal choice for any computer case.
What we liked:
Impressive airflow and air pressure
Vibrant, customizable LED colors
Fortified square frame structure
Frosted blades for light dispersion
What we didn't like:
Controller & software needed for customization
Not everyone will like the color scheme
AeroCool Silent Master 200mm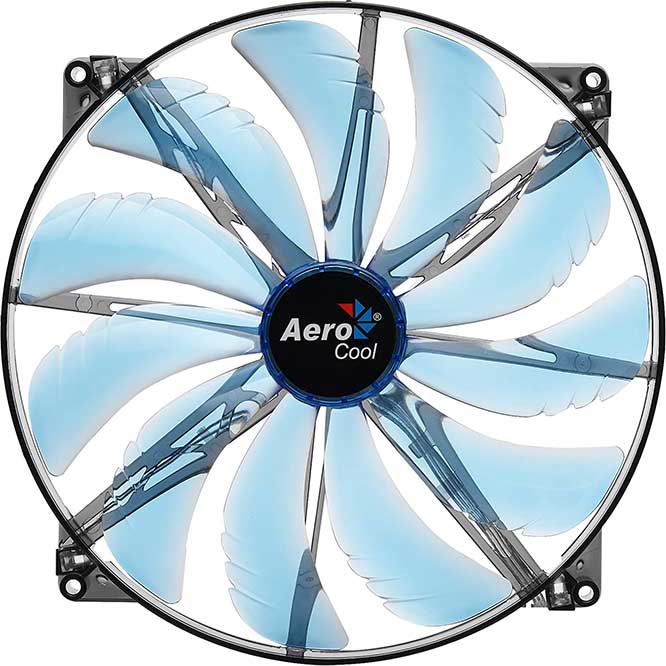 Key features:
High airflow up to 76 CFM
Low noise level at 18 dBA
Stylish blue or red LED lighting
Efficient curved fan blade design
The AeroCool Silent Master 200mm is an excellent addition to any desktop PC, providing efficient cooling and a stylish touch. We tested this fan in various scenarios to assess its performance, and it consistently delivered high airflow with minimal noise.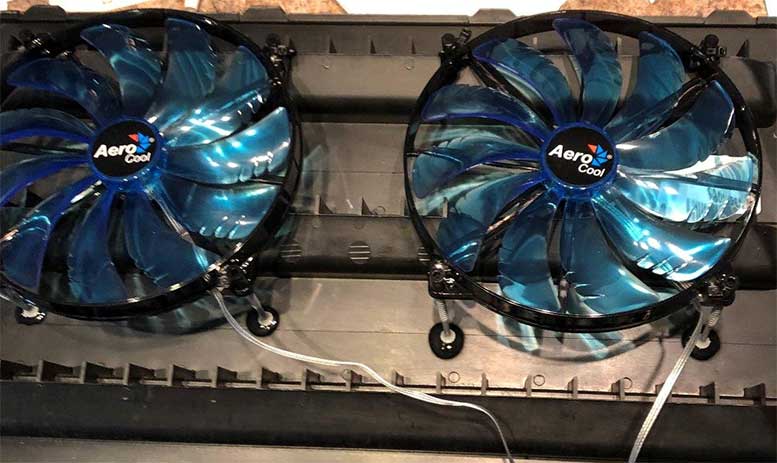 The unit's aerodynamic large fan blade design allows it to generate up to 76 CFM of airflow while maintaining a low noise level of 18 dBA. This is achieved by running at 800 RPM, ensuring your PC stays cool without any distracting noise. The fan is compatible with desktop devices and uses a 3-pin power connector, drawing 2.4 watts at 12 volts.
We like how the four LEDs create a unique lighting effect. They certainly give some extra flair to your rig. Plus, the curved fan blades look great and do a fine job contributing to maximum cooling performance. The fan is available in two colors – blue and red – allowing you to match your PC's aesthetic. Note that the color you choose determines the color of the four LEDs, as well.
With dimensions of 11.41 x 10 x 0.87 inches and a net weight of just 5.5 ounces, this cooling fan won't take up too much space or add significant weight to your build. Built with a sleeve bearing, the Silent Master 20cm model offers longevity and reliability.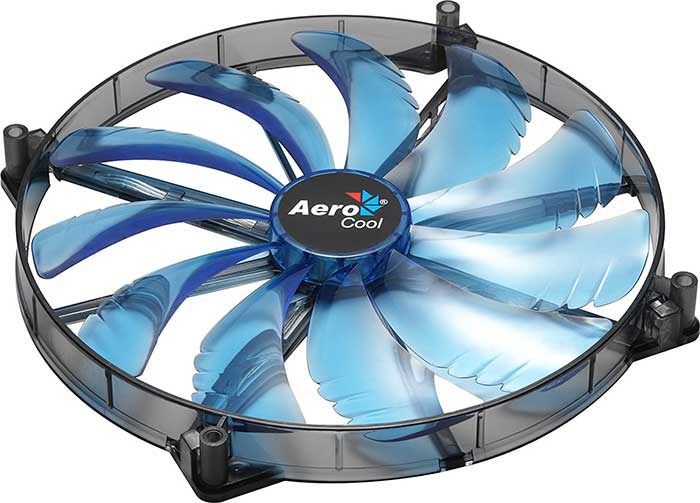 To close, the AeroCool Silent Master 200mm is an effective and stylish solution for keeping your PC cool while adding a touch of personality. Its high airflow, low noise, and LED lighting make it a great choice for any desktop setup.
What we liked:
Compact size and lightweight design
Sleeve bearing for longevity
Easy installation with included hardware
Compatible with desktop devices
What we didn't like:
You need your own controller for RGB
Requires 9V starting voltage
Phanteks PH-F200SP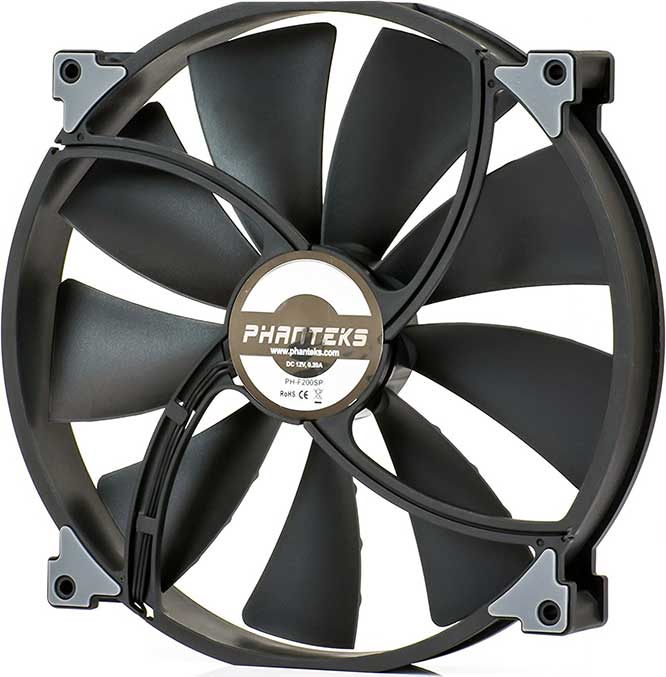 Key features:
High static pressure for airflow efficiency
Noise reduction measures ensure quiet operation
Focused, controlled airflow with MVB blades
Vibration reduction with enlarged rubber pads
The Phanteks PH-F200SP is a 200mm lightweight fan that delivers higher static pressure than many other fans. If you've ever experienced airflow restrictions from fin density, you'll appreciate this feature. The unit measures 7.87 x 7.87 x 1.18 inches (200 x 200 x 30 mm) and weighs 9.6 ounces.
Its airflow capacity is an impressive 110.1 CFM while maintaining a noise level of just 25 dBA. While higher than our previous entries, 25 is still plenty quiet. What's more, it's rated at 850 RPM for optimal performance.
Also featured is a magnetic brushless motor (DC). Combined with the large base, resonance is greatly reduced, thus ensuring rotational stability. Phanteks' redesign of the back frame further enhances the fan's structural strength. Additionally, the unit features multiple noise reduction measures to keep sound to a minimum.
The 9 MVB blades are designed to generate precision airflow. This downdraft vortex design allows for a greater air passage and reduces turbulence across the blade surface. To minimize vibration, 8 large rubber pads come pre-installed. Furthermore, the fan's MOSS and SSC systems ensure an effective hub-tip ratio, reducing air and vibration noise while also increasing the bearing's lifespan for consistent, quiet operation.
Phanteks' PH-F200SP is an excellent choice for those seeking a quiet, high-performance case fan. With its advanced design, noise reduction features, and high static pressure capabilities, this unit provides efficient cooling while maintaining low noise levels.
What we liked:
Impressive 110.1 CFM air flow capacity
Sturdy design with redesigned back frame
MOSS and SSC systems for stability
Consistent performance with low noise levels
What we didn't like:
Controlling speed not as accessible as other fans
No integrated lighting for aesthetic enthusiasts
Thermaltake 200mm Pure 20 Series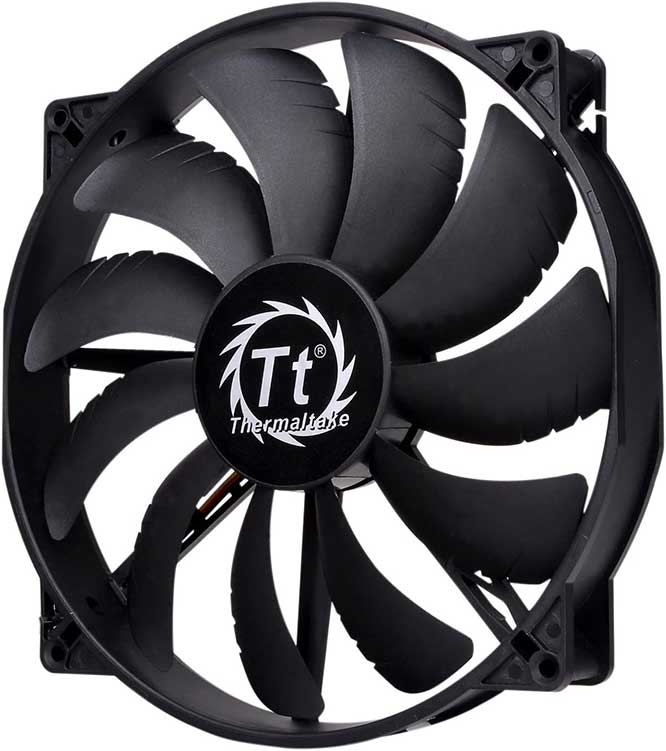 Key features:
High air pressure and airflow
Enhanced airflow, reduced noise
Long-life sleeve bearing
Easy installation, versatile compatibility
The Thermaltake Pure 20 Series fan is an excellent choice for those seeking a reliable and efficient cooling solution for their computer setup. This 12-volt fan delivers good air pressure and airflow while maintaining quiet operation. Not only that but it's also rated at 800 RPM, so it's capable of powerful performance on top of its minimal noise output. It's worth noting that its dBA output is 28.2. That's the highest among our picks. Yet it's still quiet enough for regular use.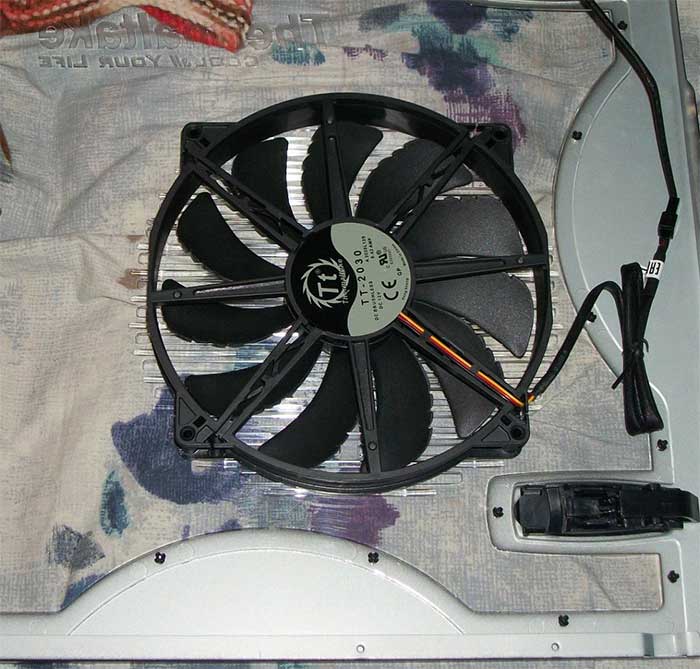 The blade design focuses on enhancing airflow while reducing noise levels. This results in a powerful torrent of air that keeps your system cool without causing any distractions. Another advantage of this unit is its long-life sleeve bearing, which offers improved reliability and an extended lifespan compared to other fans. This ensures that the fan remains a valuable addition to your setup for years to come.
Installation is a breeze, too, thanks to its shaved frame that allows for compatibility with various chassis, particularly those from Thermaltake. Moreover, for those interested in adding a touch of style to their system, LED versions of the fan are available, providing cooling aesthetics to match your preferences.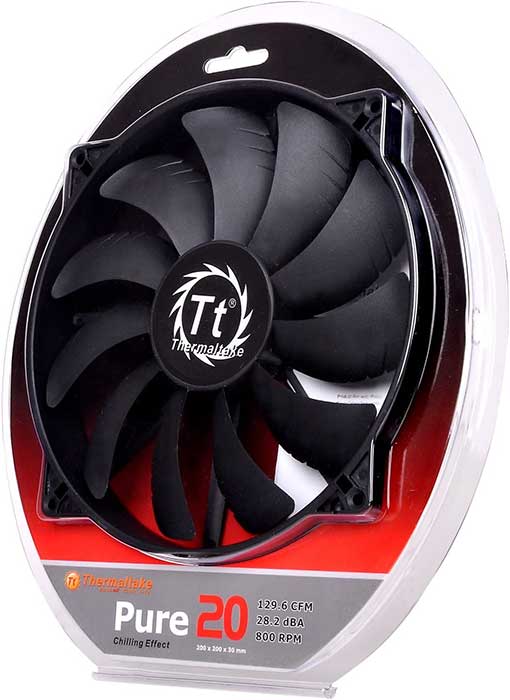 Measuring 11.42 x 10.04 x 12.6 inches and weighing just 15 ounces, this lightweight fan won't add unnecessary bulk to your setup. Overall, the Thermaltake Pure 20 Series fan delivers the perfect balance of silence, style, and efficiency, making it a top choice for users looking to optimize their computer's cooling capabilities.
What we liked:
Quiet operation during use
Lightweight and compact design
LED version for added style
Compatible with various chassis
What we didn't like:
Higher dBA rating that others
No speed control options
200mm Case Fans FAQs
Can I install a 200mm case fan in any computer case?
While many computer cases are designed to accommodate various fan sizes, it's essential to check your case's specifications and available space before purchasing a 200mm case fan. Measure the mounting holes and ensure there is enough clearance for the fan to fit properly.
How do I control the speed of my 200mm case fan?
Most 200mm case fans with a 4-pin power connector support PWM (Pulse Width Modulation), allowing you to control the fan speed through your motherboard's BIOS or third-party software. For 3-pin fans, you may need to use a fan controller or adjust the voltage through the BIOS or software.
Are LED or RGB lights on a 200mm case fan necessary for better performance?
Not at all. They are purely for aesthetics and do not affect the fan's performance in any way. They add a visual element to your computer setup, but choosing a fan with or without these lights should be based on your personal preference and the overall look you want for your build.
Final Verdict
Each of the 200mm case fans we have reviewed offers unique features and advantages that cater to different user preferences and requirements.
The Noctua NF-A20 was chosen for its high airflow at low noise levels and broad compatibility with various PC cases, ensuring efficient cooling performance and quiet operation.
The Cooler Master SickleFlow 200 stands out for its impressive airflow and customizable LED colors, making it an ideal choice for those seeking a balance between performance and aesthetics.
The AeroCool Silent Master 200mm is compact and stylish, offering a high airflow solution while also adding a touch of personality to your PC with its LED lighting.
Phanteks' PH-F200SP was selected for its high static pressure capabilities, advanced noise reduction features, and quiet operation. It provides efficient cooling while maintaining low noise levels, making it perfect for users who prioritize silent performance.
Lastly, the Thermaltake 200mm Pure 20 Series offers a versatile cooling solution with efficient performance, lightweight design, and compatibility with various chassis, making it a reliable choice for optimizing your computer's cooling capabilities.
Each of these fans has been carefully evaluated to ensure they meet the highest standards of quality, performance, and reliability. No matter which one you choose, you can be confident that it will provide the efficient cooling and quiet operation you need for your computer setup.