Imagine this. It's a hot summer day and you want to cool off. You're out and about and don't have any fans or places to swim. What options do you have? One of our favorites is a wearable neck air conditioner fan.
What is a wearable neck air conditioner fan?
These are horseshoe-shaped devices that you wear around your neck. Internally they have cooling components and intake fans to bring warm air in and cool it down. Then they circulate the cold air out via fans to cool down your head, neck, and face.
Why should you get one?
Wearable neck air conditioner fans are a great option when you need something convenient to cool you down. For those who don't have a normal air conditioner in their home, this is a simple device to wear and keep you cool.
If you plan on going on a hike or working out, they work fantastically as well. They are designed to stay around your neck and drop the temperature significantly. This helps to fight heat exhaustion, dehydration, or heatstroke.
Any specific features I should look for?
There sure are! Depending on the amount of money you budget for a wearable neck air conditioner there will be some different features to look out for. They all have a basic cooling function with fans. You can find metal plates along the inside of them that rest on your neck for additional cooling.
Some can be controlled by an app on your phone, which makes cooling yourself off that much easier. Some can heat up, which makes them usable all year long in various temperature scenarios. Another cool option to look for is width adjustment to allow you to direct airflow exactly where you want it.
1. TORRAS COOLIFY 2S Neck Air Conditioner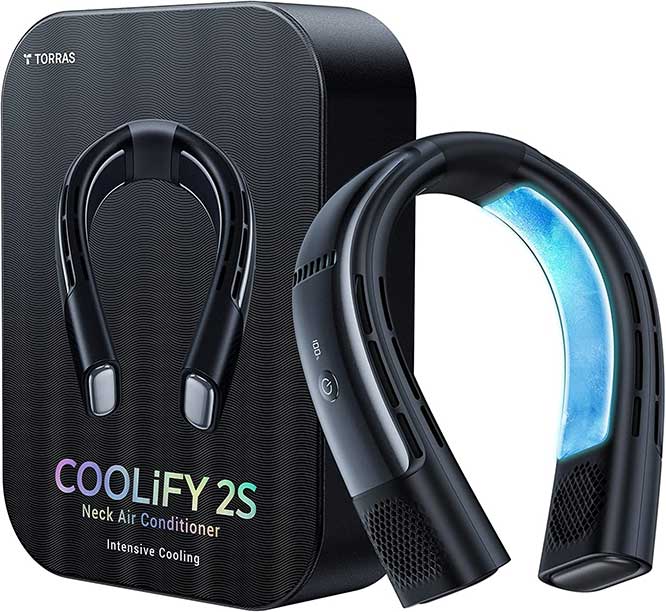 Key Features:
Smartphone app to control fan function
30-degree temperature reduction
Up to 28 hours per charge
The TORRAS COOLIFY 2S is a premium neck air conditioner sure to keep you cool all summer long. Using the KU 2.0 pro chip it can instantly lower the temperature by 30 degrees. Best of all, it can reduce the temperature by that much in only 1 second.
There are two plates on the inner part of the device to cool your neck. There are four air ducts on the body of the fan that allows airflow with 360-degree coverage. As for the power, it has a 5000mAh rechargeable battery inside. In the ECO setting, it can provide cooling for 28 hours. However, in the maximum setting, it will only last for 4 hours. A full charge will only take 2.5 hours.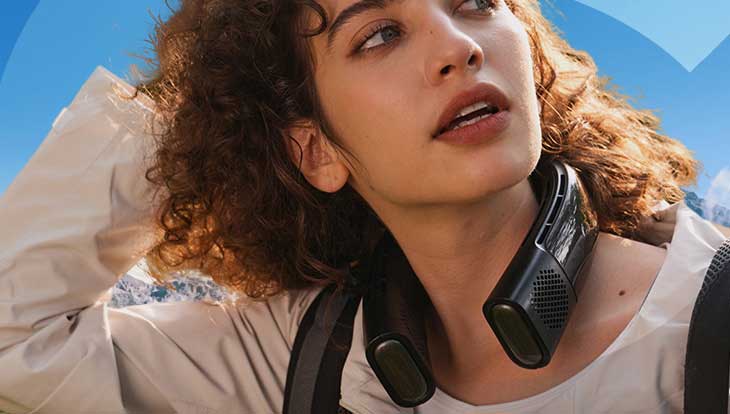 When it comes to aesthetics, the COOLIFY 2S is a great modern-looking device. The only color option available is black, but that should help it blend in nicely with any outfit. The construction is done with a combination of metal and plastic.
There's also a battery life indicator on the side along with a power button. While it has to be big enough to fit the cooling components inside, that doesn't make it a huge piece of equipment. The weight is fairly minimal, coming in at 14 ounces.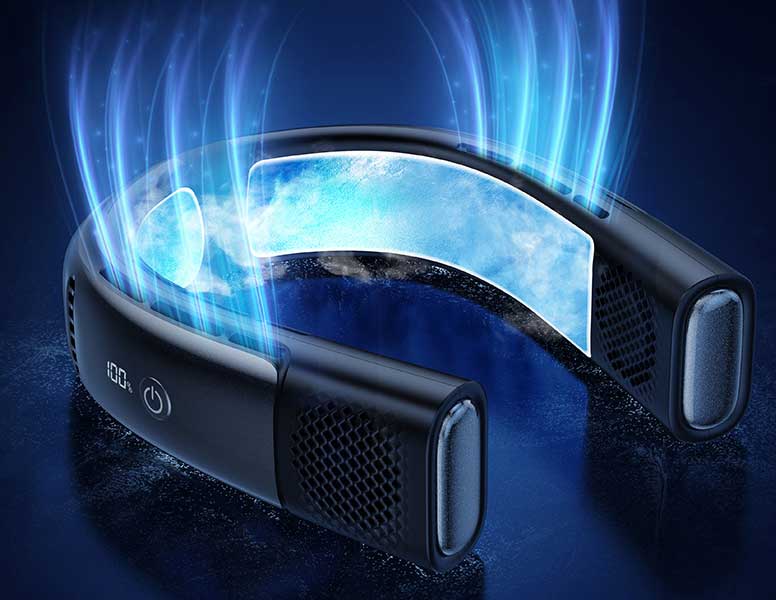 Perhaps the coolest feature of this neck air conditioner is the ease of controllability. It can be controlled via a smartphone app and Bluetooth connection. This app lets you control how much heating, cooling, or air movement you want. Additionally, there is a feature that allows you to completely customize temperature via stepless adjustment.
In our opinion, this is the option for those who want the best of the best. The TORRAS COOLIFY 2S has all the cooling ability you could ask for and plenty of premium features to make it worth the price
Pros:
Lightweight construction
Heating and cooling
Awesome smartphone app
Cons:
2. DesertWest Foldable Neck Fan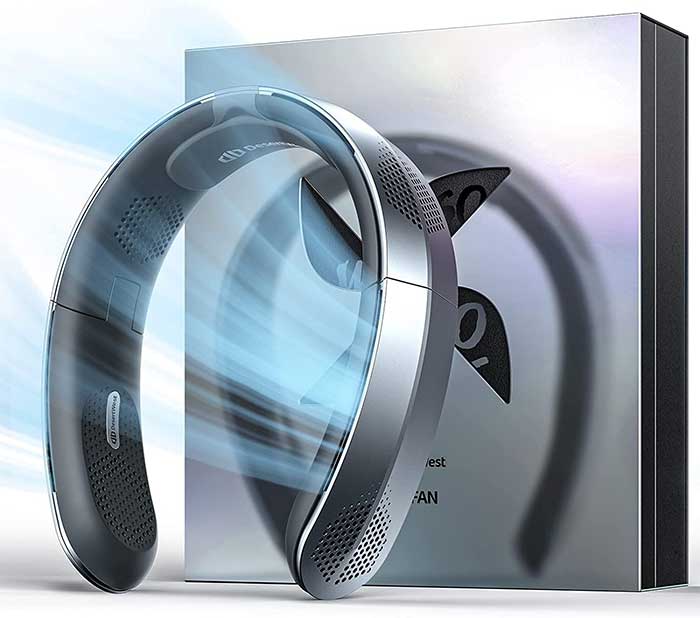 Key Features:
Ultra-quiet design
Moves air at 3 meters per second
16-hour battery life
The DesertWest Foldable Neck Fan is perfect for those who want a quiet air conditioner. Featuring a quad-core hydraulic motor, it can move air at 3 meters per second. Similar to the COOLIFY 2S, after turning the power on you feel full cooling capabilities in 1 second.
There are 8 total air ducts to provide airflow on your head, neck, and face. When it comes to power, this fan does a good job. Inside is a 4000 mAh battery that takes 3 hours to fully charge via USB-C. At the lowest setting, the power will last for 16 hours. At its highest setting, the battery will last 6 hours. This gives you plenty of time to stay cool for most activities you take on.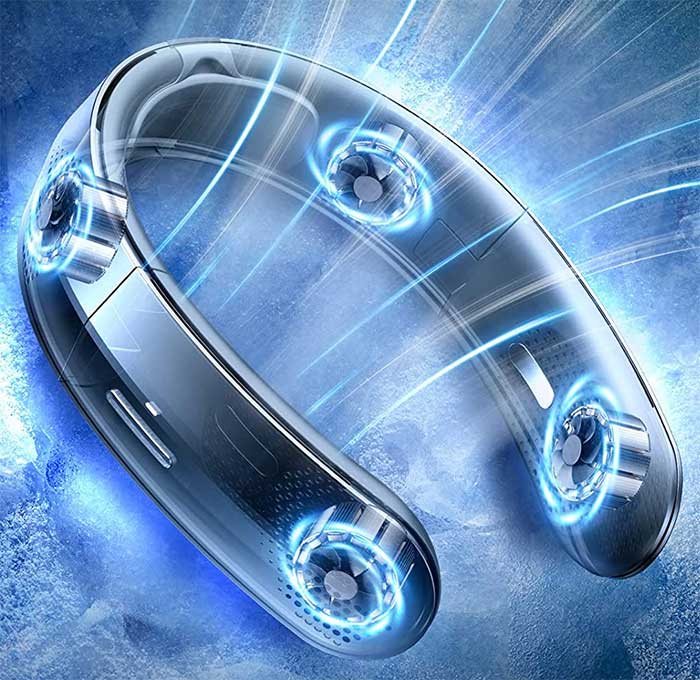 As for size, this is a compact option. Weighing in at only 11 oz, you will barely feel it on your neck. You also won't be able to hear it since it features active noise cancellation. This keeps the overall noise from cooling components and fans at 23 dB. There is a padded cushion on the inside for the back of your neck to ensure comfort.
Additionally, the ends can be adjusted by 50 degrees to make sure airflow goes where you want it to. As for looks, this is a sleek neck air conditioner. It's available in silver and white, and the small design and clean edges make it a great-looking device.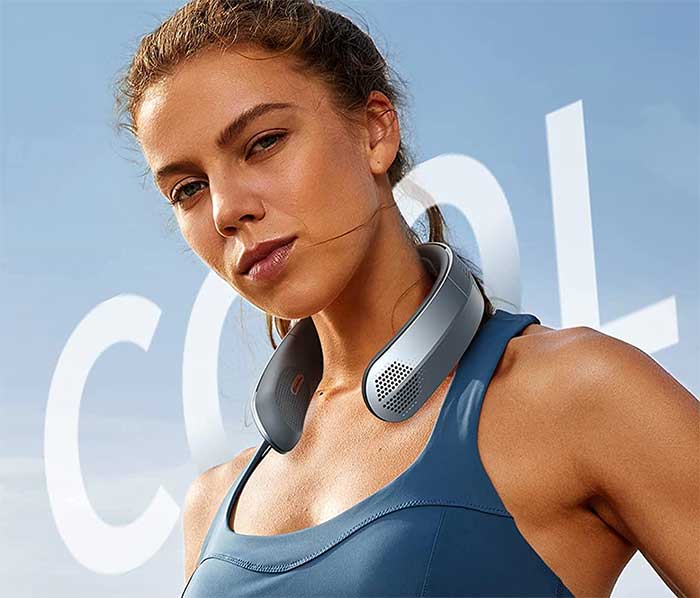 The most unique feature of this neck fan is its ability to fold. About halfway up each side is a hinge that allows it to fold in on itself. This makes it a fantastic option to take on the road, plane, train, or more. Simply fold it and store it in a bag and pull it out when you want to use it.
In our opinion, you can't go wrong with the DesertWest. Especially if you're someone who is on the go a lot and wants to always have the option of cool comfort. This is the perfect neck fan to store in a backpack and pull out at the gym, on a hike, or anywhere in between.
Pros:
Foldable design
Ultra-quiet
Multiple color options
Cons:
Only has three pre-programmed cooling modes
3. ZAPAL Portable Neck Air Conditioner Fan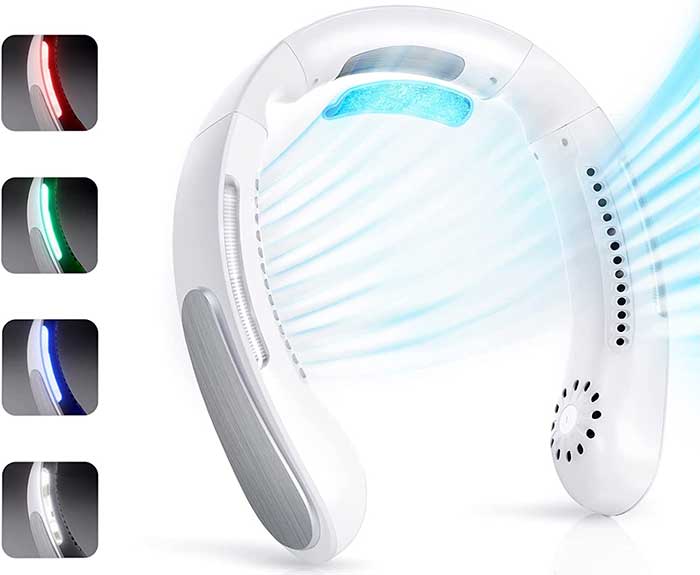 Key Features:
Multiple lighting options
3-second timer for maximum cooling
16-hour battery life
The ZAPAL Portable Neck Air Conditioner Fan is a unique option. Using semiconductor cooling technology, it can cool you down 50 to 60 degrees Fahrenheit in 3 seconds. The temperature and speed are controlled by three wind grades and 2 cooling grades.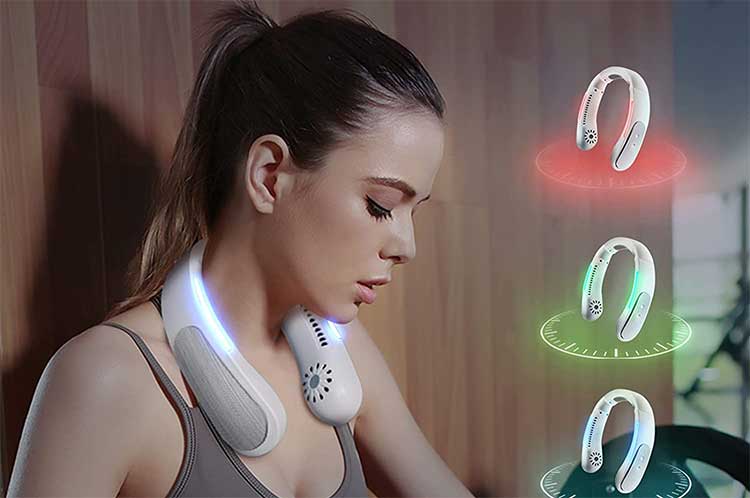 Wind speed can be mild, medium, or large. The cooling amount can be strong or super strong. The various combinations of speed and cooling have an effect on battery life as well. The longest this fan can last is 16 hours, and the shortest is 2 hours. It's powered by a 3600 mAh battery that is rechargeable via USB-C.
The ZAPAL weighs 1.28 pounds, making it significantly heavier than the COOLFLY or DesertWest options. However, even with the added weight, it's still a compact device. As for looks, this is the one that stands out the most. It comes in either black or white and has built-in lights. The construction is primarily done with plastic but is still durable enough for active use. When it comes to noise, it's whisper quiet. The highest noise it should reach is only 24 dB.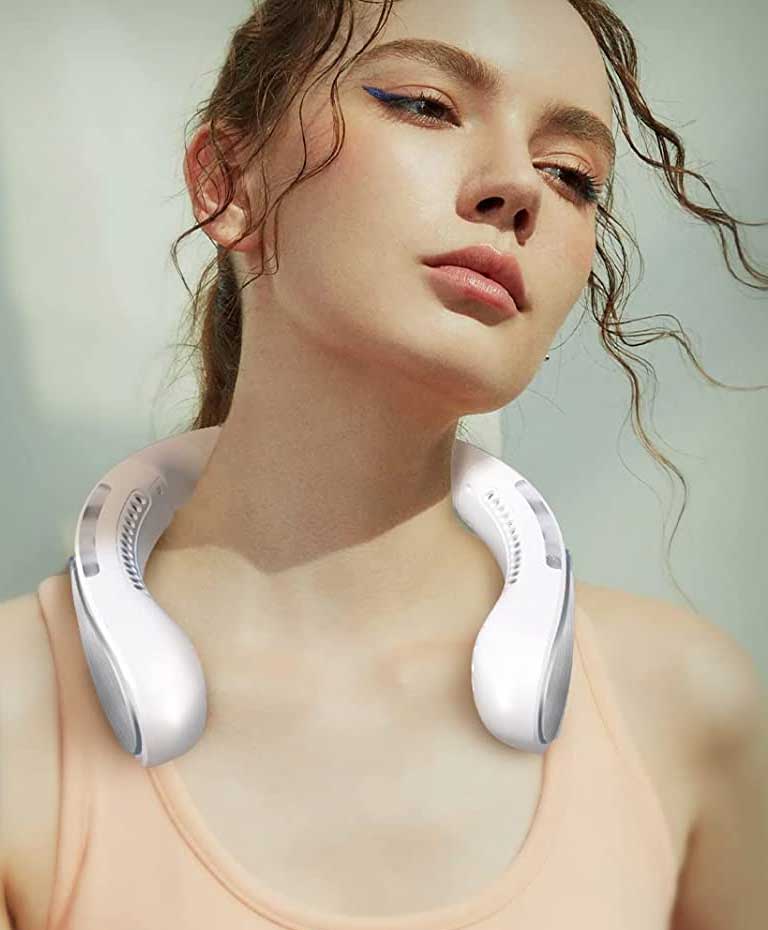 Referenced briefly above, the most unique feature of the ZAPAL is the lighting. There are multiple options for colors, including red, green, blue, and white. This gives it a really cool look but is also functional. If you plan to use this device at night or in dark places, the lighting feature will help to show you where you're going.
In our opinion, this is a great option for anyone who wants something a little different. It has phenomenal cooling capabilities. What sets it apart is its looks, so if you want something that stands out this is the neck fan for you.
Pros:
RGB lighting
Up to 60 degrees of cooling
Multiple color options are available
Cons:
Heaviest option on the list
4. Jawhock Portable Air Conditioner Neck Fan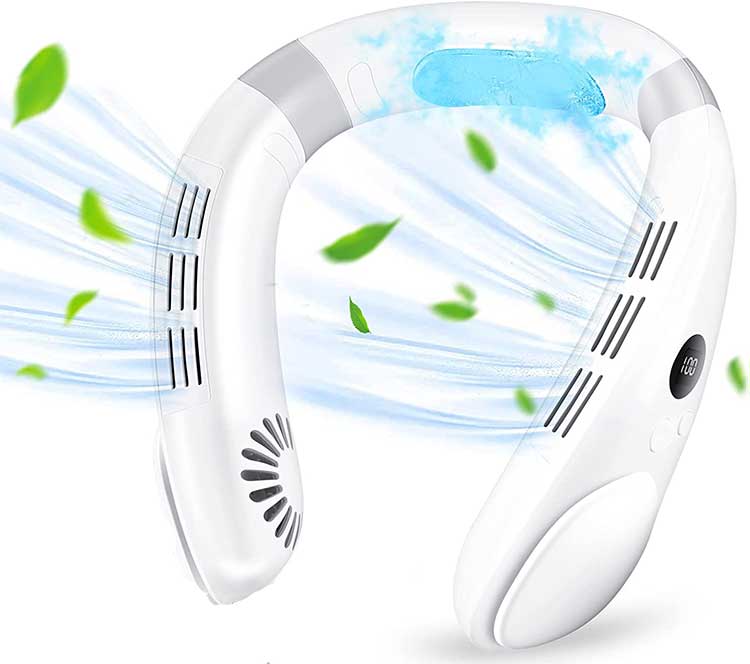 Key Features:
LED battery life display
3 levels of cooling
10-hour battery life
The Jawhock is a great entry-level wearable neck air conditioner. The materials used in constructing it are ABS plastic and silicone. This gives it a very durable build quality. Using semiconductor cooling technology, it creates a temperature difference to give cooling in 1 second.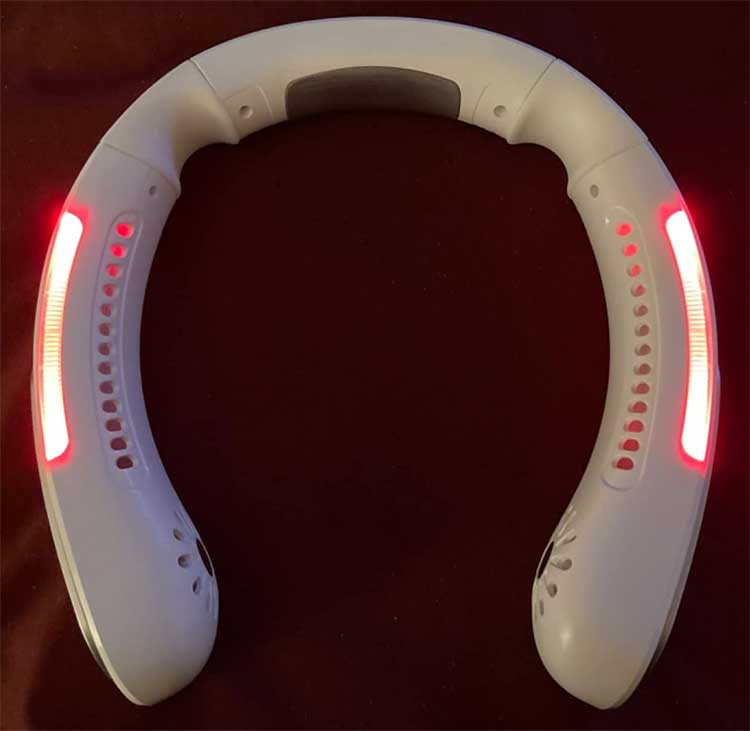 The temperature drop created is between 59 and 68 degrees Fahrenheit There are three cooling modes to choose from. As for battery life, it has the lowest on the list. At maximum it lasts 10 hours, at minimum it lasts 4 hours. Additionally, it uses a 4400mAh battery that can be charged fully in 2.5 hours.
When it comes to size, the Jawhock is the smallest featured on the list. It only weighs 6 ounces, so you'll barely notice it on your neck. This is mostly due to its lightweight plastic construction. As for looks, it's only available in white. The neutral color and small size both help it to blend into your personal aesthetic.
The most unique feature besides its lightweight body is the ease of control. Every setting is controlled by two buttons on the side of the fan. To turn it on, simply press and hold the fan button. Then short presses change the fan speed. To enable additional cooling, press and hold the cooling button. Short presses of the cooling button will change the cooling power.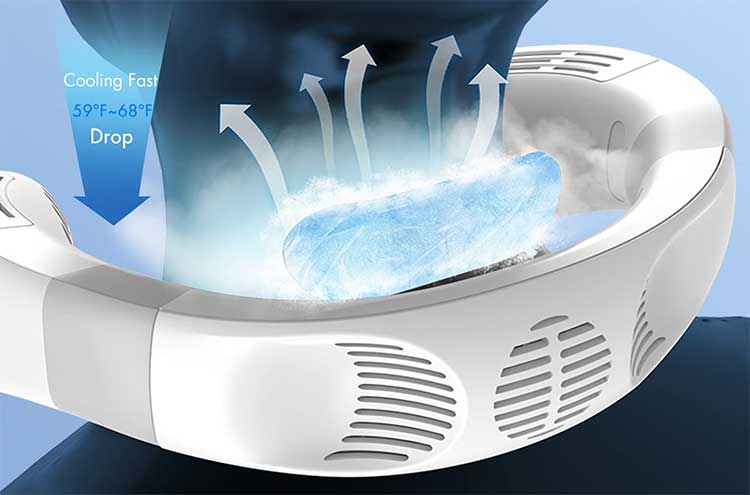 ln our opinion this is a great budget-friendly option to get started with. It can definitely cool you down on a hot day and with its lightweight construction, you'll barely notice it's there. Don't be deterred by its shorter battery life, as it can do its job well and recharges quickly.
Pros:
Most affordable option on the list
Only weighs 6 ounces
Easy controls
Cons:
Only lasts a maximum of 10 hours
Meet Derek, "TechGuru," a 34-year-old technology enthusiast with a deep passion for tech innovations. With extensive experience, he specializes in gaming hardware and software, and has expertise in gadgets, custom PCs, and audio.
Besides writing about tech and reviewing new products, Derek enjoys traveling, hiking, and photography. Committed to keeping up with the latest industry trends, he aims to guide readers in making informed tech decisions.