Remember the good old days when the Nintendo Wii was at its peak? At the time it was a completely revolutionary piece of technology that allowed us to play games in ways we never had before. The movement controls were awesome and the games available were fantastic (who can forget Wii Sports?).
However, it was replaced with newer technology as time went on. If you're anything like us, you probably still have your Wii in storage somewhere, but don't have a good way to play it. The problem with playing old consoles nowadays is the video output compatibility.
When it comes to the Wii, Nintendo used custom plugins with RCA inputs for the TV. Those haven't been standard for a while, with the current method being HDMI ports.
Basically, if you want to plug your Wii directly into your TV, it's more than likely not going to be possible. So how do we work around this? Well, luckily there are a ton of different options on the market for Wii to HDMI Converter Adapters.
Best Overall: PORTHOLIC Wii to HDMI Converter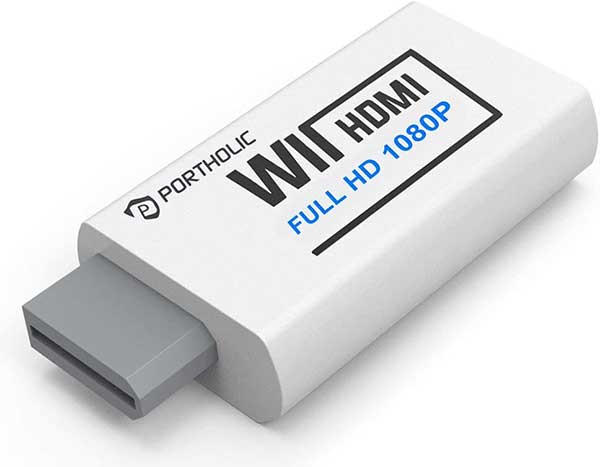 Key Features:
Two color choices
Compact device
Full HD 1080P support
The PORTHOLIC Wii to HDMI Converter is one of the compact versions included on this list. It's only 1.06 ounces and 2.99 x 1.38 x .59 inches. This allows it to easily be stored behind the Wii no matter where you have to have it set up. You'll barely notice it's there, but if looks are important you have some options. This adapter is available in both black and white, so you can choose the one that best fits your home's aesthetic.

This adapter works by plugging directly into the back of the Wii. The other end of it has an HDMI port to plug a cord into. There's no included HDMI so you'll have to make sure you have one to use this device. Additionally, there's a 3.5mm audio port that allows you to plug in your favorite headphones or external speakers.
The video quality supported covers anything the Wii throws at it. All display modes are compatible such as 480i, 480p, PAL 576i. The video quality is supported all the way to HD 1080P without any issues.
Pros:
Easy to hide from sight
Plug and play
Cons:
Best Alternative: Tgwbawm Wii to HDMI Adapter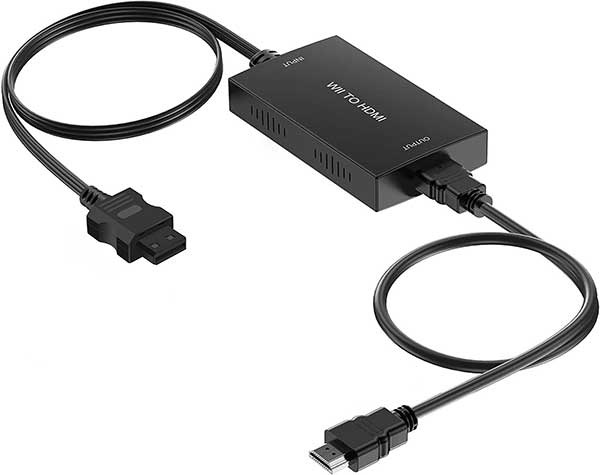 Key Features:
Two cords with converter box
No additional cords needed
Supports extra audio output
The Tgwbawm Wii to HDMI Adapter is the largest option on our list. This device has the option to have as much length as is needed to reach your display device and your Wii at the same time. There's a converter box with a Wii output cord attached. Additionally, there's an HDMI output slot for you to plug an HDMI cord into. The converter box adds to the bulk of the device, but shouldn't make it an eyesore. The only available color option for it is black.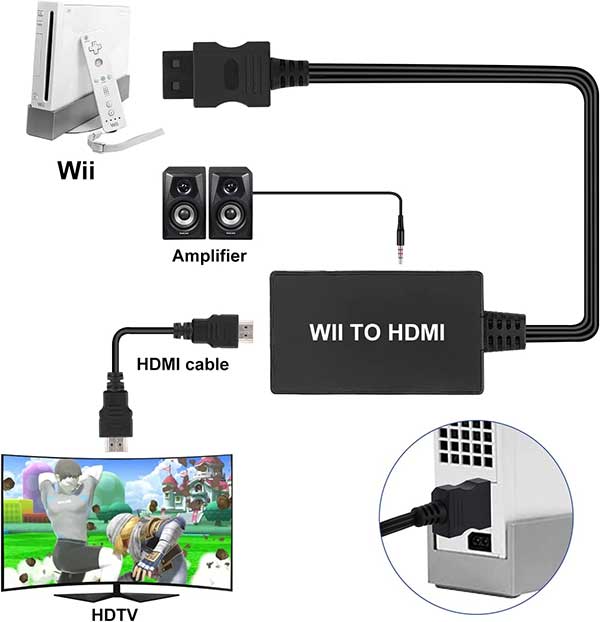 This device works similarly to the Wiistar (listed below). The Wii plug-in is attached to the converter box and simply plugs into the video output on your console. The HDMI is not directly attached, as there is an HDMI port on the other end of the box. This allows you to use either the included HDMI cord or any other length of cord you choose to use. There's also an included 3.5mm audio port for speakers or headphones like the PORTHOLIC has.
As for video support, the Tgwbawm can output 480P, 576i, 720P, and 1080P. This puts it on par with other options on the list and will give you a great gaming experience.
Pros:
Included HDMI cord
18-month warranty
Cons:
Bulkiest option on our list
Best Out of the Box: Wiistar Wii to HDMI Converter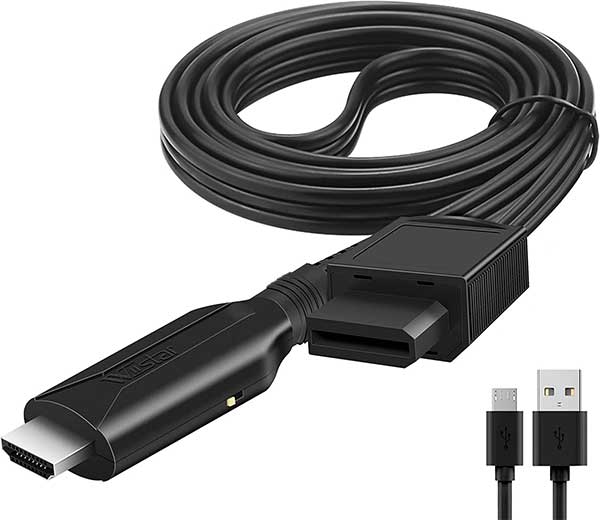 Key Features:
Direct cable design
Power source needed
Male-to-male cable
The Wiistar Wii to HDMI Converter is a completely different design than the PORTHOLIC, but some users may prefer it. Rather than being a small device that plugs into the Wii, this is a single cord that connects your Wii to your display. The cord is 3.2 feet long, giving you a good amount of length to move your console around with. It's only available in a black colorway.
Since the Wiistar is its own entire video output/input system, you won't need any additional HDMI cords to make it function. Simply plug one end into your Wii output slot, and the other end into an open HDMI input on your display. Additionally, you'll need to supply additional power to this cord. This is done using a USB-A to Micro USB cord that can plug directly into an available slot on your display device.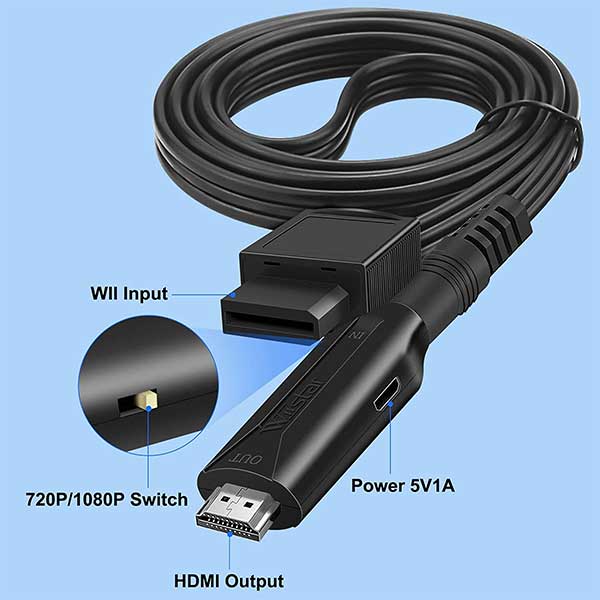 The supported display modes are NTSC 480i and PAL 576i from the Wii. The display resolution can be either 1080P or 720P, which can easily be changed using a switch on the HDMI plugin. You'll also want to be aware that the Wiistar doesn't support 480P.
Pros:
No additional cords are needed for video
3.2-foot long cord
Cons:
Best Budget Option: CHS Wii HDMI Converter Adapter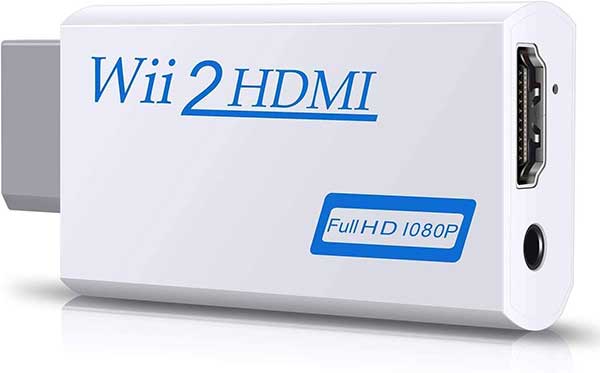 Key Features:
Plug and play ready
Audio video synchronization
No extra power needed
The CHS Wii HDMI Converter Adapter is very similar to the PORTHOLIC. It shares a compact design to keep it out of the way of everything. It's only .986 ounces heavy and 4.69 x 2.32 x .075 inches. If you want color options, you can choose between black and white. Both options have blue or white text on the device as well.
Functionally, this is identical to the PORTHOLIC. Just plug the Wii end into your console and connect an HDMI cord to the other end and your display device. There are no additional drivers needed and no extra power requirements to make it work. You can also plug in external audio devices using the 3.5mm sound port.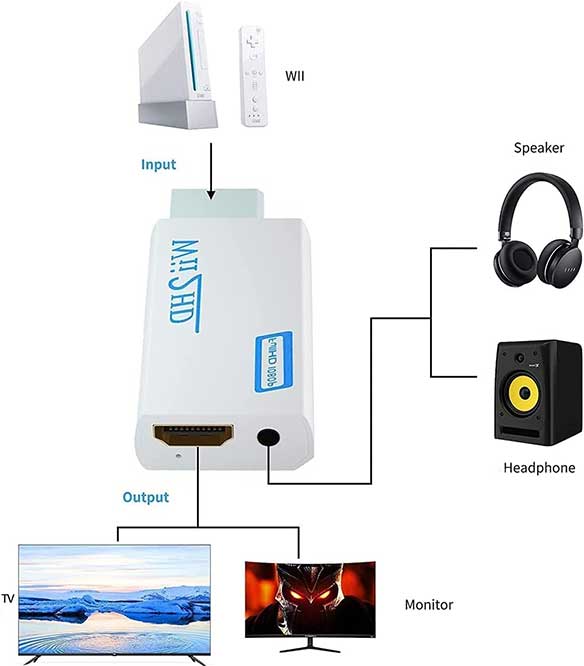 Anything else: As for video quality, it can display up to 1080P. It does this by converting various Wii outputs such as 480i, 480p, or PAL 576i. There shouldn't be any video or audio issues while using the CHS, providing you with a great viewing experience.
Pros:
Lowest price on the list
Multiple color options
Compact design
Cons:
Best Compact Option: MAYFLASH Wii to HDMI Converter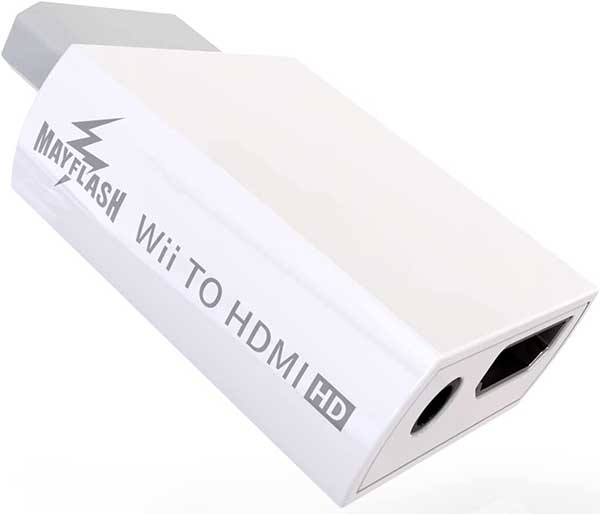 Key Features:
Ultra-compact design
One color option
Additional audio port
The MAYFLASH Wii to HDMI Converter looks and acts very similarly to the CHS and the PORTHOLIC devices. It's smaller than any other option on this list, coming in at 1.4 x 1.3 x .5 inches and .63 ounces. There is a Wii video port plug-in on one end and an HDMI input on the other. As for available colors, the only option is white.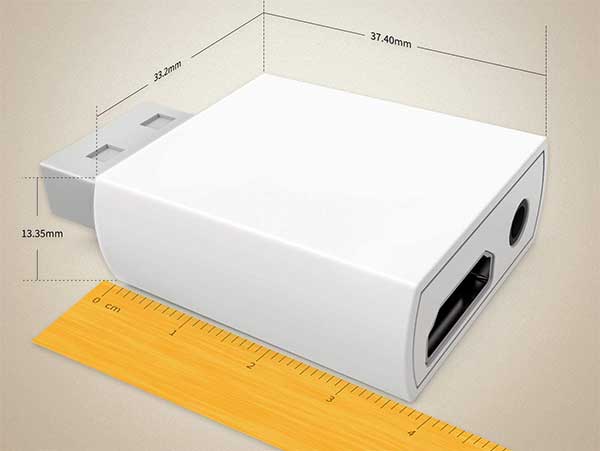 This is a plug-and-play device, so you won't need additional drivers. The setup is the same as the other compact options. Plug it into your console and then attach an HDMI cable to it and your display. External speakers or headphones can also be used using the 3.5mm port.
The MAYFLASH can convert native Wii outputs such as 480i and 480p. It then takes that video and turns it into either 720p or 1080p output. This is all accomplished without having to supply it with additional power.
Pros:
Extremely small device
Plug and play easily
Cons:
Most expensive option on the list
Wii to HDMI Converter FAQ's
What is a Wii to HDMI Converter Adapter?
These adapters come in a few different varieties. The basic concept is that there is one end that plugs into the Wii console for video output, and another end that is HDMI compatible. This allows you to use the standard HDMI ports on the backs of modern televisions and monitors to display the video output from the Wii.
What if I don't have a spare HDMI cord available?
Some adapters are built with an HDMI cord already attached. For these models, simply plug one end into the Wii and the other end into the HDMI slot of your display device. If you don't want to go that route, then you'll have to purchase another HDMI cord separately to work with the other models.
I want to use external speakers, can I do that with any adapters?
Sure thing! If you prefer to have your audio go through a separate audio system rather than your TV, some adapters actually allow for that. This is typically accomplished by using a 3.5mm auxiliary headphone port that's built into the adapter.
Are these adapters complicated to use?
Not at all. All you have to do is plug them in and attach the correct cords for video display. While some electronic devices require you to install complicated drivers, you won't have that extra step with these. The options on this list are all plug-and-play ready.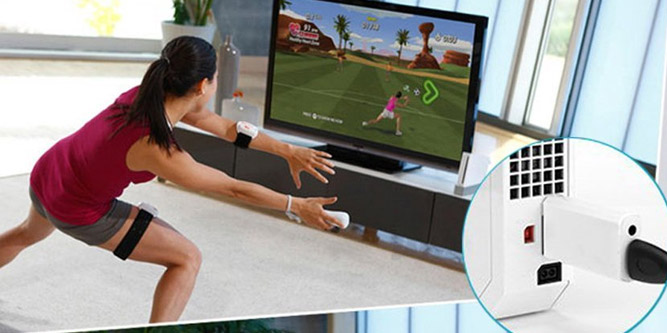 Are they going to take up a lot of space?
Nope! All options on this list are compact by design. They won't take a ton of additional room and also don't require their own bulky power source in order to work (some do require a power source in the form of USB-A to Micro USB that can plug directly into your TV).
Do I still need my old video cables to use these adapters?
No, you don't. These are all designed to entirely replace the old style of cords. Some devices on the market take the RCA cables and convert them to an HDMI output. All of the adapters on this list take that step out and plug directly into the Wii. Then there's an easy way to get HDMI from the Wii to your display device.
Will I see any drops in the quality of my video by using one of these adapters?
You shouldn't! They are all created with current technology to give you the best picture quality available with a Wii. The actual quality output supported is typically up to HD 1080P.
Final Thoughts
Overall, you can't go wrong with any of the adapters on the list. They all do a great job of converting the video output from your Wii to something your display can show. Some are ultra-compact, while some have a more traditional look display cords. All that's left now is to pick which one suits your needs the best, and start playing some nostalgic games on your Wii! Let us know if you have any questions or need any specific help by dropping a comment below.