For many people, portable headphones aren't that comfortable. The most portable designs require you to jam some silicone inside your ear canal, or press foam pads against your ears. For an hour or two, that's fine. But before too long, the comfort will start to fade.
In the interests of both comfort and sound quality, over-ear headphones are typically the best design. The problem is they're big. Among the largest kinds of headphone, over-ear headphones tend to be less portable than their smaller counterparts. Certainly nothing you'd want to wear while taking a jog.
Conambo CQ7 Active Noise Cancelling Bluetooth Headphones
To resolve that problem, sometimes over-ear headphones are made as small as possible. The Conambo CQ7 are a pretty good example of this strategy in action. They're made with supposedly comfortable over-ear design, and are intended to be quite compact and portable. Whether or not you actually end up taking advantage of their portability is another matter.
Adjustability tends to be something that gets lost when over-ear headphones are made to be more portable. Fortunately, the CQ7 uses an adjustable headband to help accommodate a larger variety of head sizes. And though they are still somewhat full-sized, the CQ7 weighs scarcely more than a pair of earbuds.
Build & Design
At the heart of the Conambo CQ7 are some modestly sized 40mm acoustic drivers. Like with almost every other component, these are on the smaller side for dynamic drivers. Their protective chassis, when retracted to its smallest size, measures about 4 x 3 x 1.4-inches.
The underside of headband is a warm reddish brown, highlighting the otherwise black construction. Beyond that, the only distinguishing mark on this headset is the Conambo logo, printed on the face of each cup. On the left ear-cup, you'll discover some intuitively placed volume and power buttons. On the right ear, you'll find the ANC switch.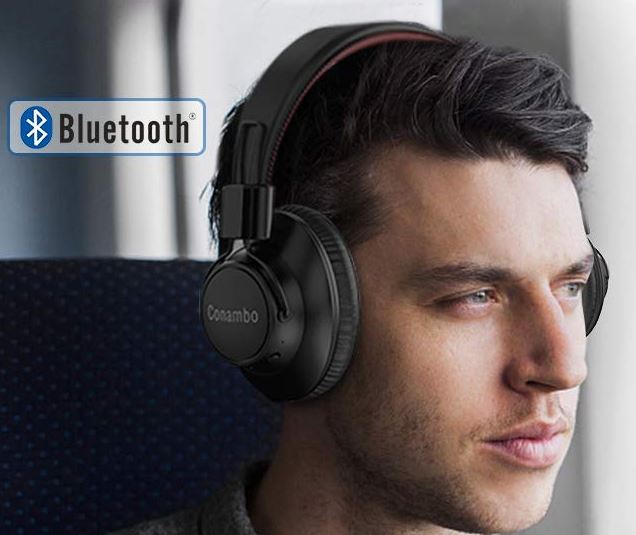 You may notice the headband doesn't have any space where it can could push, slide, or retract. That's because extension of the ear-cups to a lower position occurs through a fairly novel sliding mechanism that's attached to the base of the headband. It's basically a small metallic clip, an ingenious way to keep these headphones both adjustable and lightweight.
In an attempt to favorably compare to a tiny set of earbuds, the CQ7 was constructed from materials that are exceptionally lightweight. Consequently, the stretchable headband doesn't fold in half like some headbands. Although it's fairly durable, it wasn't made to be invulnerable under duress; it was made to be comfortable. The extent to which the Conambo CQ7 achieved its goal is something we'll look at in a moment.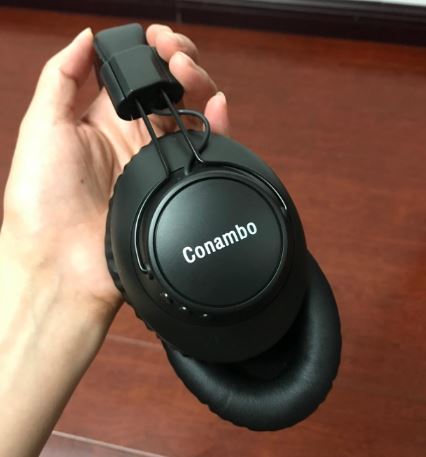 Audio Quality
When it comes to sound design, bigger tends to be better. Because Conambo CQ7 are aspiring to be portable equipment, it makes sense to compare their sound to other portable equipment. Especially the most portable options, like earbuds.
Relative to the tiny 6mm audio driver within an earbud, the Conambo CQ7 makes use of exceptionally large 40mm drivers. When that's your point of comparison, it's easy to be impressed with the performance of their sound. The bass has a bit more thump than Bluetooth headphones generally deliver. And you can draw far more clarity out of a large 40mm driver than you can from a small 6mm driver.
Compared to Larger Equipment
Compared to over-ear headphones that aren't concerned about portability, 40mm drivers are slightly small. Going from 40mm drivers to 50mm, the extra 10mm may not seem like much. But with only decent sound equipment, it's a difference that anyone can spot. Compared to slightly larger headphones, these smaller drivers are marginally inferior.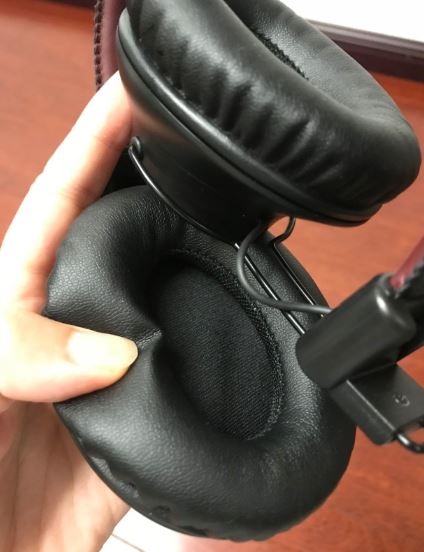 Nevertheless, these small drivers are actually quite appropriate for the CQ7 and their portable-driven design. Their ear cups use a fairly thin layer of foam padding. The foam itself is quite thick and soft, its thinness is intended to help bring your ear slightly closer to the drivers. Experientially, you get much closer to a 50mm equivalent sound.
Between the extremes of 50mm and 6mm, you'll find the Conambo CQ7. And you'll find its soundscape is largely defined by its mid-tones, which helps the headset to be somewhat call-oriented. Well represented mid-tones allow for quality that translates beautifully to podcasts, dialogue-driven movies, and most vocal performances. However, male vocals slightly outperform female vocals because treble response is outshined by bass and mid-tones.
Durable Comfort
Over-ear headphones are the most comfortable variety, especially over longer listening sessions. But to make length listening sessions comfortable, you really need two things. One is a lightweight design because headphones that weigh as little as 1lb can cause mild comfort problems in only a few hours.
The Conambo CQ7 are stunningly only 0.4lbs. It's essentially a bullseye in terms of the perfect weight target for over-ear headphones. It means you can wear them literally all day long, and the weight will never for a moment bother you.
The second thing you need is good heat dissipation. Because of the smaller and thicker pads foam used by the CQ7, heat dissipation is unfortunately not one of its greatest strengths. The Conambo CQ7 compares favorably to larger headphones with more padding, which are far more prone to trapping heat. But there's otherwise very little about their design that helps deal with heat.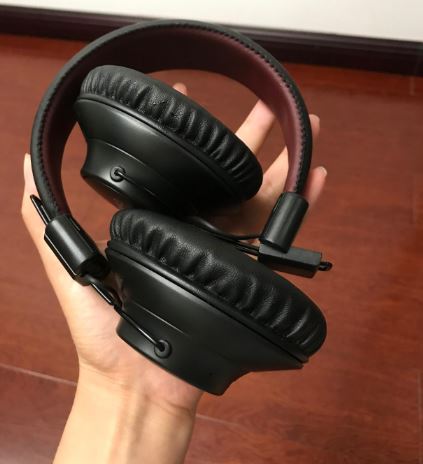 Active Noise Cancelling
Without getting into all the technical details, ANC technology works by creating new soundwaves to cancel out soundwaves from your environment. The technology primarily works on low frequency background noise, especially when those noises are steady and consistent. When you're sitting next to the droning noise of an air conditioning machine or engine, that's when the ANC really counts.
Sounds that affect safety, like horns and people shouting, are essentially not affected. In fact, high frequencies are almost unaffected entirely. ANC does slice mid-tones somewhat, but they sound more washed-out than anything else. For reference, most voices are composed of those mid-tones.
Sometimes you'll hear advertising for ANC features claim enormous figures, like 85% sound reduction. But how much sound is removed is actually far too complicated to measure in one simple figure. You might get enormous 40dB sound reductions for lower bass tones. But what happens when a small dog begins to unleash some shrill barking? You hear every note.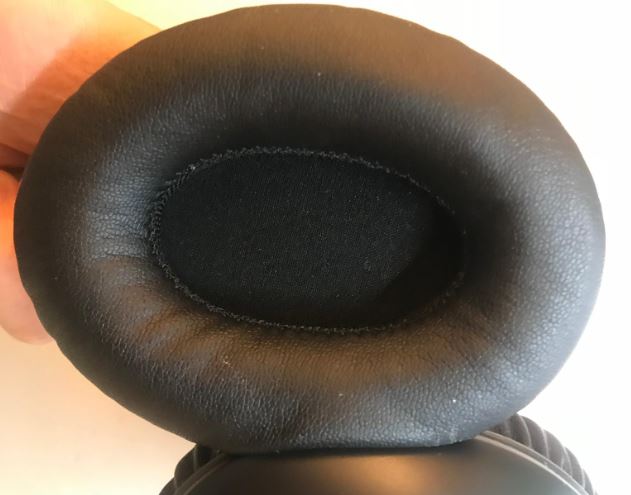 Solo ANC
Most people do not know anything about active noise cancelling. One result is people don't know what to expect. But occasionally, someone will fall in love with ANC as a feature, and want to use ANC by itself without music. The Conambo CQ7 Active Noise Cancelling Bluetooth Headphones do not offer stand-alone quality ANC.
In other words, you'll want to pair it up with music. It's an effective aid, a means of helping to maximize noise isolation and help you enjoy your music undisturbed. But standalone ANC is something very few brands even attempt to deliver, and it's certainly not something you can find below the $200 range.
Wired/Wireless Battery Life
The Conambo CQ7 is a hybrid headset, capable of being used in either wired or wireless mode. The most battery efficient mode would be using the 3.5mm cable without ANC. With those settings, you could expect as much as 50-hours of music from the battery. The least battery efficient mode would be using both Bluetooth and ANC, at which point the internal battery supports 20 hours.
Those estimates are assuming you've got the volume cranked about half-way. But in either case, it's enough battery power to get through more than a full-day of listening. Using the included micro charging cable, it takes about three hours to restore an empty battery. Once restored, the standby time on the battery ensures you're ready to go for about two months.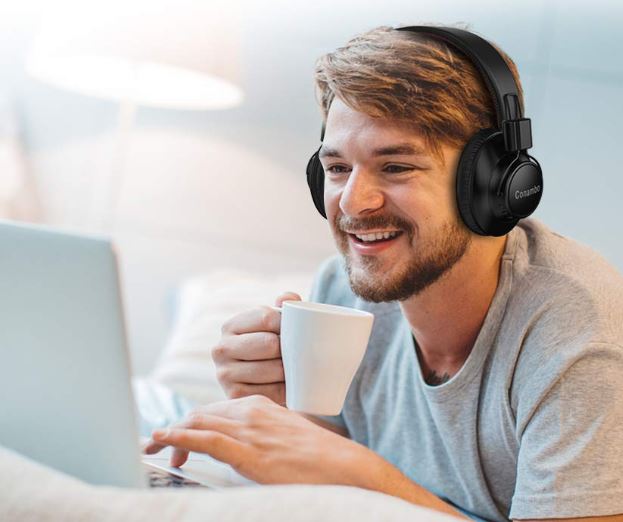 Microphone Performance
Unfortunately, the Conambo CQ7 Active Noise Cancelling Bluetooth Headphones uses a microphone that might best be described as passable. The microphone itself is actually located on the inline control piece. It's not made specifically to deliver on noise cancellation. Because it's not designed specifically to block noise, it picks up ambient noise like crazy.
Provided you're not expecting $150 performance from a more entry-level headset, the microphone a Conambo CQ7 delivers passable call clarity. Making and taking calls is as simple as you'd hope. But call quality is nothing to write home about.
Other Considerations
As with Bluetooth, using the ANC feature consumes quite a bit of power from the battery. To be certain you've turned off the ANC when you're using the headset, there's a small blue LED on the right ear-cup. When the ANC is being used, the LED comes on.
The CQ7 are actually quite compact for over-ear headphones. And there is one area where this highly compact design may become an issue. Each cup reaches over-and-across your ear, to seal it off from the outside world. Because of the compact nature of the CQ7, this ear space is actually on the smaller side as well. It's not ideal for someone with large ears.
The CQ7 includes a drawstring carrying bag, a black bag with the Conambo name etched into its face. It includes two connecting cables, USB-A to micro USB cable, and 3.5mm to 3.5mm aux cable. It includes a two-way audio splitter, helping convert the input/output 3.5mm jacks to call with the Conambo CQ7. Last but certainly not least, the Conambo CQ7 Active Noise Cancelling Bluetooth Headphones include an 18-month warranty from the manufacturer.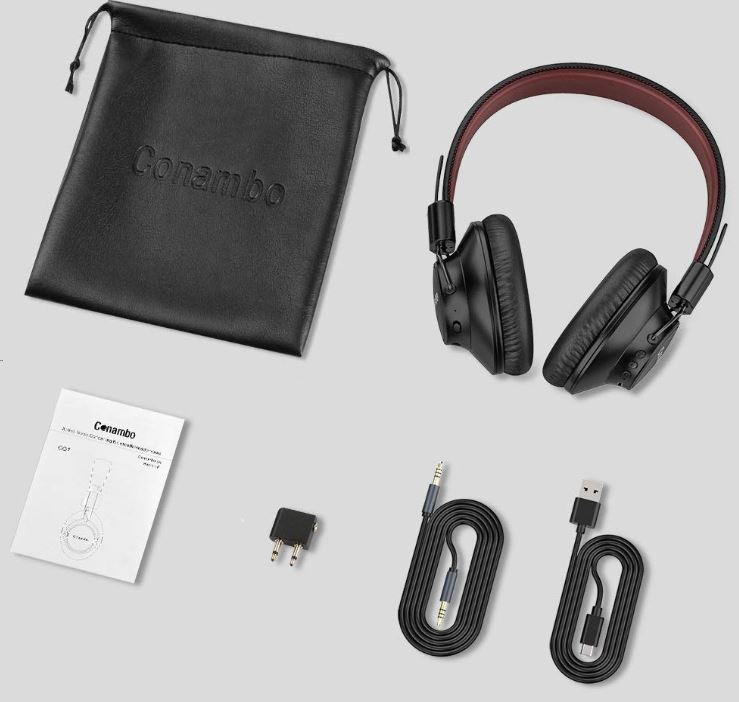 Who Should Choose Conambo CQ7?
The CQ7 are the kind of headphones you can wear literally all day, every day. Just about the only way these headphones could become uncomfortable is by wearing them long enough to develop a rash.
As always, if you're willing to use larger headphones, you should do so. But it might be tricky to find comparable Bluetooth headphones at this price. Their exceptional light weight is something that's hard to come by, especially without giving up another feature like the adjustable headband.
The ANC seems to have had minimal impact on their price, and it helps create far greater noise isolation than you can get with physical sound barriers alone. All in all, The Conambo CQ7 ANC Bluetooth Headphones are an excellent choice for someone who listens to music on the go, and doesn't want to sacrifice comfort and audio quality in the process.