Denon is a premium audio company based out of Japan. Since the mid-60s, their hardware has been appreciated by audio critics for it's incredibly quality, and unparalleled performance. They haven't always been a company consumers were familiar with. For many years, their target audience was audiophiles who were willing to pay top dollar for the best hardware on the market.
In the last 20 years, Denon has shifted their approach a little bit. With so much cutting edge technology under their belt, they started to build systems that improved on modern standards.
When Denon announced a new AVR, we couldn't wait to see what they had come up with. Perhaps a new network receiver that supported every form on the market? Maybe something for media buffs with more inputs than anything else on the market?
When the HEOS AVR was finally released, it was nothing like we expected. With tech, we tend to think that "better" is synonymous with "higher specifications." Instead, Denon went to create something that was easy to use, but still very powerful. Let's take a look and see what, exactly, the HEOS AVR does. Then, we'll help you decide if it's a good choice for your own home theater.

First Look
Until now, HEOS has been Denon's competitor to wireless, whole-home audio systems. Consumers would choose HEOS over SONOS thanks to Denon's lossless audio playback, and higher quality hardware. With the HEOS AVR, the platform has become something more. No longer designed to be used as simple portable speakers for your own personal entertainment. The HEOS AVR is a hub that connects every speaker in your house, allowing you to turn it into surround sound system.
Design
the HEOS AVR looks different than any other receiver on the market. There aren't any excessive buttons, or a high-end display constantly telling you what the receiver can do. This model is simple and modern. With nothing but a volume knob on the front, you might not think that this AVR has many features. But this is simply not true. HEOS is designed to be as passive as possible. It takes your audio and video inputs, and distributes them to the appropriate places. Denon's goal was to produce accurate, lossless audio, and this is evident in the design.
The receiver has a grey metal exterior, with a stylish line that runs along the face. It feels precise and pristine, just like the audio and video it produces.

Connectivity
What makes Denon's HEOS platform unique is its communication protocol. All of the speakers are wireless, but they have the same audio quality as a hardwired system. The advantage of this system is that the AVR can broadcast virtually any media type, without any compatibility issues. You certainly can't do that with Bluetooth!
On the back, you've got a number of inputs available to you. There are four HDMI ports available, which support HDMI 2.01 and HDCP 2.2. These are the latest standard available, so you'll be able to enjoy 4K and HDR content.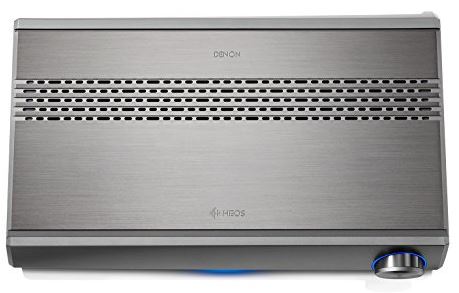 Right below the HDMI ports, you'll find something surprising. The HEOS AVR has wired speaker outputs. With almost any whole-home audio system, manufacturers try to limit you to using exclusively their products. With the HEOS AVR, you can use three wired speakers. This is generally going to be your center, left, and right channels. For a premium amp, this makes sense. Many audiophiles have spent thousands on speakers they love, so it's essential they support this if they want a piece of that market.
You can then add a pair of HEOS wireless speakers to your existing setup, or purchase everything as a package if you prefer.
Finally, you have the ability to load media files off of a USB thumb drive, or access locally shared video files over a wired network. With regards to both input and output, the HEOS AVR is one versatile device.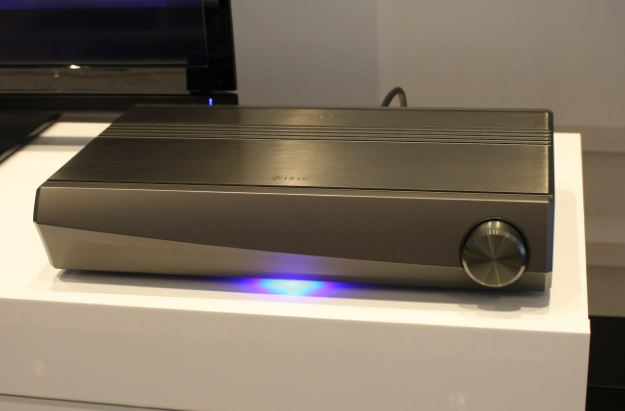 Interface
Although the single volume control looks great, we know that this isn't going to be enough control for a whole-home audio system. How do you add or remove speakers from the system? How do you choose what media you want to stream?
Everything is controlled through an app. The HEOS app is available on both Android and iOS. The app is divided into three categories: Rooms, music, and now playing. The first thing you'll want to do is set up your rooms and zones. You list all of the rooms in your house that have HEOS speakers in them, a process that takes only a minute. Once this is in place, you can choose separate zones.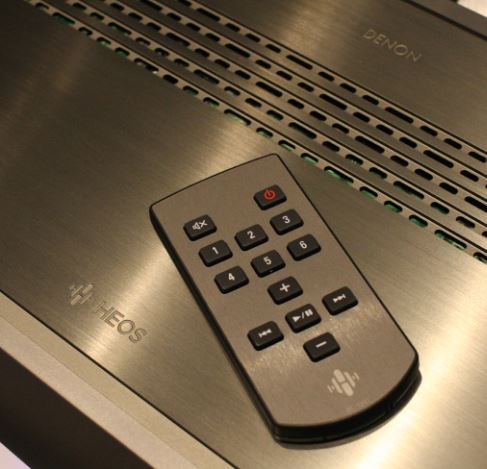 Let's say, for example, that you have a 5.1 surround sound system in your living room. Sometimes, you'll want all five speakers and your sub going at the same time. Other times, you might just want the two stereo speakers going. This is why zones exist. You can always go in an turn off speakers individually, but by setting a zone you'll be able to do this with just a click. Instead of having only "living room" listed under rooms, you might have "Living Room (music)" and "Living Room (movie)".
Once you've chosen your room, you can flip over to the Now Playing tab to choose some media. Anyone with the HEOS app can play local media on their phone. Alternately, you can access streaming services such as Spotify, Netflix, Pandora, TuneIn, and so on. Finally, if you plug in a USB stick or external hard drive into one of your HEOS speakers, or your AVR, everyone in your home can access that media through the HEOS app.
Considering how much functionality the HEOS system brings to the table, it's no surprise to us that the physical control system is so spartan. The HEOS app acts like an all in one media interface, making it a very simple way to use the system.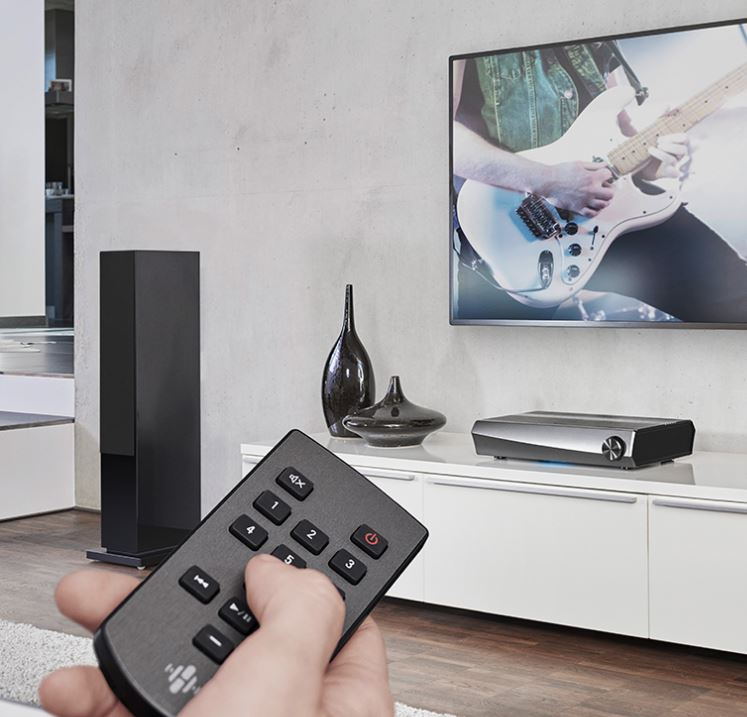 Ease of Use
Although we already touched on this a little with the app, there is some specific functionality brought to you by the HEOS AVR specifically. Have you ever had to fiddle around with the settings on your AVR? You know that your Blu-Ray supports surround sound, but for some reason there is no audio coming out of the back speakers. Or, perhaps, maybe the sound quality is always worse when you're using a specific input.
This is a common problem with modern AVRs. You can't just send them a signal. You've got to tell them what to expect. If you get that wrong, the amp doesn't really understand how to process the sound.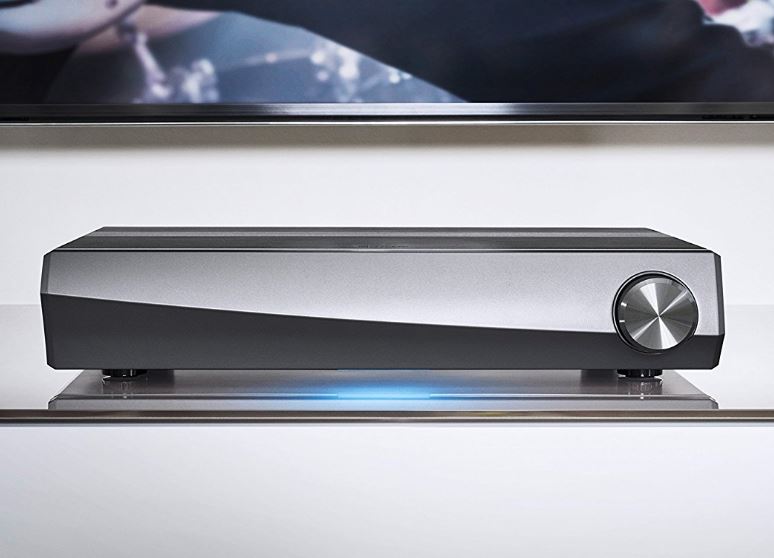 The HEOS AVR is different. It's an intelligent system that finds out what the best possible audio source is available through your signal source, and makes sure that it's self-configured to take advantage of the optimal stream. Unless you intentionally choose to disable certain features, the HEOS AVR is totally hands-off.
Disadvantages
One of the ideas with the HEOS is that you can take your existing stereo system, and turn it into a surround sound HEOS 5.1 system. In this application, it works great. But many of us already have completed 5.1 systems. In the future, we'd love to see something that could plug into our existing system, and make it a part of the HEOS system already found in other parts of our home. But for now, if you already have a 5.1 system, you're going to have to replace two of your surround speakers with HEOS models.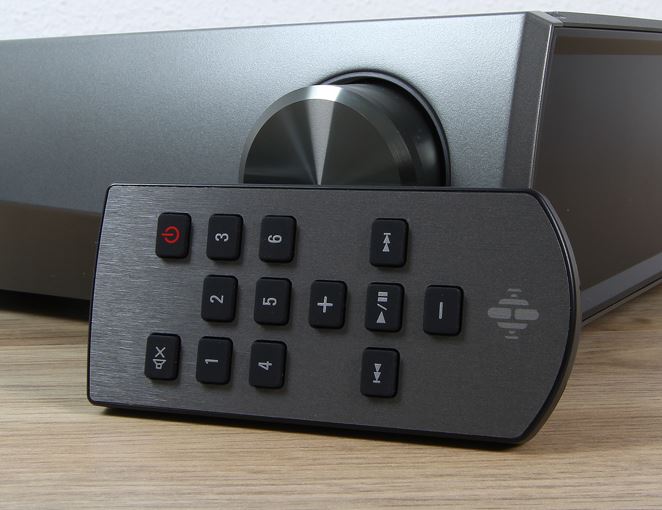 Final Verdict
HEOS isn't the only smart audio system on the market. Nor is it the only audiophile amplifier on the market. It is, however, one of the only devices we've seen that successfully bridges these two categories. Generally, for something to be easy, sacrifices have to be made. For something to be high end, buyers need to have a little knowledge about the technical specifications.
Not with the HEOS. This AVR can make your 5.1 system perform like an ultra-high end system, with no tedious setup procedure or having to go back and fiddle with the settings.
If you already have a high-end stereo system, then the HEOS AVR will allow you to add a ton of great functionality to your existing speakers. If you don't have your speakers picked out yet, we'd highly consider pairing this AVR with the HEOS branded speakers. The HEOS 1 is surprisingly affordable, and still performs like a premium speaker. Alternately, if you're looking for something that will make a lasting impression, you might want to consider the HEOS 5. While they aren't the top of the line option, we feel that the HEOS 5 sounds better than the majority of speakers on the market. If you try them out, we're sure that you won't be disappointed.