Picking the right Thunderbolt dock can be rather tricky. Because you've got to balance a bunch of different concerns. How many USB ports do you need on the dock? How many options for video throughput? What kind of resolution support? How about mobile charging feature?
You might even want the docking station to be small or portable.
There are about a thousand different ways to make a good docking station, which also means there are quite a few ways to end up with a docking station that's been configured for someone else's needs. Understanding your own needs, present and future, is quite essential to ending up with the station most appropriate for you.
Diamond Multimedia TB3000DS Thunderbolt 3 Dock
Out of the gate, one thing this station has working against it is the brand name. Because when you're comparing the Diamond TB3000DS Thunderbolt 3 Dock to similar docking stations, you're mostly going to be looking at huge brands like Logitech or Kensington. Diamond Multimedia doesn't have anywhere near that level of brand recognition. But if you can ignore those types of problems for a moment, you'll probably find their Thunderbolt 3 dock is actually pretty impressive.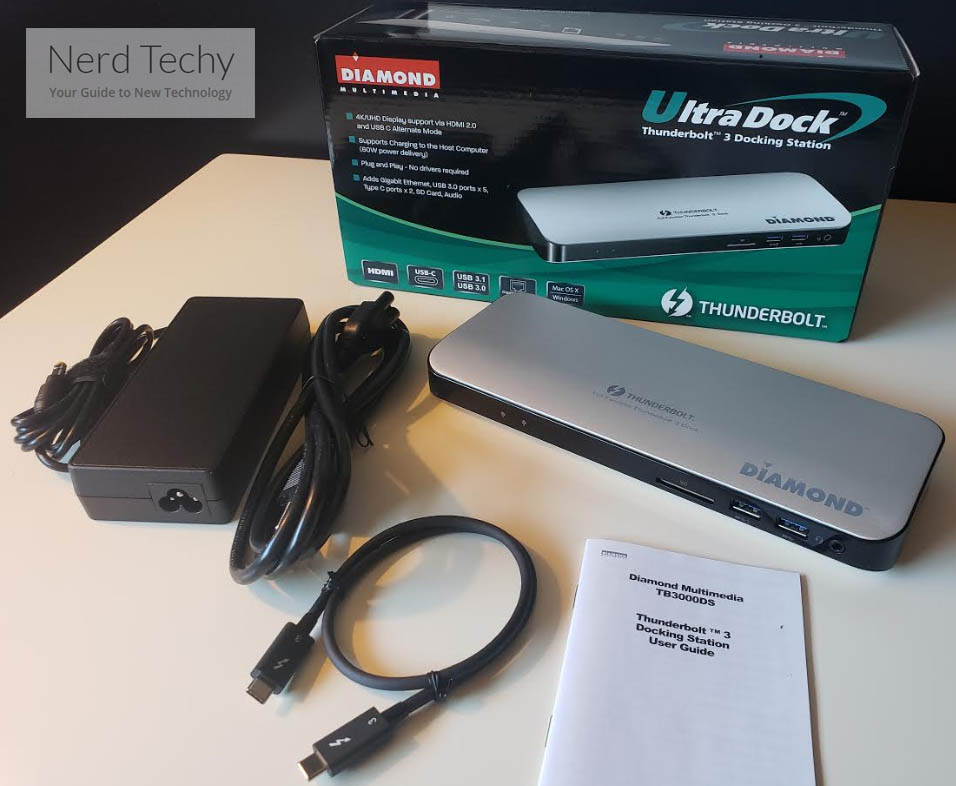 For starters, this dock lets you connect from your PC to any other number of USB peripherals. That might include printers, external hard drives, keyboards, and mice. There's a gigabit Ethernet port to help to move your internet signal through the entire network of devices connected to the dock. You'll also find proper audio input/output ports. And that's before you've even begun to really explore the video options at your disposal.
For video, this station is equipped with a proper HDMI video output, capable of supporting as much as a 4K resolution. You can use the UBS-C interface to connect to a USB-C monitor, as well. With the use of several displays, it's possible to mirror your screen or otherwise extend your screen in a number of different ways. Basically everything most people want from a Thunderbolt 3 dock can be achieved.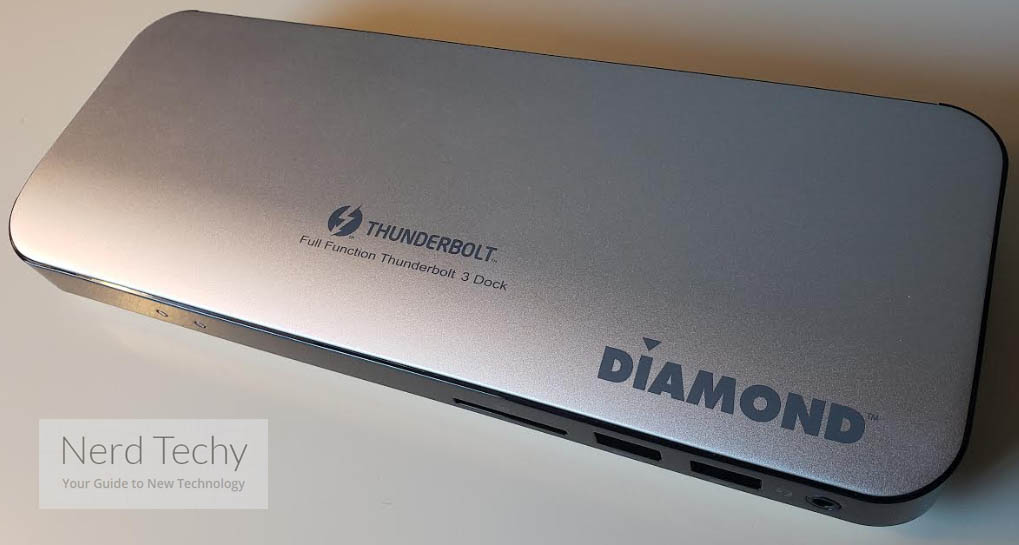 And alongside the option of expansion potential and video output functionality, this docking station is easily one of the most versatile you'll encounter. But it does have a couple of faults, or rather, limitations that are unique to its design. So whether or not the TB3000DS will end up being a good station for you personally really depends on what kind of expectations you have from your own equipment.

Design & Layout
Compared to similar docking stations with similar capabilities, the TB3000DS is surprisingly thin and compact. It measures only 3.4 x 1.1 x 9 inches and weighs about a pound. In spite of being so lightweight, the TB3000DS was constructed with a fairly sturdy chassis. It's certainly very professional-looking, which is the result of a largely sand polished aluminum body with a few finished highlights.
The combination of smaller size and generally lightweight design makes this station rather easy to position above or beneath desk spaces, on narrow counters, and so forth. But this docking station doesn't actually come with any special mounting hardware or unique mounting opportunities. That's actually quite typical when compared to similarly equipped stations, though.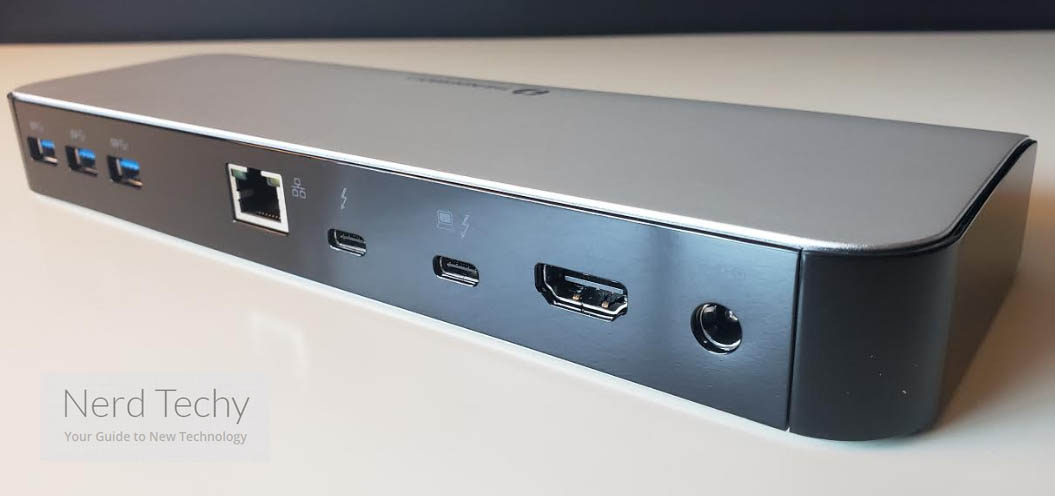 The USB I/O
The TB3000DS provides a total of two separate Thunderbolt 3 ports. They're positioned right next to each other, but only the right-side port can support device charging. It may not bear reminding, but the Thunderbolt 3 ports used on this device will not operate with ordinary USB 3.0 or USB 3.1 connections. Even though they look pretty much the same as any other USB-C port, you need a proper Thunderbolt 3 cable in order to connect with these ports.
In addition to those Thunderbolt ports, you'll find the front side of the TB3000DS Thunderbolt 3 Dock offers a pair of USB 3.0 Type-A ports. Those would be ideal for flash drives, USB speakers, and USB headsets. If you're not interested in running your audio through USB, you also have access to a 3.5mm headphone jack. Because its' a headphone jack, it can carry both microphone and audio signals from a single port, or be used for a simple pair of PC speakers.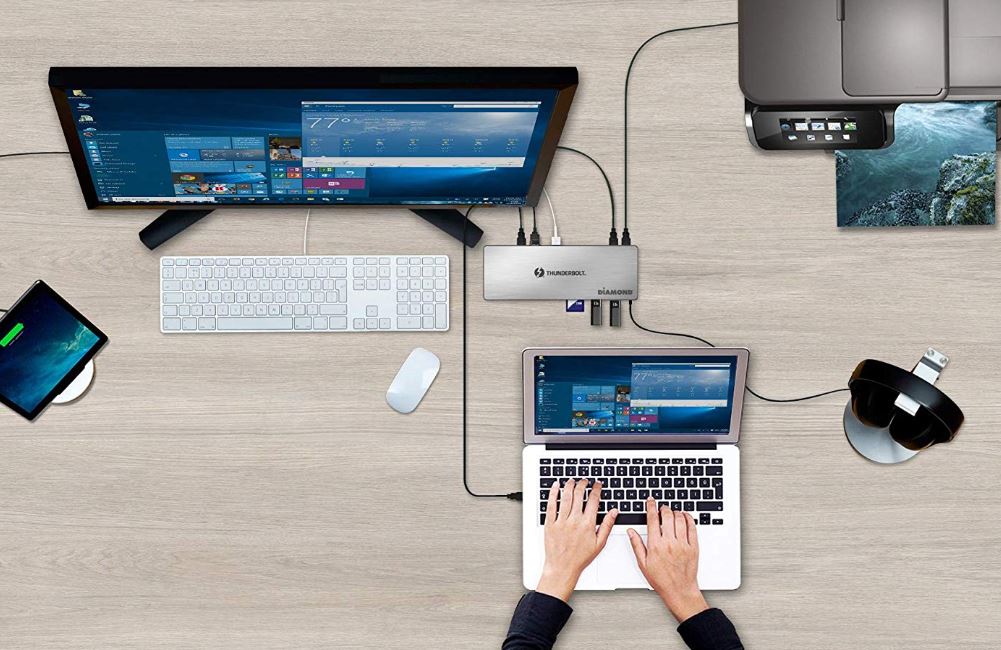 In addition to all of those ports, you'll find there's also an SD 3.0 card reader slot. True to form, this slot is capable of accommodating a wide range of different SD cards. Even though the addition of an SD card reader is a little easy to overlook, it's a nice detail that's just as easy to appreciate if you happen to need to pull data from SD cards.
Finally, turning to the backside of the panel, you'll find an additional 3 USB ports. This time, you're dealing with a total of three USB Type-A ports. These ports would probably be most useful for keyboards, mice, and similar peripherals where that don't necessarily need to be accessed on a regular basis. Because that would leave open the ports on the front portion of the docking station to be available for devices that are recharging, data swapping, and so forth.
Charging Capacity
As mentioned earlier, the TB3000DS delivers a pair of Thunderbolt 3 ports. Consequently, this dock is well suited for charging notebooks through the TB3 interface. However, the charge potential you can draw from these ports maxes out at 60W. For most people using an ordinary sized MacBook, notebook, tablet, or laptop, you really shouldn't find 60W to be limiting. But if you're running a massive gaming laptop of some kind, then you're probably going to encounter some issues under limited circumstances.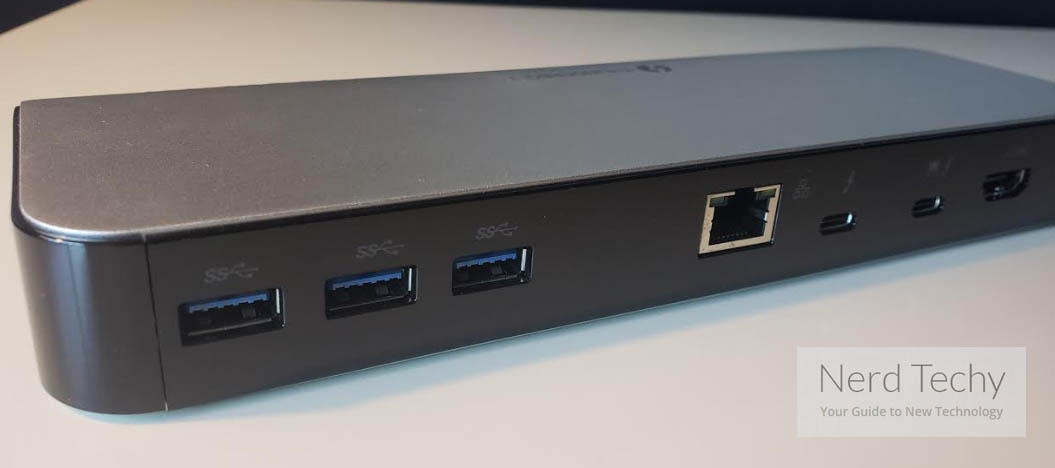 Internet Connectivity
In addition to all of its USB connections, the back panel of the TB3000DS hides away an RJ-45 and Gigabit Ethernet port. It's ideal for connecting up with your home network through the docking station, and then routing all your equipment to work together. Depending on what kind of monitor you're using, and how your devices are getting internet connectivity, having these ports can actually be essential.
To make things run a bit smoother, Diamond Multimedia included a pair of LEDs on the front side of the station. Those LEDs can let you know if data is being sent or received across the network. Not exactly the most sophisticated diagnosis mechanism, but it can help you determine whether or not your connectivity problem is occurring at the dock or otherwise. And when you're trying to diagnose an internet connectivity problem, that can certainly save you a couple of minutes.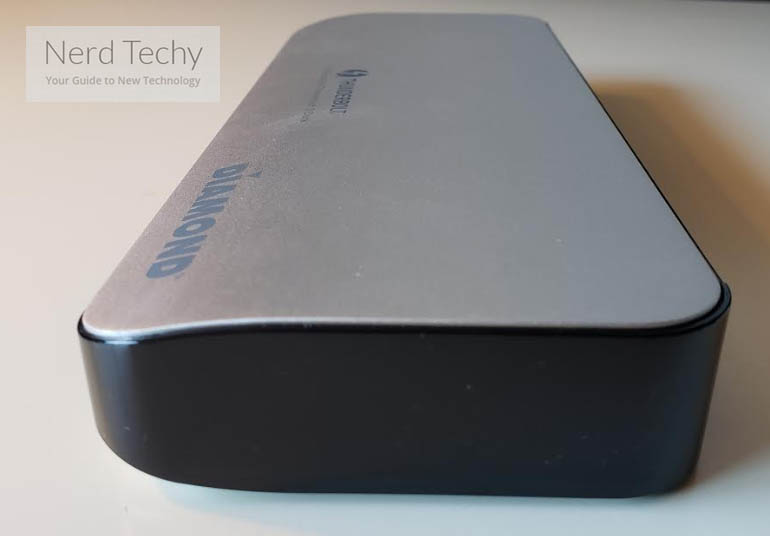 Video Connections
In terms of visual inputs, the TB3000DS provides quite a few options. Perhaps most importantly, you're able to add USB-C connections for video input. But there's also legacy port support that includes VGA and DVI connections. And this docking station would be pretty bizarre if it didn't offer an HDMI port, so naturally there's one of those as well. This HDMI port is reasonably powerful, too. It's designed to handle 4K content being streamed at 60Hz.
Running two 4K resolutions at 60Hz isn't necessarily easy to do, but this station makes it seem easy to extend your display. And being able to use multiple monitors or otherwise extend your view can be an enormous advantage, from both from an entertainment perspective and a productivity perspective. If you're looking to exceed 60Hz, that's possible when you're using 1440p or 1080p resolutions. But when you're using 4K, 60Hz is a reasonably high ceiling for the time being.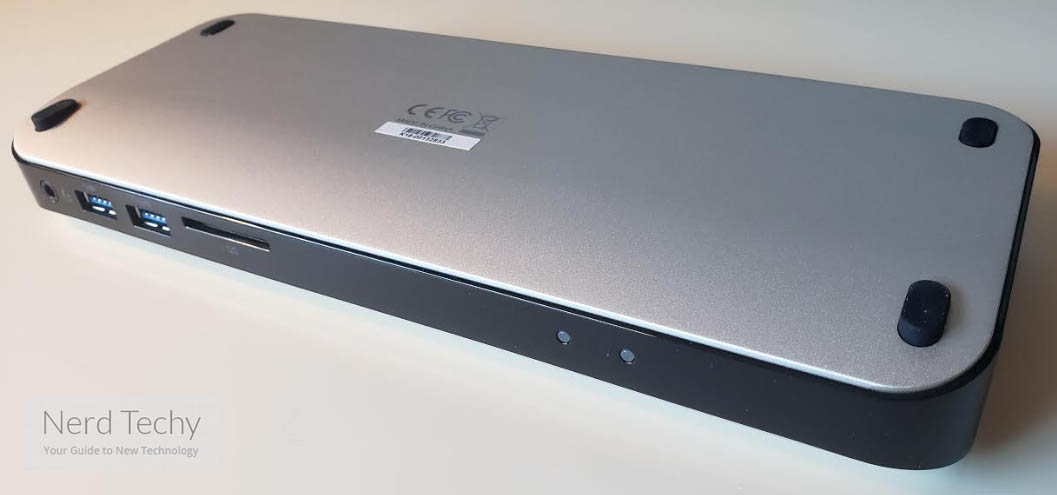 Other Considerations
You don't need to actually download any special drivers, or undergo any type of added installation process in order to start connecting devices to the dock. That means it pretty much offers a flawless plug-and-play setup process. You can basically treat it like a mouse or keyboard, plug it in and go.
The TB3000DS includes a user guide, a Thunderbolt 3 cable, and a power adapter. The included Thunderbolt cable only runs about ten inches, which is a little inconvenient if you're trying to connect something like a monitor. You'll probably have to get your own cable to handle those kinds of problems. Likewise, the user guide isn't very enlightening. Especially if you've already used a docking station like this before.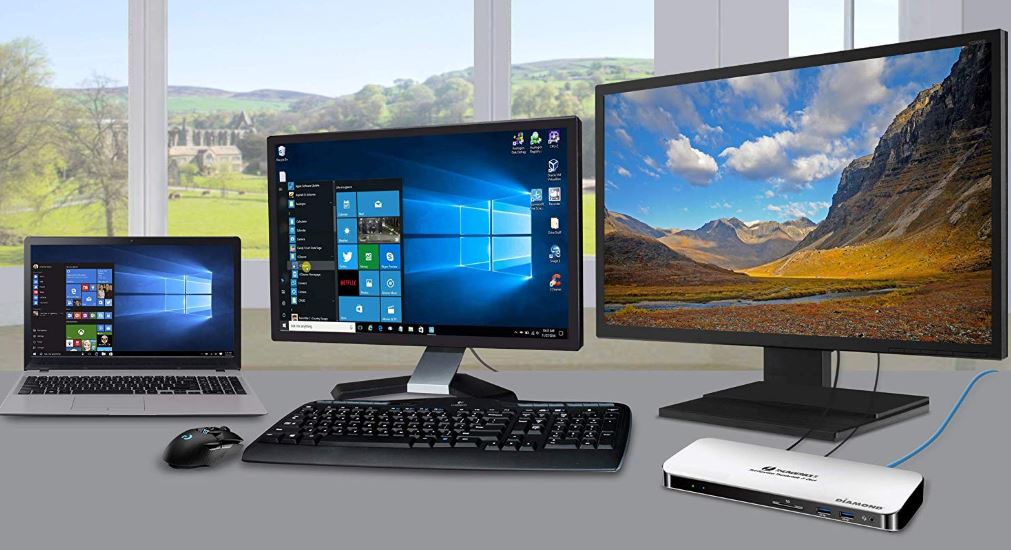 Who Should Choose the Diamond Multimedia TB3000DS Thunderbolt 3 Dock?
The Diamond TB3000DS Thunderbolt 3 Dock isn't going to be the right docking station for everyone. But it does have quite a bit to offer for people who know precisely what they're getting into. When you look at video throughput options, you'll find this station is basically without limits. From legacy ports on through, just about the only thing you won't find are a couple of DisplayPort options to round things out.
It would be nice of Diamond Multimedia had provided some alternative means of mounting their Thunderbolt dock. Especially with how increasingly common it is to be able to mount these stations behind PC panels or otherwise get them out of your way. However, the design of this dock is pretty user-friendly. It's basically intended to sit out in an accessible position where you're able to interact with the ports on a regular or semi-regular basis.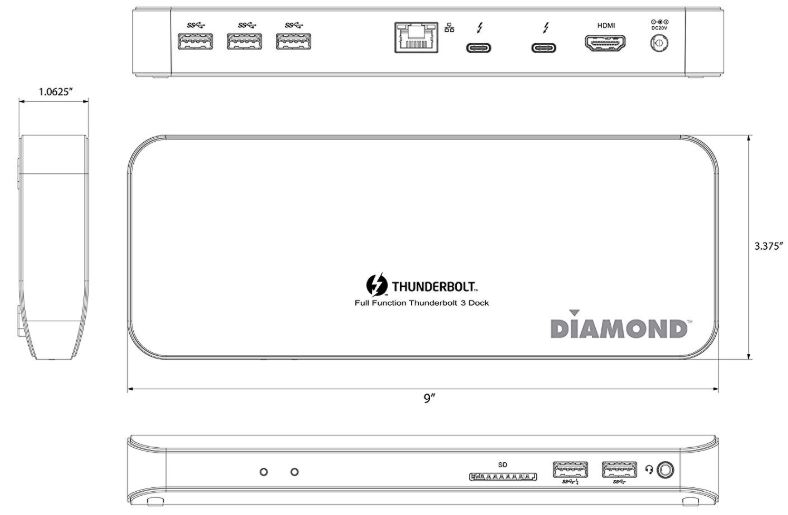 When it comes to USB connections, the TB3000DS is mostly flawless. The front and back portion of the device offers numerous connection options. You'll find plenty of spaces for keyboards, mice, webcams, and similar peripherals to connect. And when it comes to charging your stuff, you'll find the TB3000DS delivers reasonably well, too. At least, within its 60W limit. That's really a limit that's going to bother very few people.
Docking stations like these can be pretty expensive, but the TB3000DS manages to deliver on the essentials you need from a dock while maintaining a price tag that's pretty much one third cheaper than many of its major competitors. Unless you're someone who's actually trying to charge some kind of enormous 19" gaming laptop, you ought to find the TB3000DS is suitable for basically any sort of task you might want to throw at it.