Cell phones and tablets are nearly necessities in today's world. However, most options struggle during the most rugged activities and lifestyles. That's where Doogee comes in with their newest lineup of phones and tablets.
The recently released V20 Pro, S100 Pro, and T30 Pro are revolutionizing the durability of smartphones and tablets. If you're someone who needs their phone to stand up to whatever you throw at it, you may want to keep reading.
Doogee V20 Pro: Durable Construction and Thermal Imaging
Starting off the lineup is the Doogee V20 Pro. This is a smartphone that is rugged, durable, and packed with state-of-the-art features. One of the coolest is its thermal imaging camera. This camera allows you to detect heat signatures from up to 1000 meters away and also see their exact temperatures. This is incredibly useful for first responders, hunters, electricians, and more. The camera also functions great when taking pictures and videos, giving you high-quality results.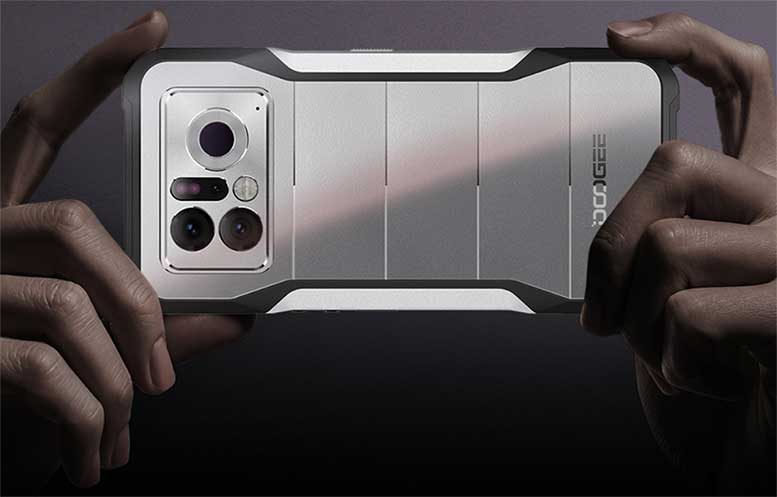 The back of the phone further improves on durability with its Corning Gorilla Glass. This helps protect it from drops while also giving a superior grip. Doogee also used this glass technology on its front display. It has a 6.43 inch 2K AMOLED front screen to give amazing picture quality in up to 120 Hz. Overall the phone meets IP68, IP69K, and MIL-STD-810H standards for water and dust resistance.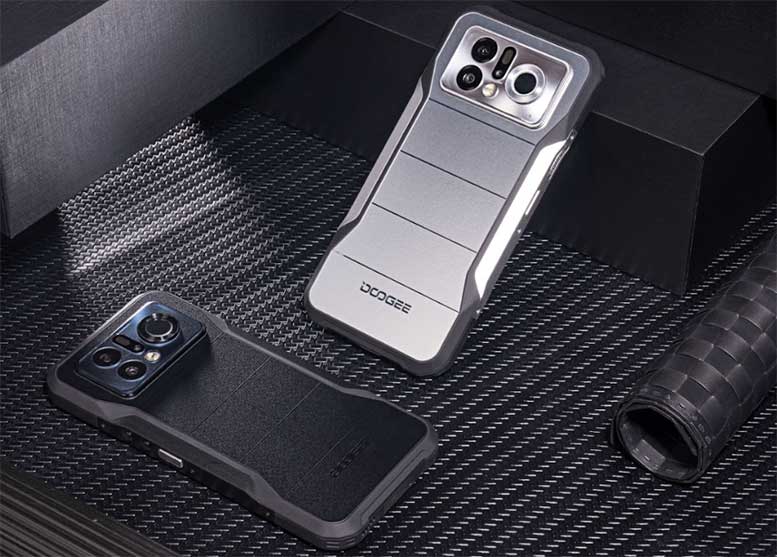 The V20 Pro runs on the Android operating system. Internally it features 20GB of RAM and 256GB of storage. In addition, the storage capabilities can be expanded up to 2TB. This phone features a 5G chipset to use the latest cellular technology. As for battery life, it uses a 6000mAh battery to keep it powered all day long. Another cool feature is the different ways to unlock the phone. You can use either your fingerprint via a reader on the side of the phone or face unlock. The V20 Pro is also compatible with four different navigation systems, including GPS, Beidou, GLONASS, and Galileo. This phone is available on Amazon in either black or silver.
Doogee T30: A Premium Tablet for Surfing the Web, Watching Videos, and More
Looking for a high-end tablet for all your video and web browsing needs? Look no further than the Doogee T30 Pro. It features an 11-inch screen with 2.5K resolution. Additionally, the screen has achieved TÜV SÜD low blue light eye protection certification. This gives you peace of mind that your eyes won't feel fatigued even after using the tablet for hours.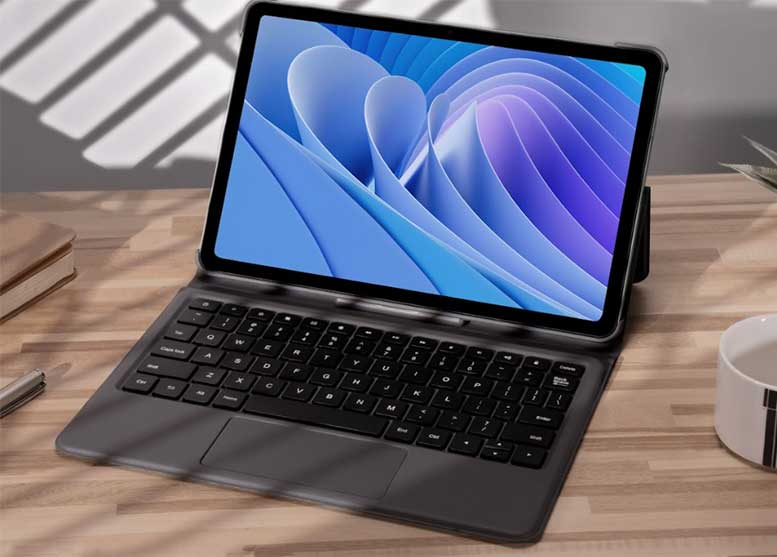 Internally, the T30 has some great features. For sound, it uses quad speakers with Hi-Res audio. They perfectly complement the display quality of the tablet. Best of all, it has the flagship MediaTek Helio G99 6nm processor to allow you to easily run demanding applications or use multiple applications at once. For memory, there's 15GB of RAM and 256GB of storage that can be expanded to 2TB.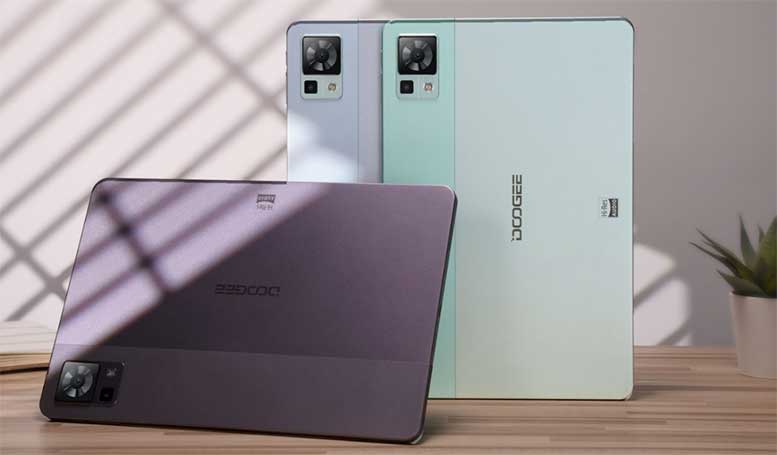 There are two cameras included on this device. The first is an 8MP front camera, and the second is a 20MP rear camera. Finally, to power everything, the T30 uses an 8580mAh battery. This allows you to use it to its full potential for hours on end without needing to recharge. The T30 is available on Aliexpress in space gray, mint green, or ice blue.
Doogee S100 Pro: Long Lasting Battery Life and a Premium Flashlight
The S100 Pro rugged smartphone is another great option in this recently released lineup from Doogee. Its most unique feature is the 130LM camping light included on the body of the phone. This light is located on the back of the device. This light can illuminate up to 25 meters away for up to 18 hours of continuous use. Additionally, there are five different lighting modes to choose from. They include SOS, Explosion Flash, Slightly Bright, Full Bright, and Half Bright. This is perfect for any time you need a powerful flashlight or lantern while on the go.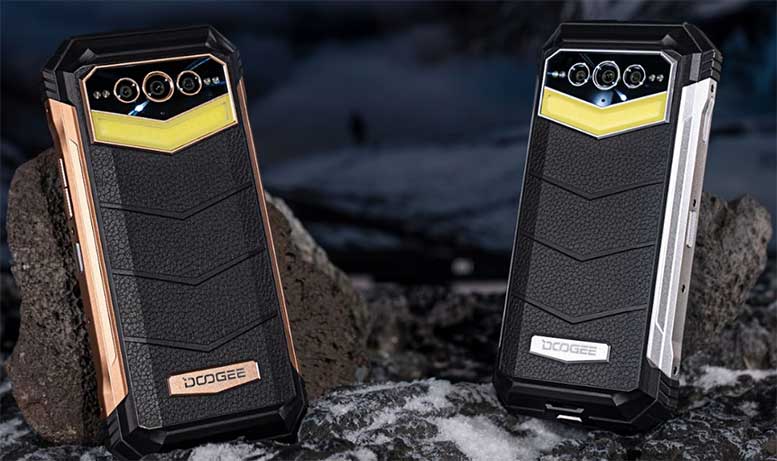 The S100 Pro is similar to the V20 Pro when it comes to durability. With its IP68, IP69K, and MIL-STD-810H ratings for dust and waterproofing, you shouldn't have to worry about breaking it. This makes it the perfect phone for the job site or for long camping trips in the wilderness.
Internally there are some great components used. For camera capabilities, it uses a 108MP main camera on the back, along with a 20MP night-vision camera and an 8MP wide-angle/macro camera. Best of all, there's a 32MP front-facing camera. These all allow you to take amazing pictures and videos no matter the scene you're in.
The screen used is 6.58 inches, just over 2K resolution, and has a refresh rate of 120Hz. This screen will provide great picture quality and look extremely smooth while in use. In addition, there are dual Hi-Res speakers used to provide top-tier sound. As for memory, the S100 has 12GB of RAM and 256GB of storage.
Similar to the V20 Pro, it can be expanded up to 2TB. The battery used is extremely impressive at 22000MaH. This enables the phone to be used for up to 240 hours of normal use or 2,350 hours of standby time on a single charge. You can find the S100 Pro on Amazon in either black, gold, or silver.
Final Thoughts
Whether you're looking for a rugged phone with thermal imaging capabilities, a state-of-the-art tablet, or a smartphone that can last for nearly 2500 hours on a single charge, Doogee has an option for you.
With the recently released V20 Pro, T30 Pro, and S100 Pro, you can have a great device for a variety of use cases and lifestyles. In terms of availability, you can find these gadgets on popular websites such as Amazon, AliExpress, and Doogeemall. Pricing details as unique to each marketplace. Visit each link for specific prices.
In our opinion, it's worth checking out any of these. The two phone options make a lot of sense if you're someone who spends a lot of time outdoors or on job sites where your phone has the potential to be damaged. The tablet is a great choice if you want a powerful device to surf the web or run your favorite apps without breaking the bank.