Whether you're running a business or just trying to keep your personal effects in order, you simply can't put a price on being organized. If you've ever had to sort through a pile of old paperwork or check through dozens of drawers to find whatever it is you're looking for, you know firsthand how valuable an effective organization system is.
What is it that makes an organization system functional? Simply having a system isn't enough. What you need is a way to know where things are without having to dig around. The most effective way to go about this is with effective labeling. For this reason, a label maker can be found in virtually every office in the country.
Label makers make it quick and easy to print off a sticker that labels anything you like. Whether you're marking your office supplies or keeping the filing cabinet organized, there seems to be a label maker for virtually every purpose. There are literally hundreds of labelers on the market, but it seems as if they're all cut from the same cloth.
Until we came across the Dymo MobileLabeler, we hadn't seen anything game-changing in many years. This unique little labeler has a few key changes that make it easier to use. We put them to the test to find out if this new system really is as good as they say. Once we've explored the options, we'll help you understand if this labeler is right for you.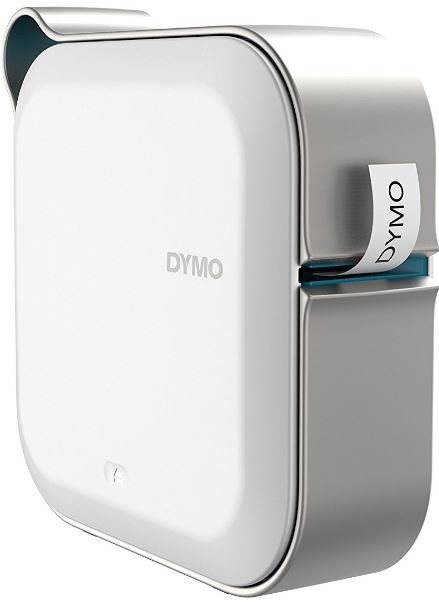 First Look
If you've used a labeler before, you might be surprised at the look of the Dymo MobileLabeler. It doesn't have the typical layout of most labelers. In fact, it doesn't have any input options on it. Instead, Dymo simplified the platform by offloading all of this work to your smartphone. The benefit to you is that it's much simpler to use your smartphone to enter details and select print settings. Plus, the printer itself is much cheaper. It's true that this isn't the cheapest on the market. At first glance, it might not even seem like there are significant savings when compared to a model with a direct interface. But that's because Dymo took the money it was saving and put it into the printer itself. The quality on this labeler is very high, putting it in line with products that cost several times more than this one.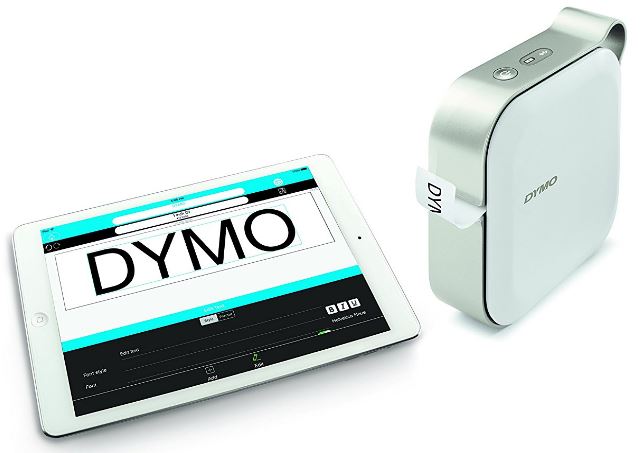 Design
The Dymo Mobile Labeler is a very attractive label maker. Its look is in line with what you'd expect from a modern networking appliance or tech gadget. The face of it is a silky-smooth acrylic that has a premium feel to it. The entire thing feels just a little heavy. Not too much to be annoying, but just enough to feel like a premium product. Perhaps the biggest addition to the luxurious look and feel is the steel band that wraps around the printer. Its brushed finish is resistant to fingerprints, and gives it a feel that's almost soft to the touch.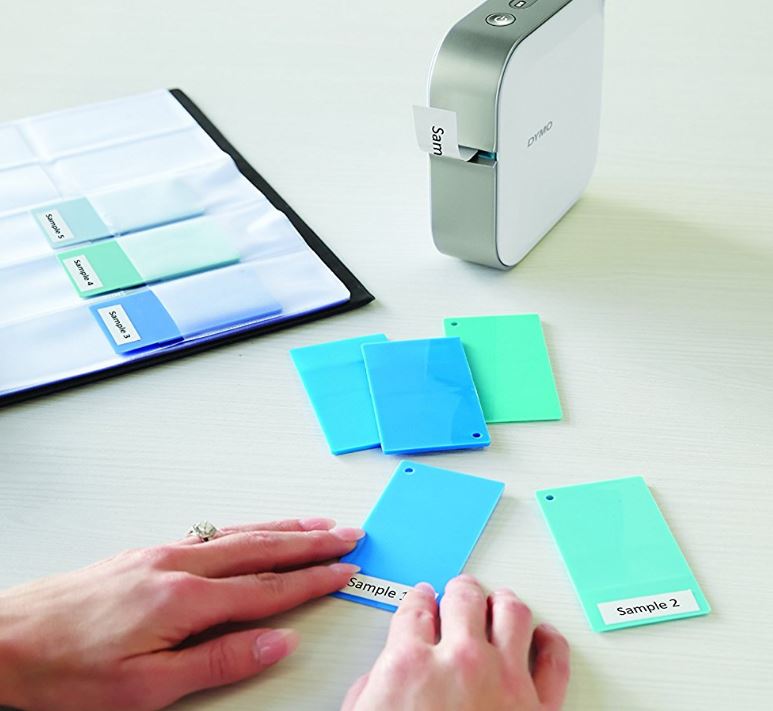 On the top, there are two key elements. You've got the power button that performs the simple action of turning it on and off. Above it are two indicator lights. The stylized B indicates that there is an active Bluetooth connection, while the battery meter indicates how much power is left. There are only two sections, but three possible states. Fully illuminated indicates a battery capacity from 75 to 100 percent, half full indicates 25 to 75 percent, and when the bottom bar is flashing it shows that the labeler has less than 25 percent charge left.
The metal band doesn't just wrap around the device, it's got a little loop on the corner that lets you attach it to a lanyard. This makes it easy to carry around, or anchor to a desk if you're leaving it in a public area. Overall, the design of this labeler is both attractive and functional.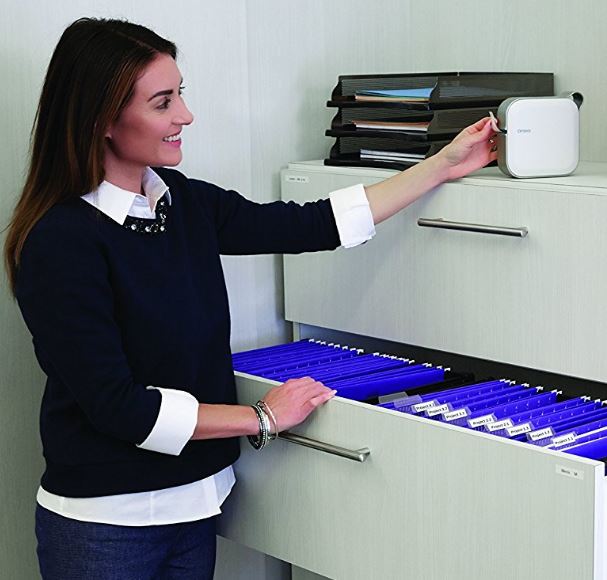 Connectivity
The Dymo MobileLabeler has the latest Bluetooth 4.1 connectivity, allowing it to connect with any mobile device on the market. Its software is specially designed for use with Android or IOS, and the bandwidth is more than sufficient to provide you with speedy performance. It doesn't have the typical lag you get with many wireless devices. When we provided an input, we found that everything felt snappy and responsive.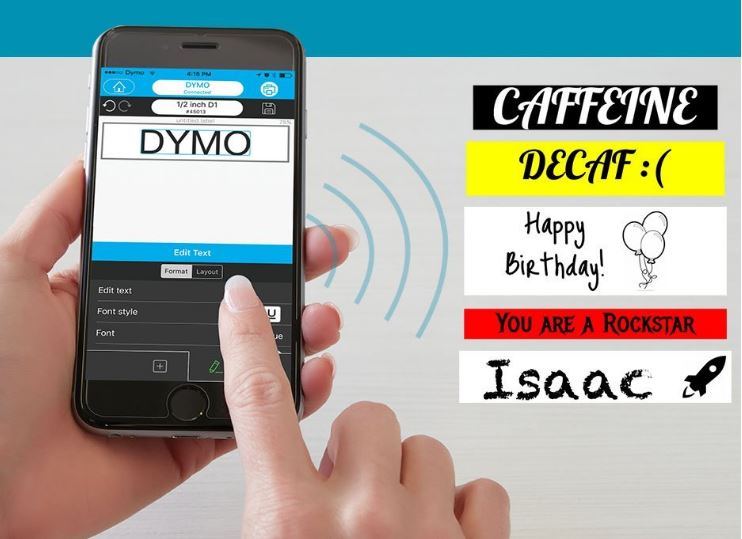 At first, we expected this. In theory, when it's just sending text and a few simple graphics over the air, quick performance should be expected. After all, we've been sending text over the air since the 80s. But after playing around with the software, we realized something unique. This printer isn't just choosing from a library of built-in fonts. It's actually using all of the fonts installed in your phone. This means that it's sending raw vector data over the air. What you see on your phone screen is what you get on the label. This means that if you've downloaded additional fonts on to you phone, it's available to you on the printer immediately. This is the only labeler we've seen with this capability, so we're quite impressed with it.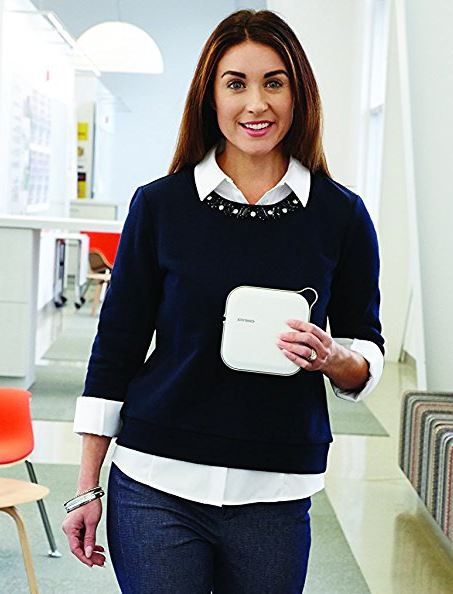 Functionality
Once the app is installed on your phone or tablet, using it is very simple. The first time you get connected, you'll need to go into your Bluetooth menu and connect to the device. Once you've paired, the Dymo will automatically remember your phone, and connect to it when available. Although it can only handle one print job at a time, it can maintain connections with multiple devices. This means that you won't find yourself getting cut off just because a co-worker walked in with an already paired phone, but you still get the benefit of effortless connection.
When you're designing labels, you get an enlarged version on your screen that shows you exactly how the final version of the label will look. This is much better than the typical low-resolution display they have in place, giving it a serious edge over the competition.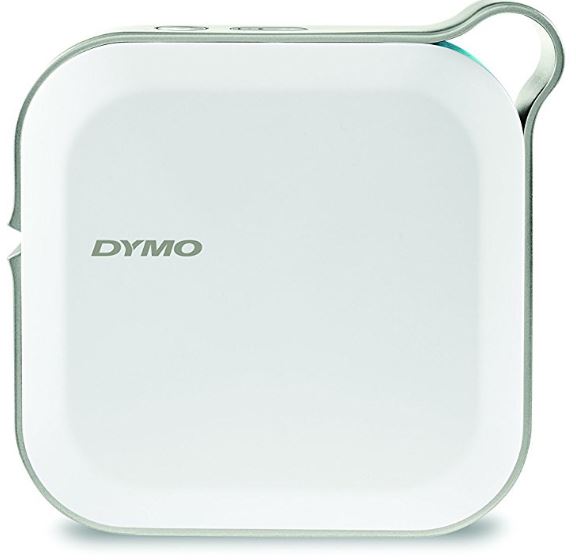 Value
While this isn't the cheapest labeler on the market, it's pretty darn awesome. If you've taken the time to compare the features of this model against competing offerings, you'll notice that this one packs a lot more punch. Features are both higher quality and higher in volume. You can choose multiple styles of tape, multiple fonts, and include graphics on your labels. Other models offer this as well, but the resolution and quality feels strictly like something like the 1990s in most cases. Although the labeler prints only in black and white, the edges are much sharper and crisper than we've seen on any other similarly priced model.
Disadvantages
Anytime you release a revolutionary product, you're bound to hit a few snags. While we were a big fan of the fact that it syncs up with your smartphone, this feature won't be ideal for everyone. If you're setting up this labeler to be used by lots of people, you might prefer to have an all in one device. Most wireless devices, Bluetooth headphones for example, usually give you the option of going back to the old style. But with this labeler, if you're not caught up into the 21st century you just can't use it.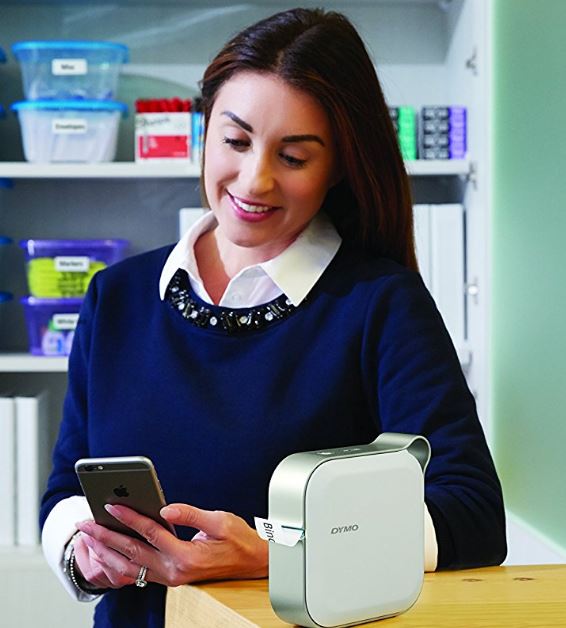 Final Verdict
If you're looking for an affordable labeler for use in a home or small business environment, the Dymo MobileLabeler is the first model we'd recommend. It's compact, stylish, durable, and incredibly easy to use. We found that controlling it remotely from a smart phone was much easier than having to carry it around. We were able to hold our smartphone in one hand while digging through our filing cabinet, pumping out labels in rapid fire. Once we'd gone through the pile of paperwork, we had a neat stack of labels ready to go.
The only time we wouldn't recommend this labeler is in scenarios where you're going to be sharing it with a large number of individuals. You're probably not going to want to share your smartphone, and users aren't going to want to set up an entire app just to print off one quick little label. If this is the first labeler you've looked at, we don't think you'd go wrong by making an impulse purchase. But If you're hoping to do a little more research, you can find more information about standard labelers in our guide to the best handheld label makers on the market.