Finding the right Bluetooth headphones is getting harder. As if it wasn't difficult enough to find headphones without trying them first, new features like active noise cancellation are only make it more difficult. But with the right direction, it's not that hard to figure out whether or not Bluetooth headphones will work for what you've got in mind.
ELEPAWL EP6
The ELEPAWL EP6 are somewhat curious. Given their full bodied, over-ear design, they're not quite as portable as other types of Bluetooth headphones. The design of the EP6 is better summarized as build quality mixed with a high emphasis on sound quality. That's not to say that its other features are lacking, but the EP6 was definitely constructed a specific type of listener in mind.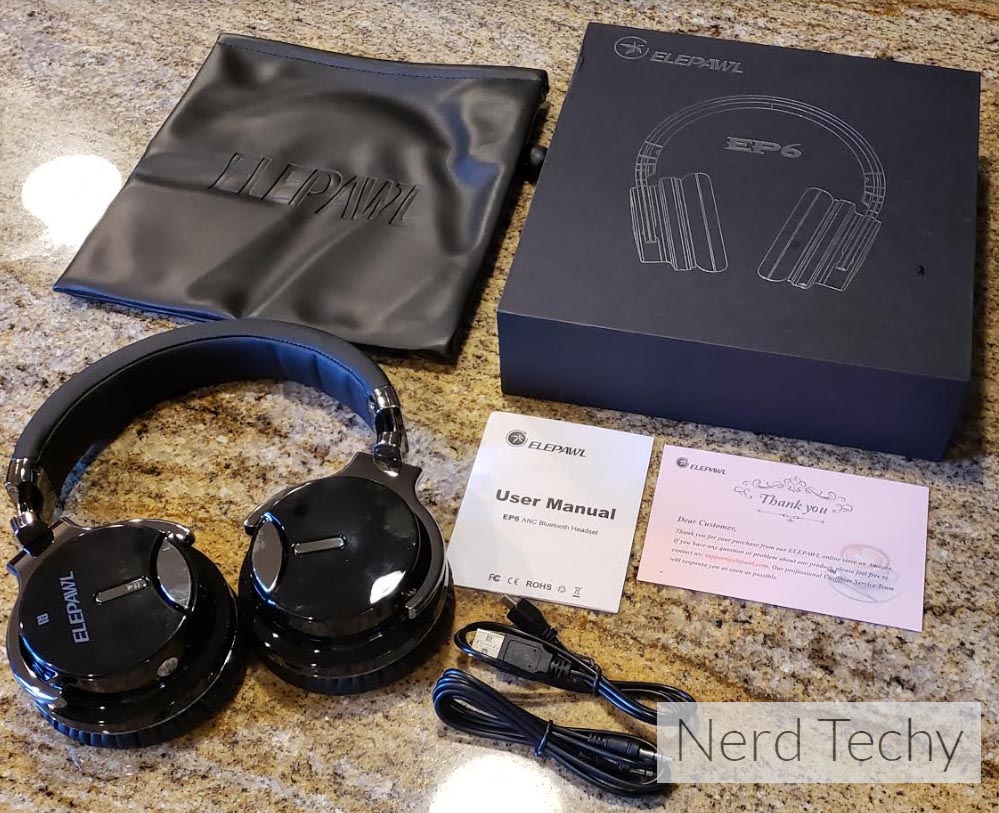 Build & Design
The ELEPAWL EP6 looks a bit cybernetic. Their body measures 8.7 x 8.4 x 2.3-inches, and weighs about half a pound. What makes them stand out is the most is their shiny metal components against the black and silver color scheme. Together it creates the sense of a premium product such that suggests ELEPAWL EP6 belongs in the $300 price range.
Internally, the EP6 use fairly large 45mm drivers. Externally, the EP6 has been rigorously reinforced at numerous points, such that the EP6 is nothing if not sturdy. Most of the audio driver housing and contact surfaces are made of ABS plastic, while most of the metal components are used around mechanical joints.
Adaptive Sound Controls
On the right ear cup, there's a tiny play/pause button, which also acts as the volume control knob. Unfortunately, these controls are rather counter-intuitive. Volume increases as you scroll from the bottom, while it increases from the top. Raising the volume can also go skip a song, while lowering it can rewind. If you want to adjust the volume as opposed to skip around, you've got to hold the button.
On the bottom of the left ear-cup, you'll notice a micro USB port for charging. Nearby is the AUX port, microphone, and power switch. You'll note the ANC and Bluetooth options have been made separate here. That means you're unable to turn on ANC without turning on the headphones.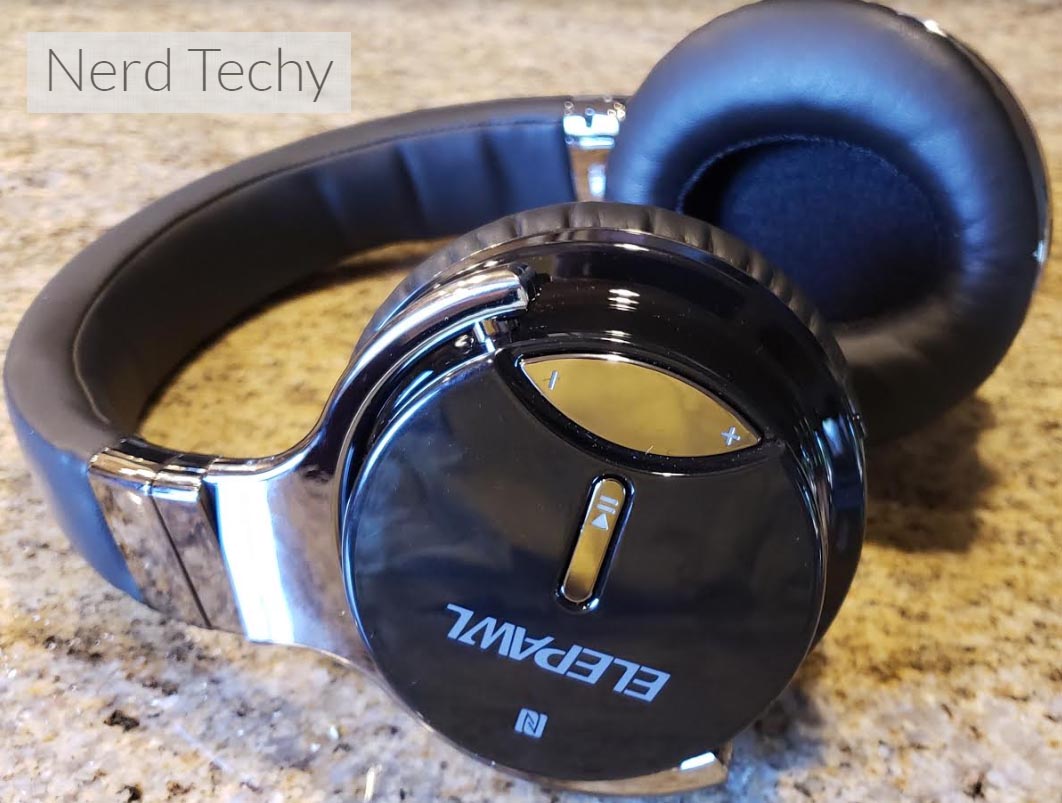 Sound Quality
Headphone manufacturers, in their drive to make consumer-focused products, have a tendency to emphasize the production of strong bass. Mass-market headphones all try to pursue this bass-heavy sound signature, which often comes in exchange for clarity in treble. In fact, if the average person has used 5 pairs of headphones in the past 20 years, four of the five most likely fall into this category.
Whether you like it is a matter of taste, but the ELEPAWL EP6 follows this trend as well. Sound quality is much more subjective than image quality. That's because everyone has slightly different hearing abilities, different tastes within music, and so forth.
Even people who love bass may agree the bass on the EP6 has been boosted to the point that it makes the midrange feel less impressive by contrast. But if you like the deep bass soundscape that has come to characterize most consumer headphones, the EP6 will no doubt impress you.
The bass is highly accurate and smooth, though it does blend into the mid-tones at some points, male voices come through with clarity. The EP6 also has a slight boost to the treble range which provides some punch to high tones, but does encounter the same issues with treble clarity that come about with bloated bass.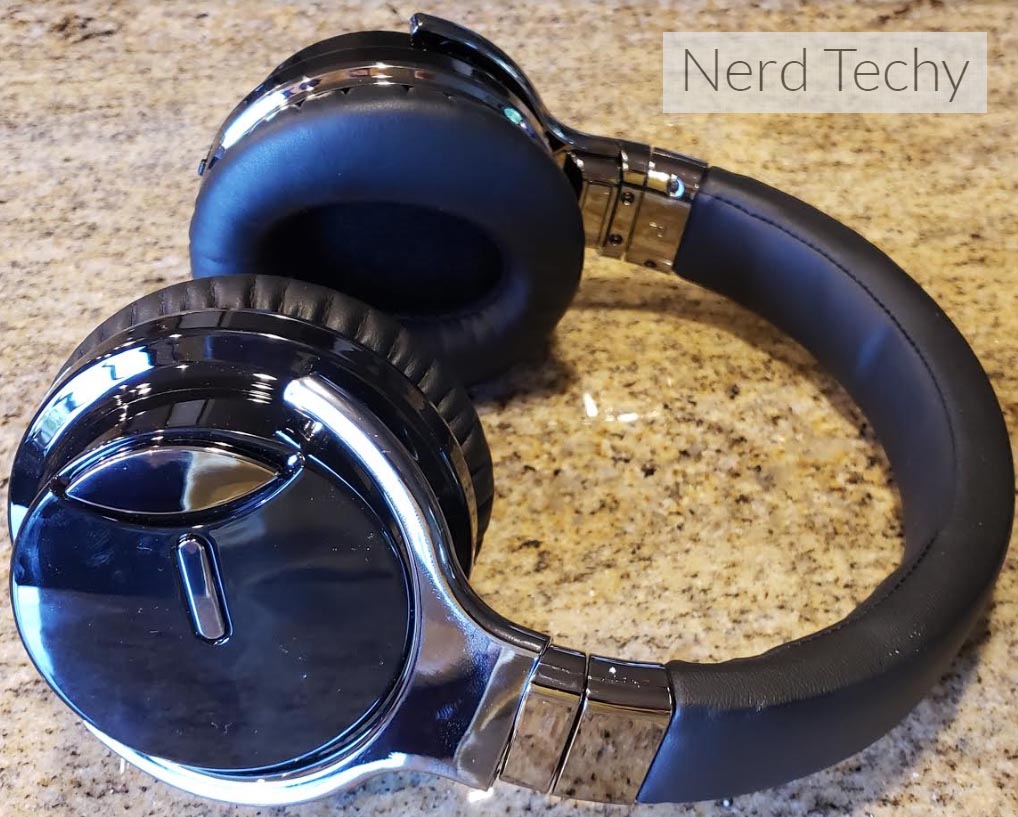 ANC Noise Protection
What problems the ELEPAWL EP6 has in the midrange are partially resolved when you turn on the ANC. That's because the ANC partially mutes the bass, resulting in a slightly more balance soundstage than most Bluetooth headphones in this price range.
However, it must be noted that the ANC is on the weaker side. It would certainly be inadequate for tuning out white noise by itself, like for someone who wanted to sit on a plane without playing any music. The ANC works reasonably well when paired with music, and it might be fair to say that the music needs the ANC to sound its best.
As a standalone feature the ANC is inadequate, but getting independently strong ANC is unfortunately something that would drastically increase the price tag of these headphones.
Ease of Use
Another thing the EP6 has going for it is NFC. The inclusion of near-field communication (NFC) technology makes connecting the ELEPAWL EP6 Active Noise Cancelling Wireless Bluetooth Headphones about as easy as pushing a button. Just bring the EP6 within a few inches of your phone, and you'll be able to make a connection in seconds.
With respect to ease of us, the EP6 has many of the more standard features that have come to characterize nearly all Bluetooth headphones. For example, they use a built-in microphone that allows the EP6 to be adapted to hands-free calling and various voice commands. The microphone is fairly standard, while it provides clarity, you'd want to switch to a two-microphone device if you were planning on making calls inside boisterous environments.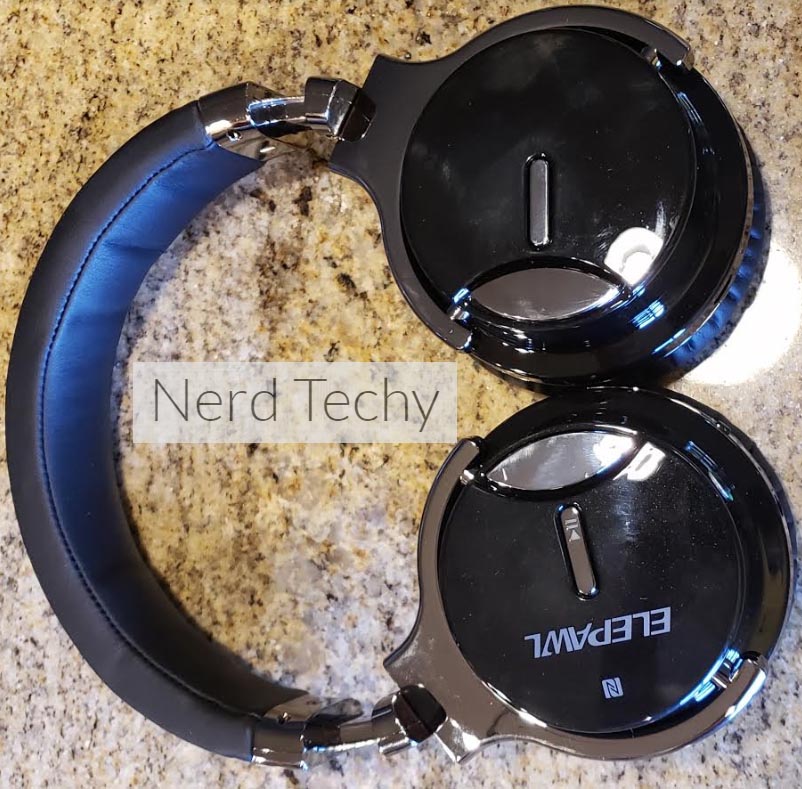 Worn Comfort
The EP6 also shines in comfort. Its ear pads are exceptionally well made, and constructed from smooth quality leather. The foam padding on each is roughly 1.5" thick, allowing them to sit around the ear rather than on them. Additional foam lines the drivers to help protect your ears.
The way the EP6 fits on your head comes down to its ear cups. Each ear cup uses a metal hinge, which also allows them to rotate telescopically. The ear cups swivel 90-degrees to better fit the wearer's head. However, these hinges do not allow folding, so the ELEPAWL EP6 are not quite as portable as many other headphones in this price range.
On the other hand, extension of the headband occurs in smooth increments, so they're able to match essential size of head. And the headband itself is also well padded, and further covered with the quality leather material which also covers the ear pads.
Long Term Comfort
EPEPAWL decided to make the EP6 with an over-ear design. Paired with its padding, that spells out lasting comfort over several hours of consecutive use. And the rotational ear cups help better provide comfort by creating even pressure across that padding.
Often times, people who spend hundreds of dollars on headphones end up confused, frustrated, or otherwise feeling they've been ripped off. That's because even headphones in the $1,000 range are usually constructed from apparently inexpensive plastics. And when you're paying so much for a pair of headphones, some consumers will expect something that's sturdy beyond belief with an all-metal, or even wood housing.
The problem is that headphones rest on your head, and small amounts of weight can add up when worn on the neck. This is part of the reason why you can put on a pair of headphones and they'll feel perfectly comfortably, but a few hours later, you'll feel miserable. And if you're wearing over-ear headphones like the ELEPAWL EP6, then there's a good chance you plan on using your headphones for many consecutive hours.
Some people are more affected by weighty headphones than others, and it's more of an issue over exceptionally long periods of use. The ELEPAWL EP6 caves to consumer biases, using metal construction to ooze a sense of sturdiness. But in doing so, they've created a headset that's slightly on the heavy side. If this bothers you, it can be mitigated by wearing the EP6 around your neck instead of on your head when you're not actually listening to the EP6.
Battery Life
ELEPAWL prepared the EP6 with an 800mAh lithium-ion rechargeable battery, which ELEPAWL estimates to last as much as 30 hours of playtime. But there's a ton of variables that go into battery estimates, and that picture is even more complicated with the addition of ANC. That's because active noise cancellation consumes battery life – nearly as much battery power as playing music.
That said, with the ANC on, the EP6 can provide closer to 23 hours of battery life. And with somewhat infrequent use, you'll end up having to charge about once per month. That's quite a bit better than having to deal with disposable batteries.
The EP6 also recharges rather quickly, with a full charge complete in about 90 minutes. Of course, charge times also depend on the cables you use and the places you're charging from. But even on slower 1A USB ports, the EP6 can be ready to go in scarcely longer than 2-hours. When you plug them in, a LED on the bottom side of the left ear cup will glow red. That LED will turn off when they're charged and ready to be used again.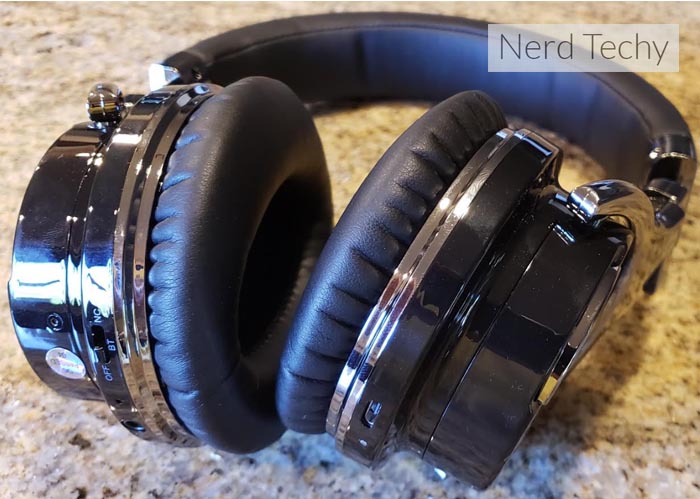 Connectivity
For streaming music from a phone in your pocket, the connection is exceptional. You don't encounter skipping or dropping, and generally don't have to work hard to make the initial connection. ELEPAWL does not provide information about the distance their headphones are supposed to be able to transmit, but it seems to be about 30 feet. That's about standard for Bluetooth connections of this type, and perfectly adequate for broadcasting from your smartphone.
Other Considerations
The ELEPAWL E6 includes a leather carrying case, which has been embossed with the ELEPAWL logo. The topside of the case uses a drawstring to pull shut. It includes the necessary charging cable, an AUX cable, a clip to attach the AUX cable, two spare ear pieces, a user manual, and customer support card. The AUX cord runs 3.9-feet, terminating in a standard 3.5mm plug. ELEPAWL also includes an 18-month warranty.
Who Should Choose the ELEPAWL EP6?
Sound quality for the EP6 is highly competitive for this price range. And if you like bass, you'll like the ELEPAWL EP6. They perform excellently with respect to movies, calls, and a wide variety of music. Their build quality is exceptional, and the padding provides a sort of active comfort that's like wearing a couch on your head. But conversely, they can feel heavy and less comfortable over lengthy periods of time.
The ANC isn't quite a stand-alone feature, but it helps keep noise out while you listen to your music, and it does so without sacrificing sound quality or preventing you from hearing anything at all in your environment. The ELEPAWL EP6 may not perform quite as admirably as headphones in the $300 range, but they're certainly a unique mixture of high value components and features.
Meet Derek, "TechGuru," a 34-year-old technology enthusiast with a deep passion for tech innovations. With extensive experience, he specializes in gaming hardware and software, and has expertise in gadgets, custom PCs, and audio.
Besides writing about tech and reviewing new products, Derek enjoys traveling, hiking, and photography. Committed to keeping up with the latest industry trends, he aims to guide readers in making informed tech decisions.