You used to have to buy a handheld game console if you wanted to play games on the go. These days, smartphones are so powerful they're virtually game consoles in their own right. And with the new line of gaming smartphones hitting the market, the popularity of this trend may only just be beginning.
But there are some things handheld game consoles have which smartphones can't provide. For example, a directional pad, joysticks, and programmable analogue gaming buttons. Which is why people turn to game controllers. Having more control over your game provides a fairly substantial competitive edge. And if you're playing competitive games, like those in the MOBA genre, you probably want all the advantages you can get.
GameSir G5 MOBA PUBG Trackpad Touchpad Gaming Controller
The GameSir G5 is terrifyingly unique. It's a gaming controller made specifically to be used on MOBA games on the mobile platform, with a handful of secondary characteristics that make the G5 adaptable to shooting titles. The general idea is to turn your phone into a full-fledged console, provided you're playing from Android.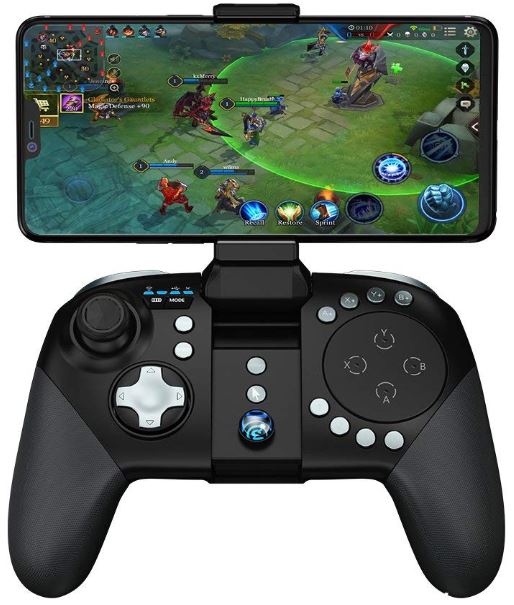 But the way in which GameSir achieves that goal is really what really makes the G5 so interesting. The controller is a Frankenstein mix of a gaming trackpad, a multiple button layout, extra programmable utility, and a sturdy core design. While it probably isn't the right choice for casual players, it does have a distinct charm for people who consider themselves more dedicated to competitive gaming.
Build & Design
The GameSir G5 is roughly the size as a typical console game controller. In the most superficial sense, it even resembles an ordinary Xbox controller. It's body measures 7.7 x 4.9 x 2.6-inches, weighing just short of a pound. And its weight is well distributed, with an eye towards what the gamepad feels like once you've got your smartphone phone hooked onboard.
Speaking of hooked smartphones, it's from the center of the GameSir G5 MOBA PUBG Controller that you'll find the swing-and-lock arm for mounting. It's a fairly stubby 3.5" extendible arm, which allows it to hold firmly against pressure.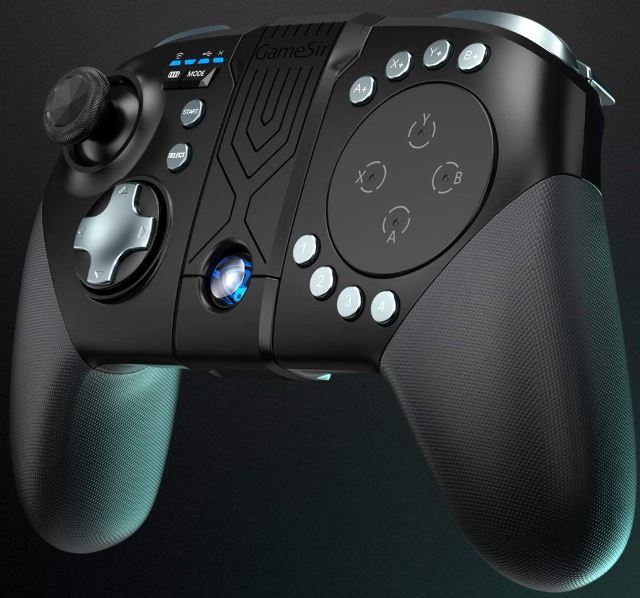 Once in place, the adjustability of the arm helps with finding the right viewing angle for your smartphone, as well as with metering out the weight of the G5 for a comfortable grip. Mounting on that built-in bracket can be adjusted between two settings, offering 110° and 150° viewing positions. Whether you want the gamepad right in your face, or if you're playing more casually at waist level, the adjustments provide sensible solutions for both preferences.
The grip has been made with a texturized, rubberized surface, intent on creating an ergonomic, anti-fatigue hold. Having a sturdy grip is fairly important when you've got your phone dangling on the end of the controller, and it's fair to say the G5 cradles your device with care.
The bracket itself is capable of holding phones between 3.5 and 6 inches, measured horizontally. That's essentially enough for the largest phones on the market, though with some of the biggest smartphones, it may be necessary to remove your phone's case.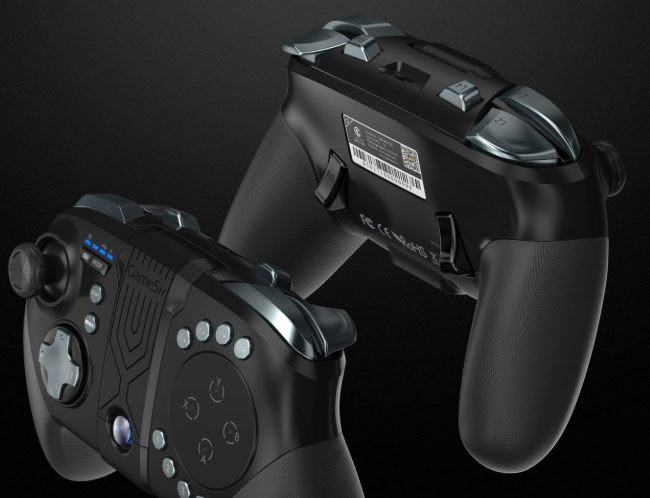 Gamepad Analogue Interface
With respect to the controls on the GameSir G5, it's easiest to divide into halves. The left thumb portion of the controller uses a standard joystick, just above an equally standard 8-way D-pad. Immediately to the right of those controls are four programmable buttons, and just above, connectivity and power buttons.
The right-thumb portion of the controller has a rather distinctive trackpad, paired with 8 support buttons. Each are individually programmable, with four resting above the trackpad, and four below. The trackpad itself can be switched multiple use modes, including one which allows the it to be used as another ordinary tap-button interface.
That's before we've even arrived at the shoulder buttons. All counted, the GameSir G5 MOBA PUGB Gaming Controller provides 33 connectivity buttons across the entire gamepad. And clearly, if you're playing simple point-and-click games, there's no reason you'd ever need 33 connectivity buttons.
But if you're playing competitive MOBA titles, that's precisely the kind of adjustability you need to give you full control over the game. With the number and distribution of these buttons, the GameSir G5 allows for 8-fingers to be engaged in operation while playing. When you've got to be able to manipulated a dozen different abilities on the fly, it's precisely the kind of gamepad you need.
Track Pad
The G5's trackpad has three modes of use. The first mode works like an ordinary trackpad, allowing you to trace your finger around the pad for control. For example, it's quite useful for controlling the camera in MOBA games, and looking around corners for your enemies.
The second mode turns the trackpad into a standard button configuration. The trackpad uses four raised dots which allow you to operate it without looking directly at it. And the four bumps on the pad, which have been aesthetically outlined with circles, take on the function of analogue touch buttons. The third and final mode is something we'll arrive at in a moment, but first we need to look at an issue concerning versatility.
Even More Buttons
The 8-button layout around the trackpad is intended to serve the purpose of multi-function hotkeys, allowing you to shift your settings for different occasions. They've pretty clearly been made with MOBA titles in mind, such that the top-and-bottom orientation of the controller allows you to evenly divide common and timing-critical abilities.
Flipping to the backside of the GameSir G5, there are a pair of triggers on the lower central part of the controller, useful for ring fingers or middle-finger operation of those switches. And then there's even more. All in all, the topside features six shoulder buttons. Where there are the usual four shoulder buttons, two on each side, the GameSir G5 has tripled the status quo. There's additional triggers both behind, and adjacent to the typical triggers you see on game pads.
Moreover, the backside triggers are mechanical. That allows them to support incredibly rapid response thanks to an exceptionally thin 1mm travel distance. And because the shoulder buttons don't sink-in like ordinary buttons, they're instead constructed to provide a click-based tactical feedback to let you know the switch has been actuated.
GameSir App and BattleDock
The GameSir app supports both iOS and Android. Many mobile games don't have native support for gamepads. But you can make most functional using the free GameSir mobile app. It works by creating an overlay on the game screen which allows your GameSir controller be programmed to provide inputs to your game through the G5.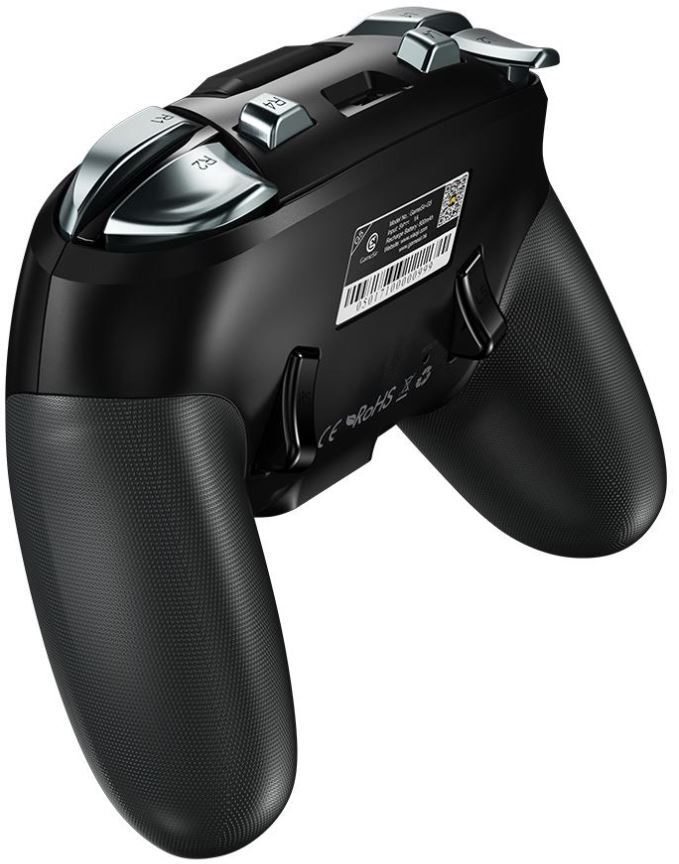 However, this rather direct connection with your smartphone does mean the GameSir G5 will have administrator level access to your smartphone. That's why GameSir emphasizes a promise to not manipulate game data or otherwise modify your smartphone.
The GameSir G5 MOBA PUBG Trackpad Touchpad Gaming Controller has one more interesting trick up its sleeve. It's a BattleDock feature which allows the controller to work as a keyboard and mouse converter. When you're trying to play games which are only going to support keyboard and mice, BattleDock is a fairly innovative yet simple work-around you can use to be able to play those titles. But take note, the BattleDock feature currently only supports 2.4G wireless mice/keyboard combos.
Mobile Connectivity and Real World Use
The GameSir G5 uses Bluetooth 5.0, which is the latest and greatest iteration of Bluetooth. Frankly, that's overkill considering the device which it's connecting to is intended to be within inches of the controller. But if you decide to use the G5 to connect to larger screens, you'll be able to get some utility out of the strength of the 5.0 format.
As you're actually playing games with it, the GameSir G5 can take a moment to getting used to, especially if you're not familiar with one-finger operation of the trackpad. But once you've got a hang for it, the G5 performs admirably. And it offers a pretty distinct advantage over players who don't use a trackpad.
Even if you're fairly adept at tapping away on your phone, it provides a far greater measure of control over your games. FPS fans will appreciate how the trackpad provides far more precision and accuracy relative to motion-sensing aim. And it's particularly useful for trying to aim without losing sight of your screen with fingers in the way.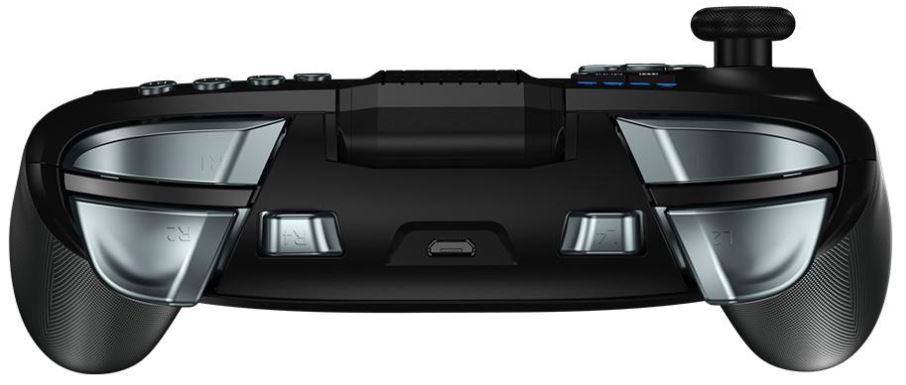 Other Considerations
It's worth noting that to use the GameSir G5 MOBA PUGB Touchpad Gaming Controller, you'll need to connect through Bluetooth. PC connections and wired connections aren't supported or otherwise possible through adaptation.
Conversely, the GameSir G5 has wide support for essentially every popular MOBA title on the mobile platform. With some exceptions. Most notably perhaps, the G5 MOBA trackpad does not support iOS Fortnite due to actions on the part of the publisher. Those actions were an intentional part on behalf of the publisher to keep gamepads out of their game because they were believed to present too substantial of an advantage for players who used them.
Some people need controllers with 33 buttons, and some people don't. If you're into the MOBA genre, that range of adjustability and customization can be a serious advantage. And the trackpad can provide similar advantages when it comes to shooting games, and anywhere you need to carefully control the camera within a match.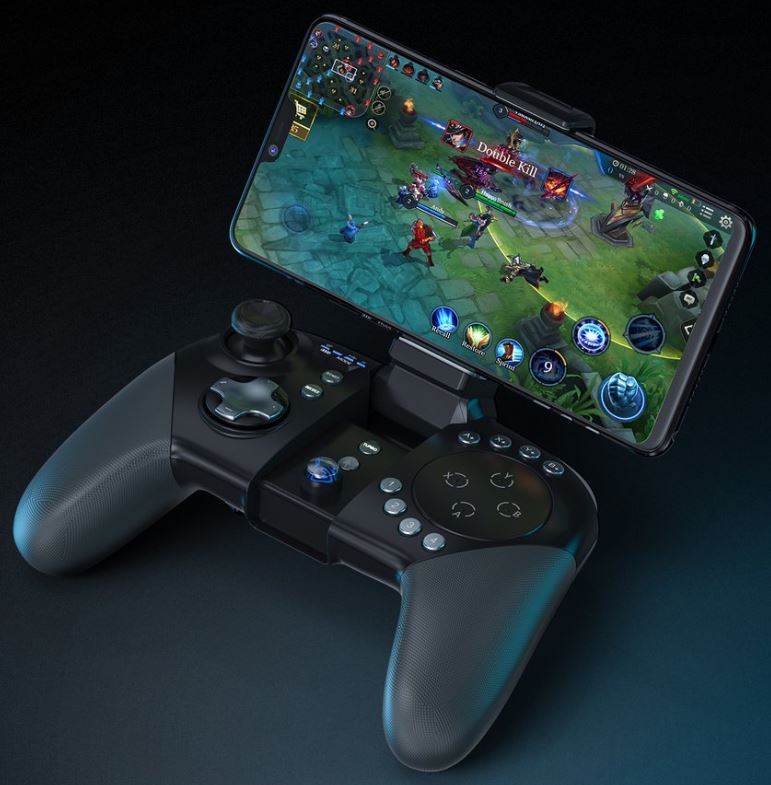 Who Should Choose the GameSir G5?
Some gamepads are cheap junk. That's okay because some people are looking for a casual gaming gamepad, or something that's more of a novelty. But the GameSir G5 MOBA PUBG Gaming Controller is not for casual gaming, and it's certainly not a gimmick. It has an immense range of adjustable buttons, a multi-mode trackpad, mechanical switches for rapid gaming actuation, and a generally high-quality build from top to bottom.
The G5 is at the top of its class for game pad controllers. For serious players, for players who want more control than their phones can offer, the G5 is an excellent choice. Provided that you're looking for a game controller that will last you through several smartphones, and you play titles which allow you to make use of its versatile array of buttons, the G5 will do things for you less impressive mobile game controllers can't.
Meet Derek, "TechGuru," a 34-year-old technology enthusiast with a deep passion for tech innovations. With extensive experience, he specializes in gaming hardware and software, and has expertise in gadgets, custom PCs, and audio.
Besides writing about tech and reviewing new products, Derek enjoys traveling, hiking, and photography. Committed to keeping up with the latest industry trends, he aims to guide readers in making informed tech decisions.