The home camcorder, once a staple product for a massive number of families worldwide, faces an enormous existential crisis. In the United States alone, over 2 million units sold in 2007. As of 2016, that number fell to under 600,000 and projections show under 400,000 for 2017.
Since there is no question people still enjoy capturing memories on video, the real cause behind the plunge isn't changes in consumer behavior but the availability of alternative options. Most notably of course, smartphones.
In a relatively short amount of time, phones have evolved from clunky, corded devices anchored to a wall into full-fledged pocket computers with streaming video, 3D video games, and a staggering collection of technology crammed into a 5-inch rectangle. Likewise, the built-in smartphone cameras have progressed from grainy, poorly lit still shots to full 4K slow motion video.
It's little wonder why many have made the choice to ditch the extra devices. While a cell phone camera may still be a far cry from the features and quality of a high-end camcorder, the convenience of "pretty good" quality that's already in your pocket is just too much to resist.
To make matters worse for camcorder sales, most mid-tier and higher SLR cameras also have video features. With high-end sensors and lenses, many "pro-sumers" will pick a nice SLR to perform double duty on video. This creates quite the squeeze on the camcorder market as both the high and low end of the market get drawn away to alternative devices.
Into this challenging, churning market, Canon introduces the latest version of their VIXIA consumer camcorders, the GX10. But is it good enough to convince average users to purchase a separate device?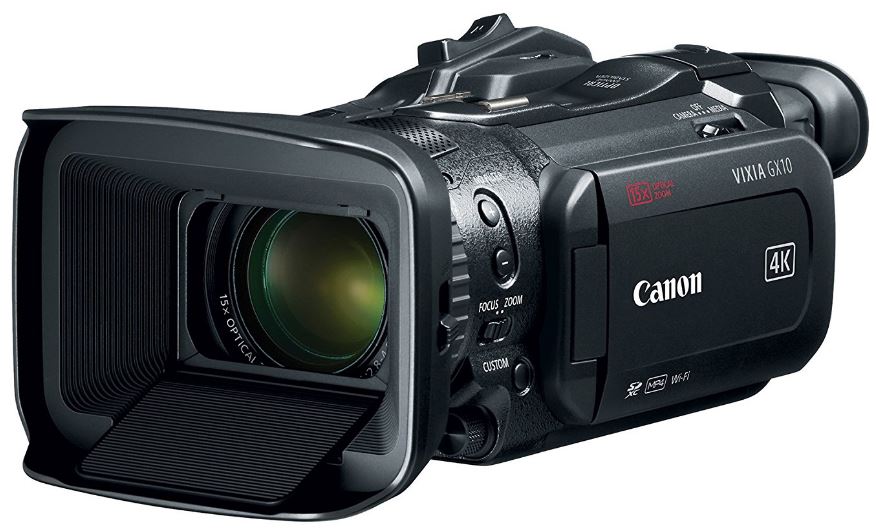 Canon VIXIA Overview
Canon has made some creative decisions with the consumer VIXIA line to maintain relevance in a difficult camcorder market. Primarily, many of the VIXIA camcorders contain the same image sensor as Canon's higher-end professional cameras. This means that, while they lack all the granular controls, accessory options, and connectors as the pro grade equipment, the actual quality of the image is identical.
At first glance this may seem puzzling. Putting high-end sensors into a mid-range camera might seem to cannibalize their own high-end sales. In reality, it's a very smart move. Canon knows the features that pros need, and that keeping those features on the high-end equipment means very few pros would choose to step down to the VIXIA line. Additionally, this undoubtedly saves them massive amounts of money on research and development required to produce multiple sensors for the different product lines.
This is also good news for non-pros looking for a camcorder. The VIXIA line provides access to highly impressive image quality for a lower price point than the pros pay in exchange for sacrificing some advanced features they were unlikely to use anyway.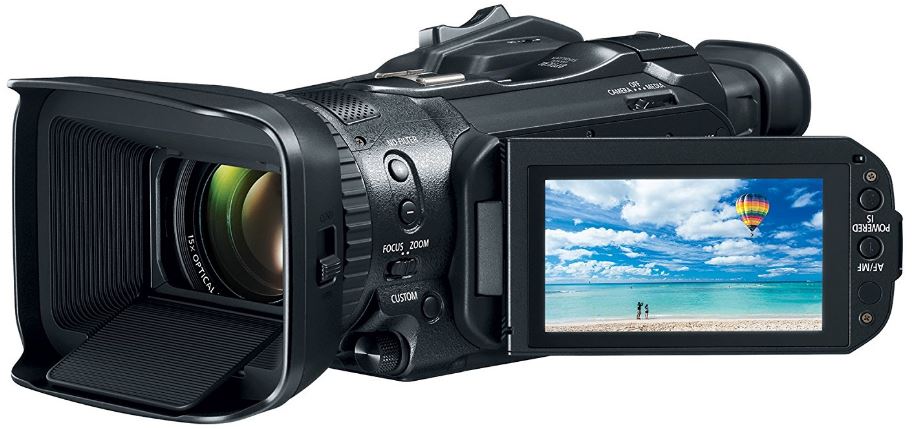 Main Features
The marquee feature here is that the VIXIA GX10 is Canon's first 4K UHD consumer camcorder. Canon announced the GX10 alongside the professional grade XF405 and XF400. All three cameras feature a 1.0 inch, 4K UHD CMOS sensor and dual DIGIC DV6 Image Processors enabling 4K UHD video at a smooth 60 frames per second or slow-motion 120fps in Full HD mode.
4K refers to the camera's resolution, or the number of individual pixels each imagine contains. More pixels create a more clear, lifelike image. The standard "Full HD" resolution, 1920×1080, served well for many years, but recently TVs and media sources have initiated the jump to "4K," or 3840 x 2160. 4K images contain a full four times the pixels of a standard Full HD image and must be seen to be appreciated. Though many users remain completely satisfied with standard HD, technology progresses ever forward, and 4K will soon become the new status quo.
Optical zoom remains one of the main reasons to purchase a standalone camcorder instead of using a smartphone. While many soccer moms and dads may "zoom in" on their iPhones to catch their little one scoring a goal all the way across the field, this "digital" zoom functions by severly reducing the image quality in order to make your subject appear larger on the screen.
Canon is a master of optics, and their compact lens allows for a full 15x optical zoom without any reduction in quality. They've also developed an "Advanced Zoom" feature which sacrifices 4K resolution, but allows for up to 30x zoom while maintaining full 1920×1080 HD. With optional WideAttachment (WA-U58) and TeleConverter (TL-U58) accessories, the GX10 lens system can replicate lens focal lengths from 20.4mm through 1147.5mm.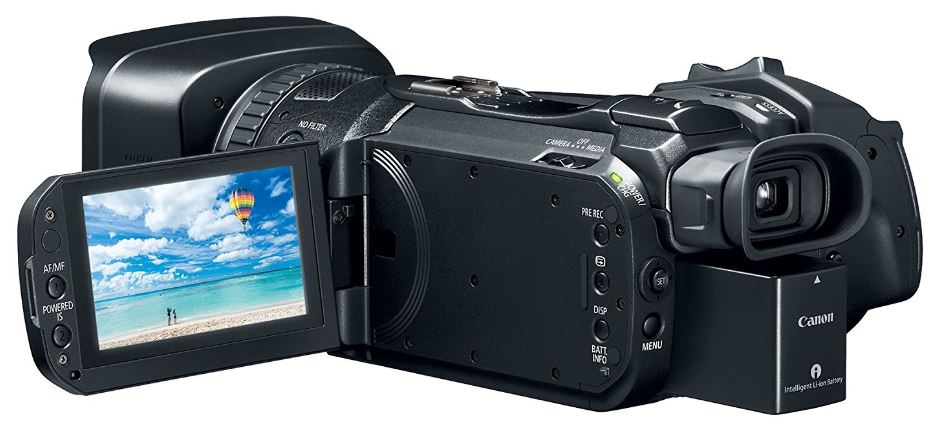 Video Quality
Though many people judge a camera's quality on resolution alone, far more goes into making a quality image. Canon highlights their 1.0-inch image sensor which is sized comparably to a decent SLR camera and far larger than what you'd find in a smartphone. In case you're wondering why the size matters, every pixel of screen resolution corresponds to an individual pixel on the camera's sensor. These photodiodes measure light and color and combine to create the complete imagine.
Given the GX10's 4K resolution, this means a whopping 8,294,400 individual pixels! Smaller image sensors can't take in as much light resulting in acceptable outdoor and bright shots but limited low-light performance. Canon's large sensor gives the VIXIA GX10 excellent picture quality even in challenging lighting environments. To enhance performance in mixed lighting conditions, Canon developed a Wide Dynamic Range (DR) Gamma support of 800%. This allows improved detail in shadows and far fewer blown-out bright areas.
Aside from just image quality, Canon's 5-axis Optical Image Stabilization (IS) system greatly enhances the quality of your video product. No one likes to watch shaky video, and with three stabilization modes (Standard, Dynamic, and Powered), the GX10 gives you buttery smooth video even while holding the camera or shooting while walking.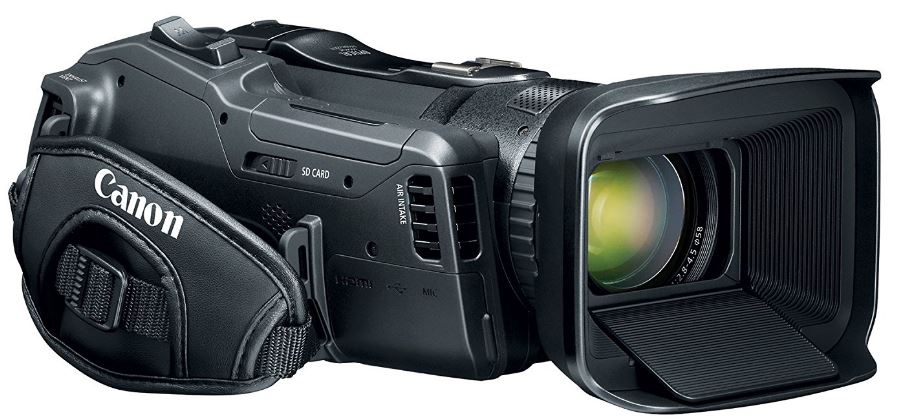 Physical Design
The VIXIA GX10 packs big image quality and advanced technology into a fairly compact, ergonomic design. An all-black design with white text, while not particularly interesting, lends the camera a sleek, professional look. The camera body is larger than some we've encountered, but at 10.5" x 3.8" it's still a fairly compact unit. At 3.0 pounds, it feels sturdy and well-built but still light enough for extended filming.
For image monitoring, you can use the GX10's built-in electronic viewfinder, although we found the 3.5" LCD touch panel provided a larger image and access to more features and information. The touchscreen enables one of the features we found ourselves using most often, Touch Focus. Even the best auto-focus technology gets confused in crowded shots with objects at different depths.

Canon employs a highly accurate Face Detection auto focus to prioritize people, but you'll often find that since the camera can't read your mind, it doesn't know what you want to keep in focus. By simply tapping your finger on the screen, the GX10 can "lock on" to the person or object of your choice regardless of other objects in the frame or motion of the camera. We found this very valuable while filming kids at sporting events, performances, and other busy scenarios.
To enable longer filming sessions, the GX10 sports dual SD Card slots. With increasing SD card sizes, this allows for hours of footage even at top quality. An HDMI 2.0 port enables 4K playback on external devices. This really helps if you have a 4K TV and want to share footage at top quality with a room full of people. In fact, in our situation, we have a 4K TV but haven't yet upgraded the PC monitor. That means TV playback is our best option to see video at full resolution.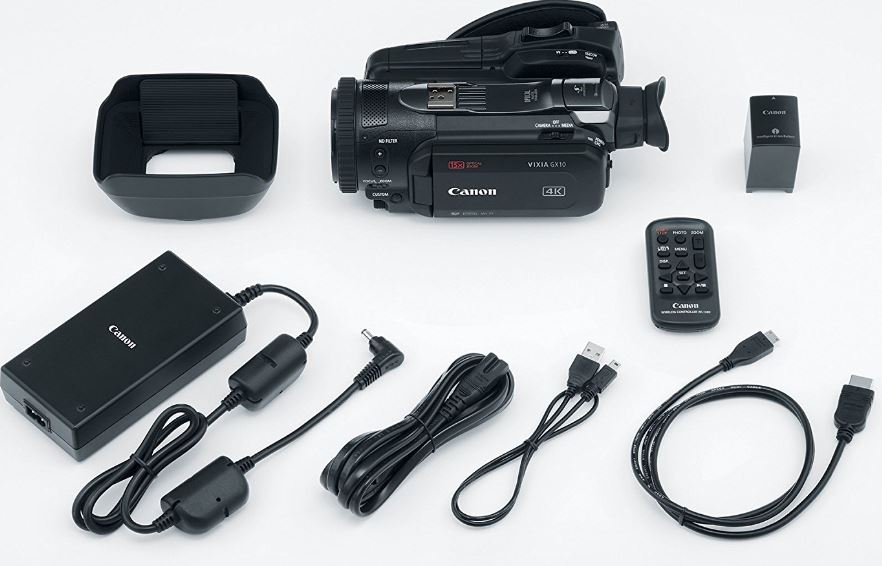 Accessories
While a bit more limited than Canon's pro models, the VIXIA GX10 still supports a number of accessories. As mentioned earlier, Canon offers wide angle and telephoto lens adapters.
Additionally, the top of the camera houses a mini accessory shoe compatible with the Canon Directional Stereo Microphone (DM-100), Video Light (VL-5), and potential future accessories.
Though the convenience of the integrated accessory shoe is hard to beat, it is a proprietary Canon connection. You can still use standard third-party microphones via a 3.5mm stereo input jack.
While the camera does come with a wireless controller, it also supports wireless controls via a web browser. This unique feature allows some camera control via compatible computer or smart device and could be a great way to enhance use with a tripod.
If you plan to do extended filming or travel, we do highly recommend purchasing an additional battery. Though the included 2670mAh battery should get you a few hours of recording, any photographer or videographer can tell you how relieving it is to have more than one battery. You always seem to run out when you most need it! And of course, a carrying bag to protect the camera and carry accessories is always a great idea.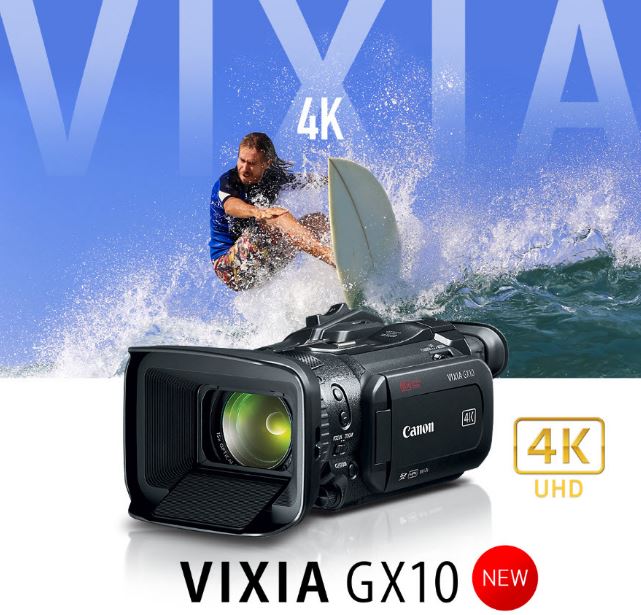 Conclusion
We found the design, features, and image quality of the Canon VIXIA GX10 superb. Video quality and optical zoom blows any smartphone out of the water. While you could use an SLR, the camcorder format and video-first focus make the VIXIA a more comfortable, convenient video shooter.
That said, even though Canon considers the GX10 a consumer camera, it is certainly not a cheap purchase for the average family. The question still remains: "Will average people continue to buy camcorders?"
There's no secret that today a majority of people have a smartphone capable of taking video they deem acceptable. On top of that, those who do purchase a separate camera typically choose a digital SLR before a camcorder. While both markets have fallen a staggering amount, 2016 saw sales of 12 million DSLR cameras compared to a paltry 600,000 camcorders. These figures show that camcorders place a distant third behind smartphones and DSLRs.
Canon has created a remarkable camera that combines cutting-edge technology with their rich history of quality camera optics. Unfortunately, as the numbers show, it just doesn't seem that many consumers are willing to purchase a standalone camcorder. Whether they choose to use a quality DSLR or the convenience of the smartphone already in their pocket, camcorders seem destined to play a diminished role in the home market.
That said, if you do care about video quality and aren't ready to make the jump into high-end gear, the Canon VIXIA GX10 delivers spectacular pro-quality video in more affordable price range.
Meet Derek, "TechGuru," a 34-year-old technology enthusiast with a deep passion for tech innovations. With extensive experience, he specializes in gaming hardware and software, and has expertise in gadgets, custom PCs, and audio.
Besides writing about tech and reviewing new products, Derek enjoys traveling, hiking, and photography. Committed to keeping up with the latest industry trends, he aims to guide readers in making informed tech decisions.