Recently showcased at CES 2016 and set to release on March 15th, 2016, the Fitbit Blaze is the newest smart watch that everyone's starting to get really excited about. Designed specifically for the active lifestyle, Fitbit specifically stated that it's not a smartwatch, it's a "fitness watch".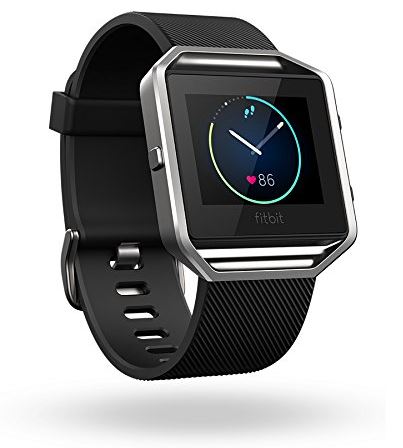 Design and Appearance
In recent years, Fitbit has been taking the smart fitness and heart rate monitor market by storm. Their latest release, the Fitbit Blaze, initially may seem quite similar to the Fitbit Surge, but it comes with a more desirable design that's sleeker and more appealing for all-day casual wear. With a bold, unisex appearance and the ability to customize it's look with fully interchangeable bands is a real game changer for many.
Features
PurePule Heart Rate
Connected GPS
On-Screen Workouts with FitStar
Multi-Sport
SmartTrack
Workout Goals + Summaries
5 Days of Battery Life
Call, Text, and Calendar Alerts
Auto Sleep
Silent Alarms
Music Control
Multi-Faceted Clock Faces
Interchangeable Accessory Bands
As with previous Fitbit models, the Blaze has a elastomer band that's highly flexible and surprisingly durable. Although some individuals have reported skin irriation with this kind of material, it seems to offer plenty of comfort and usability for most users. Best of all, they've added new materials for the bands including metal, leather, and even stainless steel. Because of this, it boasts a more traditional wrist watch look so it'll match better with normal casual wear for all day, continuous use.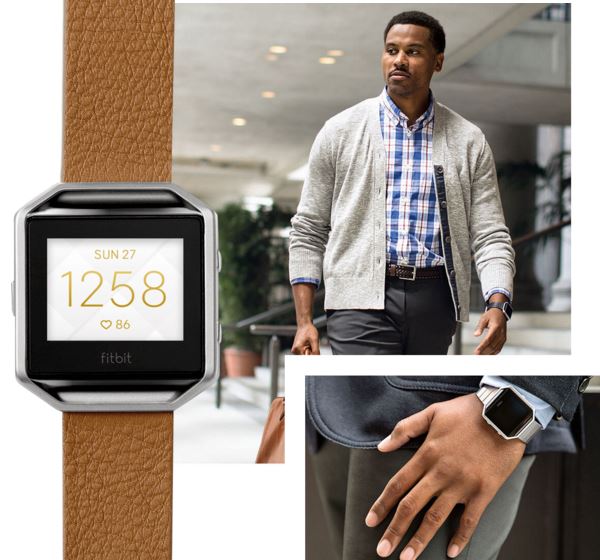 It's nice to have an assortment of additional Fitbit Blaze Accessory Bands available, even though they're sold separately. Several band colors/styles are available to choose from with a starting price point of $29.95 for the classic band, $99.95 for the leather band, and $129.95 for the metal band. Interchanging the bands couldn't be easier – simply use the built-in quick release mechanism and the tracker module will pop out for swapping bands in a matter of seconds.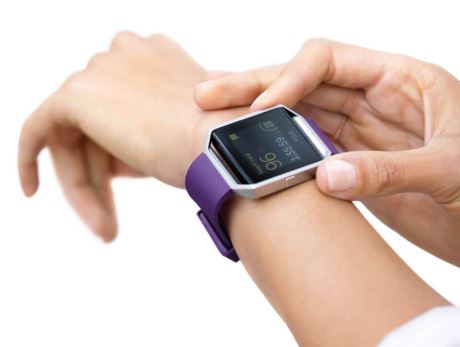 Screen and Size
At first glance you may notice that the Fitbit Blaze might seem a bit larger than previous versions. That's simply because of the 1.66 inch LCD full-color 240 x 180 pixel touchscreen that's sized much more generously than the Fitbit Surge, making for a more user-friendly experience when you're viewing statistics, data, etc. The screen looks really vibrant and rich in detail yet simplistic to view. It actually is quite durable, too. With Gorilla Glass 3, it's built to withstand plenty of wear and tear with a great deal of durability.
Abilities
Wearing the Fitbit Blaze will give you the ability to see an insightful response to your hard physical work. Designed with advanced technology to track your workouts, monitor your stats, and guage your overall progress, it'll help you achieve your fitness goals with precise measurements. Wearing it 24 hours a day will assure that it gets to know you and your routine. With a single glance, you're given important statistics like distance traveled, the amount of steps you've taken, calories burner, your heart rate, and more.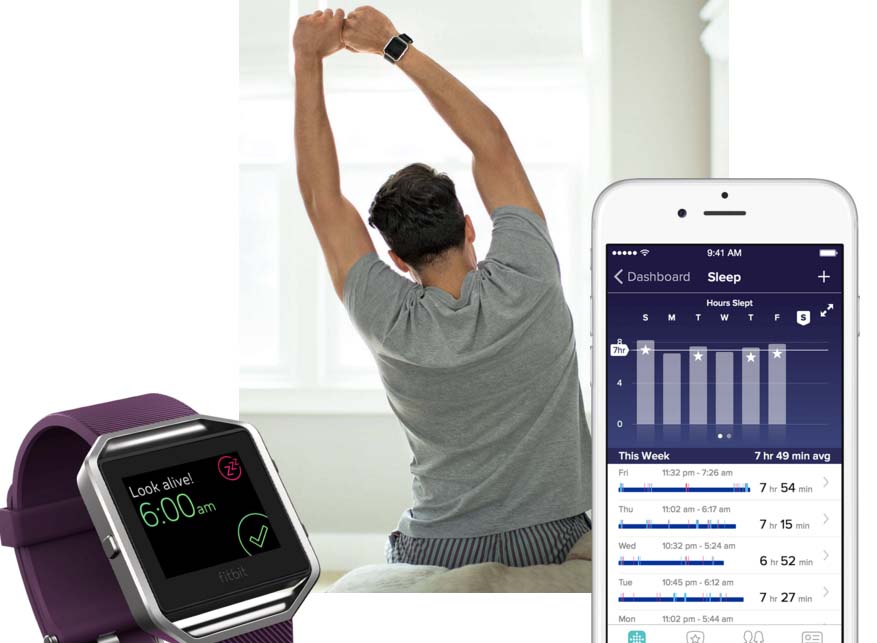 Over time, you can use the integrated FitStar workouts to boost your success to the next level. It'll cater a specific workout and give you step by step instructions and intuitive coaching, right from your wrist. These workouts are similar to that of a personal trainer since the intensity levels and repetitions are specific towards your very own fitness history.
From the moment it's on your wrist, it'll track your all-day activity by recording your heart rate, steps, pace, distance, and much more. With an integrated feature known as Smart Track, it will automatically track a wide variety of workouts like running, cycling, and other sports. Since it was built for high intensity, the Blaze is designed to work equally well during rigorous activity at the gym or long hikes in the forest.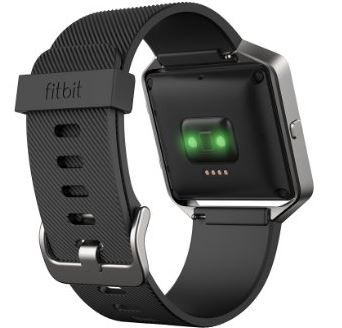 Just like previous Fitbit versions, the Blaze is equipped with a 3-axis accelerometer and gyroscope that works in conjunction with a built-in altimeter. With these, you'll acquire precise records of your fitness so you can gain a full understanding of your physical fitness and health.
Additionally, there's a small vibration motor inside that can wake you up in the morning or notify you without any sound. This is a nice feature to have if you're sick and tired of the annoying sound of your alarm clock, or if you don't want to wake your partner in bed next to you.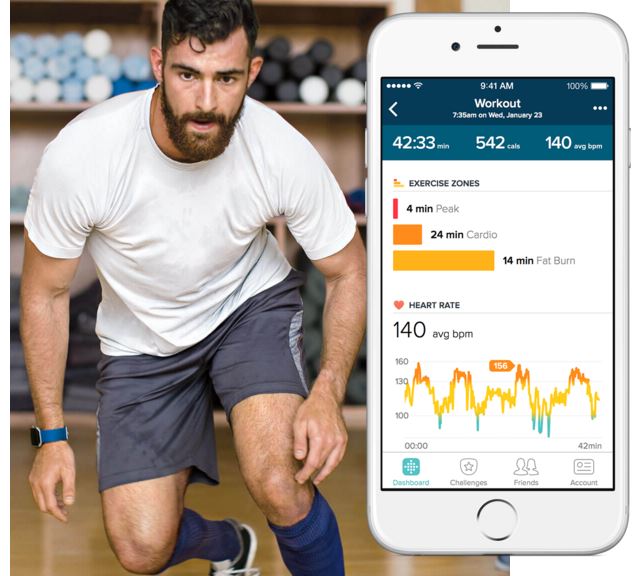 Battery
As our lives become more connected to our daily technology, it's nice to see batteries that are becoming incredibly efficient. The internal rechargeable battery is downright amazing. With a simple 2 hour charge, you can expect 5 consecutive days of operational life before it needs to see the charger again.
Potential Downsides
Since there's no integrated GPS, the Fitbit Blaze will need to use your phone's GPS in order to record and view your routes. Although this may be a deal-breaker for some, most individuals seem to have their smartphone wherever they go.
Also, it's important to note that the Blaze isn't waterproof. Although it'll easily hold up to natural perspiration and some moisture, you never want to get it completely wet, so don't take it around the swimming pool!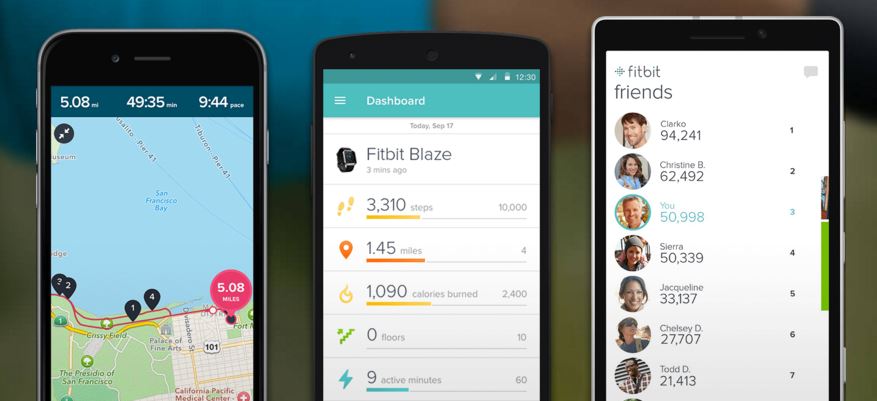 Overall Thoughts
Although it's not necessarily a smartwatch, we like to think of the Fitbit Blaze as a connected fitness watch that tracks your daily workouts and physical condition with exciting detail. Designed with fully interchangeable bands and a much sleeker, standard appearance, the Blaze can help you be your best and look your best with it's non-stop tracking abilities.
With a lineup of exciting features like Smart Track, FitStar, connected GPS, heart rate monitor, and more it's packed with what you need to keep focused on your goals and daily health. Plus, it's 5-day consecutive battery time is quite impressive considering the full color touchscreen and it's non-stop 24 hour recommended usage.
Overall, we're quite impressed and we think it's going to be a very popular product. We're very excited for it's full release next month. The best way to assure you're one of the first to own it, we highly recommend that you pre-order the FitBit Blaze for $199 on Amazon.com.