If you're like most, listening to your favorite music is likely an essential part of your active lifestyle. Whether you're running, biking, dancing, at the gym, or just commuting to work, having the ability to tune into your favorite songs can make a real difference. Some describe this as the "zone". When you're in the zone, you have more motivation, more drive, and improved performance that can take your fitness to the next level. It's true, even studies have shown that listening to music changes people's performance in a variety of ways. That being said, the importance to find a feature-rich, high quality pair of wireless headphones can be crucial.
Here at NerdTechy we're always looking for cool new products that are gaining popularity. Just last week we heard about a new pair of in-ear Bluetooth headphones that recently hit the market and have been steadily gaining popularity. Known as the Bluephonic Zone Bluetooth Headphones, these ear buds are designed for high-fidelity stereo sound and paired with a multitude of advanced features that make them stand apart from the competition. We were fortunate enough to receive a sample in exchange for an honest and critical review of them. Since receiving them, we've put them to the test and are here to determine if they're worth it.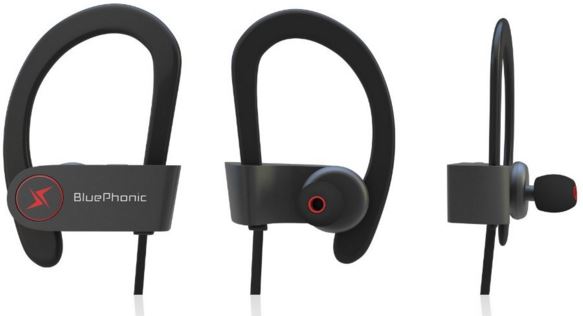 Key Features
Bluetooth Version: 4.1 +EDR
Bluetooth Profiles: Hands-free, Headset, A2DP, AVRCP
Wireless Range: 33 feet (10 meters)
Battery Life: 8 Hours
Standby Time: 240 Hours
Charge Time: 1.5 Hours
Sweat-proof, noise-cancellation, voice prompt.
Included micro USB charger, 3 size ear tips, carrying case, user manual.
Setup and Pairing
Taking them out of the box and getting them setup for the first time was an easy experience. Since they operate with Bluetooth, a wireless connection needs to be established with your device before you can use them. Designed to be fully compatible with any Bluetooth enabled device, pairing them is a piece of cake, whether or not you're using a tablet or a smartphone. They came shipped to us with a charge so we were able to experience them right away.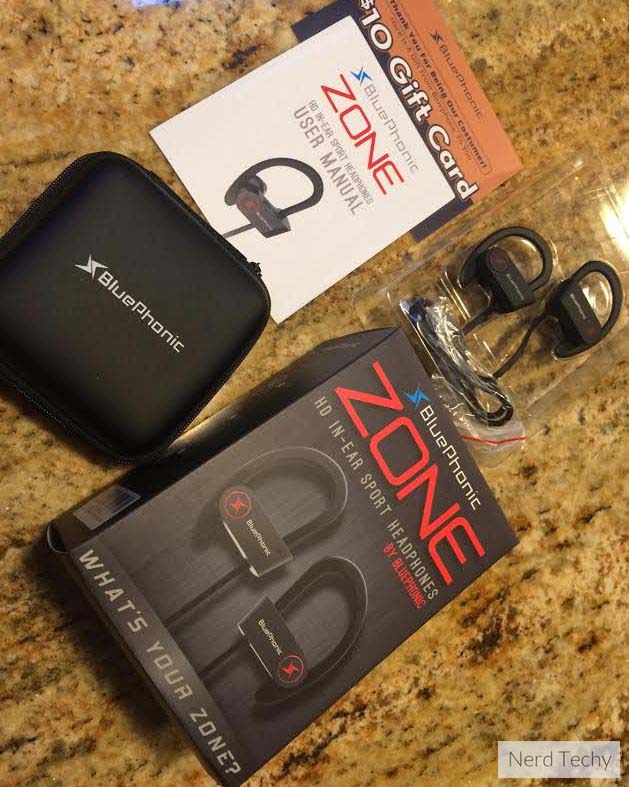 First, press the logo on the right earbud. The headphones will then begin to blink rapidly between red and blue – this indicates that it's looking for a device to pair with. At this time, go into the settings of your smartphone or tablet and look for the "Bluephonic" listing underneath available devices to connect to. Select it and you're done.
The entire pairing process was a simple task as it only took about 30 seconds to complete with our iPhone. We even tested them with a Samsung Galaxy and an iPad – both had no issues whatsoever. Best of all, when you're ready to use them the next time, they'll be remembered by your Bluetooth enabled device so there's an effortless connection each time you want to use them.
Comfort and Style
With a slimmed down, sleek appearance, the Bluephonic Zone Wireless Headphones are available in three different color options – black, red, and white. From first glance, you'll notice that they have a minimalist design with a few functional buttons located on the right ear bud. This is where you can control your music by skipping tracks, playing, pausing, etc. You can even make phone calls since there's a built-in microphone.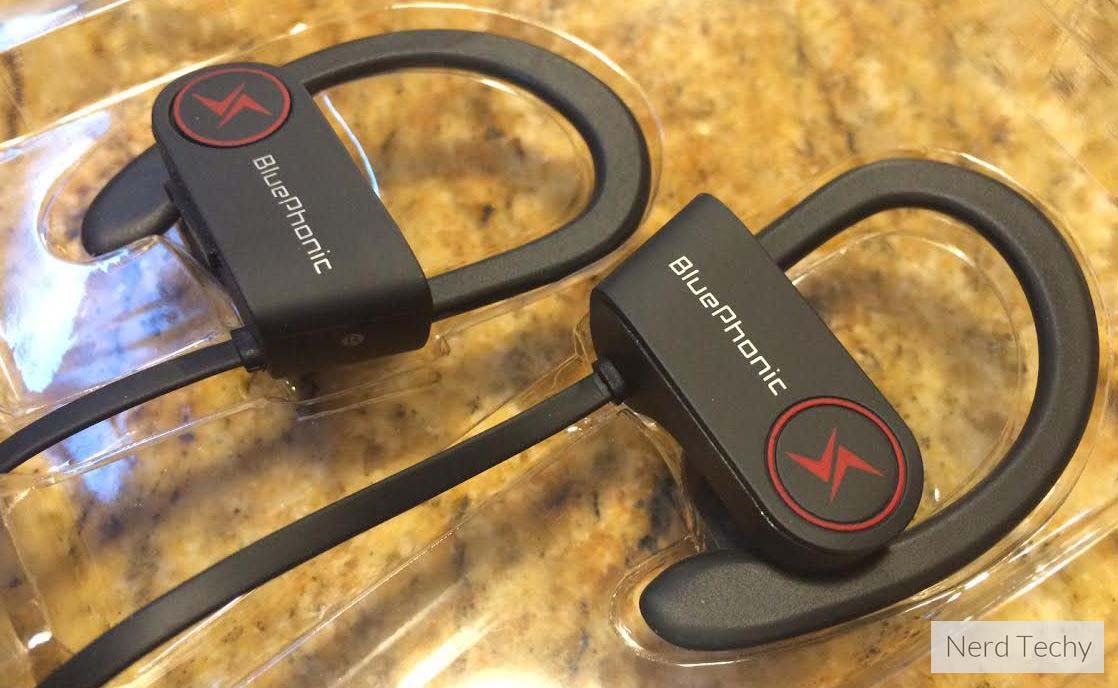 Placing them in your ears for the first time is pretty self explanatory. Each ear bud is labeled with an "R" or an "L" to indicate which ear you'll need to place them in. Built with a flexible ear hook, it comfortably and securely wraps around your ear while the actual ear bud is inserted into the ear canal. Since they're soft to the touch and the buds are generously smooth and pliable. For us, they fit correctly without any adjustments right out of the box. But if you're having trouble sizing them, Bluephonic included a set of three additional ear buds that vary in sizes so they can fit anyone with equal comfort. After all, comfort is critical when it comes to something you're going to be wearing in your ears for extended periods of time.
We've tested and reviewed a variety of Bluetooth headphones in the past and we must say, we're huge fans of the overall comfort that the Zone Headphones offer. While working out, they seemed to naturally wick moisture away. There was never a time when we had to take them out of our ears to dry them off. The ear hook design is definitely nice to have since it enables them to securely fasten to your ears without becoming an annoyance, even for multiple hours in a row. Jogging, cycling, skating, climbing, or any rigorous activities that require constant movement won't pose any problems with them.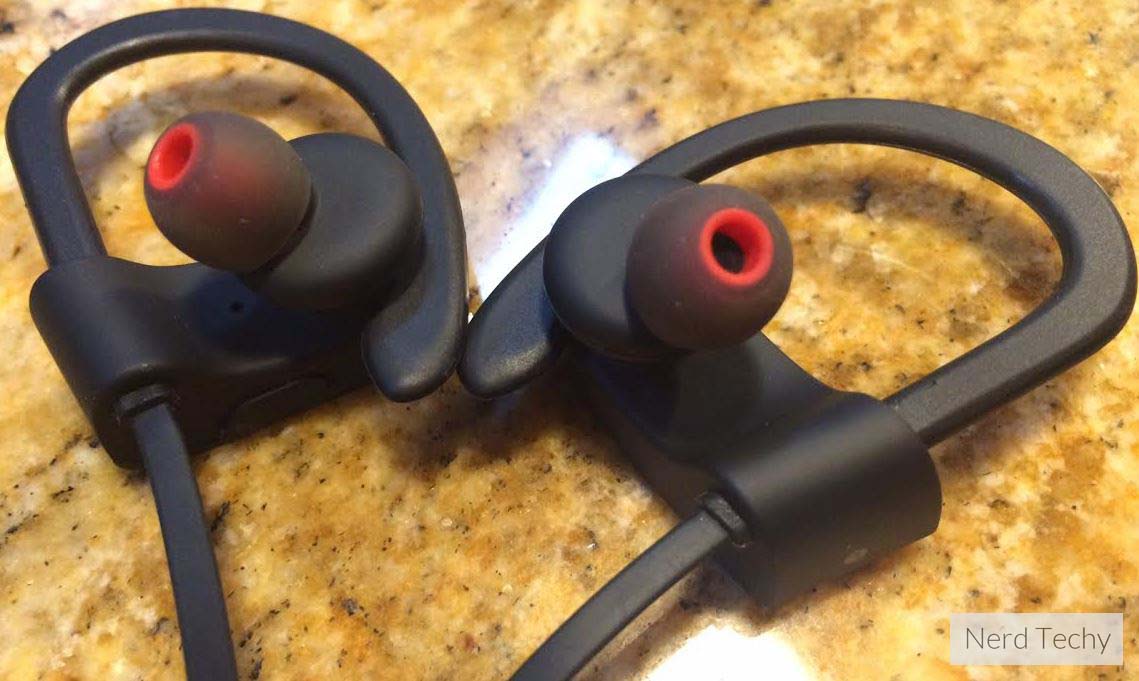 Sound
Arguably the most important factor to any set of quality Bluetooth Headphones is the sound. Since that's likely the whole reason you're buying headphones, we would have to agree. With the Bluephonic Zone In-Ear Headphones, they've incorporated CVC 6.0 noise cancellation technology in order to filter out unwanted distractions when you're in the heat of your workout. With a proper fit, CVC 6.0 cancels out background noise so you can focus on the task at hand, rather than having it interfere with your music.
The sound quality of the Zone Headphones is simply amazing. Bluephonic included the latest EDR Audio and APTX Beats Technology in order to achieve incredible sound quality. There's a massive range of sound, fantastic clarity, perfect treble, and everything seems to be inline with a top of the line set of ear buds. When we cranked them up all the way, the bass kicked in with impressively deep tones. We haven't experienced any distortion – all the sounds were excellent, no matter what genre of music we tested them with.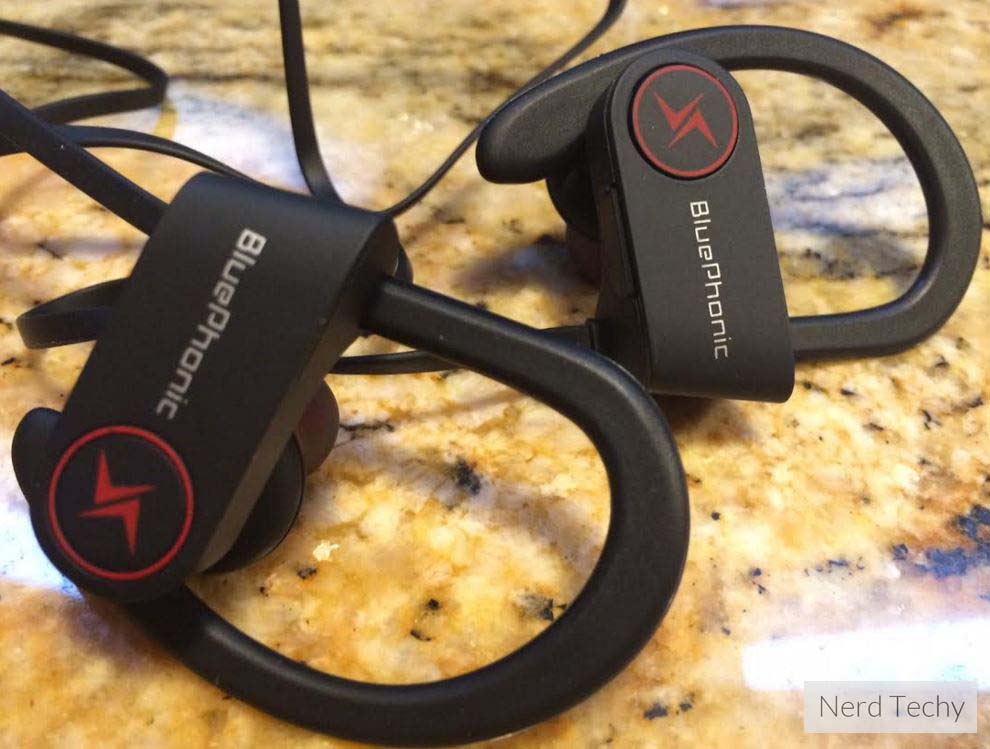 Battery
Since they're completely wireless, there's an integrated battery that holds an impressive capacity. With the included micro USB cable, the battery fully charges in about 90 minutes. Once you're finished charging, you can expect around 8 hours of continuous play/talk time. This is often enough so you won't have to charge them each and every time you use them. With a 240 hour standby time, they're built for efficiency and designed to provides hours of enjoyment before you need to plug them in for a recharge.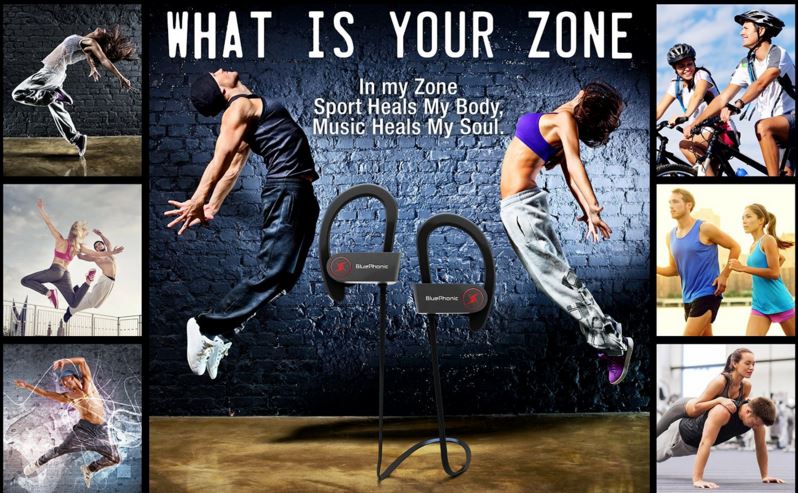 Final Thoughts
If you've been searching for a pair of high quality in-ear headphones that are ready for hours of continuous enjoyment with fantastic audio quality, we highly recommend the Bluephonic Zone Wireless Headphones. Paired with the comfort, design, and durability you need for intense workouts and the efficiency you need for long gym sessions, it's truly hard to find anything wrong with them.
Bluephonic even includes a free padded carrying case so you can pack them with you wherever you go. Best of all, they offer a 100% satisfaction guarantee and proudly stand behind their product. We were even surprised to find a free $10 gift card in the box as a token of their appreciation and a bonus for anyone looking to save a few bucks on an additional pair. As far as quality, comfort, and fit goes – we give them a solid 9.9 out of 10.