Originally debuted on Kickstarter with over 1.3 million dollars raised, the AirDog Auto-Follow Drone was awarded the Best Drone at CES 2015, and for good reason. Well-known as the World's first auto-follow drone that's specifically designed for adventure sports, it will follow you in the action – all on it's own, without a pilot.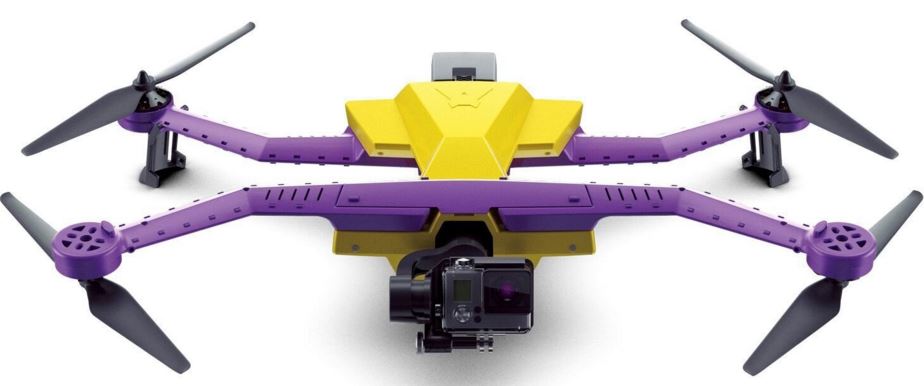 The highly anticipated release is coming close – March 31st, 2016 is the date, and you can now Pre-Order the AirDog Drone on Amazon.com if you missed out on the initial Kickstarter funding round. Let's take a closer look to see what it has to offer.
Easy to Use
Since the AirDog is an auto-follow drone, there's never a need for a pilot. No previous skills are needed as there's no learning curve to set it up and use it for the first time. From first glance, it may not look sophisticated, but inside there's a wide range of sensors that keep it smart and effective at following you wherever you go. With a barometer, gyroscope, magnetometer, accelerometer, and LIDAR built-in, it fully understands where you are, the surrounding environment, and the speed that you're traveling in order to create smooth, fluid professional-grade recordings.
AirLeash
Wearing the included AirLeash is all you need to do. From this controller that's worn on your wrist, you're given a range of functionality options to tell it what height to fly at, what distance it should follow from, and even control where it lands. Since it's all there in a small wrist-watch remote package, you can even adjust it as you're moving to make appropriate changes to the drone in the middle of the action.
The AirLeash is completely waterproof so you never need to worry about it getting drenched. In fact, since it's rated to IP67 standards, you can even submerge it in up to 3 feet of water for up to 30 minutes without having to worry about it's integrity. Additionally, it boasts an 820 foot (250 meter) Bluetooth range that gives you full control over it from over two football field lengths away. And if you're not a fan of wearing anything on your wrist, there are multiple attachment options with it's unique clamping mechanism.
Designed for Adventure Sports
From the initial conception of the AirDog Auto-Follow Drone, the creators wanted to find a solution that reinvented the standard drone and geared it specifically towards outdoor action sports. Whether you're biking, swimming, surfing, climbing, skiing, snowboarding, or running – the AirDog makes it easy to capture the moment in full professionalism. They've worked hard to research each and every outdoor sport and came up with a solution for drone flight that's not only easy to learn, use, and maintain, but highly effective with auto-pilot functionality.

Flight Modes
Rather than having the AirDog simply follow you, there are a few preset modes or "Flight Modes" that let the drone fly in the most ideal way for the specific kind of sport you love.
Surf Mode: – When you're at the beach, you can grab your board and paddle in. Once you're done, push the AirLeash and it'll land where it took off.
Kiteboard Mode: – When the AirDog is taking off, it'll make careful measurements of the wind speed and direction in order to stay safe. As long as the wind speed and direction is appropraite for it to fly, it will take off and land in the same place (just like surf mode), but it will keep a higher distance so it never becomes tangled in your kite lines.
Ski and Snowboard Mode: – Going down the slopes often involves fast speeds and many obstacles like trees and cliffs. In ski and snowboard mode, it won't run into any objects while it follows you down the mountain in your exact trajectory at an appropriate distance that's both safe and effective for the best filming.
Skatepark Mode: – Skateparks are often small and in a single place, so AirDog knows to stay and hover above you while pivoting in a circular motion to follow you around. With the AirLeash buttons, you can have the same controls as a joystick and have the abilty to freely move it around as you see fit.
Wakeboard Mode: – With wakeboarding, it's important to stay away from the line so there aren't any crashes – AirDog knows this and makes sure to keep in a straight line for the best shot and safety precautions.
Compact
Build in a lightweight, fully-foldable design, it stows away nicely in a backpack when it's not in use. All of the propellers can be taken off, and each arm folds in to give it a portable design that's much easier to take with you into the great outdoors. This useful feature sets it apart from other drones that are typically much bulkier and less portable.
Improve Your Training
With the AirDog Auto-Follow Drone, you won't just have excellent footage to show off to your friend and family. This footage of yourself in the action can make a real difference if you're training to improve your performance. By seeing yourself from this new and exciting angle, you can make adjustments to your form and check on your progress over time.
Technical Specifications
Flight Time: – 10-18 minutes (variable on conditions)
Battery: – Interchangeable and rechargeable 14.8 V 5600 mAh, LiPo battery
Top Speed: – 44 mph (70 km/h)
Ceiling: – 11,500 feet
Range: – 820 feet (250 meters)
Weight: – 4.38 lbs. (1.98 kg)
Connection Type: – Bluetooth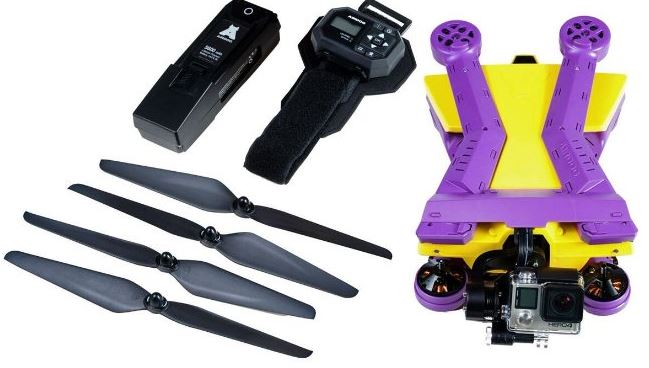 Final Thoughts
It's really amazing to see how far Drone technology has come in the past 5 years. Since the AirDog Auto-Follow Drone is much different than your typical drone, it should be gaining quite a bit of popularity when it's fully released later next month. The AirLeash offers a wealth of control, all from a small but easy to use interface that's fully waterproof and has a 250 meter range, giving the AirDog fast and easy controls, no matter what sport you're active in.
With the ability to fold up and transform down into a compact size, it's easy bring along wherever your adventures take you. No matter if you're a biker, skiier, surfer, cyclist, or just someone who wants the ability to capture their activities from the best angles, we feel that the AirDog Drone is an excellent investment.