Having the ability to bring your music wherever you go is great, but most Bluetooth Speakers don't hold up well with regular outdoor use. When searching new releases, we heard about the Jamkik Bluetooth Speaker and were impressed with all of the positive feedback that consumers were giving about it. We knew that we had to try it out for ourselves, so we placed our order and the Jamkik Wireless Speaker was in our hands within a couple of days. We're here to give an honest and fair opinion on it and see really what it has to offer.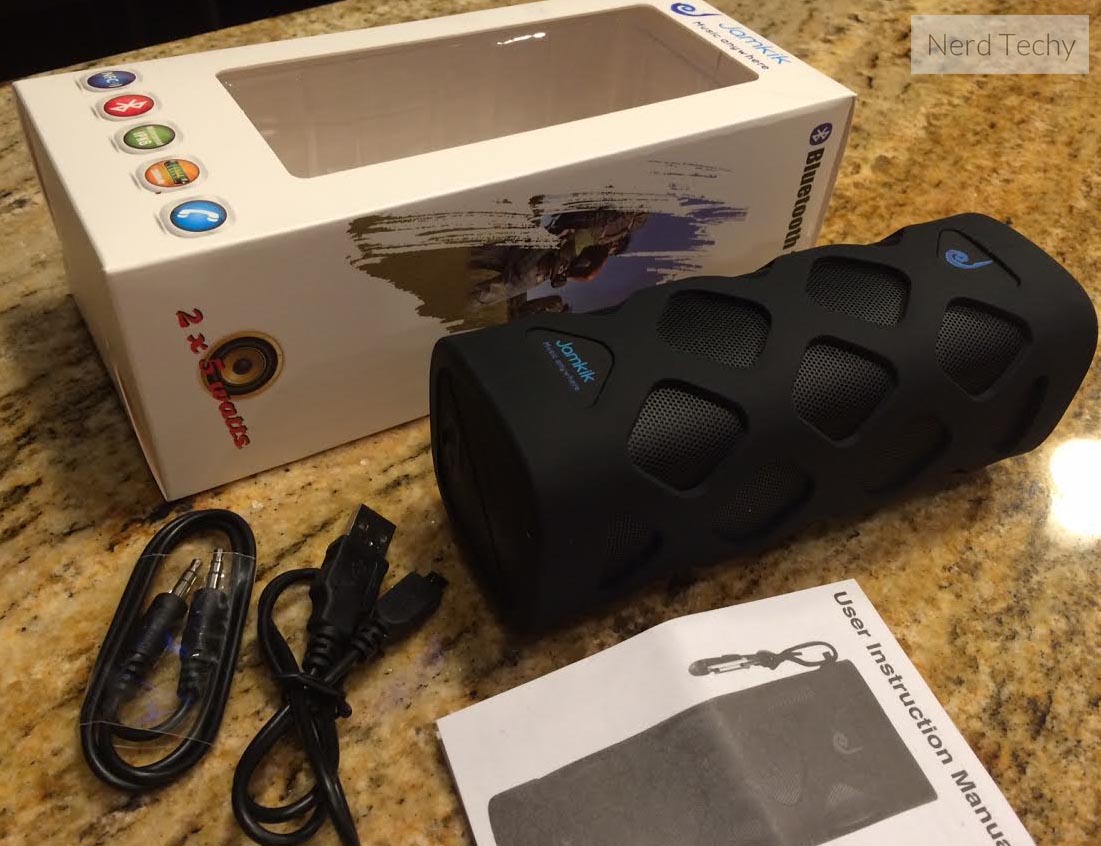 First Impressions
Upon it's arrival, we were pleased to see the Jamkik Bluetooth Speaker in a nice, well-designed box that was properly structured to provide a safe and sturdy way for it to go through the mail. We quickly opened it up and felt it in our hands. Our first impression was that it was solid and felt well-built.
Measuring 2.6″ x 2.6″ x 6.7″ it's a great size that fits well in the grasp of your hand. There's a protective rubber, net-like casing that encapsulates the actual speaker – this gives it a textured grip that feels really well when you grab it. On the top are a few buttons – power, play/pause, next track, and previous track. This is where you'll control the functionality and adjust the volume too. On the bottom is a NFC area with a sealed auxiliary input.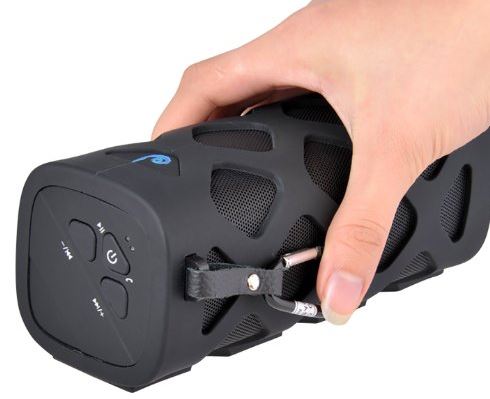 Pairing to a Device
Unlike most wireless speakers that we've tried in the past, the Jamkik Bluetooth Speaker offers two different types of wireless technology – Bluetooth and NFC. Near field communication (NFC) offers the easiest and quickest way to get started using it.
First, you'll need to press and hold the power button for around 3 seconds. At this time, it will audibly say "Power ON – Bluetooth Mode, Waiting for Pairing" and it will emit a blue blinking light. Next, press the NFC logo on the bottom of the speaker. It's important to note that you'll want to keep your mobile device as still as possible at this time. Once connected, it will audibly say "Paired" to let you know it's ready to play your music.
Connecting without NFC is easy too – just enable the Bluetooth setting on your mobile device and make sure the speaker is turned on. You should see "Jamkik" appear as an available connection.
We found the pairing process to be pretty straightforward and painless. Within less than 30 seconds it was fully connected and playing our favorite tunes.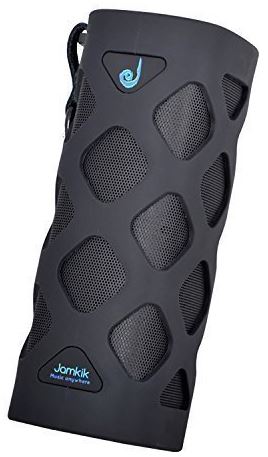 Sound Quality
Most importantly, we had to check if the Jamkik Bluetooth Speaker had worthwhile sound quality to really justify our purchase. We tried a variety of songs from different genres – rock, rap, techno, country, and even oldies. To our enjoyment, each song sounded excellent. Inside there are double 5 watt speakers that are actually incredibly loud. There's no way we'd ever need to turn it up all of the way, but it's nice to see that it definitely has the power to crank it up. Truthfully, we didn't think two 5 watt speakers would be able to provide music this loud!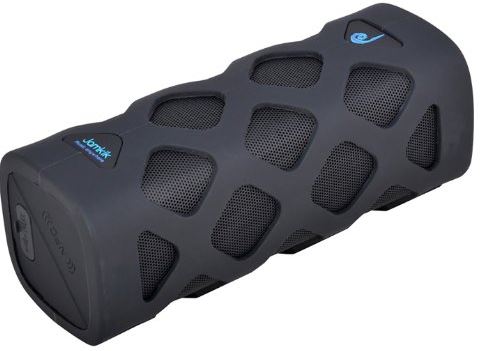 As far as clarity goes, it's pretty good! All of the tones seem to be at the appropriate levels for a quality listening experience. Although the treble and bass aren't adjustable, it seems to deliver at the right amounts. Even when cranked up to it's maximum, there's no distortion or muffled sounds!
Speakerphone
One feature that we found was really nice to have was the Speakerphone function. Since there's an integrated microphone, you can take and receive phone calls, all with your established wireless connection. We tested this out with a phone call and were able to accept the call. We wanted to see if the microphone was able to pickup a clear and audible voice without a hassle. Sure enough, no problems with the speakerphone – the call on the other end sounded great, as did our voice to the person we were speaking to.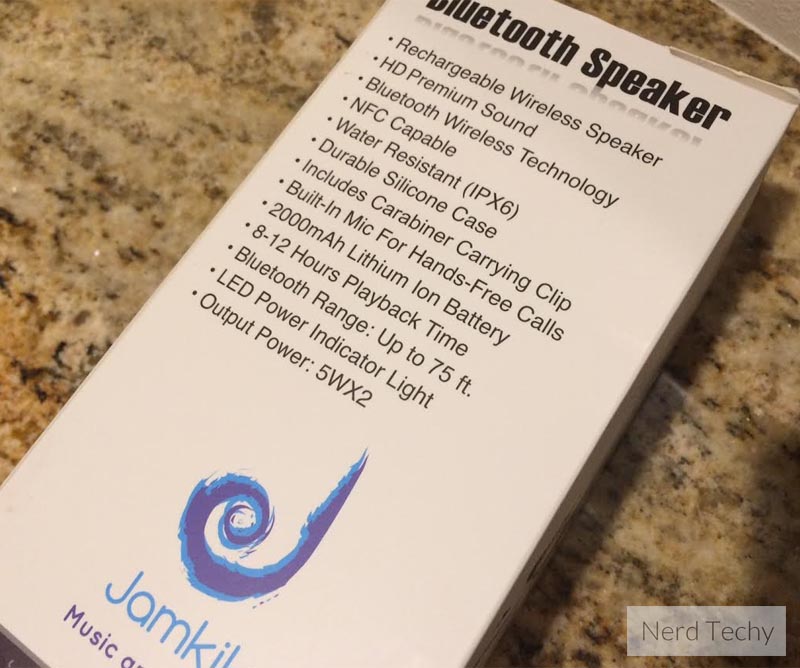 Durability
As we stated before, it has a great build – but one of the main reasons that we ordered the Jamkik over other Bluetooth Speakers was it's waterproof ability. Since it's IPX6 rated, it's completely dust-proof and highly water resistant. The IPX6 code means that it has complete protection against any dust or debris particles. Additionally, this grade means that it's been rigorously tested against water for at least 3 minutes with a powerful constant jet stream of water. Although you wouldn't necessarily want to submerge it completely in the water, it will hold up just fine on the boat, at the beach, or near a swimming pool.
Battery Life
In addition to the speaker itself, the Jamkik comes included with an auxiliary cable and a USB charging cable. You won't need to purchase anything additional or worry about changing batteries since the speaker has a built-in rechargeable battery that's highly efficient. The 2000 mAh lithium ion battery provides up to 12 hours of continuous use before you need to plug it in again. This is pretty dang good, considering the amount of power and volume this thing can kick out. And when it does finally die – you can expect about a 3 hour wait time before the battery is fully charged again.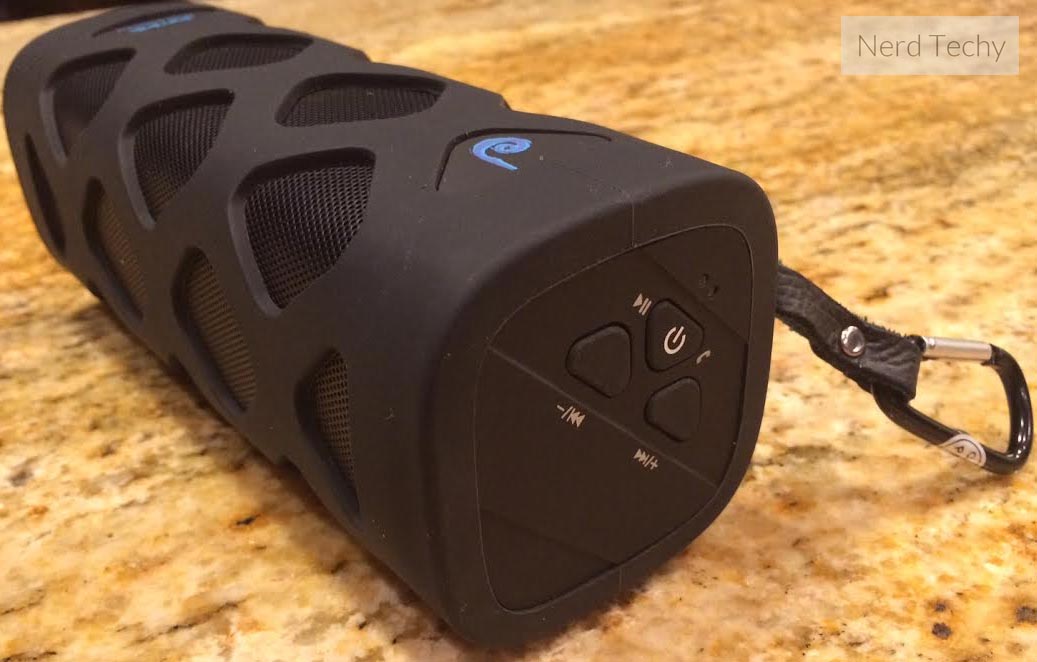 Final Thoughts
Ideal for your favorite outdoor activities, in the shower, or just to use casually around the home or on vacation, the Jamkik Bluetooth Speaker is a worthy investment. It's built sturdy and able to withstand quite a bit of abuse over time. With it's silicone cover and sealed interior, it boasts an impressive IPX6 rating that's hard to surpass.
Since we've owned it, we've been able to determine that we definitely got our money's worth. Best of all, it's covered by a fantastic lifetime warranty with a free replacement guarantee in case it ever fails on you. To top it off, Jamkik truly has some of the best customer service that we've seen. Within 30 minutes we received a reply to their support team via email! Overall, a solid wireless speaker with all the ruggedness and durability you need to include it with you on all of your adventures.