Having a regular workout regime is often an important thing to stick with. But with the proper motivation, a bit of determination, and some helpful tools, achieving your fitness goals can be one of the most rewarding experiences in your life.
Many of us workout – and the truth of the matter is, we all love to listen to music while we exercise. It helps bring you into a better state of mind where you can perform at your very best. But being tethered to a set of wired headphones can be problematic for most situations. The tangled mess is a downright nuisance which is why it's best to choose a wireless pair of headphones instead. However, determining which set of headphones to choose can be a tricky task.
TOTU, a leading vendor in the wireless headphone market has recently released the BT-2 V4.1 Bluetooth Headphones, and they wanted to see what us here at NerdTechy thought about them. They sent us a pair and let us try them out for ourselves. We agreed, and are here to give you an honest and fair review of them in great detail.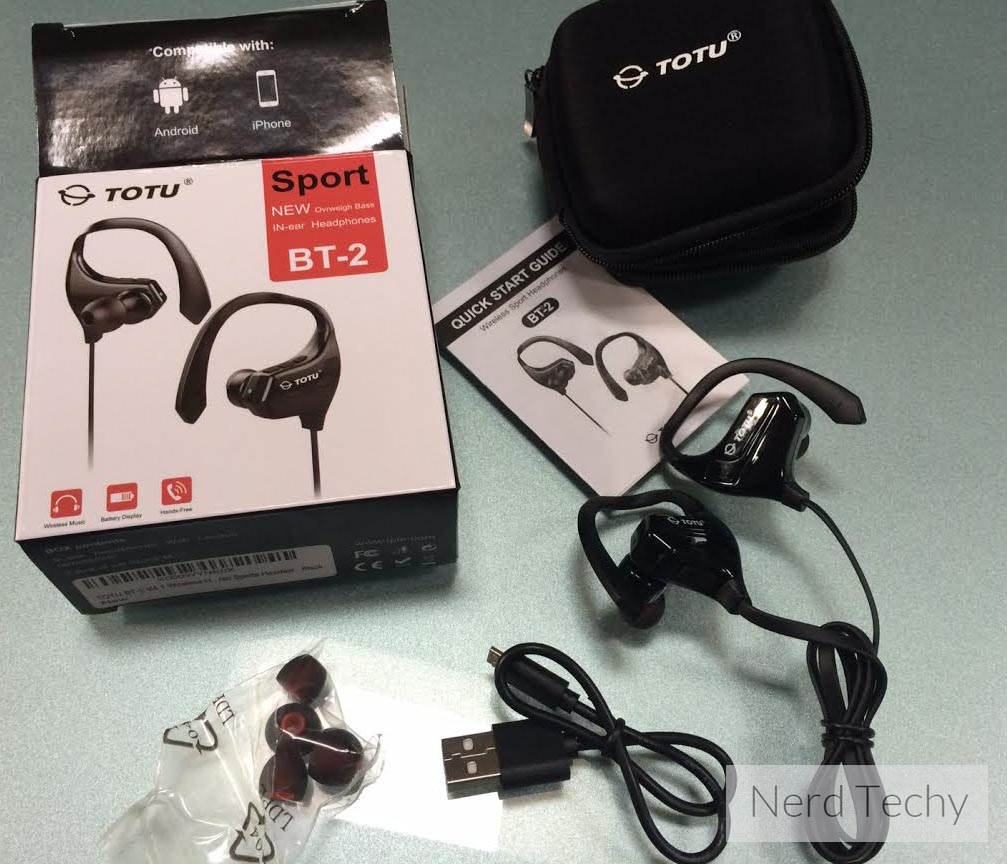 Unboxing and Setup
Within two days the TOTU BT-2 V4.1 Bluetooth Headphones arrived, and we were really excited to get our hands on them. The box was small but well packaged with a multitude of accessories. Included in the box were three different sizes of ear tips, a micro USB cable, a detailed user manual, a free protective carrying case, and of course the headphones too. To our pleasure, they came shipped with the battery ready to go. Although it wasn't fully charged, it was enough to start using and try them out for the first time without having to wait around for them.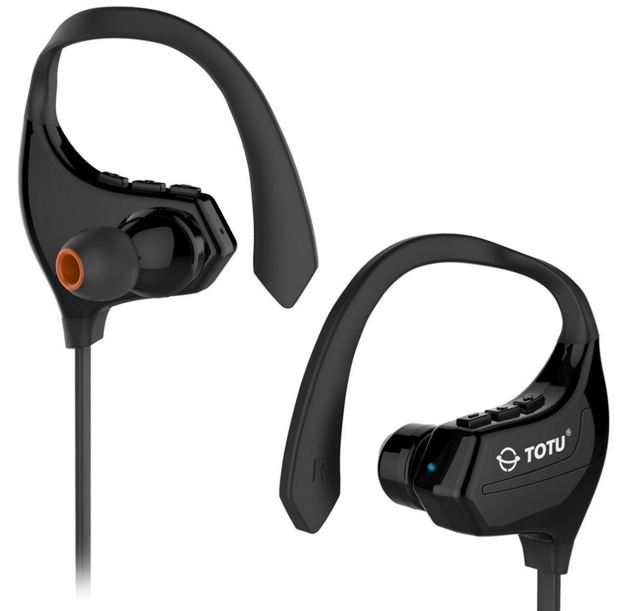 Pairing
They work with basically any Bluetooth enabled device which includes virtually any modern-day smartphone or tablet. For pairing it shouldn't take more than 45 seconds – you can use the NFC (near field communication) feature to sync them to your device. Alternatively and just as easily, you can manually select them through the Bluetooth settings on your phone. When the headphones are in the process of pairing, the small LED will blink and then turn a solid color upon success.
Best of all, the TOTU BT-2's can be paired to two Bluetooth devices at the same time. This simultaneous connect means that you can play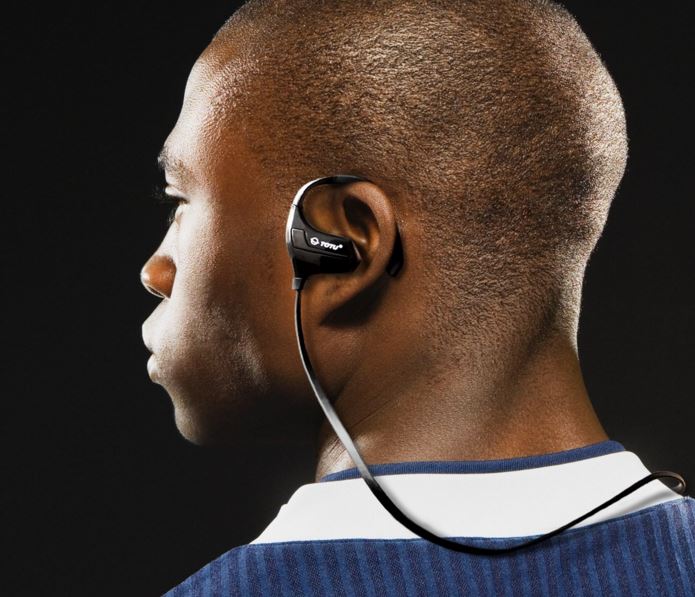 Comfort and Fit
We've tested a lot of different headphones before. We've even reviewed another model of Totu Headphones, but with the new TOTU BT-2's, we're huge fans of the ear hook design. Rather than having the earbuds sit within your ear with a wedge-like hook, they wrap around your ear for a much more secure fit.
Since they've included three different sizes of ear tips (small, medium, or large), you should be able to secure a proper fit no matter if you're a small or large person. We were lucky enough to not have to change the tips at all – they fit excellent without any adjustment right out of the box. But just to try it, we switched around the ear tips and didn't have any trouble doing so. They're made of a soft and stretchy material that feels great to the skin, and also coated with a special layer of liquipel that resists moisture and does an excellent job at keeping sweat from becoming an issue.
Weighing in at roughly 13 grams, the headphones are insanely lightweight – which is a good thing. They boast a slim profile design that doesn't seem bulky at all. In fact, we're a big fan of the simple black look that they have.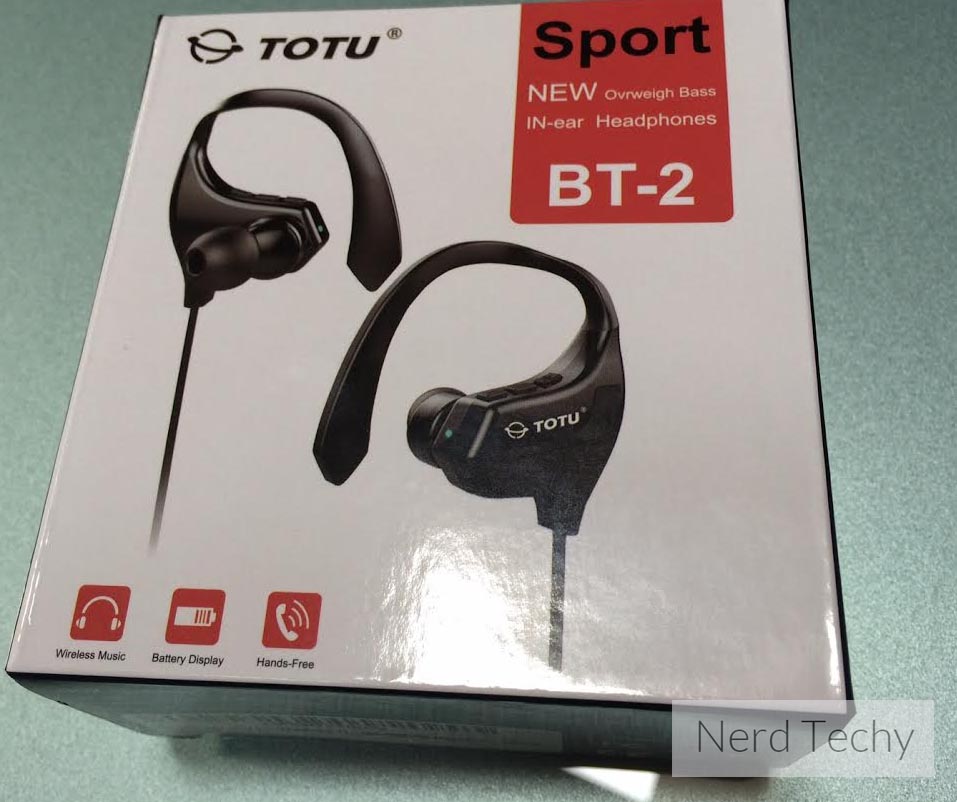 Sound Quality
Utilizing the latest Bluetooth 4.1 version and advanced APTX sound, the sounds are excellent. We'd say they're a definite improvement over their other model, although those were pretty impressive too. The volume range is quite good and we didn't have any issues with distortion, buzzing, or muffled sounds. After you make sure they fit well, they should provide a snug feel into your ears in order to deliver their best sounding capabilities.
Being that the TOTU BT-2 Wireless Bluetooth Headphones are designed with noise reduction and echo cancellation, they seem to do a very good job at keeping the background noise to a minimum. They almost act like an ear plug in that regard – but only if you achieve the proper fit from the start.
Overall, as far as sound quality goes, we'd give them a 9.5 out of 10. Pretty good to and definitely to our standards!
Battery
Located on the underside of the right headphone is a small rubberized door that covers the micro USB input port. This is where you'll need to attach the included micro USB cable to fill up the battery. When they're successfully charging, the LED will be red. When they're finished charging, the LED will be blue.
Since the battery is fully rechargeable and rated for over 500 cycles, you should be able to get plenty of use out of the TOTU BT-2's before ever needing to think about replacing them. On a full 1.5 hour charge, you can expect around 10 hours of continuous play/talk time with up to 160 hours of standby time. Their longevity is rated highly agmongst various consumer reviews, and we can see why.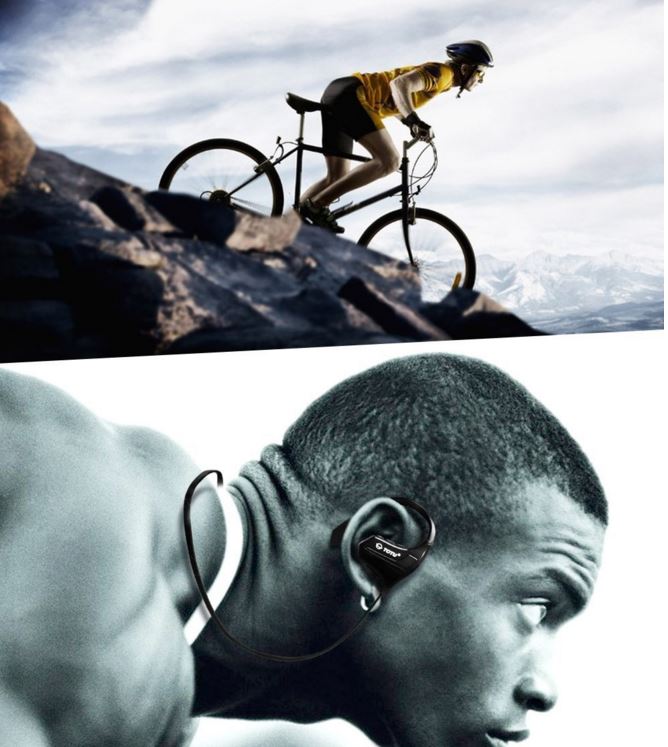 As we mentioned before, they came shipped with a partial charge, but the nice thing was that they fully indicate to you when they're running low on battery power. The small LED will emit a blinking red light to notify you that there's about 15 minutes of life left.
Controls
Located around the earbuds is a variety of buttons that give you an assortment of functionality options. You can turn up the volume, turn down the volume, skip tracks, and power them on or off, all with your fingertips while you're wearing them. They can even take incoming phone calls, reject calls, or redial numbers if you're one who enjoys talking on the phone without your hands. We tested them on a few phone calls and were impressed with the microphone quality. It sounded great on the other end!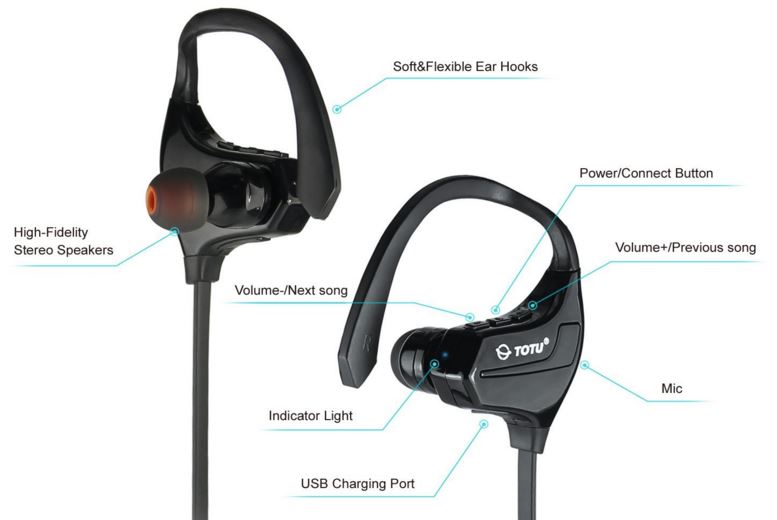 Final Thoughts
Since the TOTU BT-2 V4.1 Bluetooth Headphones are comfortable, easy to use, and capable of delivering stereo audio with superb sound, it's hard not to fall in love with them. We honestly don't have anything negative to say about them. The ear hook design is our favorite as it seems to do a wonderful job at keeping them stable and in the ear at all times. We've tested them with cycling, jogging, and during several workouts at the gym – each time we seem to enjoy them a bit more.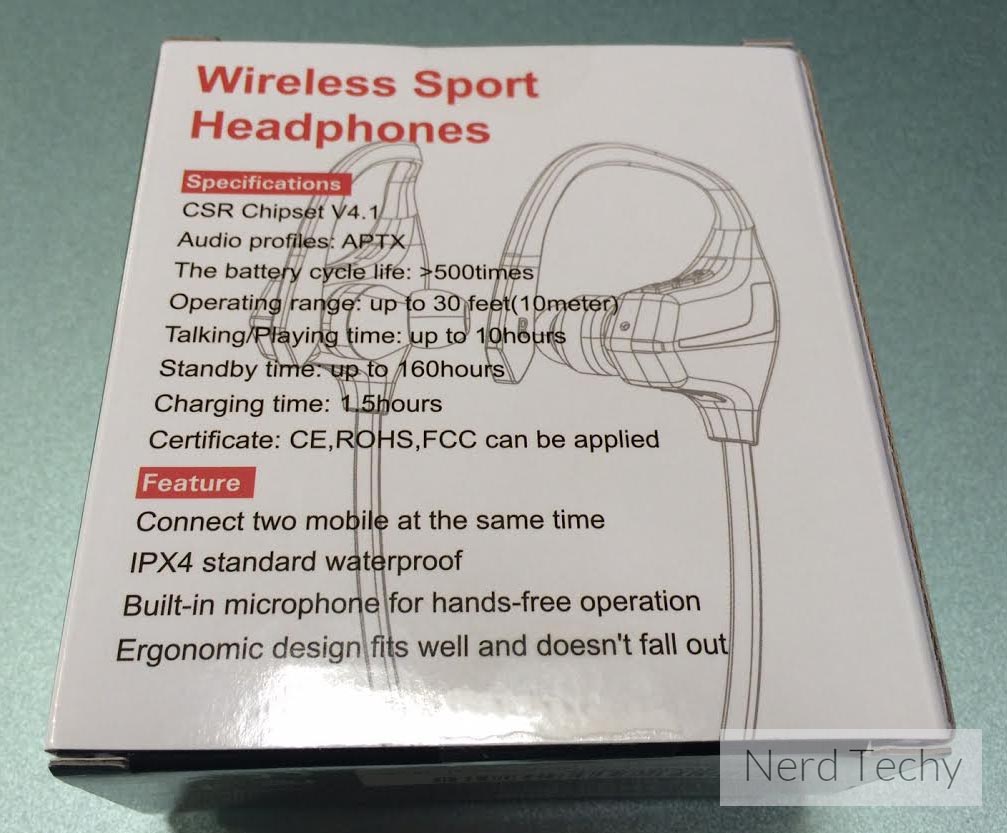 Best of all, TOTU covers them with a generous 12 month warranty period starting from the day you receive them. Their customer service is great, and we have been able to hear back from them within minutes of sending a message to their support team.
Overall, the BT-2's do a fantastic job at delivering a high performance music listening experience no matter how active you are. Even for at-home use that doesn't require much movement – they make an all-around great choice for those looking for wireless Bluetooth headphones that are built to last.
Contest
Want to win a free pair of the TOTU BT-2's? We're going to be giving away a 100% FREE pair by the end of the month. Want to enter? All you need to do is like or share this post on your favorite social media channel. We'll pick a winner by February 28th and will send you a promotional code to redeem. So what are you waiting for? Share now!