A portable hard drive offers one of the best and most reliable ways to backup your most sensitive data. But the truth of the matter is, not all hard drives are created the same. In fact, we wouldn't call a portable hard drive a top of the line option right now. Rather, a portable solid state drive would be a much better option. Instead of the typical moving parts inside of a hard drive, a solid state drive uses flash based memory for quicker reading and writing. They both do the same thing, but SSDs do it much faster.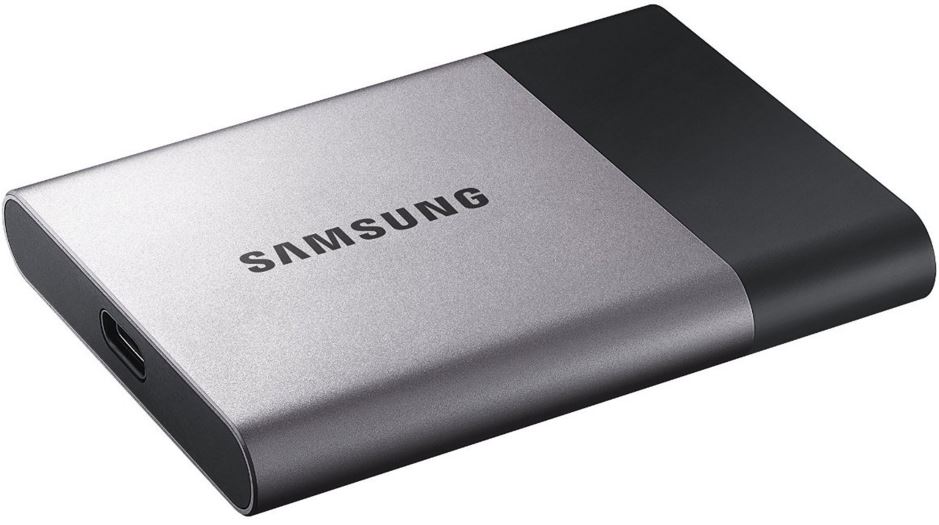 Set to release on February 29th, 2016, the Samsung T3 Portable SSD is one of the newest and best options for those looking for one of the best external solid state drives of the year. Designed with an ultra-sleek, portable dimension, it boasts both speed and efficiency with the latest USB 3.0 connection. Capable of achieving read/write speeds up to 450 MB/s, it performs quieter and cooler than any typical hard drive. We took the time to research a bit more about it and come up with an explanation and review of all the new features it comes included with.
Size and Shape
Designed specifically to be lightweight, compact, and incredibly small in size, the T3 Portable Solid State Drive from Samsung is a perfect option for those needing storage on the go. Since it weighs just under 2 ounces and is roughly the size of a drivers license, it can fit virtually anywhere.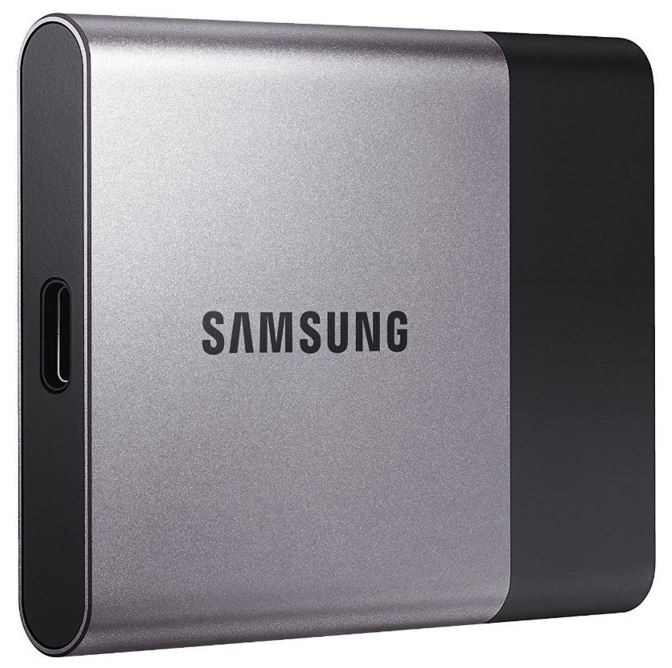 Compatibility
Available in a wide range of storage sizes – 250 GB, 500 GB, 1 TB, or 2 TB. Starting at $129 for the 250 GB capacity and $850 for the 2 TB capacity, it's not exactly the most inexpensive option, but it's a top choice for those needing full compatibility and reliability. Since it works with both PC, Mac, and Android Operating Systems, it supports a wide range of devices ranging from laptops, to smartphones, desktop computers, and more.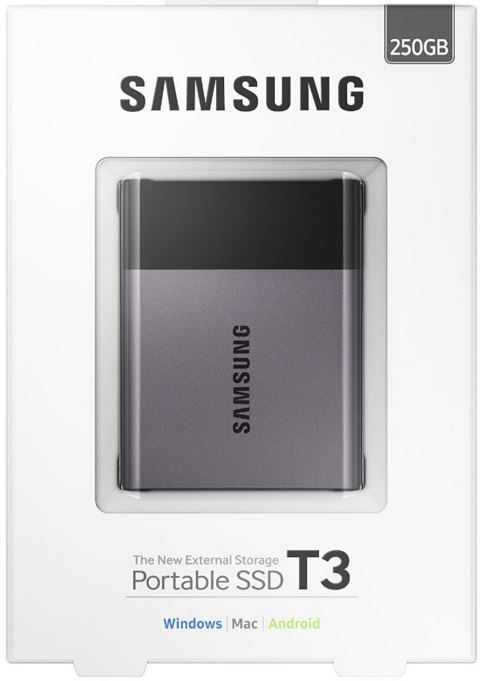 Durable Design
From first glance, you'll notice that the Samsung T3 has a black and silver metallic finish. The exterior is made of a strong metal material that looks great but is also designed to stand up to a fair amount of abuse over time. Since there are no moving parts inside, it's much less fragile than you might expect. In fact, Samsung has stated that it's able to withstand up to 1500G of force. This is roughly the same amount of force that's generated from a six and a half foot fall. With durability like this, we find that it would be an excellent option for those looked for a rugged design.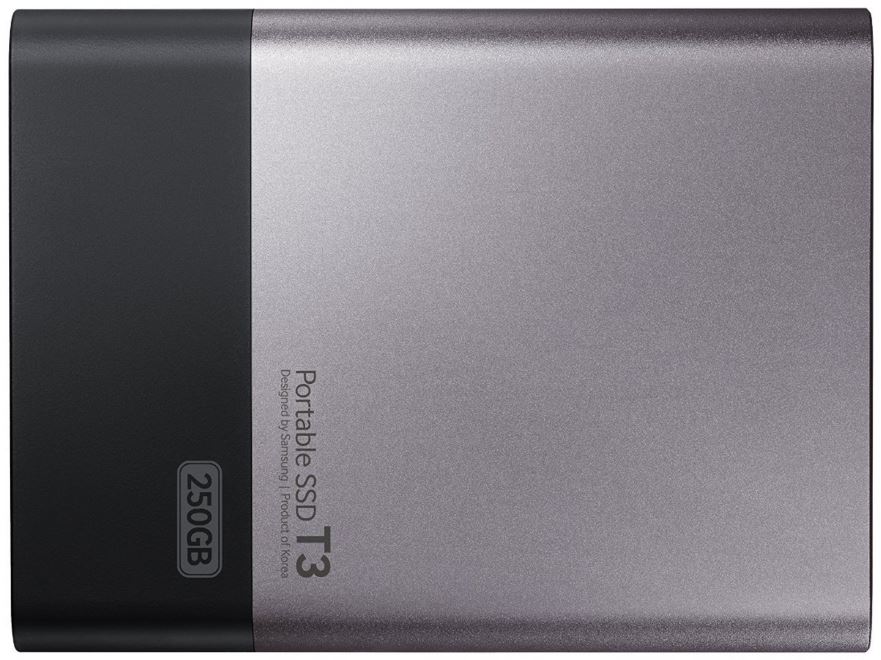 Security
Knowing that your data is safe and protected from unwanted guests, hackers, and malicious users can surely be a benefit. Samsung incorporated advanced AES 256-bit hardware encryption to assure the best safety against these threats. Also, you can setup a password to secure your data so that nobody can access it.
Speed
Speed is one of the most important factors to consider when searching for the best portable storage options. Nobody likes to wait around for their data to transfer. And if you have to, a minimized transfer time is always appreciated.
Your standard 2.5 inch hard drive operates roughly four times as slow as the Samsung T3 SSD. Using the supplied USB 3.1 cable, you can achieve incredibly read/write speeds of up to 450 MB/s for quick backups, restores, and transfers. Although you must make sure that the UASP mode is enabled, and your host configuration is setup to support USB 3.1 – it's backwards compatible with USB 3.0, 2.0, and even ancient versions like 1.1.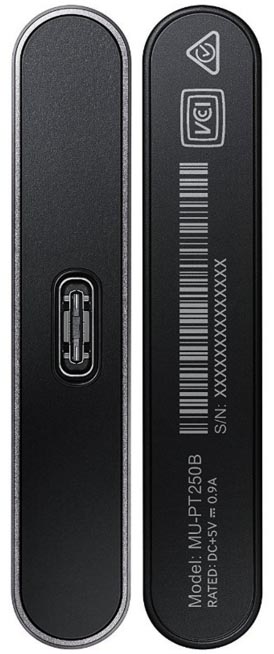 Improvements Over The T1
The T3's predecessor, the Samsung T1 is incredibly popular and similar to the T3, but the T3 definitely has an advantage. Inside of the T3 is a Samsung mSATA 850 Evo drive that utilizes all of the features of the 850 Evo series. With this series, there's a much better kind of flash memory known as 3D-vertical NAND flash memory. Unlike your standard 2D-planar type NAND flash memory, they lie completely flat rather than being stacked.
On the T1, the memory cells are in sets of 32 stack layers which increases the overall density of the drive. This means that more data can be packed into a smaller area than ever before – which is why the T3 is so small in size but huge in capacity. This new technology hasn't been featured in a portable SSD before.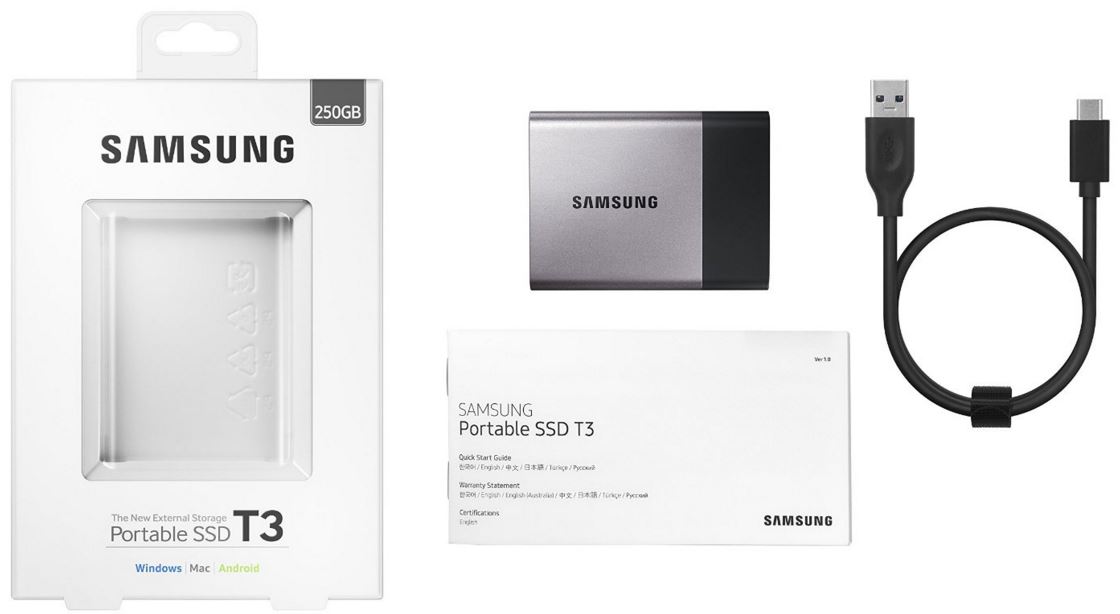 Final Thoughts
Although an upgrade to a solid state drive is a bit more pricey than a standard portable hard drive, the upgrade shouldn't go unnoticed. We've tested multiple portable SSDs and we think that the Samsung T3 Portable SSD is going to be a sure winner. Thanks to the newest 3D vertical NAND flash memory technology, they've been able to slim down the physical size of the drive while increasing the capacity. We're huge fans of it's durability, with 1500G-shock force protection, it has the ability to withstand drops, bumps, bangs, and vibrations with ease.
Samsung offers a free 3 year warranty that's included with each T3 to assure it'll work just as well as the first day you used it, for 36 months in a row. We love a company that stands proudly behind their product by guaranteeing it's use for years to come. Overall, we're quite impressed with the Samsung T3 Portable SSD and can't wait for it's full release towards the end of this month!