Wireless earbuds are really nothing new, with most retail prices steadily dropping over the last several years. However, a new trend is seemingly taking priority – how tiny and minimalist can manufacturers make them? While everyone seems to want them in a smaller form-factor, many people worry that important factors like sound quality and comfort are potentially sacrificed when size is given priority. But how true can this be? It honestly depends on the specific pair of earbuds you're interested in.
One such example are the new Focuspower F10 Mini Bluetooth Earbuds. At first glance, you'll likely notice how incredibly small and minimalist they appear. In fact, they've been publicly credited as the "smallest" and most "invisible", budget-friendly headphones available. But how good can they actually be? We're here today to take a closer look at their features, comfort, sound quality, usability and other crucial factors. We'll take an in-depth look at what they have to offer and how they truly perform.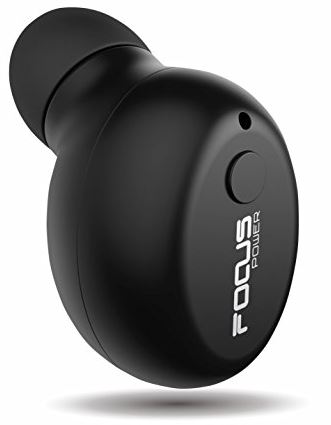 First Impressions
One of the first things you'll notice about the Focuspower F10's is their small and discreet form factor. Measuring in at under 1 inch in diameter, they're designed to fit snugly within your ear canal. Before pairing them to our smartphone, we popped them in our ears and found them surprisingly comfortable and discreet. Given an oval-like shape, they lodge perfectly between your ear cartilage and seem to stay perfectly snug – even with vigorous or continuous movement. These are the smallest earbuds we've laid our hands on, so it's nice to see that they stay snug when you need them most.
One thing to note is that they're sold individually and not as a pair. Most listeners will want to have two earbuds, rather than one, so you may want to pick-up two instead of one.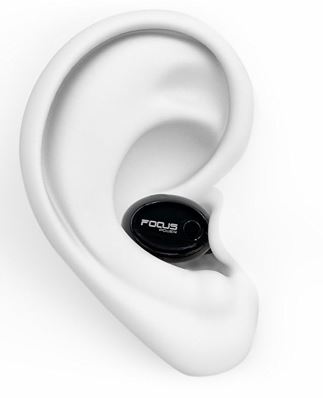 Pairing
Moving on, we needed to test out the actual audio, so pairing them to our Bluetooth enabled device (iPhone 6 in our situation) had to be done. To do this, simply press the small button located on the right earbud. Once you do this, you'll notice the small LED emit a blinking signal. At this time, it's searching for a Bluetooth device to connect to, so make sure your phone or tablet has its Bluetooth setting enabled. Next, browse for available connections on your device and you should notice the "Focuspower" option on your list of nearby connections/devices to pair with. Tap it once, and a secure and consistent connection should be established.
The Focuspower F10 Earbuds also have a feature called "Multi-point Connection". This allows you to simultaneously connect two devices at once so you can share playlists or play tunes from different devices. It's not a feature we'd typically use often, but it's nice to see it included. Making a multi-point connection is pretty easy. Just manually pair two devices to the same "Focuspower" Bluetooth signal, the same way you'd pair a single device.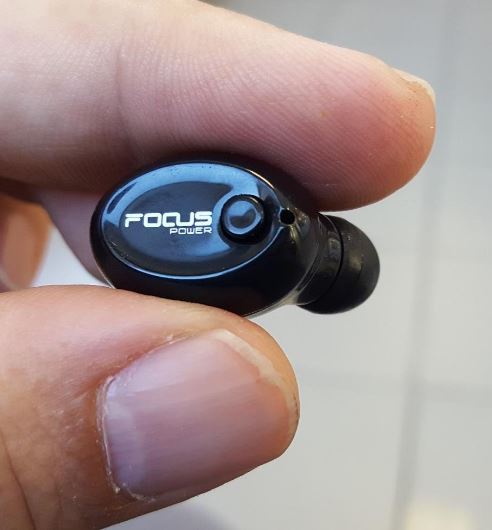 Comfort
Before you get into playing your favorite sound tracks, it's important to achieve a proper fit. For most individuals, they should fit pretty well right out of the box. However, if you're experience any movement when they're on you, you may want to take a second to fidget with them. Try changing the ear tips, since there are extras included. Take some extra time to get familiar with how they're supposed to be placed in your ears.
We found the comfort to be quite sufficient in our experience. We didn't need to change the tips or move them around much. Once they were put on, no movement or flimsiness was noted. They truly do seem to stay fitting well, although we know this can depend on personal factors like the size of your ears, etc. The rubberized ear tip material is soft, plush and seems to cause no pressure points or unwanted effects.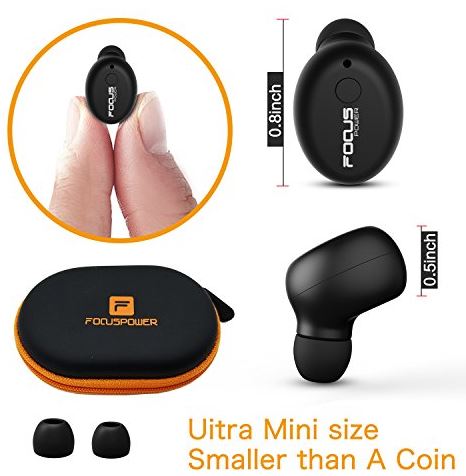 Sound Quality
Likely the most crucial factor for any earbud is the sound quality itself. After all, why would you want a pair of miniature earbuds if they weren't going to play music well? After you've paired them and achieved a fit that you're happy with, it's time to test the audio. We spent multiple hours playing through a variety of songs from a wide range of genres.
Needless to say, the Focuspower F10's seemed to emit sound that was much nicer than originally expected. Rap, rock, country and classical music all sounded equally nice with clear tones, vibrant highs and stable amount of treble. The only area that seemed a tad-bit lacking was the deep, deep bass. As expected, most earbuds don't achieve the same belly-dropping low tones that a typical pair of studio-grade or over-ear headphones produce. Likely one contributing factor to this is their miniature size and the fact that they're earbuds. The low tones don't have quite the same effect since there's less space for the deep bass to radiate and no dedicated woofer. We'd like to conclude that the bass isn't amazing but it's definitely sufficient.
However, the overall sound quality is still very pleasing. Even though the bass doesn't quite live-up to professional quality, the rest of the sound range comes off quite well.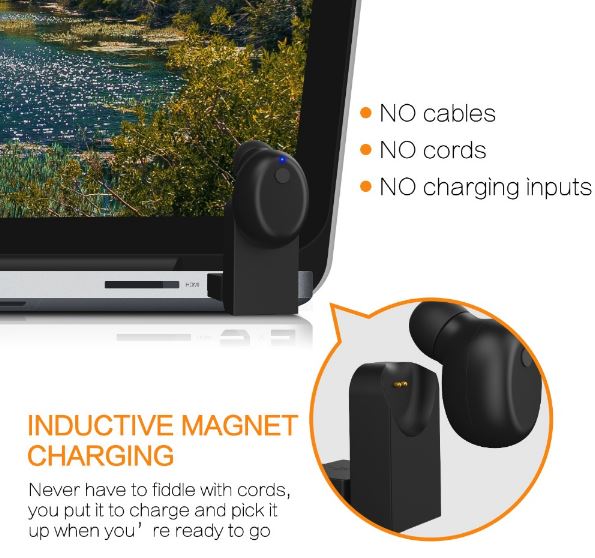 Battery
Since the F10's are completely wireless and free of a tangled mess of wires, each earbud relies on their own independent 55 mAh lithium-ion battery. Although this size of battery doesn't seem like much, it offers wireless listening for around 5 to 6 hours. Throughout multiple listening sessions, we found this amount of listening time to be fairly accurate. There was one time that they didn't last more than 4 and a half hours, but that was simply because the volume was cranked up all the way, putting more of a strain on the internal batteries. While 5 to 6 hours is a fairly standard duration for normal-sized wireless earbuds to last, this is typically more than enough time for most situations.
While the built-in batteries seem to work well, there's one obvious downside. You'll need to make sure they're fully charged if you plan to use them for a while. Luckily, this is pretty easy to do with the magnetic USB charger that's included. In the same form-factor as a USB flash drive. All you need to do is place the earbud on the charger and plug it into any available USB port or charger. This means no fiddling with wires and cords, which translates to a tangle-free and minimalist approach – something we can all appreciate.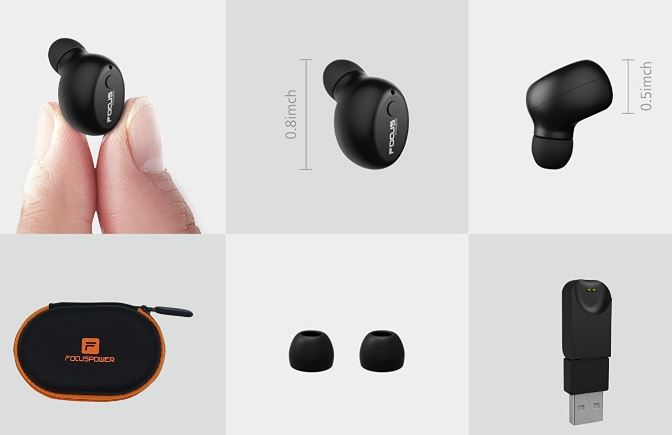 Wireless Range
Utilizing the latest in Bluetooth 4.1 and EDR technology, the Focuspower F10 Earbuds offer full wireless freedom at a range of up to 10 meters or roughly 33 feet. Giving you the ability to keep some distance between your paired smartphone/tablet and the earbuds themselves, true wireless freedom is nice to have. However, one thing we found is that the range is drastically affected by everything that's in-between. If there's a solid wall, appliances or other obstructions in the way, the wireless range is only around 10-20 feet.
With that being said, they wirelessly perform well without any loss of transmission or static, as long as you don't move too far away. Keeping a shorter distance than 10 meters is probably a good idea, unless you have clear sight of your paired device.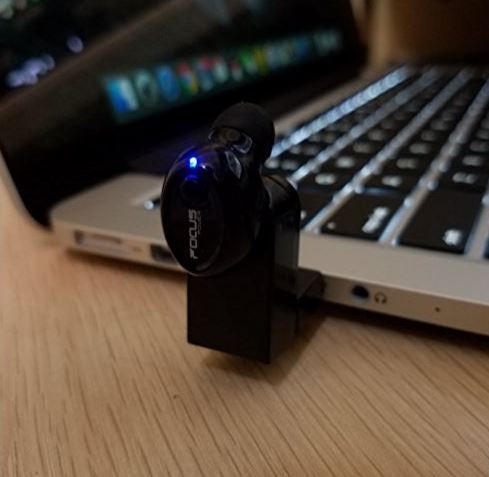 Phone Calls
With an integrated microphone, you can easily make an accept phone calls without removing the earbud(s) from your ear. Testing it out on various incoming and outgoing phone calls, the F10's seemed to pickup our voice perfectly fine with no distortion or transmission issues. We were actually pleasantly surprised on how well the call quality was. Even in windy or unfavorable outdoor conditions, our voice sounded excellent on the other end with no complaints from the several times we tested this feature out. Although making and receiving phone calls isn't something that everyone will be doing, we're pleased that the feature works well and wasn't sacrificed with the miniature size.
Downsides
With every pair of headphones or earbuds, it seems like there's always a couple quirks. The one obvious downside that we found is that each earbud is sold separately as they're not sold in a pair. Some consumers may look past this and mistakenly order just one, when they expected there to be two included. So just be sure to take note of this fact when you place your order.
Another thing we didn't like was the small button located on the outside of the earbud. It's not the size of the button, but rather the feel of it. At times, it can be difficult to press, so a bit of patience can go a long way. However, we hardly needed to touch this button so it's really not that big of an issue.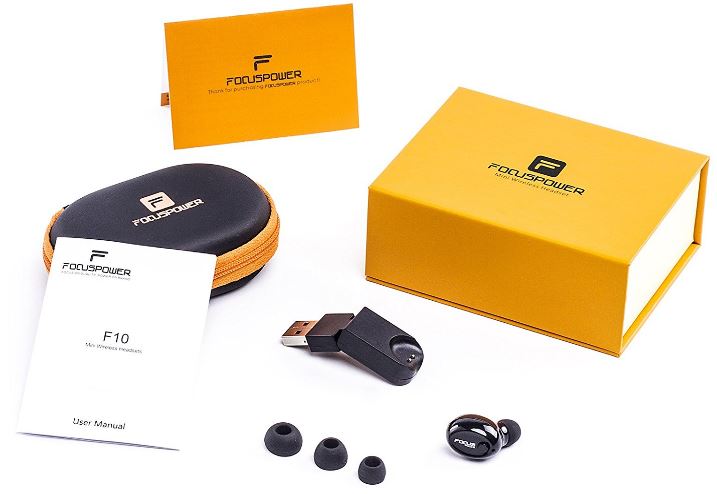 Final Thoughts
Overall, we're really happy with the Focuspower F10 Mini Bluetooth Earbuds and everything that they have to offer. The incredibly small form-factor and discreet appearance make them minimalist in design, which translates quite well in regards to portability. Because of their size, it's nice to see that Focuspower included a small zippered carrying case to keep them safe and to avoid misplacement.
As far as sound quality goes, their lacking a bit in the bass department, but excel in all other areas. We just want to stress achieving a proper fit before you give them a fair judgement. The right fit can go a long way, so make certain you spend a couple minutes achieving this.
If you have any questions, concerns or you'd like to leave your own opinion on them, feel free to do so by leaving a comment below.