Finding the right camera is about knowing what you need and expect. The perfect camera for portrait photography isn't going to be the same camera you use at a basketball game. Between even excellent name-brand cameras, you'll find a variety of different feature-sets, mechanical capabilities, and a wide range of durability. And features like that can have a drastic impact on the kind of camera you end up with, and what that camera is good for shooting.
Fujifilm FinePix XP130
The FinePix XP130 is best defined by its most essential features. They include a 3" fixed position LCD, a 5x zoom lens, and a fully waterproof design. If you keep track of Fujifilm products, you'll know the XP130 is the replacement for Fujifilm's last generation, the XP120. Most of the time, the kind of improvements you see from one generation of camera to the next aren't that significant. But every once in a while, those improvements are a tad more than merely cumulatively.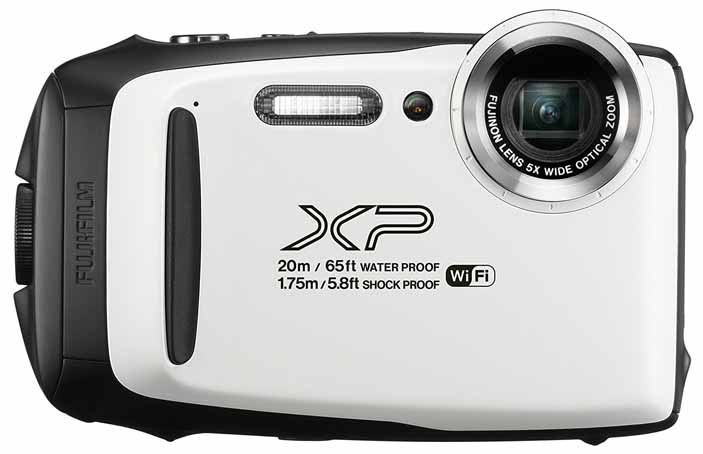 Its most significant improvements relate to Bluetooth connectivity, better allowing you to transfer your photos and images to other devices. But there are also substantial gains in battery life, which is now rated to last roughly 240 shots from one full charge. That's an improvement of about 12% over the XP120. There are also totally new features to be found, including an eye detect auto-focus that's great for taking portraits, and an electronic level display.
But as you'd expect, many things have also stayed the same from one generation to the next. Similar to the XP120, the XP130 uses a 1.64-megapixel sensor, capable of shooting 10fps at full resolution in a one-second sprint. It's got the standard range of time lapse and interval shot features you'll find on the XP120 and similar cameras. In addition to the Bluetooth, it supports Wi-Fi connections, allowing you to individually move your captures from one device to another.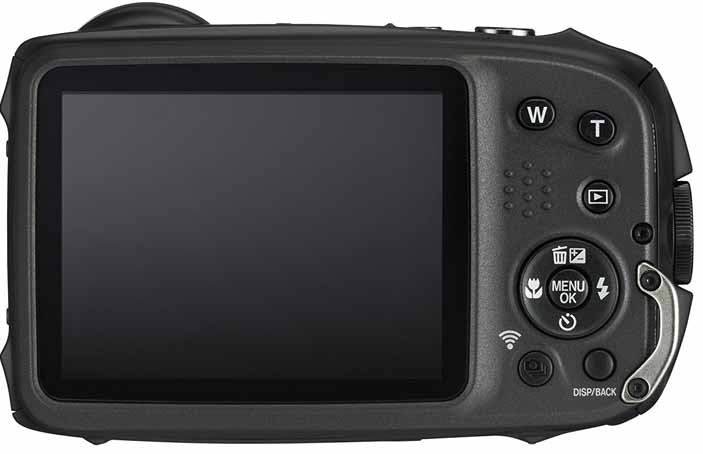 Build & Design
One way in which the XP130 stands out is its weight. It weighs roughly 0.45 lbs., and uses an incredibly compact 4.33 x 2.8 x 1.1-inch body. In other words, it's slightly larger than a credit card. Aesthetically, that body is available in silver, yellow, blue, white, and lime. Its colorful shape provides an easy and secure grip for either one hand or two.
Compared to average digital cameras, the XP130 has an ordinary thickness, but it's roughly 10% less heavy. Along the top of the device there's a large shutter button with a textured surface. Adjacent to that is the on/off button, and a video record button. These being the most common buttons you'll be using, they're prominently placed.
The shutter button is responsive enough, provided that you're not wearing gloves. But there's only a small difference between half of a press, and a full press. That difference can be hard to deal with when you've got cold hands, or when you put on gloves. Under those circumstances, locking the focus before taking your shot can be difficult. But in full fairness to the XP120, getting a more responsive shutter button is generally something you'll only see on much more expensive cameras. It's hard to hold that limitation against Fujifilm.
Another thing to notice about the design is its impressive waterproofing. It's equipped to handle up to 20 meters of submersion. It's also freeze proof to a chilly -10 Celsius, and shockproof to a one-meter drop. Unless you're going to be renting some scuba equipment, that's about as much waterproofing as you'll ever need on a digital camera. It may be worth noting 20-meters is significantly more submersion than you'll see with similar cameras in this price range.

Menu Control
On the backside of the camera, the controls look somewhat standardized. The familiar interface allows you to access the menu, toggle the flash and brightness, view and delete photos, and so on. The playback controls are imprecise, but that's only a problem when you spend extended amounts of time tied-up in playback. From inside the shooting menu, you can find a number of handy shooting modes. Some of the more interesting include dynamic tone, fish-eye, soft focus, pop color, high key, low key, miniature, toy camera, cross screen, sketch, and some partial coloring options.
Within the menu is where you'll be doing most of your management of the Wi-Fi and Bluetooth connectivity. And on the connectivity front, it's worth observing how the XP130 allows Bluetooth and Wi-Fi to work together, and auto-transfer your photo content as it's taken. While both Bluetooth and Wi-Fi is necessary for the simultaneous shoot and transfer feature to work, when you get it going, it can be a real time-saver.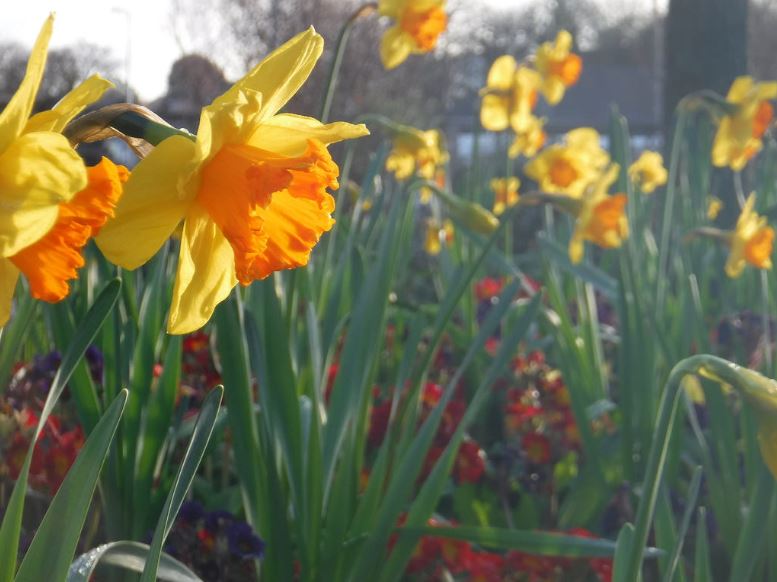 Image Quality
If you're not very familiar with digital cameras, you may find yourself of wondering, why is the lens only 5x? Simply put, cameras that are waterproof need to be placed inside a properly sealed enclosure, and that means less room for placing a gigantic telescopic lens. Like the XP120, the XP130 uses a 35mm lens. Paired against a 5x zoom, you're capable of shooting within a 28-140mm range from that one lens.
Unfortunately, the combination of a 35mm lens and 5x zoom means you run into some minor problems with field of view. For example, the lens isn't large enough to capture action shots in some circumstances, simply because its field of view is relatively small once you've maxed out the zoom. For closer shots, Fujifilm says their camera is good for getting focus as close as 9cm away from an object while in macro mode. But with a little patience, it's often possible to get close shots within half of that distance.
The XP130 has a maximum shutter speed 1/2000 sec. Having a smaller maximum aperture means you get a slightly slower shutter speed for snapping action, which makes the XP130 less-inclined towards shooting athletics and similar activities. Conversely, the XP130 does pretty well in poor conditions like overcast and rain, and is great at locking on where it's supposed to shoot.
It's 16.4-megapixel sensor yields images in a maximum 3456 x 4608 resolution, and the result is reasonably sharp detail within all your images and videos. If you've got a keen eye, you'll notice noise reduction at work within some of the shots. But relative to the compact sensor taking the shots, the level of detail is what it should be.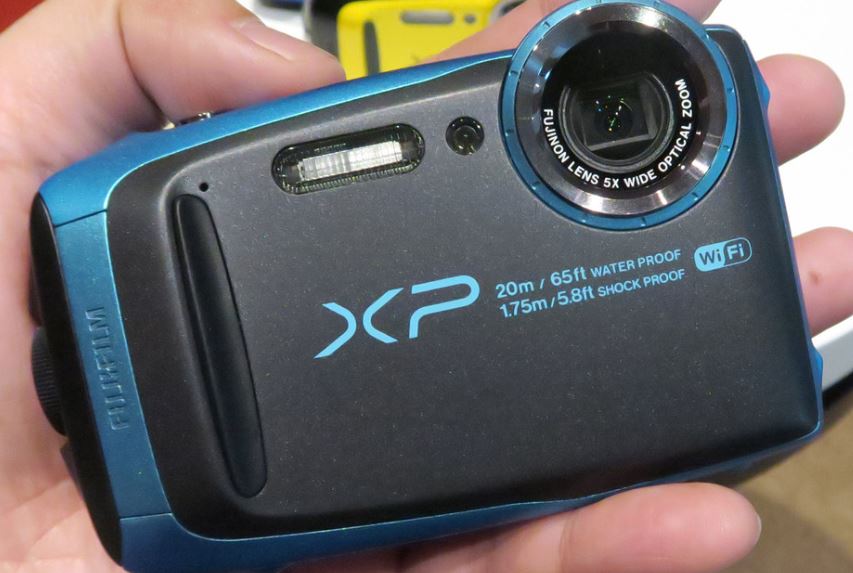 Digital Features
Like its predecessor, the XP130 has a number of shooting modes that can make your photos a bit easier. The auto program mode will automatically select the settings the camera thinks is appropriate for available lighting conditions. There are two underwater modes uniquely suited to dealing with murky conditions. There's the one-burst 10FPS mode that's reasonably good for capturing short bursts of action, provided that you're capable of timing things carefully. And there's the previously mentioned eye-detection mode that's excellent for portraits.
Like many cameras in this price range, the XP130 has taken to adding a handful of slow motion features as well. Those features trade image resolution in exchange for rapid playback speed. On the XP130, the highest quality slow-motion mode records 480p at 120 FPS, resulting in 1/4th ordinary speed shots. The slowest version uses a tiny 120p resolution for 320fps, providing 1/8th ordinary speed video. Due to the relatively narrow field of view of this camera, you'll have to aim very well to make those types of shots. But the quality and stabilization is good, and the almost inaudible zoom motor won't make the challenge any more difficult.
Drawbacks to Consider
The strap that's included with the XP130 isn't particularly rugged, and it's not well suited for water. If you're going to make use of the strap, you might want to replace it with an aftermarket alternative, especially one that's built to tighten around your wrist.
There are some things the XP130 doesn't have, or can't do. There's no touch screen, and no manual exposure control. The 240-shot battery life is relatively low compared to similar digital cameras. The XP130 doesn't allow you to connect an external flash shoe, so it's not possible to escape the limitations of the built-in flash. Its shutter speed is average, and there's no RAW shooting mode. There's also no 4K video capture, though it's nice that the supported 1080p video can be reduced to 720p in the interests of maximizing storage space.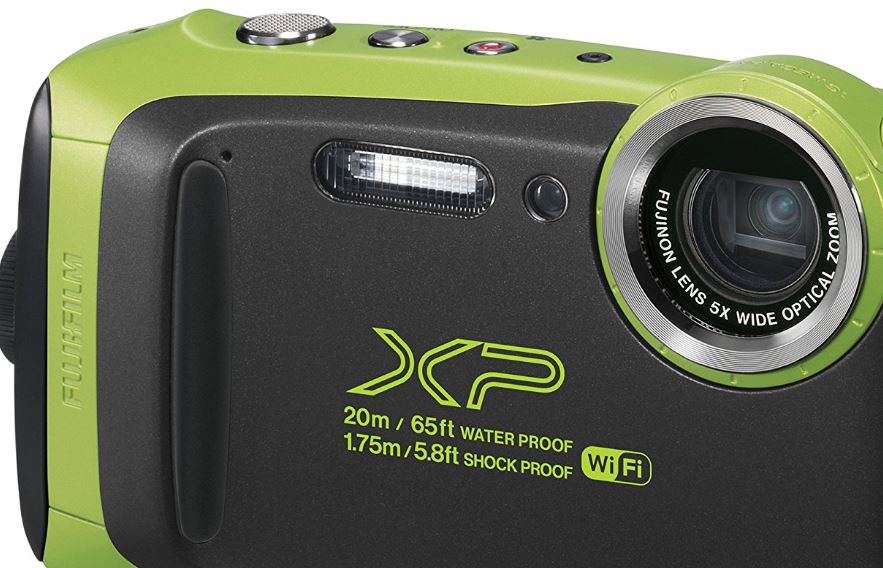 Who Should Choose the Fujifilm FinePix XP130?
The XP130 is a midrange waterproof camera. It's got a number of advanced features, and it's a steady upgrade over the XP120 that it's made to replace. The longer battery life and eye detect autofocus help keep Fujifilm's camera competitive against its competitors like Nikon. And the XP130 has many of the same things that made the XP120 great, including its best shooting modes.
It's easy to give the XP130 highest marks for portability. If you're looking for advanced exposure modes and optimal image stabilization, it's a better camera than any of its competitors. As far as price vs. performance goes, this camera is about average, especially if you end up replacing the strap or grabbing some spare batteries to offset the 240-shot limit.
Having said that, the Fujifilm FinePix XP130 is a terrible choice for sports photography and landscaping. It doesn't have the appropriate battery life, field of view, or shutter speed for those kinds of pictures. But for daily photography, street photography, portrait photography, and water photography, it's an excellent choice. Just about the only way to exceed its waterproofing will require you rent some diving equipment.
There are lots of nice things you can say about the XP130. It has a wealth of connectivity options, and it's every bit as rugged as a camera needs to be. The autofocus stays steady while you're zooming, which helps keep up the quality of your exposures. And the adaptability of this camera makes it exceptional even inside murky underwater conditions. For anyone doing underwater photography, or anyone serious about protecting their camera from the elements, the XP130 is a great choice.
Meet Derek, "TechGuru," a 34-year-old technology enthusiast with a deep passion for tech innovations. With extensive experience, he specializes in gaming hardware and software, and has expertise in gadgets, custom PCs, and audio.
Besides writing about tech and reviewing new products, Derek enjoys traveling, hiking, and photography. Committed to keeping up with the latest industry trends, he aims to guide readers in making informed tech decisions.