There's an incredible demand on the versatility of performance and ease of use for any digital camera attachment, especially those used to increase optical range. Multiplying the zoom is no easy task, however it isn't everything as a teleconverter must be easy to install and secure, durable for a wide variety of professional and hobby oriented uses.
The relative value is directly comparable to the quality of digital camera that it's paired with as effective features will complement and be in harmony each other rather than diminish and conflict with each other. One such example is the size of the digital camera lens extension and the CMOS sensor available on the camera, as it must be compatible with telephoto lenses of different sizes and at the same time provide effective auto focus and light sensitivity.
That being said, a high quality teleconverter can be extremely valuable for long range shots as it can powerfully increase the zooming range meanwhile maintaining image quality.
We're going to use these requirements as the basis for this review of the Fujinon XF2X TC WR teleconverter to provide you with a complete and accurate analysis on the qualities of performance, comfort and durability, as well as economy and appearance.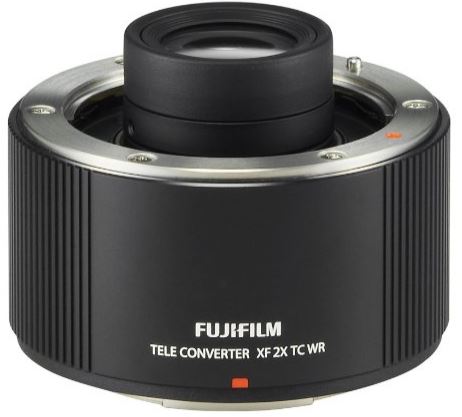 Compatible with 2 High Performance Fujifilm Telephoto Zoom Attachments
The digital camera market is a fast moving and ever evolving machine that continuously finds ways to improve older hardware and make better use of available technology. Compatibility is thus a major benefit for any teleconverter because although a quality digital camera will perform well over many years of use, you must still choose your camera and accessories well in order to get your money's worth.
The XF2X TC WR is compatible with two different telephoto zoom attachments meant for Fujifilm cameras, which include the Fujinon XF 50-140 millimeter F2.8 R LM OIS WR and the Fujinon XF 100-400 millimeter F4.5-5.6 R LM OIS WR. In layman's terms, you aren't limited to a small range of telephoto zoom attachments, with both a 50-140 and 100-400 millimeter model available to you.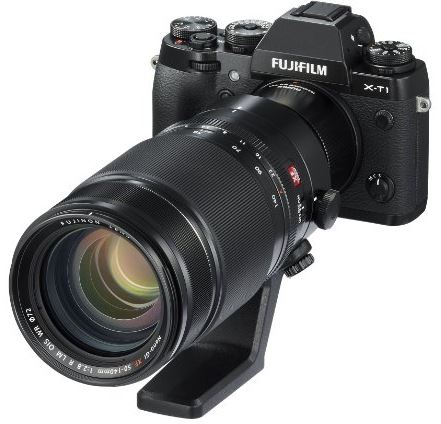 You also aren't limited to compatibility with any specific camera, as Fujifilm has designed both of these telephoto zoom attachments to be compatible with a wide range of digital cameras, as well as the lens, sensor and processor technologies within them.
We'll discuss the advanced technological capabilities of the XF2X TC WR in detail below, however it's worth mentioning that it's capable of magnifying the enhanced telephoto zoom range by two. This double magnification capability makes it a leader in its class based on high quality zoom enhancement performance alone.
9 Elements in 5 Groups for Superior Zoom Magnification and Image Quality
When comparing any digital camera there are inevitably going to be both advantages and disadvantages. Keeping up with leading competitors requires a lot of innovation and expertise, as brands like Canon and Sony have a lot of experience under their belt to make this quite a tall order.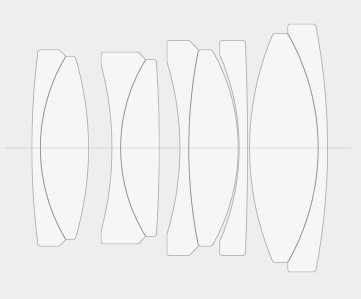 One of the areas where the Fujinon XF2X TC WR really compares well with other leading teleconverters is that it's built with nine elements in five groups, allowing it to not only work in harmony with the other lenses you're using, but also enhancing the quality.
For starters, it's optimized to work in harmony with the image quality parameters required by the original camera and telephoto zoom attachment lenses. It also eliminates any image distortion caused by the teleconverter itself, at a superb standard. This is made possible in light of the fact that teleconverters inherently reduce the aperture size, thus reducing the focusing capabilities of the camera due to lower light detection performance.
Clear, stable and fast auto focusing is achieved by the XF2X TC WR by automatically increasing the aperture by two f-stops automatically when it's mounted to your telephoto attachment, allowing the camera's sensor processor to work effectively.
Once the teleconverter is detected by your Fujifilm digital camera, it will record and analyze the required change in aperture and focal length values, thus applying the correct auto focusing procedures.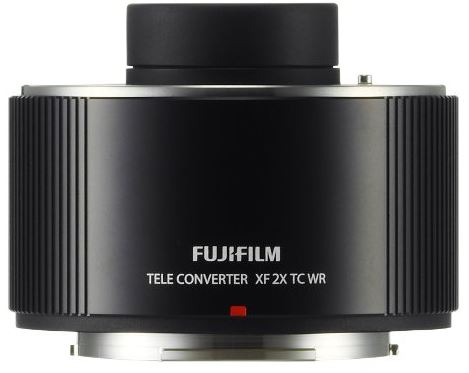 Maintains Aperture and Sensor Performance of the Digital Camera
Basic auto focusing capability is to be expected with most 1.4 times magnification teleconverters and is a nice benefit with 2 times magnification, however advanced capability is much better. Expecting magnificent and comprehensive performance even when using a digital camera's basic telephoto lens is a high demand, however the XF2X TC WR performs quite well for its class.
The Fujion XF2X TC WR is competing among a highly advanced plethora of expensive, high performance teleconverters, however it's worth noting that the optical image stabilization is in no way reduced by it. You're given full option of phase detection auto focusing when used in complement with the XF 50-140 millimeter F 2.8 R LM OIS WR, as well as contrast detection auto focusing when using the XF 100-400 millimeter F4.5-5.6 R LM OIS WR.
This is as much a compliment to Fujifilm's digital cameras that use mirrorless viewfinders capable of using interchangeable lenses, which supply image data directly from the lens to the sensor.
With an aperture range of f/22 at the lowest and f/2.8 at the highest, the automatic aperture adjustment capability is then paired with the nine element and five group design, to deliver clearer enhanced zoom images to the sensor. The sensor then uses its advanced hybrid integrated auto focus technology to provide clarity to a specific object at longer range, without requiring a deep field of view.
Weather and Dust Resistant Design and Construction
Beyond performance and ease of use, a teleconverter must be capable of enduring outdoor elements including temperature, moisture and dust, for a long and versatile life span. While the weather resistance of your entire camera setup relies on the digital camera you're using as well as the telephoto attachment, this in no way limits the XF2X TC WR's durability.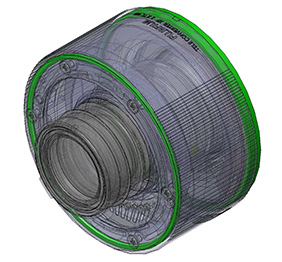 That being said, this teleconverter as well as the Fujinon XF 50-140 millimeter F2.8 R LM OIS WR and XF 100-400 millimeter F4.5-5.6 R LM OIS WR are rated for cold temperatures as low as 10 degrees Celsius. They're also weather and dust resistant for versatile outdoor use, and although they're not completely indestructible, there's an exceptional durability rating overall.
Fujifilm has two particularly durable/outdoor digital cameras called the X-T1 and X-Pro2, which are both rated for similar low temperatures and use mirrorless viewfinder technology as well as a hybrid auto focusing sensor. There are lenses and bodies available for the X-T1 and X-Pro2 digital cameras that are rated for weather endurance and low temperatures as well, providing a reliably durable system overall, depending on your shooting and economic preferences.
Overall appearance quality with compact, contemporary and easy to use design. It's obvious that much design expertise has been used to create a teleconverter with an aperture range of f/22 to f/2.8, however there is much more to be said about its construction. First and foremost, it weighs in at a single pound and measures 4 x 3.9 x 4 inches with a fixed prime lens design making it compact and stylish, complementing the design of the Fujifilm X-T1 and X-Pro2 digital cameras.
The high grade metal exterior with black finish is a credit to its ease of use and appearance qualities, as it's attached seamlessly to the telephoto attachment of your choice (out of two options). The result is a comprehensive system that looks more like one unit, as a digital camera with a moderately sized telephoto lens attached, meanwhile delivering substantial performance.
As mentioned previously, teleconverter technology is nothing like it once was, which is evident by their superior performance capabilities, sleek design and compatibility with advanced digital camera technology.
That being said, it's to be expected that it costs more than lower performing models from other brands, however when you consider the complete systems and options available to you, there are economic benefits. The availability of two sizes of telephoto lens attachments provide performance, ease of use, durability as well as economic advantages, as they're all universally compatible with the same cameras.
Having a wide range of Fujifilm digital cameras, with select cameras, bodies and lenses available for the X-T1 and X-Pro2 is a nice start, however there are other models available as well, to accommodate your economic and endurance preferences.
Final Thoughts
For the professional, the XF2X TC WR provides great economic advantages for those willing to use a complete Fujinon system, and similar advantages for regular users as well. There isn't any question as to whether or not it's worth the money in its own right, as each important quality to any teleconverter is taken into consideration in its design and accommodated for completely by Fujinon.
As far as technological advancements are concerned, there's no threat of being left in the dust as DSLR cameras are finally taking advantage of mirrorless and hybrid sensor technology for effective attachments.