High quality, stereo audio is of huge importance when you're playing your favorite video games or listening to your favorite music. But who wants to be tangled up by a bunch of wires or cords? If you're like most, you see the true benefit of investing in a wireless headset that's built to excel your gaming to the next level. One such is the Gioteck FL-400, a Bluetooth wireless gaming headset that's built with quality as a top priority – not only with the sound, but with comfort and craftsmanship as well.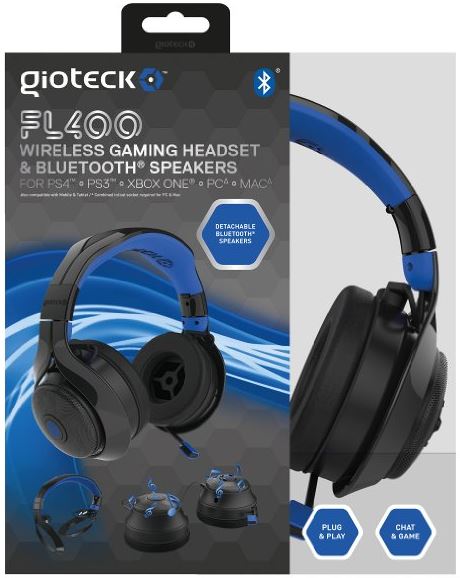 Note: At no extra cost to you, we may earn a commission for purchases using our links. Learn more.
Set to release later in 2016, the Gioteck FL-400 Wireless Bluetooth Gaming Headset provides a responsive and in-depth experience with all of your favorite video games. True wireless freedom is brought via Bluetooth technology to pair with the efficiency you need for superb battery life and range.
Level Up Your Listening
With full compatibility between consoles and platforms, you can enjoy the Gioteck FL-400 whether you prefer gaming on Playstation 4, Xbox 360, Xbox One, PC, Mac, or Tablet. Basically any Bluetooth enabled device has the ability to pair with this headset, so you aren't restricted solely to just gaming. Listening to music or movies is also insanely fun, the sound seems to provide well no matter what application you use it for.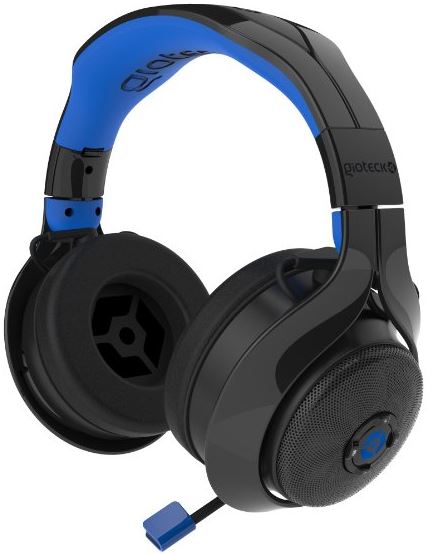 Comfort
From first glance, you'll notice that this headset may look a bit bulky. Although it's not specifically design for mobile use, it can be used however you'd like. There's an ample amount of padding around the earcups and headband to keep you cozy for hours on end. Proper soft padding is provided to assist with the fit and make sure that you don't have to take it off and readjust constantly over several hours of continuous use. Once you manually adjust them to your sizing, they'll be good to go whenever you want to put them to use.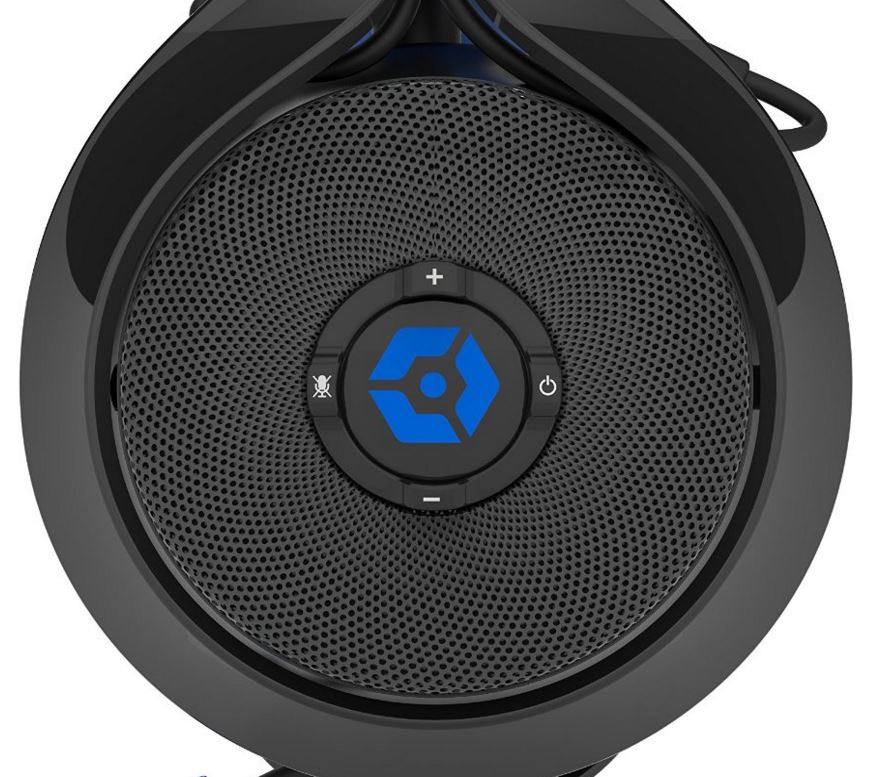 External Speakers
One very unique thing about the Gioteck FL-400 Wireless Bluetooth Gaming Headset is the ability it has to turn into a set of wireless Bluetooth speakers. The earcups are completely detachable so you can utilize the speakers as external speakers – perfect for a group setting or when you don't want to wear them, but you still want to enjoy full high fidelity audio. Each earcup becomes detached from the headband and they connect together with a single wire. When you're done using them as a set of speakers, assembling the headset back together takes only a few seconds. Simply place each earcup back to it's appropriate position and plug in the auxiliary wire.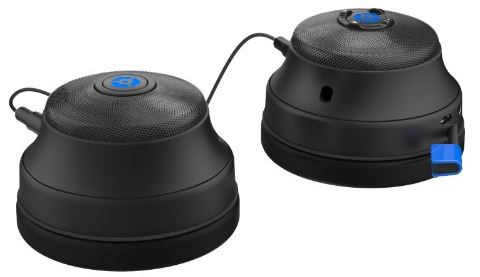 Microphone
The truth of the matter is, the FL-400 wouldn't be a true headset if it didn't have an integrated microphone. This mic utilizes the latest in noise cancelling technology to deliver crisp sound to whoever you're speaking to over it. It doesn't stick out too far or get in the way. The low profile design of the mic will keep your gaming enjoyment at the highest level while providing all you need for top of the line communication with your team or allies via voice chat.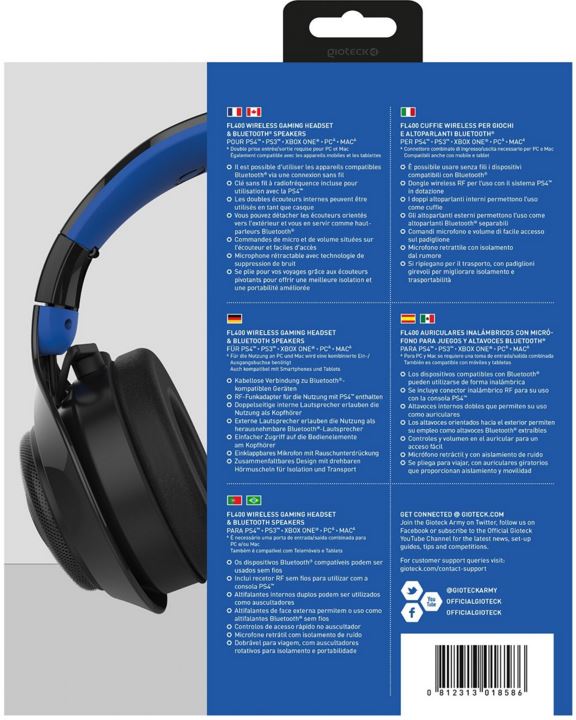 Controls
Functionality is a top priority for many, and it's the reason why Gioteck placed on-ear controls for plenty ease of use when you're in the heat of the battle. Located on the side are a few functionality buttons that play/pause, mute, or skip tracks. You can even adjust the volume of both the mic and the speakers if need be. There's also a small LED indicator that gives you insight in regards to the remaining power so you won't be in the middle of a game or match, only to have your headset die and become completely nonfunctional.
What's Included?
Gioteck has been in the gaming industry for several years now and have been well known for creating some of the most fantastic, cutting edge gaming related accessories available. From chairs to cables, to controllers and headsets, they seem to know what they're doing. Since the FL-400 can be used among several different platforms and consoles, Gioteck has included the FR wireless dongle to use with PS4, but they've also included the chat cable that's necessary to use with the Xbox One Console. It's nice to see that these accessories are included and they don't need to be purchased additionally to the headset.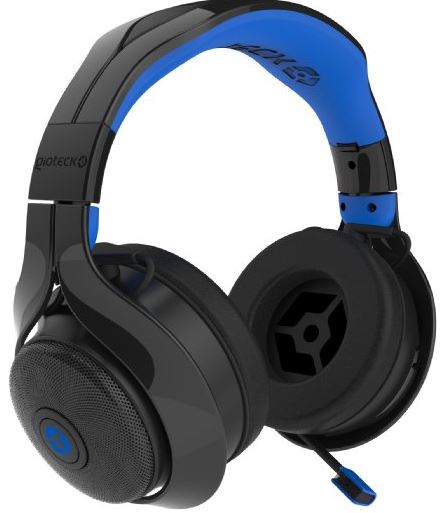 Final Thoughts
Playing your favorite video games with next level sound is essential if you want the most from your PC, console, or tablet. Gioteck has engineered and built the FL-400 Bluetooth Wireless Gaming Headset in order to combine all the next level features for a complete, all in one headset that's built with utmost quality in mind. With the ability to be used on multiple platforms and give you total wireless freedom via Bluetooth, the FL-400 is a smart investment for most gamers. Additionally, it can be used as a set of Bluetooth speakers so you can enjoy your music and gaming sound externally with everyone that's around you. Overall, it seems to be made with everything most could ever want in a headset. We're extremley excited for it's release in March 2016, and we've already Pre-Ordered the Gioteck FL-400 from Amazon.com so we're first in line to receive ours.
Note: At no extra cost to you, we may earn a commission for purchases using our links. Learn more.