Smart thermostats are becoming very popular in today's world since they ensure a comfortable environment in just about any home. However, it's important to understand this technology before using it so that you get the most benefit out of it.
When you use a regular thermostat, you use the control panel to set the temperature in your home. With a smart thermostat, it learns your preferences and behaviors so that you don't have to constantly change the temperature manually.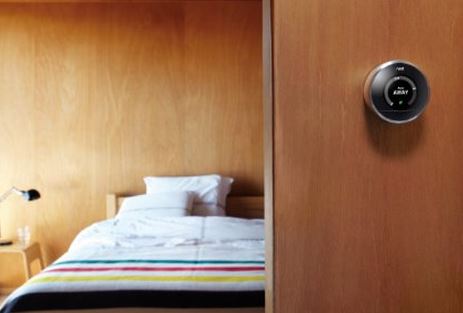 Since they use Wi-Fi technology, you'll also get other information and capabilities:
Remotely control your home's climate so that once you return home, your home is comfortable for you.
Due to humidity and other ambient conditions, the thermostat can self-adjust to ensure optimal comfort and temperature control.
Acquire real-time information about how much energy you are consuming in your home.
A Wi-Fi smart thermostat helps you better control energy consumption without keeping your home at an uncomfortable temperature. For example, you can turn down the air conditioning before leaving the house in the summer and then remotely turn it back up before leaving work, so that your home is comfortable once you arrive. You can do the same thing with heat during the winter months or during cold spells. The remote operation feature entailed with a smart thermostat is generally something that you can control from most modern smartphones after downloading the associated app.
Additionally, you can also get information about what you're spending to cool or heat your home. This allows you to make the right adjustments to control your utility costs while also reducing your carbon footprint.
While all Wi-Fi smart thermostats have the same basic functions and features, all of them differ in some way. Because of this, you'll want to learn more about the ones available so you can choose the one that's best for your home heating and cooling needs.
Nest Learning Thermostat – 3rd Generation
The Nest Learning Thermostat 3rd Generation is a user-friendly Wi-Fi smart thermostat that allows for remote control from any tablet, computer, or smartphone device. It automatically shuts itself down when you're not home to ensure optimal energy savings, and allows for interior temperature comfort by remembering the temperatures that people use most and ensuring to maintain these temperatures all throughout the home.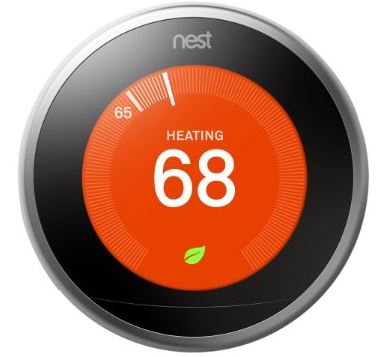 This thermostat is approximately 6.5 square inches, making it small, but the screen is large enough for most people to read easily. It comes with a Lithium metal battery for an incredibly long battery life, with any easy to use, fully digital display. Additionally, it's composed of stainless steel to ensure a solid, sturdy, and attractive appearance that can easily last decades.
The 3rd generation Nest Learning Thermostat goes the extra mile and ensures optimal security even though it's constantly connected to your Wi-Fi network. Using encryption, Nest easily prevents people from being able to hack into the system and make changes that you don't authorize. You can also prevent other people, such as curious children, from making changes because you can set a PIN. With this PIN, you have to type it in before you can make any changes.
Please keep in mind that this thermostat is not compatible with all heating and cooling systems, so those considering it should use the compatibility widget to make sure that it can be installed with their system before buying. Overall, Nest is relatively easy to install – even those with basic thermostat knowledge are usually able to install it in less than an hour.
Honeywell TH9320WF5003 Wi-Fi 9000 Color Touchscreen Thermostat
The Honeywell TH9320WF5003 Wi-Fi 9000 Color Touchscreen Thermostat allows you to completely control your home thermostat from just about any tablet, smartphone or computer.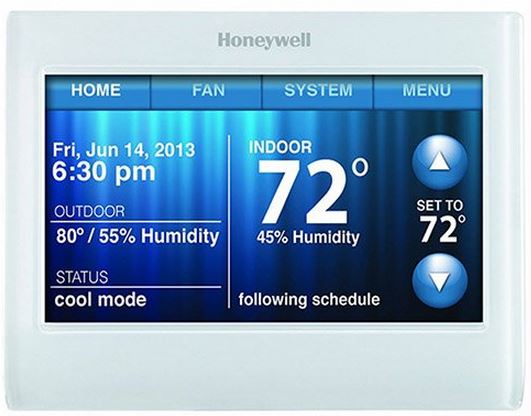 Features
Your home Wi-Fi network connects you to this thermostat.
Via Wi-Fi, you get automatic software updates.
The color of the screen can be adjusted to match the décor scheme of your home.
You can heat your home from 40 degrees Fahrenheit to 90 degrees Fahrenheit, whereas the cooling range is 50 degrees Fahrenheit to 99 degrees Fahrenheit. It has a supply voltage and electrical rating of 18 to 30 Vac, and an easy to use display screen that can be operated in French, Spanish or English for multilingual of use.
The Honeywell TH9320WF5003 is a basic Wi-Fi thermostat with a good temperature range and a variety of ways to control it remotely. It allows for both manual and auto changeover and has a frequency of 50 and 60 Hz which is typical. The display is approximately eight square inches, making it smaller in size, but not too small or too large. Since this thermostat does use significant technology, please keep in mind that some people will need a professional to install it properly.
Ecobee3 Wi-Fi Thermostat with Remote Sensor
The Ecobee3 Wi-Fi Thermostat allows for a constant temperature throughout all rooms in your home because it reads the temperature throughout the house. This prevents uneven heating throughout your interior, ultimately saving money by learning your preferred automated settings.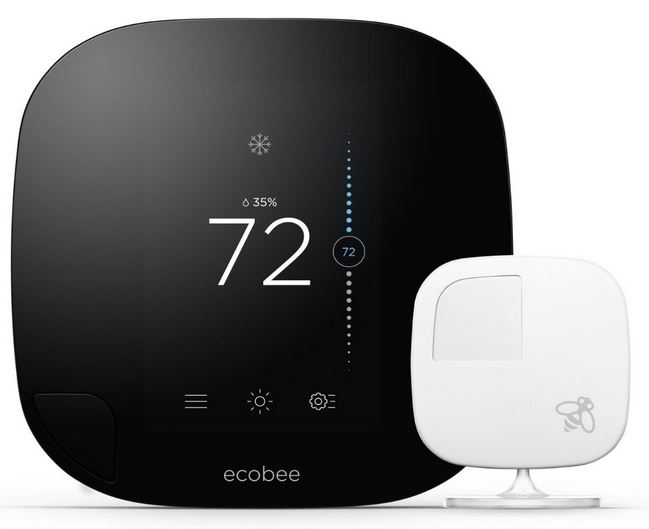 Features
Only turns on air conditioner and heat when the home requires it.
Allows for remote monitoring of the system via tablets, smartphones or computers.
Users can create a schedule with it for home temperature needs.
If something is not working correctly, it sends users reminders and alerts so that the problem can be immediately fixed.
Provides information on the local weather with a 5-day forecast.
The Ecobee3 Wi-Fi Thermostat is approximately four square inches, so it doesn't take up a lot of wall space. Users can program it for up to seven days for easy use that will always function as expected. It's universally compatible with modern heating and cooling systems. Additionally, this thermostate comes included with options like vacation mode so you can save on energy costs when you're not home, plus it automatically updates for Daylight Savings Time.
The one thing homeowners should know is that if their existing HVAC is not compatible with this thermostat, they may need to pay a professional to come and install it for them. This is due to most modern HVAC systems not needing or having a C wire component. With the exception of this, the Ecobee3 Wi-Fi Thermostat is generally easy to use as it allows for optimal temperature control of any home.
Overall Thoughts
A smart thermostat can bring a new edge to living smart and comfortably by optimizing your heat and cooling system to operate as well as possible. In time, it will learn and adapt to changes in the climate, ultimately making a much more comfortable interior to any home or office.