When it comes to tech, it seems as if we're always battling against one specific problem: battery life. Sure, the performance of our phones, tablets, and laptops is always improving. But it seems as if battery life is leveled out. Vendors are leveraging their batteries against the requirements of the average user, so if you need more power than the average person it can seem like you're always fighting an uphill battle.
Fortunately, there is a solution. With the batteries built into our phones, manufacturers are restricted by space. But Lithium technology has come a long way in the past few years. If you're willing to carry around an additional battery, you can often quadruple your battery life. We've already taken a look at the few of these external batteries, which range in performance from "meh" to "wow!" We had the opportunity to try out a new portable battery by a company called Goal Zero – a vendor that specializes in high capacity backup systems for emergency situations.
The Venture 700 is one of their first portable chargers. Let's go hands on and find out if this compact little battery is right for you.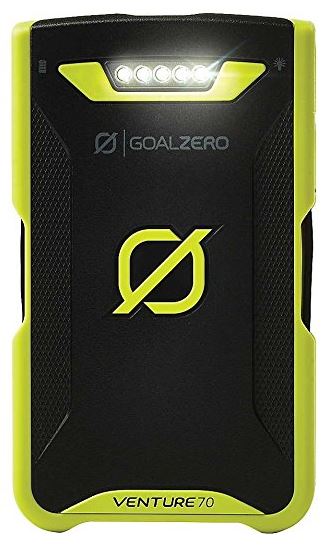 First Look
The Venture 70 Charger is a small, ruggedized handheld battery. It's roughly the same form factor as a standard cellphone, although a little thicker. It seems like the kind of thing you'd bring with you camping, thanks to that high-tech, military-grade look to it. It has a 19,200 mAh Lithium Ion battery, which is enough to charge most phones several times. Let's go in-depth and see how it performs.
What's in The Box
When you open up the box, you'll find a few treats. Aside from the battery itself and a quick start manual, Goal Zero includes a pair of USB cables. One is the cable to charge the battery itself, while the other is a Micro-USB you can use to charge your phone. Goal Zero does offer a supplementary Lightening charger for Apple users, but you can actually just use any basic lightening cable you have laying around. This battery is compatible with standard USB chargers, so there is no sense in buying a special one.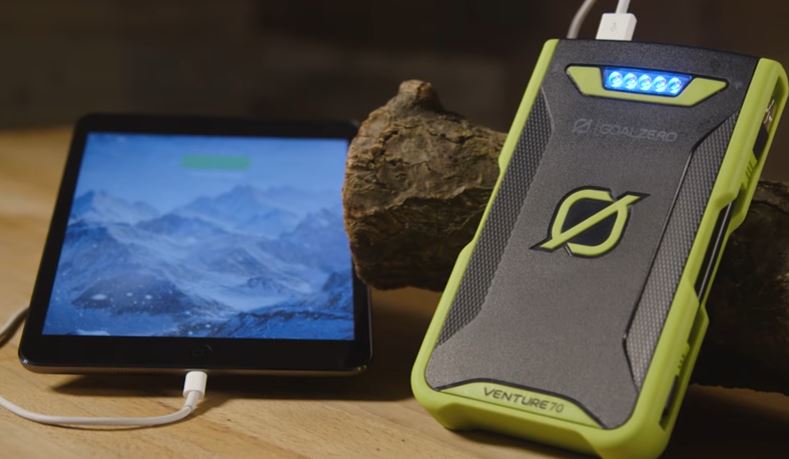 Design
From the moment you hold it in your hand, you'll be able to tell that this is a little better than your average portable battery. It's got a stylized plastic enclosure which is quite a bit thicker than your average model, and comes with all of the edges wrapped in a lime green rubber. Goal Zero's stylized logo is screen printed in lime green in the center of the case, and there is a strip of LED lights above it. These lights are your charge indicator. Just hit the button on the side, and they're light up to give you a bar graph of the current charge levels. Each light represents 20% of the total capacity, and the leftmost light will blink to indicate below 10% of capacity.
On the front of the battery you'll find your two USB ports. These are covered by sealed rubber port covers, which allows the battery to be used in all weather conditions. Overall, the design is quite simple, but highly effective.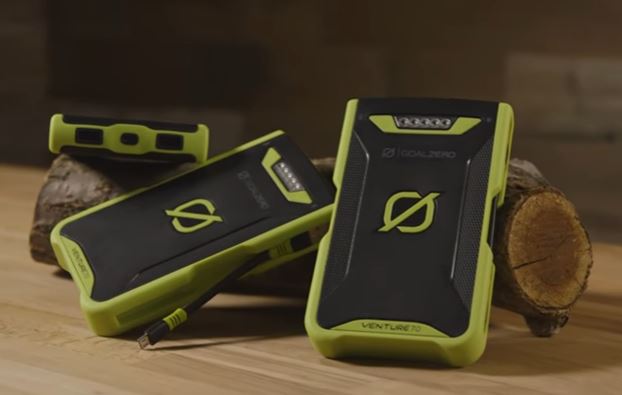 Durability
This is one of the areas where the Venture 70 really excels. Most portable batteries are durable enough to throw into your backpack before a long commute, but this one is durable enough for even the most aggressive outdoor adventure. It was independently verified to be IP67 rated. This is one of the highest standards of durability, and proves that the battery is safe to be used in dusty or wet conditions. You could even throw it into the bottom of a pool for several hours, and it would still be fine when you pulled it out. Thanks to the large rubber bumpers around the side, it can sustain drops over far distances onto hard ground.
One thing that's worth noting is that the IPX rating is only valid when the battery is sealed. This means that you need to have the USB ports covered. When it's plugged in and charging something, it's not water proof. With this in mind, the waterproofing is great for when you're carrying it around, but not for when it's in use. This makes sense, as the phones we're charging are rarely waterproof anyway.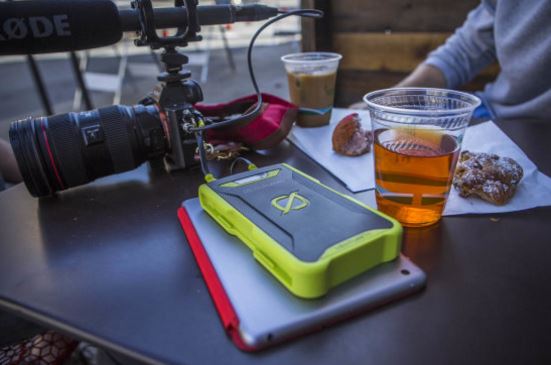 Capacity
With a total capacity of 19,200 mAh, this is one of the highest capacity portable batteries we've tested. What amazes us is the fact that it's still only the same size as most portable battery packs. Part of this is due to the technology that Goal Zero uses. They're used to making high capacity batteries that can run some of the most demanding components in your home. While this is a much more portable model, it still uses the same high density battery technology that Goal Zero has become known for.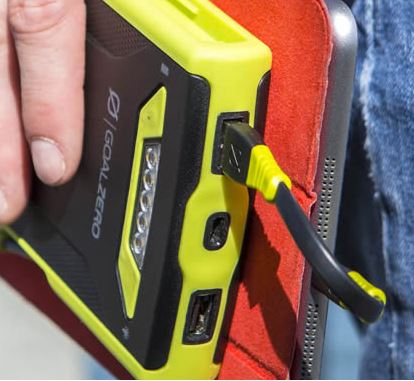 How long can a 19,200 mAh battery last? This depends on your phone. The Samsung S7, for example, has an extremely high capacity battery at 3,000 mAh. There is some minor loss in the circuit (about 10%) but this would give you about 5 and a half charges. The iPhone 6S, on the other hand, only holds 1715 mAh of battery capacity. For this phone, you'd get 10 full charges.
Another thing to consider is the self-discharge rate. Every single battery, no matter the type, loses some of it's charge over time. This means that if you take a typical lithium ion battery, charge it up, and throw it on the shelf for a month, it will have lost some of the power over the time it was sitting there. Goal Zero has a very slow self-discharge rate, approaching a full year. For this application, this is one of the few batteries that you can leave in your drawer until you need it.
For most uses, this portable battery should give your cellphone a full week of battery on a single charge. Whether you're planning an extended camping trip or just want to make sure that you never run low, this is a great option.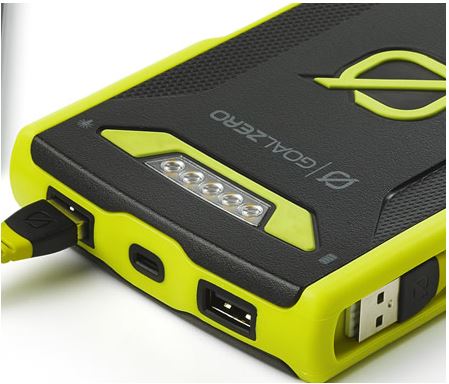 Charging
One of the most frustrating things we've encountered with some entry level solar charge controllers is their slow charging ports. Most modern smartphones use turbo chargers, which take advantage of increased charging current to get your batteries up to capacity faster.
This particular battery has dual 2.4A chargers, which is fully TurboCharge compatible. Our Samsung S7 is charging at the same rate as it does with the stock charger, so we're very happy with the performance.
Charging the battery itself is a bit of a longer process, since there is such a high capacity. It takes about 12 hours to get a full charge, so you're best off leaving it overnight when it's totally dead. That being said, Goal Zero does give you a number of options to charge it. You can use their own solar panels, which connect to a designated port on the top of the battery. This power back has a built in solar charge controller, so it can effectively convert natural light to a source of free power.
Disadvantages
There are a lot of things we love about this portable battery, but it's not going to be for everyone. If you're just looking for something that can sit on your desk or in your car and recharge your phone from time to time, there is no sense in paying for the durability this model offers. If you're looking strictly at battery capacity to price ratio, you will pay a little more for this model. You'll have to decide for yourself if the additional cost is warranted.
Final Verdict
There are a lot of things we liked about the Goal Zero Venture 70. It's one of the highest capacity chargers we've tested, and comes in an extremely durable case. This is something we'd recommend to any outdoor enthusiast. Whether you find yourself in rain, sleet, or snow, this handy charge isn't going to let you down in any condition.
One of the main selling points of this recharger is the ability to connect it directly to solar panels. The built in charge controller is extremely efficient, so you'll get a lot more power out of this model than you will a similar solar-only recharger. We'd definitely recommend checking out the Goal Zero Nomad 7 Plus, which is a must-have accessory for this battery.
Is the price a little out of your range? If you don't need the durability, there are many more options available for you. Checkout our round up of the best External Battery Pack Chargers. No matter which model you finally decide on, you'll be reassured that you'll never have your phone die on you again.