The wearables marketplace is certainly very interesting to follow. Even though the first smart watches only hit the market a few years ago, we've really come a long way since then. What used to be simple, stripped down versions of the smartphones we already had is now an advanced tool that does things your smartphone couldn't even dream of.
With cellphones, you've got two choices: Apple or Android. Consumers expected to see the same choices with wearables. But Garmin threw a wrench into their plans. Their custom operating system has proven itself to be much more reliable, powerful, and efficient than anything else on the market. While a number of their watches are designed for fitness buffs, the Fenix 5X finds a bit of a middle ground. It's not that they removed any of the powerful fitness features. Don't worry, they're all still there. But they added features that make this watch a fantastic daily wearable, hoping to see it crowned the king of smartwatches. But how does it perform in the real world? We went hands-on to find out.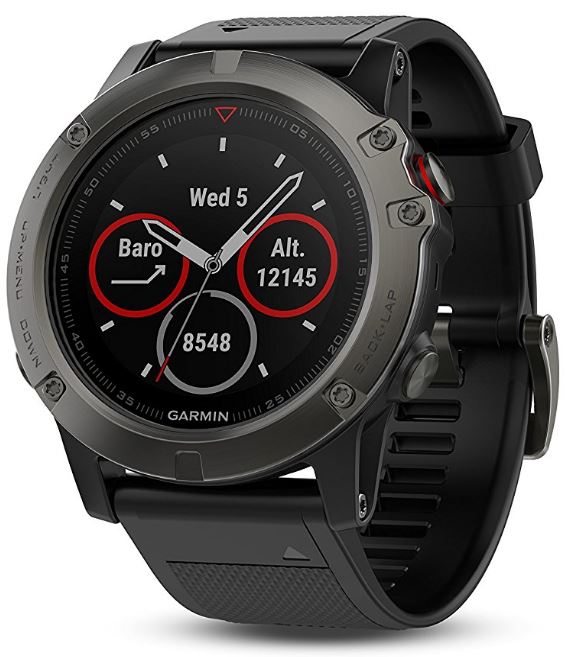 First Look
The Garmin Fenix 5X is one attractive looking smartwatch. What we like most about it is that it looks very much like a regular watch. The rubber band and metal exterior give it a premium feel, and the minimalist design of the operating system makes it very easy to use. There are several buttons around the edges of the smart watch, and it's made primarily from fiber composite which is very lightweight and durable. Some of the main features of this watch are geared towards fitness enthusiasts, and you're buying into a very powerful and high end system. That being said, it still has a number of communication protocols (such as WiFi and GPS) and applications designed for communication. As we mentioned, this was designed to be something you'd wear daily, so very few stones were left unturned.
Design & Durability
Although the same basic design was kept consistent with the previous model, there are a few key differences. Most of these differences were done in order to make the watch more accurate and durable, but they still add a bit of a visual update.
The first thing you'll notice is the new band. At first, we weren't too fond of it. It's just a plain rubber band, and doesn't have the textured feel of the Fenix 5. But once we put it on we realized that the new band was much more comfortable – something that is key for a watch you plan to wear all the time.
The fiber composite enclosure feels just like ordinary metal, but it can withstand a lot more use and abuse than steel. It feels extremely solid in the hand, and has a very tough, utilitarian look to it. We really liked the physical buttons for navigation, which can be used in conjunction with the touchscreen for an easy to use device.
We also noticed that the heart rate monitor was raised up a little bit from the rear, which is supposed to make it more accurate. But we'll test this shortly.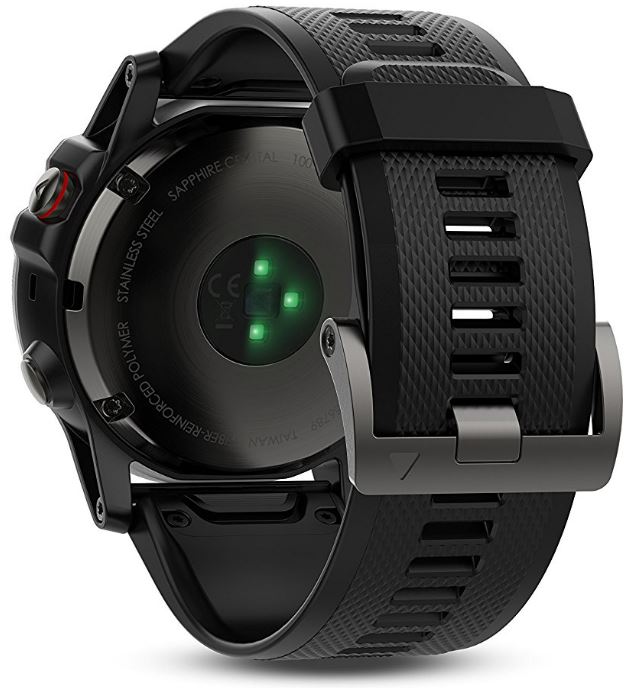 Software
We really liked the high-contrast menus of Garmin's operating system. They are extremely easy to read, even in bright sunlight. When it's 'sleeping,' the watch shows you the time. One tap on any of the side buttons and the menu will come up. The menu has a very heavy focus on fitness. You're given a list of task such as run, bike, run indoor, and so on. You can scroll through the menu by scrolling the display with your finger, and each different activity has its own custom menu.
Additional functionality is offered through widgets. You can swipe through the widgets using your finger when you are on the clock screen, or tap the button in the center of the left side. You can check your email, browse Facebook, or see if you have any notifications. Generally, the order is set however you like. But if one of your widgets has a new notification, you'll see that first. This is extremely handy. Just one swipe of the finger and you'll see what's new. If nothing new has happened, you can just keep scrolling to activate the application you like.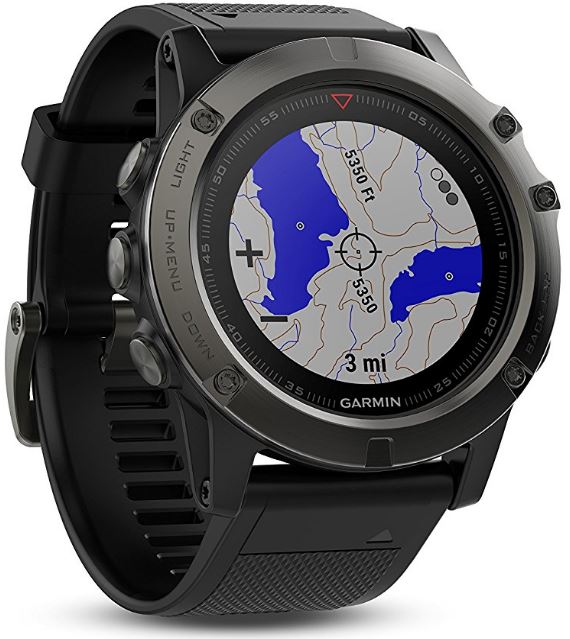 Fitness
If you're looking for a watch that helps keep you healthy, then you'll be very happy with the Fenix 5. Garmin's line of smart watches is one of the only ones on the market that puts high quality fitness equipment first, as it's usually an afterthought for most manufacturers. This is best exemplified with the connectivity standards. The Fenix 5 has both Bluetooth and ANT+. ANT+ is a communication protocol used by high end heart rate monitors, blood oxygen monitors, and tons of other great fitness equipment. The protocol was specially designed for athletes, and is much better for this application. Today, most external wearables communicate over the ANT+ protocol. It's rare to find a watch that has both protocols. This means that you can pick and choose what accessories you want, and you won't be limited by your watch.
The fitness applications are also much more advanced than your average watch. They're designed to act more like a personal trainer. They track your heart rate, steps taken, and countless other metrics at all times. After you're done your workout, they crunch the numbers and tell you how you did. You'll get pointers on how to improve, and your successes will be highlighted.
The watch can help you track your progress and set goals. Unlike many other smart watches, these objectives aren't pre-configured. They're algorithmically determined based on your previous progress. You're not setting yourself up for failure with unobtainable goals, but giving yourself actionable objectives that help you improve your workouts.
Navigation
Many smart watches have GPS built in for one purpose or another, but rarely is it as powerful as what's found in this watch. The actual sensors themselves are accurate down to a range of one meter, and the software has been heavily customized for both foot and vehicle traffic. You can input your destinations using voice commands, and the watch will automatically detect whether you're walking, riding a bike, or driving. It will then give you spoken directions on how to get there. Think of google maps on steroids.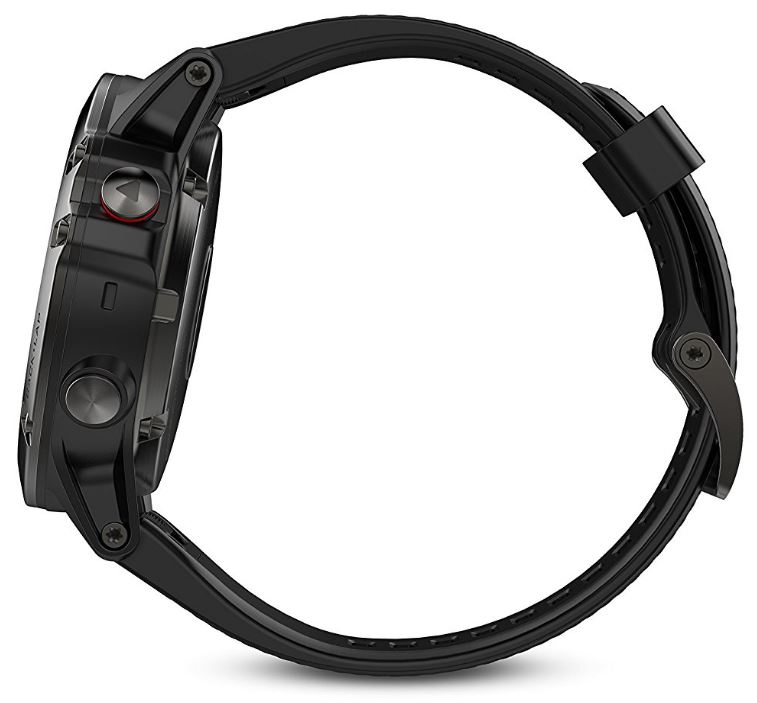 Battery Life
Garmin has a couple unique tricks up its sleeve that allowed them to improve the battery life to very high levels. The watch has a dual mode display. When you are interacting with it, it's extremely bright and easy to see. When it's just showing the time, the screen dims and uses your environmental light to keep it illuminated. This works just as well as any other digital watch, so it's easy to read. But the end result is that the battery lasts a full two weeks in watch mode. If you're using it a lot, you can get as little as 24 hours with everything turned on, but this usually only happens when you're tracking a workout or physically using it. Even if you're using your watch every waking moment of the day, you'll still get at least 1.5 days before having to throw it on the charger.
Disadvantages
Despite the fact that this watch is promoted as being something you can use every day, it's still a bit of a niche product. If you're just looking to change up your Spotify playlist or check your Facebook notifications, there are better options out there. This watch has a ton of powerful fitness related hardware, and you're paying a premium for that. For this reason, we can only justify the high cost to users who plan to take advantage of everything this watch has to offer.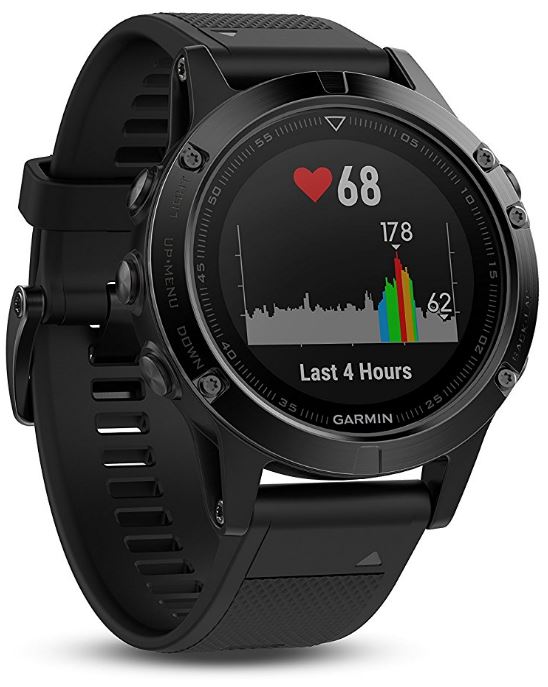 Final Verdict
The Garmin Fenix 5X truly is one of the most powerful fitness wearables on the market. It's nice to look at, and virtually indestructible. Although there is a touch screen present, every single feature of the watch can be accessed using the large buttons on the side. If you've ever tried to operate a smartphone with biking gloves on, you'll be grateful for this feature.
We could talk about the features of this watch for hours, but what we liked about it really boils down to one thing: it's well thought out. The Fenix 5X is several generations into Garmin's unique wearables line, and it's abundantly clear that they've had time to hone their craft. Would we necessarily recommend that you upgrade from the 5 to the 5X? Probably not, as this is simply an improved version of one of the most well reviewed watches on the market. But if you're looking for a fitness wearable that absolutely destroys anything else you've used, we'd highly recommend considering the Fenix 5X.
Meet Derek, "TechGuru," a 34-year-old technology enthusiast with a deep passion for tech innovations. With extensive experience, he specializes in gaming hardware and software, and has expertise in gadgets, custom PCs, and audio.
Besides writing about tech and reviewing new products, Derek enjoys traveling, hiking, and photography. Committed to keeping up with the latest industry trends, he aims to guide readers in making informed tech decisions.