The Amazon Echo is a pretty impressive little device. When we first tried it out for ourselves, we had one of those "why didn't I think of that?" moments.
Internally, there isn't much there. A little computer, a microphone, and a speaker. But it's the way these components are integrated that really make it a powerful system. All it takes is a simple utterance.
"Echo", you say, nonchalantly.
From this moment, you've got a voice activated connection to the internet. Ask about the weather. Queue up your favorite Spotify playlist. Set an alarm for work the next day. Start a new audio book.
It doesn't matter whether you're looking to control every aspect of your smart home, or make a little digital note. The Amazon Echo is there for you. It's the one interface we've been dreaming of ever since the 80's. It's one of those things that, as soon as you use it, you think to yourself: "this is the future".
If it isn't obvious already, we love the Amazon Echo. But there is one thing that we don't love about it. It has to be plugged in. All the friggin' time.
I'm sure that Amazons shareholders would love it if you purchased a different Echo for every room. But we like to save money. With a battery case, you can make your Echo portable, and carry it around with you from room to room. But you can't just pick up any battery case. You need one built to a high standard, so that you don't run into any issues.
What, exactly, should you be looking for? Today, we'll be taking a look at the three best Amazon Echo Battery Cases. We'll help you understand the differences between them, and show you how this one little device can save you buckets of money.
Mission Cables Portable Battery Base
Mission Cables has a large range of simple accessories. In a way, it seems as if their relationship with the Echo was meant to be. Just as the Echo is a simple piece of hardware with a ton of advanced functionality, the simple, functional accessories that Mission makes drastically improve the functionality of the hardware it's designed to work with.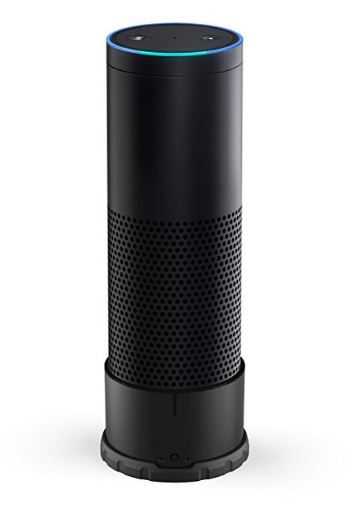 Design
If you weren't already familiar with the Echo, you might not even notice that there was a battery base installed. The Mission Cables Portable Battery Base raises the Echo up a few inches, and adds what looks to be like a durable stand. There is a soft silicone pad attached to the bottom, which is ideal for anyone who was worried about the hard-plastic of the Echo scratching the surface of their high-end furniture. The silicone base is gently tapered at the top and has several grooves in the side, giving it a very rigid appearance.
Above the silicone pad, you've got a large cylindrical section. The echo slides about halfway down it. This helps to hold it securely, and keeps the large speaker grills of the echo exposed. On the face, you'll see two LED lights and a button. The left LED lights up when the battery is low, and the right one lights up when the case is currently charging. The button in the center turns your Alexa on or off when in battery mode. When it's plugged in, the Alexa is always on.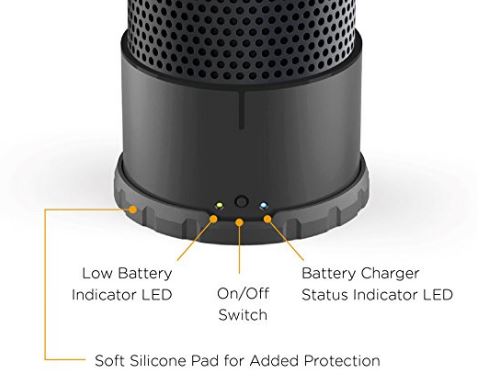 There are two different colors available. You can choose from a black or a white model. These color options are matched identically to the colors that the Echo is sold in, so using it makes it appear like a part of the echo, rather than an accessory.
Overall, the appearance of this battery base is very simple, but there isn't really much else that you need.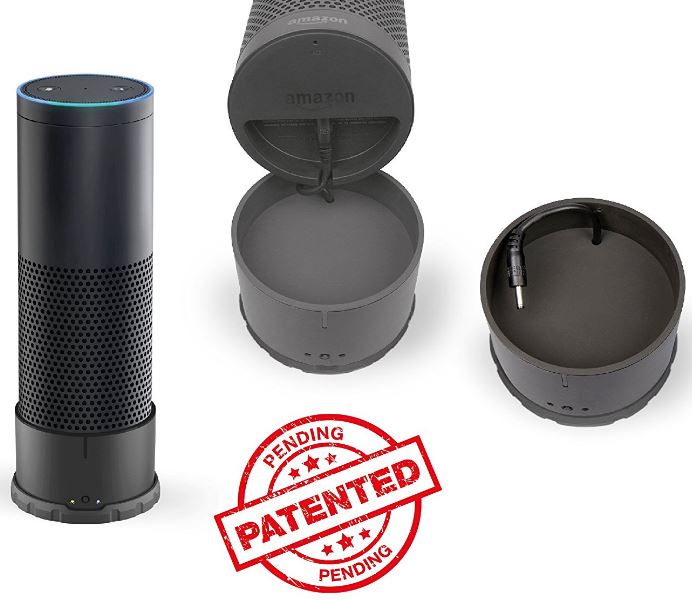 Functionality
Getting Mission Cable's Portable Battery Base up and running is incredibly easy. First, you disconnect the power from your echo. Then, you place the echo in the battery base. You then plug the Echo's power supply into the battery base. That's it. The battery base feeds power to the Echo, and you can charge it from the wall whenever needed.
The Echo is designed to be "always on." As long as you've got the power connected, this remains true. However, when you are running only off the battery supply, you do have the ability to turn the Echo on or off. This is ideal when you're transporting it and don't intend to use it. After all, battery life is finite, so this is a good way to conserve it.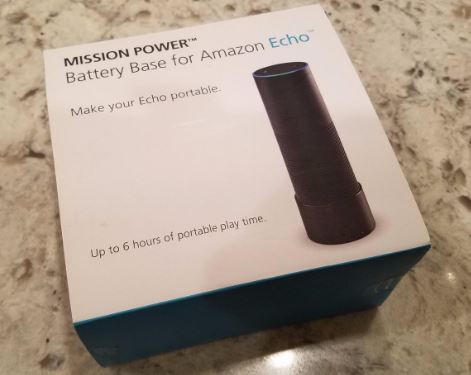 Battery Life
This battery base provides you with a total of 6 hours of playback time. "Playback" is the key word. If you're streaming music through the Echo's built in speaker, then yes, the battery will only last 6 hours. But if you're streaming to a Bluetooth speaker, the battery is only drained while the Echo is waiting for a command (with the blue ring lit up) or responding to a request. If you use it a few times every hour, you can easily go several days on a single charge.
Smatree AE9000
Smatree is a company that makes simple, yet highly functional accessories for popular products. They've got special adapters for your GoPro, carrying cases for your favorite gaming consoles, and rechargeable batteries for many popular peripherals. With their track record, it only makes sense that they'd create a battery stand of their own for the popular echo.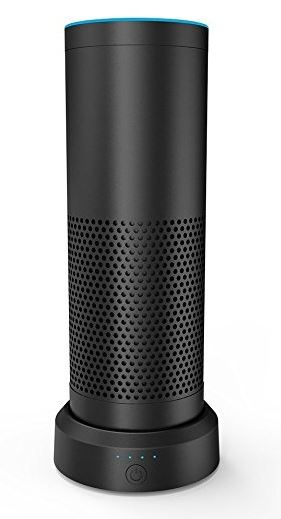 Design
The design of the Smatree AE9000 is a little more obvious than some. The base is slightly wider than the Echo itself, making it come across with a pillar-type design. There are only two main components on the front. You've got a large button, and a set of LED lights above it. When running, the LED lights act as a battery indicator. There are five in total, so each light represents 20% of the batteries capacity. The LEDs are very bright and Blue, and they have a very apple-esque feel to them. This definitely gives the battery base a premium look.
The button below it, as you'd expect. Turns the battery base on or off. The battery base comes in either black and white, and is one of the most compact options on the market.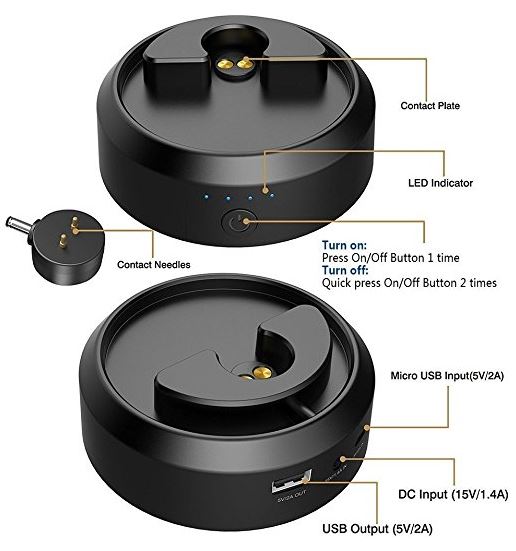 Functionality
The core functionality is pretty straightforward. Plug the charger into the battery stand, then set your Echo on top. But there are a few additional features that make this a handy little unit to have. There is a USB port on the side, which allows it to charge your cellphones, or other USB powered peripherals. This USB port is capable of putting out 5V at 2A, making it compatible with most Turbo chargers.
But it also works in reverse. Yes, you can use the Echo's standard charger. But you can also plug in any Micro-USB charger and juice it up that way. This is handy to have because literally everyone has a Micro USB charger kicking around. In today's modern economy, proprietary connectors are considered nothing more than a money-grab (we're looking at you, Microsoft Surface) and having the ability to standardize them is incredibly useful.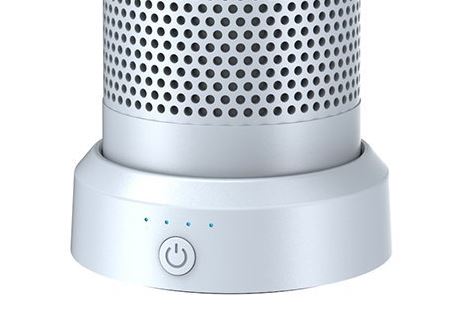 Battery Life
The vendor advertises 4 to 8 hours of battery life, but this really depends on your usage. We were getting about 4 hours of actual music playback at a moderate volume, and often around a full day of use when we were simply leaving our echo on standby. This use will be diminished if you use it to charge your phone, so if that is a major feature for you, you may want to consider the upgraded model.
Smatree AE18000
The earlier model is a great entry point into the Battery Base marketplace, but this upgraded model has a few key benefits that might be worth considering.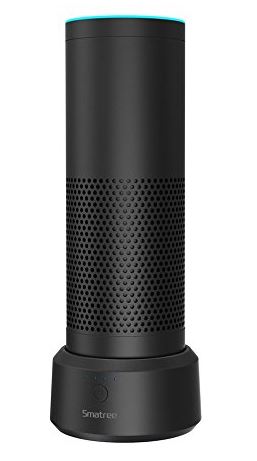 Design
In many ways, the Smatree AE18000 looks the same as the entry level model. It's got the same pillar shape, the same tapered edges, and the same ultra-stylish battery indicator. However, they've added a second taper to the bottom, and increased the height of the base. This added height is used to increase the battery capacity.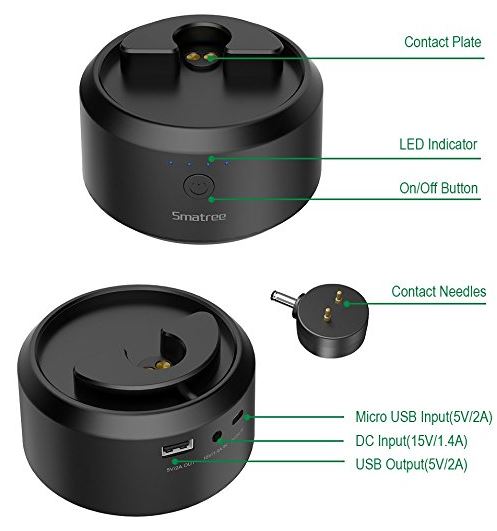 Functionality
One of the added benefits of this model is the smart charging circuit. If you're using it to charge both the battery as well as the phone, the integrated circuit will pull additional power from the wall to charge both devices at high speed. With the previous model, if you have a phone plugged in it will take a little longer to charge them.
Beyond that, you get the same functionality as the previous model. This means that you have two sources to charge it from (the echo's included charge as well as a Micro-USB) and you can also use the port to charge your phone.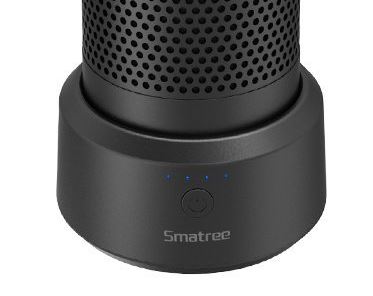 Battery Life
This is the main advantage to getting the higher end model. This model has a 66 watt hour battery, which works out to be about 18,000 mAh. You get 8 hours of straight listening time, and 14 hours of voice control. In our tests, the actual battery life will be much longer. Since the echo is in standby mode most of the time and barely consuming power, you'll be able to generally go a full day without having to charge it.
Which Amazon Echo Battery Base is Right for Me?
We've shown you several great options to choose from, so now it's time to narrow down your choices a little bit. The first question you need to ask yourself is "how do I intend to use this?"
If the Echo is going to mostly be plugged into wall power, but you're just looking for the ability to use it outside occasionally, the Mission Cables Portable Battery Base is a great choice. This base has a rubberized bottom, which makes it quite a bit more durable than the stock Echo. We'd recommend this for anyone who's going to use it outside, whether it's for your backyard BBQ or a relaxing night in the hot tub.
If you're looking for an ultra-high capacity base that adds additional functionality to your Echo, look no further than the Smatree AE18000. This battery base has enough capacity to play your tunes during every waking hours of the day, and you can even charge your phone while you're at it. It also gives you the ability to charge through a Micro-USB port, so you're not restricted to using the stock Echo charger.
If you like these features but don't need quite as much power, you can save a bit of money with the Smatree AE9000. This battery bank is nearly identical to the AE18000 model, although it is a little more compact and has a smaller battery.
Do you find that neither of these battery bases meet your needs? It's possible that you might need a little extra juice if you're looking to go several days at a time in between charges. In this case, consider adding a Portable Power Bank to the mix. Our review rounded up the three best models, and their USB charging ports can be used with the Smatree battery bases to extend the capacity beyond what was originally possible.
Meet Derek, "TechGuru," a 34-year-old technology enthusiast with a deep passion for tech innovations. With extensive experience, he specializes in gaming hardware and software, and has expertise in gadgets, custom PCs, and audio.
Besides writing about tech and reviewing new products, Derek enjoys traveling, hiking, and photography. Committed to keeping up with the latest industry trends, he aims to guide readers in making informed tech decisions.