Bluetooth speakers come in all shapes and colors. Some are large, designed to fill an entire room with sound for your next party. Others are portable, designed to be carried with you wherever you go. If you're willing to throw a little extra cash at it, you can even find a model that is durable enough to withstand the type of abuse that very few electronic items can.
At least, that's how things were during the peak of the Bluetooth speaker boom.
As the industry grows, we're starting to notice a changing trend. Brands are promoting speakers that don't force you to choose one or the other. Not only are the speakers getting much more affordable, but they're starting to include features from all aspects of the market. They're getting a little tougher, a little louder, and a just a little bit better.
Sony's XB line of audio equipment has always been a bit of a hidden gem. While it doesn't sell quite as well as the Bose speakers, we've found time and time again that this line packs a serious punch. We already took a look at Sony's top-tier model, the SRS-XB40. Today, we had the opportunity to try out the little brother in this popular speaker line, the XB20.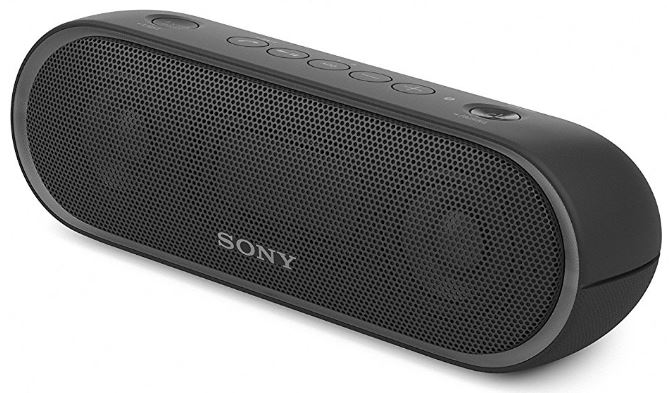 First Look
The XB20 has much sleeker look that it's big brother. Nice smooth edges and compact circular buttons give it a very modern appearance, which is heavily accented by the color LED in the face. But this speaker isn't just about visuals. Despite its low price, it's clear to use that Sony has put there experience in this marketplace to create something high quality. With two dedicated drives and a passive radiator up front, this speaker is much louder than you'd expect. Throw in a handful of connectivity features that are not commonly found on a speaker this inexpensive, and you've got yourself a pretty good bargain.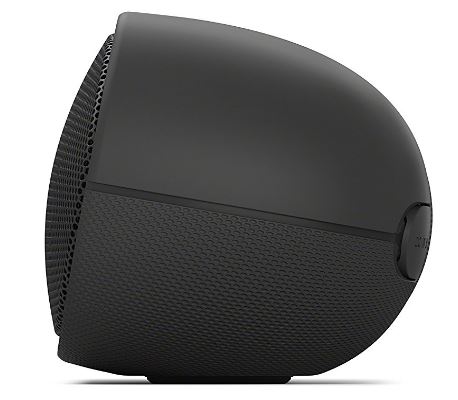 Design
Personally, we preferred the oval shape of this speaker to the boxy style of the larger models. It has a very smooth feel to it, and the matte coloring really gives it a premium look. Like the others, it's available in four different colors. Blue and red are the most stylish, while the white and black models have a more professional appearance. Something worth noting is that this is dyed plastic, not painted. While paint can chip and scratch, dyed plastic will keep its color even if the case is damaged.
One of the things that stands out the most of this look is the LED band that wraps around the edge of the speaker. If you pick the colored models, the color is designed to match your purchase. You get an electric blue for the blue one, and a pinkish hue with the red one. For the black and white models, the light is off-white. The light isn't super bright, it's more like a night-light style. This adds a very futuristic look to the speaker, and vaguely reminds us of the flux capacitor from Back to the Future. Due to the muted light, it's not too in your face.
But this design isn't just visually appealing, it's also incredibly durable. I had splash resistance, which is essential when you're drinking at a party or hanging around by the pool. The plastic is much thicker than most models, so it can survive a larger drop than your everyday speaker.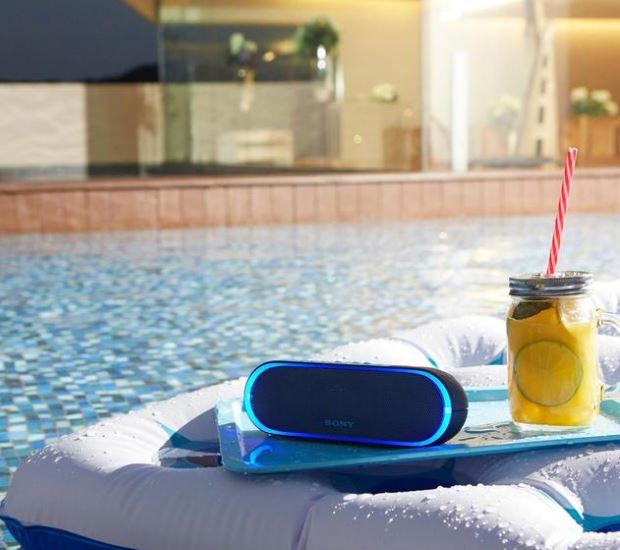 Controls & Connectivity
With many manufacturers moving to make their speakers as sleek as possible, we're used to seeing streamlined control schemes that can be a little frustrating to use. When you're trying to flip through your Spotify playlists, having to long-press the volume button can be a real pain. Although this is a compact speaker, we really appreciated Sony's well laid out control scheme.
Volume, track selection, and the play / pause function all have their own dedicated buttons. There is a large "extra bass" button that turns the bass boost on or off, and a button that allows you to answer calls. But the one unique button is the "add" key.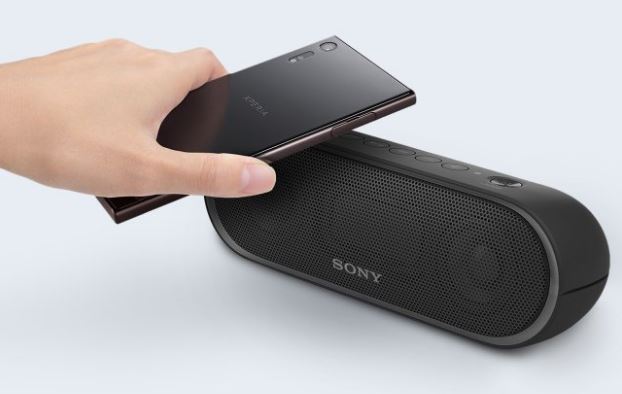 This is a dedicated pairing button. When you first turn it on, this is used to pair with your phone, as per usual. But once you've got music going, this button makes it easy to daisy chain multiple speakers together. Add a second XB series speaker to get stereo sound, or get the entire party going by adding up to 10 XB series speakers to the system. Sony calls this the "wireless party chain." What's unique about it is that the feature is device independent. There are other speakers available with this feature, but they usually require that you pair speakers of an identical model. But with this one, you can use any speaker from the XB line. From the ultra-compact XB10 to the high end XB40, this allows you to ensure that all of your speakers will work.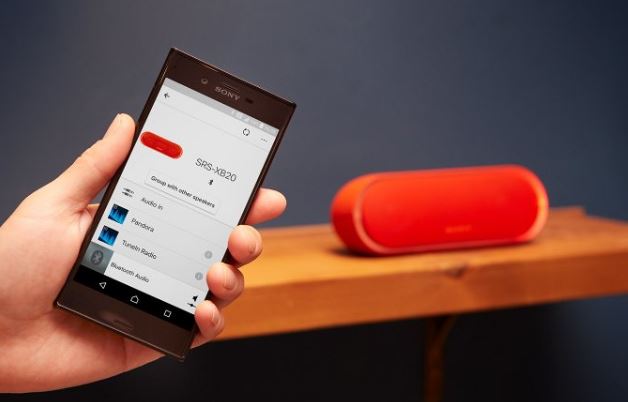 Sound Quality
Sony is heavily promoting this line as party speakers, and it's easy to see why. Like most products in the XB line, these speakers are very bass heavy. We're not talking about the muddy, overblown bass you get with some cheaper speakers. Here, the bass is tight, well defined, and pronounced. This is made possible through the driver arrangement. The two drivers work with a crossover, so they are each performing different frequencies. This allows distortion-free sound, and an active, engaging presentation that sounds as if it's coming from a speaker several times its size.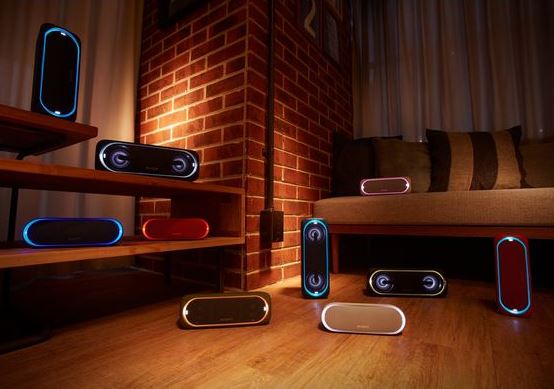 Another benefit of the dual-driver system is the clarity and quality of the mid-ranges. Rarely do we find a speaker that so accurately recreates sound, and still has that deep low end extension we crave. These speakers definitely are at their best when they're played loud, so we'd highly recommend them for a social environment. That being said, having proper stereo audio is a nice touch. When you pair two of these speakers together, that's when your audio experience transitions to something beyond what the average Bluetooth speaker can do.
One thing we will mention, however, is that the "extra bass" feature isn't always ideal. Some songs already have quite a lot of bass, and we found that it can be overpowering at lower volumes. For that reason, we liked having the ability to turn the extra bass feature off. Without it, music sounds a lot more natural. Sure, there is still plenty of low-end in your music. But it sounds a lot more like a balanced system. Mids, highs, and of course the lows all blend together cohesively, and you don't feel as if you are missing out on any of your music like you do with so many other models.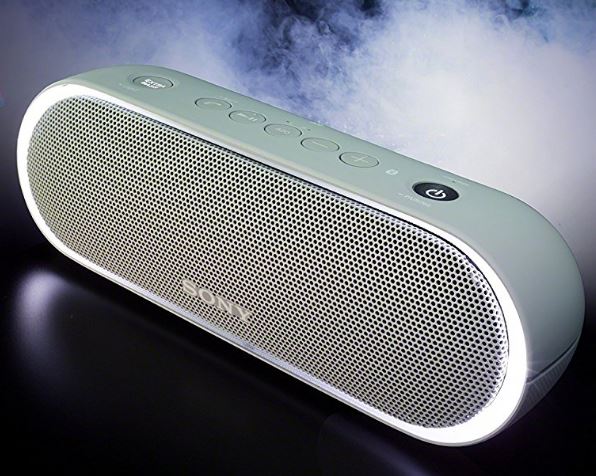 Disadvantages
While the sound quality is great for the price, it is still a few notches below the high-end Sony XB40. The biggest area we found to be lacking was the speed. The XB40 feels much more precise and controlled, so if you're after a seriously high end system we might recommend that model as an alternative.
Final Verdict
Overall, the XB20 has a lot to offer. With an incredibly sleek and stylish case, a vibrant sound signature, and a durable body, this just might be one of the best affordable Bluetooth speakers on the market. We'd recommend it to anyone who's looking for a budged conscious system, but still wants the high end sound that Sony is known for.
We'd expecially recommend this for anyone who wants a good party speaker. Since Sony has a range of speakers starting at the compact and affordable, and ranging up to the beefy and powerful, there is probably a speaker in there to suit anyone's needs. If you and your friends each grab one, you can quickly build yourself a whole-home that will keep the whole party going.
Not sure if this is the right speaker for you? If you're interested in the speakers that are available, you might want to check out another model. The Sony XB10 portable speaker is one of the most compact models available, and still has pretty impressive bass extension. Alternately, maybe consider a model on the opposite end of the spectrum. The XB40 adds some color changing LEDS and a surprising amount of additional bass extension, making it the first choice for serious bass heads.
No matter which model you choose, we're confident that there will be something in here that will suit your needs. Despite variances between models, the XB series Bluetooth speakers are a very safe choice, with all of the durability, design, and performance you could want.