If you're on the hunt for a portable Bluetooth speaker, Sony's XB line may have caught your interest. In the upper echelon of their product line, the XB series speakers and headphones produce audio quality beyond what most speakers are capable of. But there is more to their line than the high-end models.
Ultra-compact speakers generally come with a few compromises. While they are small and portable, sound quality suffers. In fact, the very concept of producing bass requires a driver that can move a lot of air. The smaller it is, the harder this is easy to achieve. While Sony has a proven track record of producing speakers that have a bit of kick to them, we were curious to see if this was still possible with such a compact speaker. There is only one way to find out, so we went hands on to see how this little speaker does.
First Look
Measuring 3.4 x 3.4 x 4.2 inches, the Sony XB10 is one of the smallest speakers in their XB line. Although the cube-shaped X11 is dimensionally smaller, it's squared off edges mean that it's not as comfortable to hold in your pocket. The speaker has a single driver, with a passive radiator on the bottom. This increase the amount of speaker excursion that can take place, allowing for reasonable volume. It has both Bluetooth and NFC communication in place, allowing it to keep up with modern Bluetooth speakers. Overall, this compact speaker has all the fixings we'd look for in a portable speaker.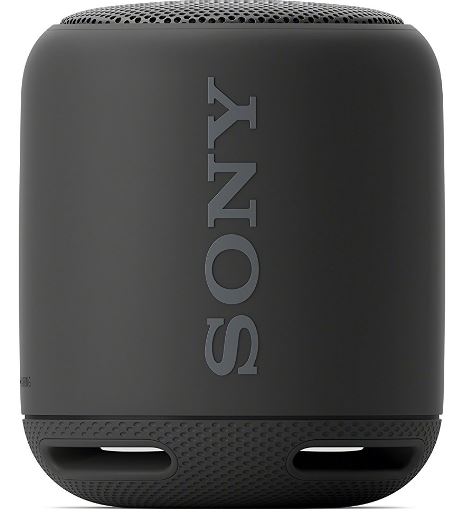 Design
As we've become accustomed to with Sony, their XB10 speaker is available in four fun colors. Our personal favorite is the navy blue, but there is also a vibrant neon red/orange speaker as well. For a more professional look, you can opt for black or white. The speaker is perfectly cylindrical, with slightly rounded edges. On the back, you'll find a rectangular rubber plug. This plug covers the 3.5mm and micro USB ports. We noticed that this plug is actually attached to the speaker itself by a little rubber hook. Small touches like this is why we appreciate Sony's design. You're not going to lose the plug, exposing the ports. Other features such as the way the speaker grill is rounded makes it less likely to be dented.
Sony includes a round hook that ties onto the speaker via a little metal brace. This allows you to tie it to your bike, a part of your car, or wherever else you want to keep it attached. Overall, the speaker is very intelligently designed, and Sony includes several extra perks that will make your life easier.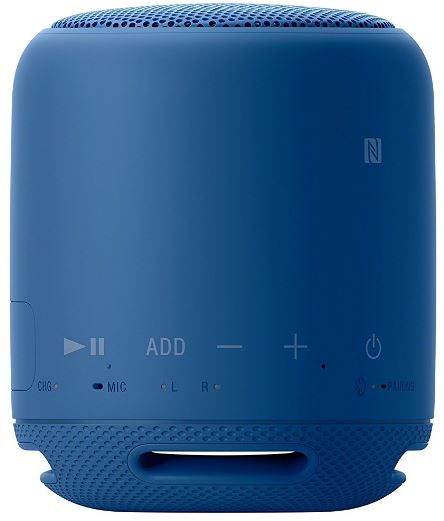 Durability
Sony wanted to create a Bluetooth speaker that can go anywhere, and do anything. Unfortunately, the elements aren't particularly friendly towards electronics. To make it work, they had to design a surprisingly durable speaker.
The first factor is the enclosure itself. It's made from a rigid, durable plastic that won't chip or scratch. If you really tried, you could probably mark it. But it's clear from our use that it's not going to get damaged just from regular day to day use. And when we say day to day use, we're not just talking about sitting on your desk in the office. We're talking about bouncing around in your bicycle carrier, being carried around at the beach, or being transported in a bag full of other items.
Next is the weather issue. Water is essentially kryptonite for electronics. So this is where Sony really had to beef up the durability of this speaker. The driver itself is watertight, sealed with a rubber surround. There is a plastic seal all around the speaker grate, and the port covers help to make the speaker completely sealed. While we wouldn't recommend bringing it in the pool, it is fully water resistant. This means that you can take it outside or hang out by the pool without worry that an errant splash or unexpected weather shift will damage it.
Connectivity
For most users, Bluetooth will be the simplest way to connect to this speaker. If you've been keeping up with NerdTechy, you'll know that not all Bluetooth radios are alike. Older speakers have dated technology, forcing your audio to be compressed and delayed to a point where there is some loss. As we've come to expect from Sony, they've used a high-quality radio that is compatible with all modern standards. This allows uncompressed audio to be streamed from a compatible phone, with virtually no loss in quality from compression. While this type of communication system is common, there is one unique thing about Sony's application. Sony has made this chipset run at a much lower power than most. While this doesn't compromise range, it does drastically improve battery life.
If wireless isn't your thing, or you're using an older source, you can remove the rubber seal and connect to the speaker via a 3.5mm aux port. The one disadvantage of removing this seal is that the speaker loses some of it's water proofing, so it's always preferable to use wireless when around water.
Next to the 3.5mm port you'll find the micro-USB charging port, so the same goes for charging as well.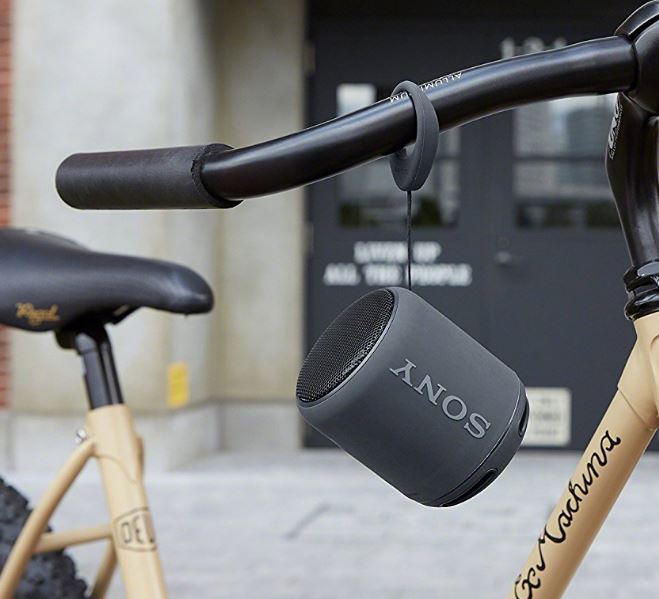 Functionality
One of the things we liked about this speaker is that it's easy to use. Ready to pair? You've got two options. If your phone comes equipped with NFC, all you have to do is tap the phone against the speaker to automatically pair them. If you have an older phone that isn't equipped with NFC, you only have to hold the power button for 3 seconds until the "ready to pair" announcement is played back by the speaker. From this point, you can just pair through your phone as usual.
Once your music is playing, the last thing you'll have to worry about is the battery life. Despite having a very compact lithium ion battery, the speaker has a whopping 16 hours of battery life. Considering that you can recharge it in only 2 hours, this performance is much better than competing models.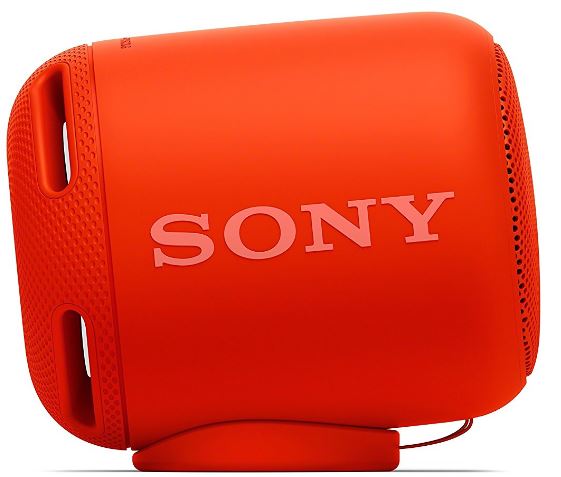 Sound Quality
With the XB10, Sony stayed true to their name. The speaker has much more bass than we'd anticipated. This has a lot to do with the passive radiator in the bottom. Although it appears that there are two drivers in place, there are not. The bottom driver isn't connected to anything. It's purpose is to double the excursion (movement) of the upper driver, allowing Sony's XB10 to produce volumes louder than many speakers its size.
The audio is very energetic and peppy. It might not be the best choice for consumers who want to do some critical listening, but if you want your bass drums to kick and the guitars to kick harder, then this speaker is a great buy.
What we liked about it was the fact that the speaker remains clear no matter how high you turn the volume knob. It doesn't distort, or get that blown out style audio that some speakers get. Don't let the size deceive you, this is the perfect speaker for your next BBQ, day at the pool, or simply for ripping around town on your bike.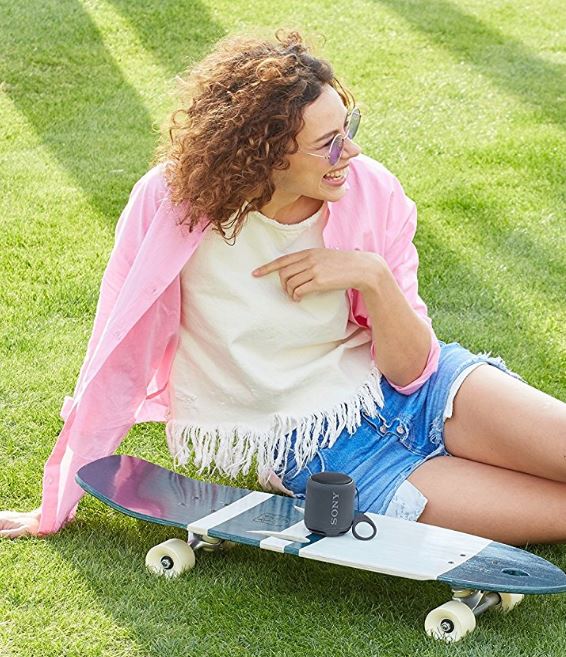 Disadvantages
For the size, this speaker is an incredible bargain. It does much better than similarly sized speakers, so if size is a factor it's a great buy. With that in mind, there are compromises being made. If size isn't a major factor, you can get something a little better by spending a few extra dollars.
Final Verdict
Sony has, once again, blown away the competition in both the size and price category. We've heard more expensive Bluetooth speakers that didn't sound as good, as well as bigger ones that didn't have as much power. But it's not the size or the quantity of bass that makes this speaker great, it's the high level of refinement that went into its design. Even at high volumes (and believe us when we say that it's LOUD) the sound is clear and enjoyable.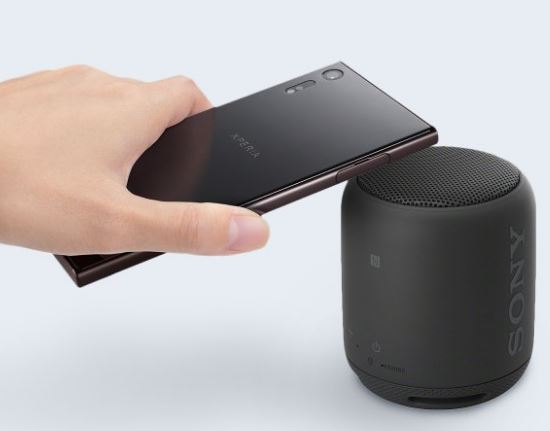 We'd recommend the Sony XB10 to anyone on the go. The durability and weatherproofing are a great combination of features for anyone who doesn't want their brand no speaker to break, and this opens up a lot of doors for where you can use it.
Looking for a speaker that sounds a little better? If you can make due with something larger, we'd highly recommend that you take a look at the Sony SRS-XB3. This speaker takes everything we liked about the XB10, but puts a little more pep in your step with an enlarged speaker housing and high efficiency drivers.