Looking for a portable projector for casual use? Xinda has got you covered. This particular projector is one of the lowest priced models on the market. So low, in fact, that many consumers are asking themselves what the trade-offs are. We decided to go hands on, to find out what this little projector can do.
First Look
Xinda designed this projector to be compact, making it easy to carry around. It's lightweight, and fits in the palm of your hand. Like many compact projectors, this model takes a 1080p input and downscales it to the EDTV resolution of 800×480. It's capable of producing images ranging from 34 to 130 inches, and produces 1000 lumens of light. There are a large number of connectivity options, allowing you to connect it to virtually any video source.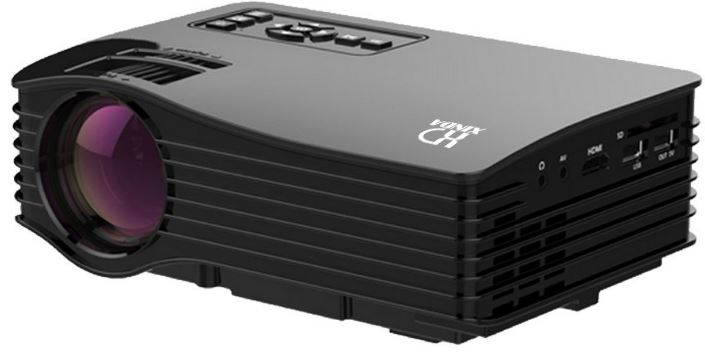 Design
Despite being small, this little projector has a very sleek, modern design. It's got the ridged endplates that help to hide the small air vent on the right side. Just above that is the IO panel, featuring a large number of connectors.
Like many LED Projectors, the optics are located on the far-right side. There is a large ridged focus ring above it, allowing you to easily sharpen the image to your given screen size. Although the projector is very small, Xinda didn't skimp out on the optics. On it's own, it would be too big for the enclosure. To fit this round lens, Xinda smoothly rounded the top of the enclosure, giving the projector a very premium look.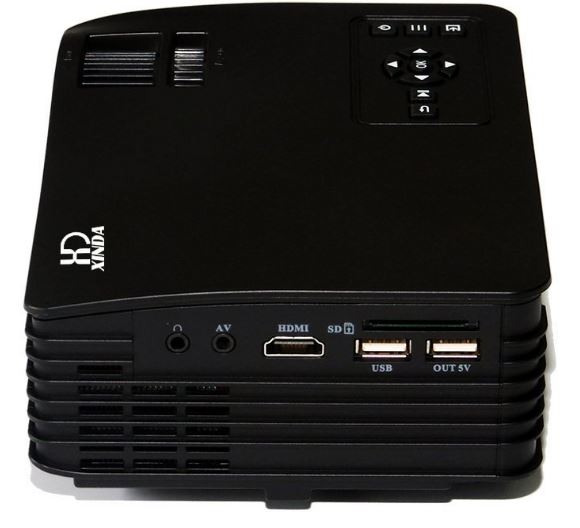 Controls
Several years ago, projectors were simple devices. Sure, there were a few controls to change the image settings, but there wasn't so much of an operating system to speak of. Modern projectors double as multimedia devices. That means that there is an ARM processor built in as well as an operating system. For that reason, it's important that it be easy to navigate through the on screen menu to choose various options.
There is no remote included, so these menus are all accessed by the controls laid out on the top of the projector. You've got a four way digital navigation system, with a "select" button located in the center. This can access 90% of the features, and is simple enough to use without having to look at the projector. There is also a back and a menu button, much like the android phone. On the far right side, there are three different buttons each of which brings up a different display or "application." Overall, the control scheme is very easy to learn, making this projector quite simple to use.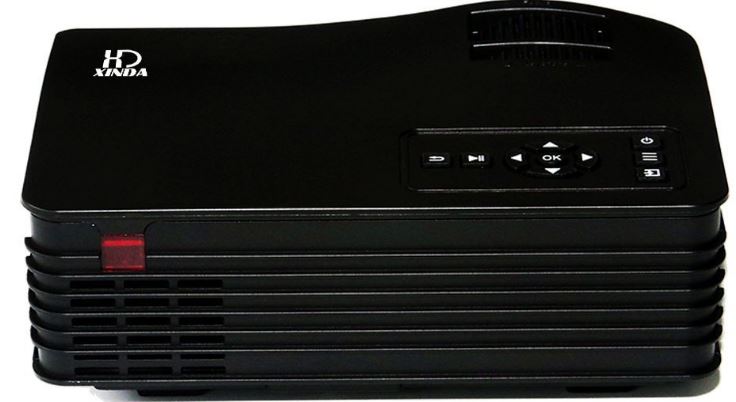 Connectivity
Because this is a low-cost projector, this model doesn't have a large span of ports available. But that doesn't mean that they're skimping out on anything important. The HDMI port will connect to 99% of high def devices. Since this projector works best with a 1080p input, using the HDMI port is ideal.
If you've got standard definition source, the AV port can help you out. Although it just looks like a standard 3.5mm headphone jack, you can use the included breakout cable to convert this connector into the standard composite RCA bundle. That gives you the yellow plug for video, and the red/white cables for audio. There is a small speaker built into the projector, but there is also a headphone out if you want to directly feed your own audio system.
This projector can also directly play video off of an external storage device. You can plug an SD card directly in, or you can use the left-most USB port for a thumb or external drive. Last, but not least, there is a 5V output port. This is handy if you're running the projector off a phone or mobile device, as you can charge it while it's in use.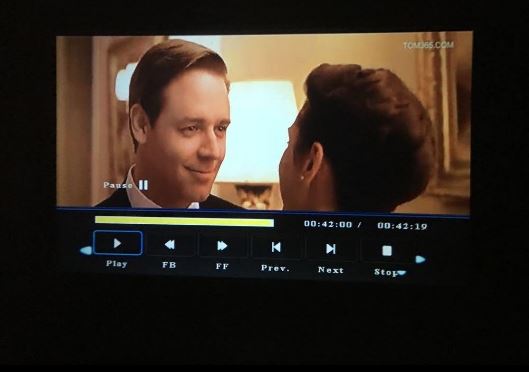 Resolution
The biggest complaint that people have with these projectors is the resolution, and that is understandable. Manufacturers advertise 1080p input, but the output isn't 1080p. This, like every other projector in the sub-$300 price range, uses an 800×480 LCD. This resolution is mid-way between standard definition and high definition. When high def was still a new technology, there were many full-size televisions that shipped with this resolution. At the time, they referred to it as extended definition.
This is the ideal resolution for these projectors because it is the correct aspect ratio for high def video. Your image doesn't get stretched or skewed, and the video still looks pretty decent. While the resolution isn't exactly retina-grade, it still produces decent looking video.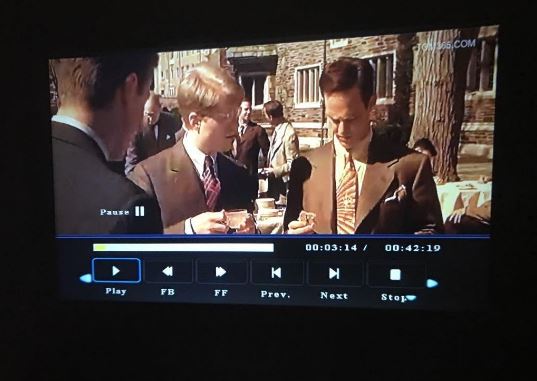 Color & Brightness
The color is one of the areas where this projector really excels. Images are still reasonably vibrant and clear, and stay true to your video source. Due to the LED bulb, many projectors tend to have a very cold or blue tint. But this model uses a 16770k color temperature bulb, which is slightly warmer. Although there is a slight shift in the hue, this projector still looks much better than most in your price bracket. The shift is similar to switching the incandescent bulb in your home to a fluorescent.
In order for the color to continue to look good, you do need a reasonably dark room. This projector has a 1000 lumen bulb. While it's far from the darkest on the market, it's not the brightest either. As long as all the lights are off, we found that the projector looked great. But if a fully lit room, the quality was underwhelming.
Media Compatibility
We mentioned that this projector can play media files directly off of an external storage device or SD card. This isn't a rare feature, but what is rare is the level of compatibility that is available. It supports all of the most popular formats used for downloadable video these days. Mpeg4, DIVX (most AVI files,) H.264, and even FLV are supported. But if you've got an old media collection, you'll be happy to know that many older formats are supported as well. MJpeg is used by many older video cameras, and that is supported too. VC1, MPEG 1 &2, RMVB, MOV, and even real media files are supported. Remember real media? Xinda sure does.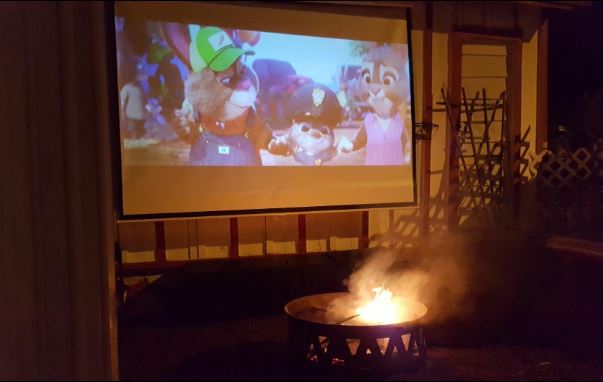 Display Size
The main reason that consumers choose to go with a video projector is the screen size. A 100 inch television can cost as much as a reliable car, so very few consumers have these in their home. This particular projector is capable of producing images ranging from 23 inches all the way up to 130 inches. In our tests, we found that the display looks the best right around the 60" mark, putting it in line with most high level HDTVs. Although the image still looks good up to 90 inches, the lower resolution becomes a little more apparent. Above 90 inches, the focus isn't quite perfect. It's still usable at these sizes, but we definitely thing that 60 inches is ideal.
This is impacted a bit by the projection source. If you're shining it on a wall, the recommended sizes are as we described. If you want to get a little more out of the projector, consider going with a dedicated projector screen. This allows the image to look a little brighter, and look better at larger sizes.
Disadvantages
The only real downside to this projector is for data use. Because it accepts a 1080p signal and downscales it, text and graphics can become a little blocky. In our eyes, if you're planning to use this projector for video it will work very well. If you're going to be using it for data, you'd be better off going with a data-specific projector that has higher and crisper resolutions.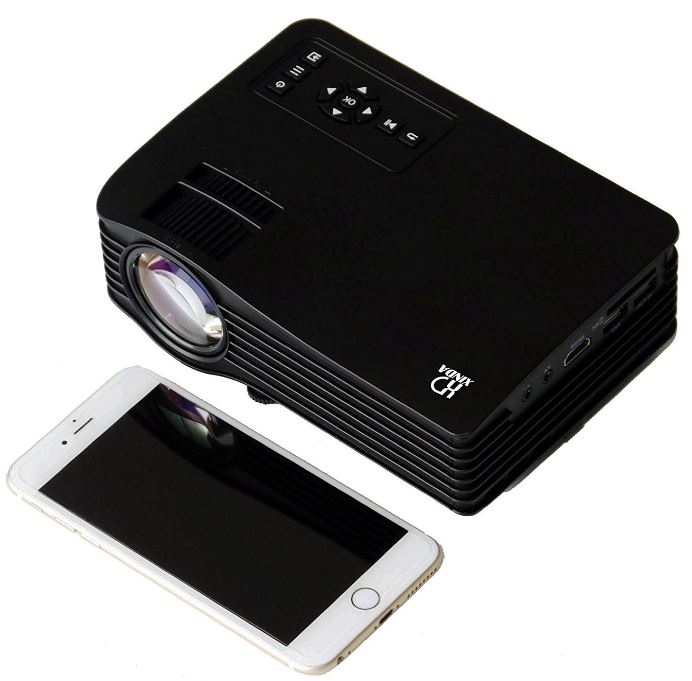 Final Verdict
For the money, you're likely not going to find a better projector. Sure, there are a few compromises that have to be made. But this is made up for with the ultra-small size. If you're planning to use the Xinda 2017 Mini Projector for movies and television in a dark room, you won't find much of a benefit from going for a higher end model. It's only if the limitations impact your application that we'd suggest upgrading.
If we had to recommend upgrading, we'd make two recommendations. For a larger screen, the Mlison video projector would work great. The resolution is the same, but the optics allow for a slightly bigger screen. If you're looking for something that can be used in a brighter room, you might want to consider the Ogima BL20 Video Projector. Both of these options are still very affordable, which really shows how far projection technology has come in the past few years. As consumers, we have a lot of options available, making projection a perfect alternative to expensive flat panels televisions.