Pico projectors, often referred to as LED projectors, are a popular new technology that has changed the way we watch our televisions. These projectors are significantly cheaper than classic styled models, and offer an inexpensive way to get a big screen home theater for less than a couple hundred bucks.
For classic bulb technology, it's almost impossible to compete. Unfortunately, the projector marketplace isn't a particularly consumer friendly environment. With many inexpensive Chinese manufacturers producing projectors with over-exaggerated specifications and disappointing performance, it's easy to get ripped off. The Ogima BL20 Video Projector is an affordable option that's received many good reviews. If you've checked it out, you've probably realized that the specifications seem almost too good to be true. How does it perform in the real world? We went hands-on to find out.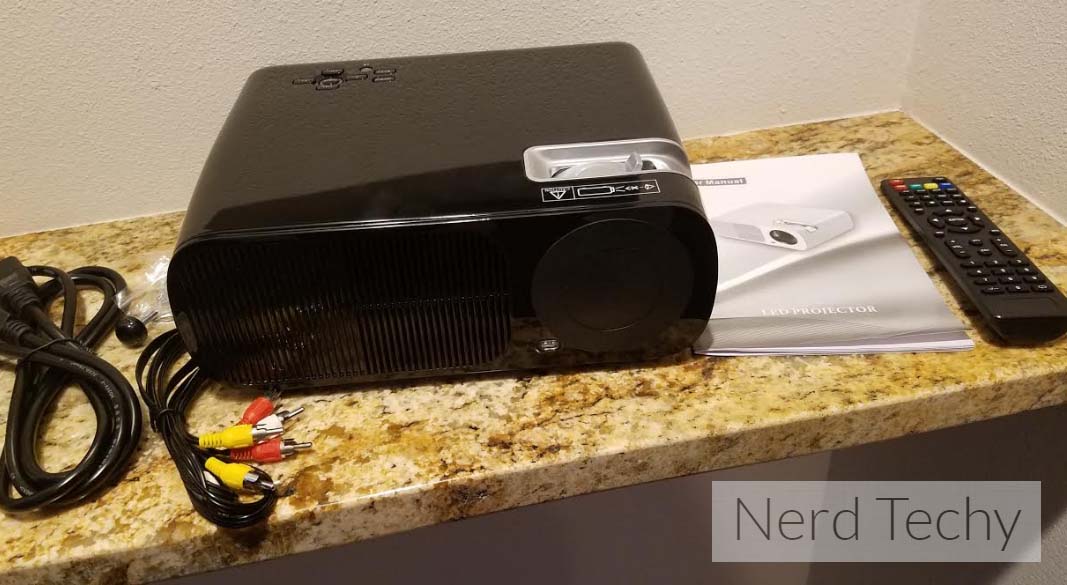 First Look
The first thing we noticed was how well packaged this projector is. While it is a little larger than your standard pico projector, the packaging is definitely many times larger than the projector itself. It comes fully enclosed in a molded Styrofoam protector. On top, you'll find the enclosed accessories.
You get a full size remote, which is surprising for such an affordable projector. You also get a set of RCA cables, but no HDMI cable. There are also some leveling knobs included. These screw into the bottom, and raise or lower it to get the exact angle you like. The projector itself has a whopping 2600 lumens, making this one of the brightest LED projectors we've tested. It supports 1080p input, but the output will be slightly down-scaled. But to really find out how it performs, we'll have to put it to the test.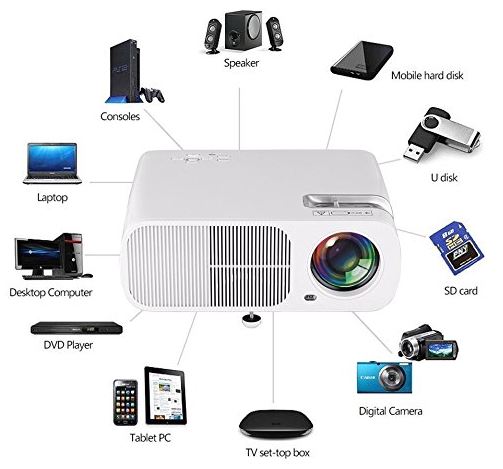 Design
The BL20 is enclosed in a glossy black plastic. It definitely has an attractive, modern feel to it, although most users will be tucking this projector out of sight and out of mind. The lens itself is off to the far right of the projector, and there is a large quarter turn focus ring above it. The ring has a nice smooth movement to it, making it easy to get the exact focusing distance you want. On the back, there are several navigational buttons and all four sides are used for cooling vents. Overall, it's reasonably attractive, and surprisingly well made for the price.
Controls
One of the things we loved about the Ogima BL20 was the impressive control system. There is a full size remote included, which is intelligently laid out. The navigational buttons are located conveniently in the center of the remote, making it easy to move through menus. But upon closer inspection, you'll find several key features that aren't found elsewhere. There is a zoom button allowing you to crop 4:3 video, as well as an aspect ratio button that digitally corrects varying video styles. If you're working with a smaller screen, this is a great way to help enlarge it without cropping.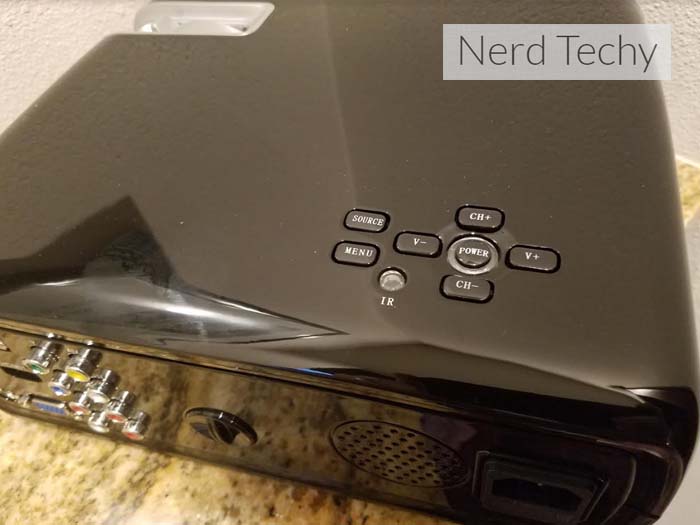 There are a number of other controls on these remotes that are not useful for the projector, but for the other equipment you have. The mute button, playback controls, and channel navigation allow you to sync the remote up with your video source, so you only need the one control.
Brightness
As soon as we saw the nice large lens, we knew that this wasn't going to be the standard projector. Most compact projectors run below 1000 lumens. This works fine if you're in a pitch-black room, but as soon as there is any ambient light the image quality starts to get washed out and faded.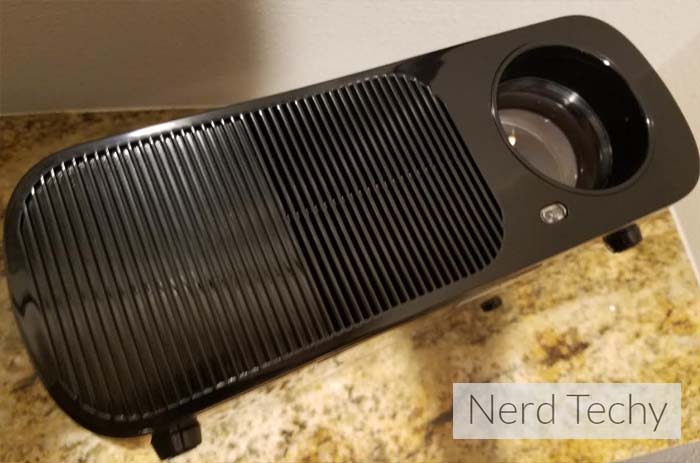 2600 Lumens is typically considered to be as bright as you need. In fact, 2600 lumens will usually work outdoors in broad daylight. But it's important for us to clarify that these aren't ANSI lumens. ANSI is a standard of measurement, and refers to the light that actually hits the wall. As you probably know, the further a projector is away from a wall the dimmer the image is. Additionally, travelling through optics has the tendency to reduce the amount of light that makes it out of the projector.
Even though the projector is rated at 2600 lumens, you're likely getting between 1500 to 1800 lumens on the wall. How bright is this? Well, you certainly don't have to worry about having a perfectly dark room. Even if you have a lamp on, or the sun is still up, the projector still works great. In broad daylight, the brightness will definitely appear a little dim. But as long as you can close the blinds, the Ogima BL20 still works very well.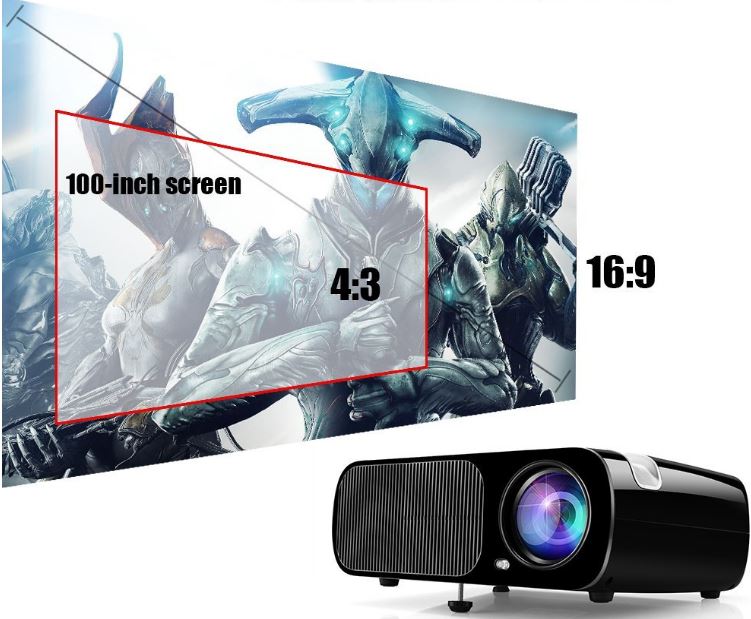 Resolution
Another important measure of a projector's video performance is the resolution. The more pixels you've got, the better your image looks. Higher resolutions are attributed to sharper, better defined images. These days, we're living in a world where 1080p is standard, and 4K is considered the ultimate in image quality.
Looking at the Ogima BL20, you can see on the box that it says 1080p right on it. But if you've shopped around for affordable projectors, this is rarely the case. In fact, many projectors only actually produce images that are standard definition. While this projector accepts a 1080p input, it's downscaled. The true resolution of the display is 800×480. For reference purposes, standard definition is 320×240. So you've got something which is commonly referred to as EDTV, or extended definition television. It's twice as detailed as standard def, but half as detailed as high definition.
From the numbers, this doesn't look all that great. But surprisingly, it still seems pretty sharp. We're not going to say that this projector can compete with a $3000 4K model, like the Eosib 5040ube, but it's still very enjoyable to watch. Details are well defined, and even things like subtitles are clear and readable.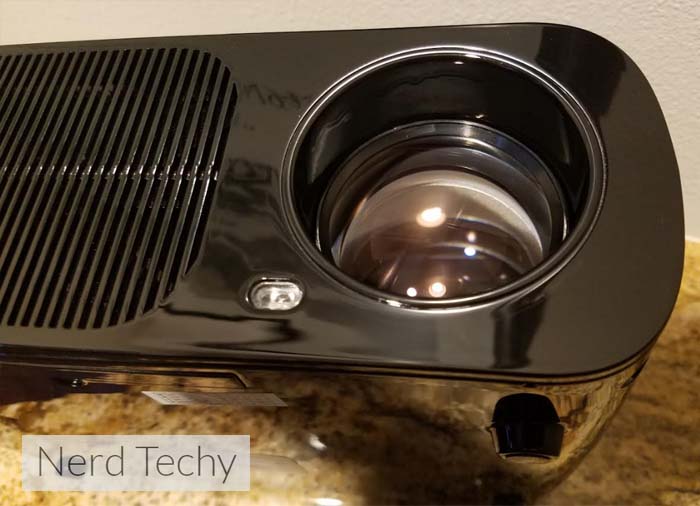 Color
One of the things that surprised us was just how good the color looks on the Ogima BL20. It's not overblown and saturated like many LED projectors, but it's also not flat and muted like many LCD projectors. It's clear that the vendor took the time to calibrate the display to get a nice-looking color palette. They're a little on the softer side, but the colors really seem to be true-to-life.
Connectivity
There seems to be no shortage of connectors on the back. Most users are going to be enjoying their shows over the HDMI connector. There are two available, so you can plug in your Blu-Ray player, game console, or whatever other high def electronics you have laying around. You also get RGB connectors for a third high def device, and VGA for analog signal from your computer.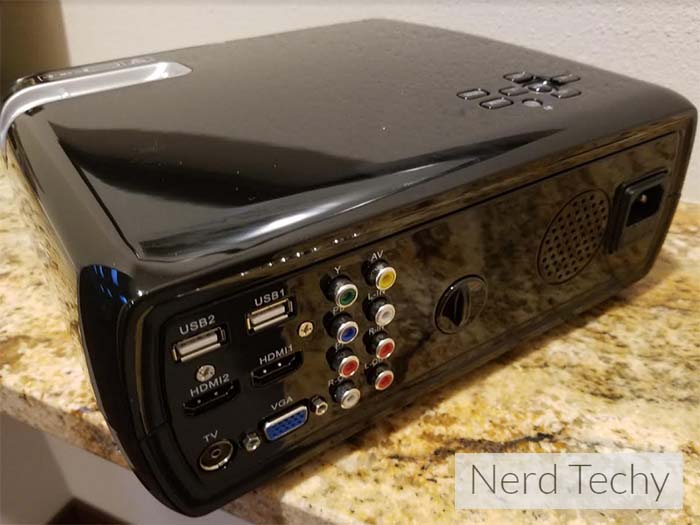 There's standard RCA audio and the yellow component input for standard devices, as well as a coaxial input simply labelled TV. But for most consumers, the TV input will not be useful. This is the euro spec TV input, and not commonly found here. However, there are adapters available that will allow you to plug in an antenna. In most urban areas, this lets you get HDTV over the air, so it may be a worthwhile purchase for those of you on the go.
Disadvantages
While there are a lot of good things about this projector, there is one thing we weren't particularly fond of. The leveling screw is only a single unit. When it's lifted, you've got one leg supporting the entire projector. This limits your range, and can cause it to get a little wobbly at times. Our recommendation? If you need extreme angles, get a ceiling mount or use an old book to prop it up.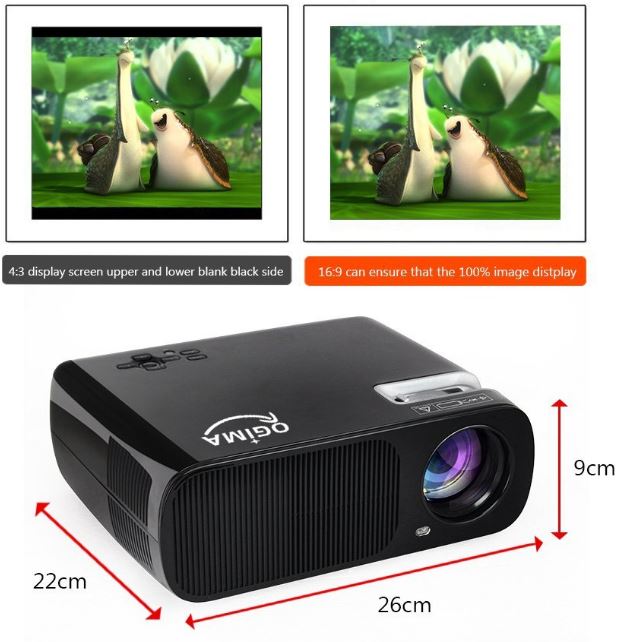 Final Verdict
There's a lot to like about the Ogima BL20 Video Projector. While it's not as compact as many small LED projectors, it's becoming abundantly clear to use just how much more performance you get for a small increase in size. The most impressive boost, of course, is the brightness. This projector can be used in virtually any room. Just dim the lights, and enjoy an image that looks just as bright and clear as a television. This is typically the major downfall of affordable projectors, so it's nice to see it corrected.
Combined with excellent color reproduction and a reasonable resolution, we're confident in saying that this is one of the best bang-for-your-buck projectors on the market.