There are very few cinematic experiences that can compete with the authentic movie theater experience. A properly configured home projector will come pretty darn close, and you won't have to wait in line. When HD televisions first came out, it took a long time before projection technology caught up. This time, things are different. 4k televisions have just started to become commonplace, and Epson has already announced a pretty impressive projector.
The Epson Home Cinema 5040Ube is not the first 4k projector on the market. It's not even the first affordable 4k projector on the market. To date, 4k projectors have either been incredibly expensive or lacking critical features. The Epson 5040Ube is neither of these. With an incredibly advanced lens, high dynamic range, and the latest HDCP technology, Epson has positioned this projector to be ready for the growth of 4k video in the home. Let's take a look at see how this projector stacks up against the competition.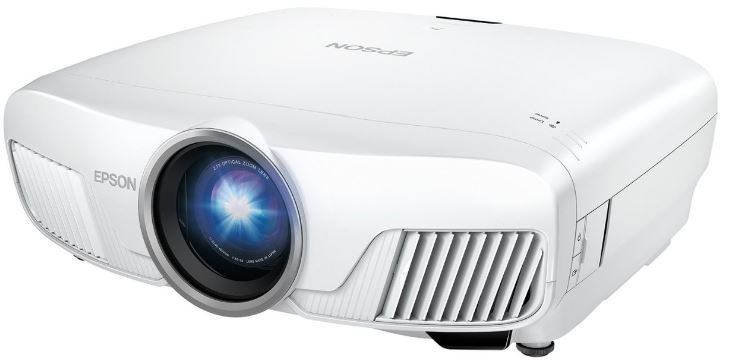 First Impressions
Even from the outside, Epson's 5040Ube looks like one impressive piece of technology. The smooth curves and shiny surfaces of the casing contrast strongly with the sharply angled cooling vents. But, it's what's on the inside that makes this projector truly impressive. Epson's 3-LCD technology offers better color reproduction than many 4k televisions. Advanced signal processing and aperture control allow for an unbelievable 1,000,000:1 contrast ratio. With support for HDCP 2.2 and Wireless 4k video broadcast, this projector is likely a long term investment that will continue to be compatible with video formats we haven't even invented yet.
Brightness
The amount of light produced by the lamp is a very important factor in selecting where you can use this projector. Usually, projectors are sold with bulbs that produce between 1000 and 3000 lumens. A 1000 lumen projector must be used in the dark, or the image will appear washed out. 2000 lumens are bright enough to use with a little ambient light. A single floor lamp is a good example. 3000 lumens can be used in a fully illuminated room, although would still appear washed out in bright sunlight. The Epson 5040Ube has a 2500 lumen bulb. You can use it in pretty much any home theater, provided you close the blinds.
Connectivity
On the back of Epson's 4k projector you'll find a fairly standard looking array of ports. You've got two HDMI inputs, one VGA input, one USB port, a Serial port, a trigger connection, and finally a 300mAh optical HDMI input. The optical HDMI port is most likely for business use. It requires a very expensive active converter that rebroadcasts the video signal over a fiber optic cable. The primary benefit is the long transmission distances. While it is not very prevalent in home use, Epson did design this projector to be future proof. You never know what technologies we'll be using tomorrow.

The HDMI ports both support HDCP 2.2, an important standard for 4k video. The copy protection used in 4k requires this protocol. Many 4k projectors and televisions do not support it, and will not work with the 4k streams provided by Netflix or some cable companies. The VGA cable might be nice to have if you occasionally want to connect your laptop up to the projector, but the poor resolutions and analog noise make it a less than idea input. Both the serial port and the trigger connection are for using remotes to control presentations or slides.
There's another input on this projector, but you won't be able to find the port. WirelessHD is a newly updated standard that allows you to stream 4k video over the network. Given the prevalence of mobile computing, it's highly likely that this will be the future of 4k video. Instead of having to invest in another disk format like Blu-ray, we'll just be able to use our existing computers to stream content over the internet.
The bandwidth requirement for WirelessHD with 4k is huge, so you'll probably need to make sure that you have a high bandwidth router, ideally one that utilizes 802.11ac. Alternately, you could just use the included Ethernet plug and use a wired network for now. It might seem strange to use something called "WirelessHD" over a wired network, but this is an important part of the standard.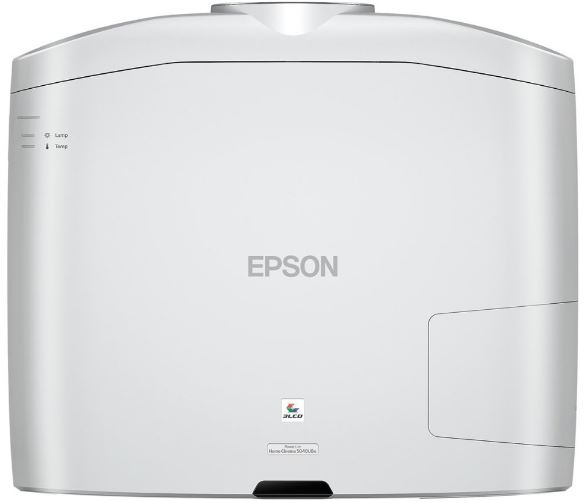 Image Quality
4k resolution provides images with unparalleled levels of detail. Similar to "retina" model phones and laptops, the pixels are so small with 4k that you are virtually unable to distinguish one from another. The result is an image that is razor sharp, with unprecedented levels of detail. While 4k is absolutely the future of video, it's not exactly a brand new technology. Resolution is just the number of pixels, not what we can put in those pixels. That's why the most impressive feature of Epson's 5040Ube is its ability to reproduce HDR images.
HDR stands for high dynamic range. It refers to the number of colors that are possible to reproduce. Televisions and monitors create images by combining red, green, and blue pixels. There are only so many colors that are possible to recreate with these three colors. LCD displays create color by shining a bright light through an array of shutters. The shutters each have either red, green, or blue and are therefore able to simulate most of the possible colors. To get the entire spectrum, you also need to adjust the brightness of the backlight.
This is why LED TVs have slightly better color reproduction than LCDs. But HDR displays can reproduce every color on the RGB spectrum. The Epson does this through use of 3 LCDs. One for each color, each with their own contrast filter. When you combine this with an adjustable aperture that can control how much light is going to the LCDs, the result is an incredibly vibrant display. With this technology, the contrast ratio is an incredible 1,000,000:1. This means that the projector can produce both the deepest blacks and the brightest whites, as well as everything in between.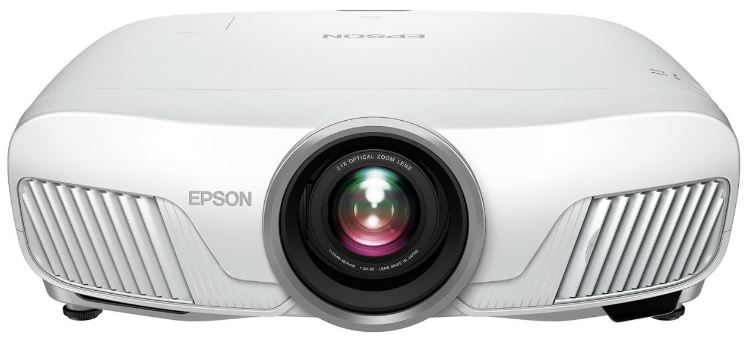 Reliability
Unfortunately, projectors do have one consumable part. The light bulbs tend to burn out after about 2000 to 4000 hours of use. When they are burned out, you'll need to replace them. High end bulbs like the one used in this model can cost a couple hundred dollars to replace. Based on the expected lifecycle of these bulbs, you should have them to last you about 2 to 3 years each, with regular daily use. Even with occasional use, 6 years is about the limit. Keeping the bulbs cool is important to keep them working. There are powerful fans on this projector. Just like a dryer, you'll need to open the air filter and knock they dust off once every month or two.
Lens
The lens used to project your image another essential component for producing high quality images. A poorly made lens can be a little blurry, completely negating the effects of a crisp 4k stream. Other lenses may be sharp, but inflexible. The more focal positions you can set your lens to, the more you can control the size, shape and position of your screen. Fortunately, Epson used a high quality lens and paired it with an advanced signal processor.
Through the use of 11 different all-glass components, the lens is able to zoom in and out, shift the picture from side to side as well as up and down. The image will remain crystal clear in any position. To save you the trouble of adjusting it time and time again, you can save lens positions into memory. This means that you could set up a smaller screen for daily use. At night, you can roll out the big screen projector, press a couple buttons to pull up the lens position memory, and your projector will automatically re-calibrate for the large screen.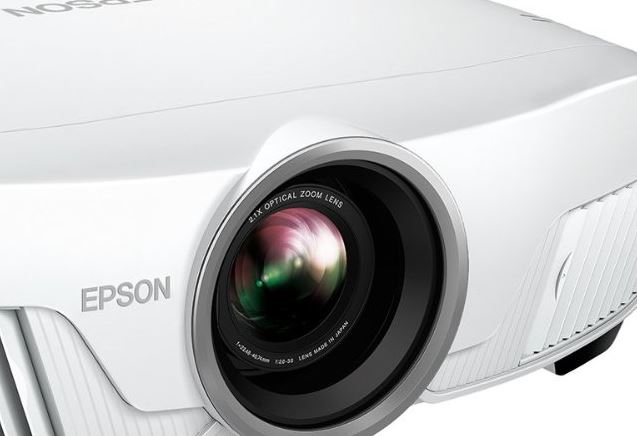 Available Media
You can buy the best 4k projector on the market, but you're going to need to have some 4k content to enjoy with it. Unfortunately, we are not quite at the point where 4k video is widely available. There are a few sources of 4k content. Netflix, for example, allows you to stream most of its self-produced content in 4k. At the time of writing, there are about 15 different series in total. You'll need to be on their highest tiered plan, and have a reliable 25Mbit internet connection.
Amazon also has a small streaming service, but you'll need to purchase a Roku or Amazon FireTV streaming stick. There is a bit of physical media available, with UltraHD blu-ray disks becoming more and more prevalent. You'll have to make sure you get a newer Blu-ray player that supports these disks however. Finally, several cable providers just begun to launch 4k content. With rentals available from Xfinity and DirectTV, you can expect more 4k content in the next year or two.
Final Verdict
Before today, there were not many options for 4k projectors. Everything on the market was either prohibitively expensive or missing crucial features. The Epson Home Cinema 5040Ube 4k Projector is the first affordable projector that is able to fully utilize all the features of this high quality video standard.
Should you buy it today? This depends on your circumstance. If you are setting up your first home projector, going 4k now makes sense. 4k content will be quickly growing over the next two years, so you'll be set up to enjoy it. High quality 1080p projectors are still quite expensive, often $1500+. It doesn't make sense to go 1080p now and just upgrade in 2 years. If you already have a decent projector at home, now might not be the best time to upgrade. You'll probably be watching mostly 1080p content for a while, so you won't receive an immediate benefit from your purchase.