Although we're still operating with data limited wireless internet connections, we're on the verge of doing away with hardwired internet. Today, LTE speeds exceed that of your typical internet connection. With vendors offering internet packages up to 100GB in size, many Americans have been using LTE for their primary internet connection.
This is especially common with a few specific demographics. Companies are often installing wireless internet in their vehicles. This is used for mobile technicians or salesmen who need internet access while on the road. It's often used by those of us who live in rural communities. In fact, there are many areas that are serviced by third party re-sellers using a short range 4G network.
No what the reason, an LTE modem is much more reliable than using your phone for tethering. These devices often have higher power antennas. They also have built in WiFi, allowing them to work as a mobile hotspot.
Because this technology is so new, many customers don't know what to expect. Netgear's LB2120 modem is widely regarded as one of the most reliable models. But what exactly does it do? And how does it perform? We went hands-on to find out.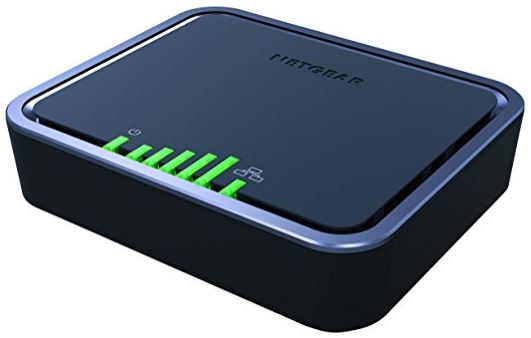 First Look
On the surface, the Netgear 4G LTE Modem (LB2120) looks pretty simple. It's a big black box. Plug it into the wall, and internet comes out of it. Simple, right? Just like your phone, you insert a standardized sim card. It can connect using LTE with speeds of up to 150 Mbps, but can fall back to 4G or even 3G in areas where higher speed service is not available. This particular modem is fairly bare bones, providing a single gigabit Ethernet connection. If you're only using one computer, this will work fine. But most consumers will be connecting it to an external router to make the most of it.

Design
Despite being simple in design, this is still a fairly attractive modem. The first thing we noticed was the size. Cable modems are very complex devices, but 4G technology has been developed primarily for use in cellphones. For that reason, it's extremely compact and efficient. This modem can fit comfortably in the palm of your hand. Although it's almost entirely black, there is a polished rim that rounds around the upper part of the housing. In between that and the center cap, there is a deep grove that is inlayed. This makes the cover have the appearance of floating above the core, making it an attractive looking device.
Other than the engraved "Netgear" logo, the only other thing you need to pay attention to is the large LED indicators on the front. The far-left side shows you that there is power, and the far-right side indicates that there is a network connection. In the center, five bars increase in size, and operate just like the signal bar on your cellphone.
On the back, you'll find two gigabit Ethernet ports. One of them is labelled WAN, and the other LAN. We'll explain the differences to these shortly. On either side, there is connection options for two antennas, which can be useful depending on how much signal strength you need. Finally, a power port and switch finish off the rear.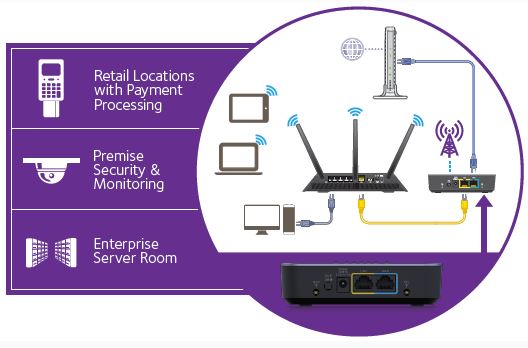 Compatibility
Although this modem is sold as "AT&T network ready," it's actually a fully unlocked device. In simple terms, it will work with any carrier in the North American market. That being said, there are some compatibility issues when you're working internationally.
To understand how this works, let's first take a look at the concept of LTE. LTE is a communication protocol. Just like FM radio, it can run on any number of frequencies. What frequencies are allowed to be used depends primarily on government regulation. You may have heard some news about wireless spectrum auctions. Companies pay millions of dollars to the government in exchange for the rights to use a certain frequency.
When you tune your FM radio to a different station, you'll see numbers like 89.9 and 94.4 scroll by. With LTE, frequencies are measured in Mhz. This modem can connect on the 1900, 1700, 850, and 700 Mhz frequencies. For compatibility with some carriers, it can also be tuned to the entire range of frequencies between 1930 and 1990 Mhz. This last one is called the B2 frequencies.
Wither you're using AT&T, T-Mobile, or any other carrier, you can be confident that this modem will work. But if you're using it internationally, you'll want to make sure that the frequencies are compatible. As long as you've got at least 2 matching frequencies, you should be fine.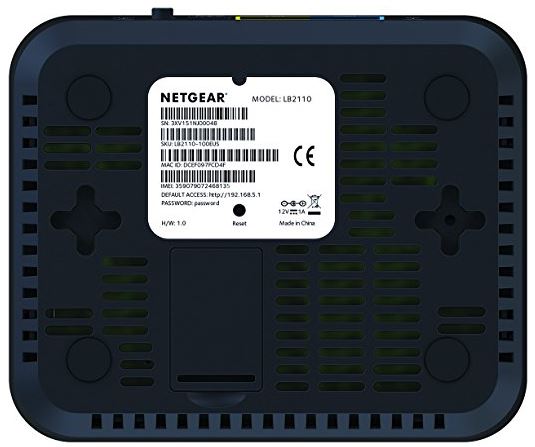 Performance
How fast can it go? For the most part, this will depend on your carrier. Before we get into that, let's first take a look at the maximum theoretical performance of the router. Believe it or not, LTE devices can vary in speed. 3G has it's specific speeds, and 4G has it's specifics. But hardware developers knew that if we kept counting up Gs, it would become too confusing for consumers. This modem is a category 4 LTE device, which is technically the 4th generation of LTE. Had we kept counting upwards, we'd now be on 8G.
This technology allows for a maximum download speed of 150 Mbps, and a maximum upload speed of 50 Mbps. Most modern carriers are using Category 4 LTE, but the bandwidth is usually capped below this limit. On T-Mobile, we're seeing 34Mbps down and about 17 Mbps up. This is actual transfer speed, not theoretical. If you live in a dense urban environment, you'll probably see higher speeds. But if you live in the sticks, it could be lower.
The nice thing about this technology is that it can evolve with the carriers. When speeds get faster, your modem will be able to support it.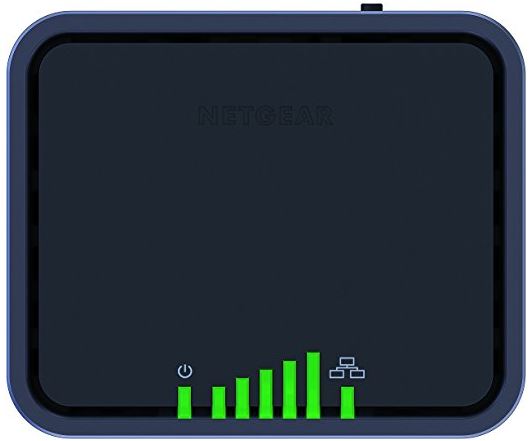 Networking Technology
If you want to use this device the easy way, all you have to do is plug your router into the LAN port on the back of this modem. Just like a cable modem, you'll then be able to use a wireless network in your home. You can also plug it directly into a laptop or desktop computer, and use it in the same way.
But there is also a WAN port on there. If you're the type to customize how your network works, this is the port you'll want to use. With a LAN port, the modem is acting like a middleman. It gives your computers they're own IP address through DHCP, and handles all communication. But with the WAN port, you get the IP address directly from the cellular towers.
With wired internet, the provider always gives each modem it's own specific IP address. With wireless, it's not that simple. Many mobile devices share an IP, and they use a technology called NAT (Network Address Translation) to decide who's who. It's a bit like when you share an apartment with roommates. You all get mail in the same box, but you divide it up after. With LAN mode, the modem handles NAT for you. In WAN, it's up to your router. Most routers support this, but it depends on the model you get.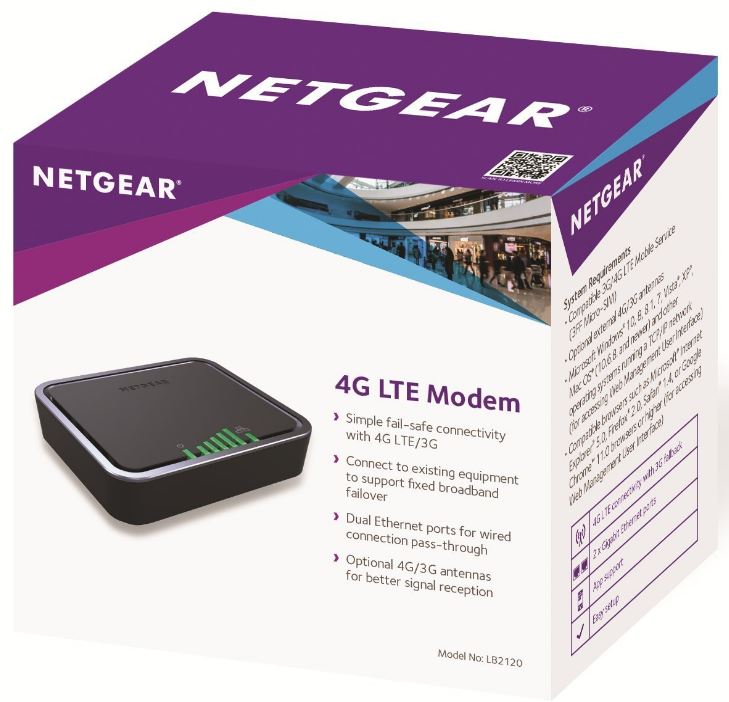 When you're using the modem for NAT, there are a number of other features you can use as well. You can manage ports, blocking or white listing them. You can choose to use IPV6, if you're on modern networks. There is a web based UI available, that allows you to easily set the settings as needed. But if you're looking for something simple, the default settings should work right out of the box.
Finally, this modem supports external antennas. There are two ports on the back. One is designed for 4G, and the other for 3G. They do this because there are small differences between the external antennas, so you can pick the one that works in your area. There is a built in antenna, and it's quite good. If your cellphone works, then the built in antenna will certainly work. But if you're in a rural area where service is flakey, an external antenna can help quite a bit.
Disadvantages
The only disadvantage we found was that there is no built in WiFi. With that in mind, this modem is still quite simple and easy to use. But as this technology grows, we'll likely see some combination devices in the future.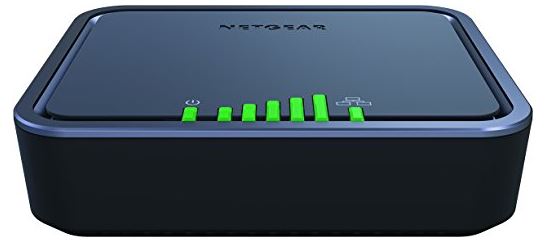 Final Verdict
Overall, the Netgear 4G LTE Modem (LB2120)is a high-performance choice that goes above and beyond our expectations. For some, things like 150 Mbps download speed and IPV6 will be overkill. But the fact that these are included make it a great investment. It's something you'll be able to have for a long time, as it's already future-proofed for the latest upcoming technologies.
On it's own, this modem works great for simple use. But there may be a few other things you require. If you don't have a router, consider the Netgear Nighthawk X10 Router. It's currently the best on the market, and is sure to allow you to get the most from your modem.
If cell service is spotty in your house, you might want to consider the Netgear 6000450 3G and 4G antenna. Although there are two ports on the back, this combination antenna is made by Netgear specifically for this application. There is a nice long cord, so you can mount the antenna where you like. Most uses see a 30 to 40% improvement in spotty areas.