During CES 2016, Sony's audio products saw a massive revamp with a wide range of exciting new releases. They unveiled some of the latest portable speakers and gaming headsets with generously improved sound quality to improve the overall listening experience.
One of Sony's most popular releases for the year is the "Extra Bass" lineup, featuring the kind of portable speakers that are becoming more common all over the place. The newest additions to the "Extra Bass" line are three exceptional speakers: the SRS-XB2, SRS-XB3 and GTK-XB7. Considering they're part of the "Extra Bass" lineup, you're probably wondering why Sony makes it difficult on you by giving them these hard-to-remember names. To put it briefly – the XB-2 and XB-3 are the best from the series.
Note: At no extra cost to you, we may earn a commission for purchases using our links. Learn more.

Baseline features include Bluetooth connectivity, NFC and incredibly high quality sound output. The SRS-XB3 is the most premium version from the group – it's so powerful that it even allows you to charge your smartphone while you're on the go. The battery life is impeccable compared to other speakers at 24 hours per a single charge. If you opt for the cheaper XB2 version, you'll get half the battery life. The XB3 is fully water resistant and available in three main colors: black, red and blue.
In terms of size, it's fairly wide at eight inches – it doesn't feel like the kind of speaker you'll be able to tuck away in your pocket and carry portably, although you could easily fit it in a backpack. Fortunately due to the fully sealed water-proof build, the SRS-XB3 is a perfect option for the beach, park, gym or for partying with a group of friends. But if you need music for times when you're trying to relax and spend time with family, it sets the mood right.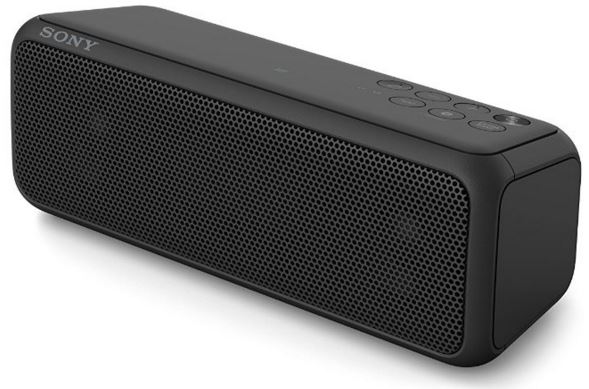 Excellent Connectivity
It goes without saying that portable speakers need optimal wireless connectivity – this is the SRS-XB3's strongest point. Bluetooth is a great way to connect wireless speakers efficiently while taking it easy on the battery life. It connects via Bluetooth 3.0, which isn't the latest version but it's more than enough to stream high-quality, great sounding music without any issues. The wireless range maxes out at 33 feet (10 meters) which isn't a super-impressive range, but it still offers plenty of mobility in most situations. It can instantly pairs using NFC (near field communication) and takes about one minute to get it playing your favorite music.
Adding to that, the SRS-XB3 doesn't restrict to wireless connectivity as there's a standard 3.5mm auxiliary port available to the side. To some, this is the more preferable option at home when you're relaxing and you know that you'll go further than the 33 feet distance the Bluetooth connection provides.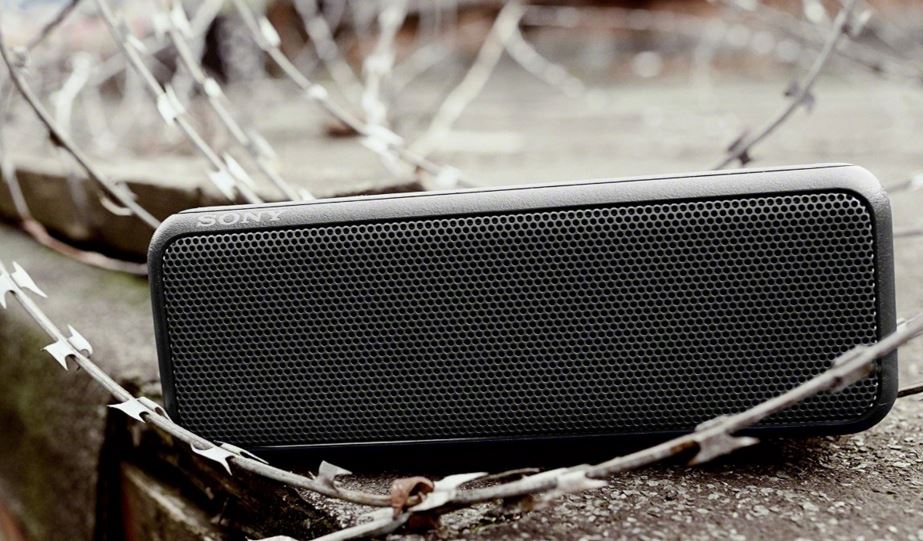 Fortunately it's fully compatible with the most popular Bluetooth devices like the iPhone, iPod, various tablets, Android phones, Windows Phones, Macs, etc. Basically, any device that has Bluetooth enabled will be able to easily communicate with it.
Where Can I Use the SRS-XB3?
Sony advertises it as a simple "bookshelf" category speaker, meaning you'll have to place it somewhere like your table or a comparable flat surface. In reality, it's very versatile and you can bring it along with you wherver you end up, whether you're barbequing outdoors, skating, hiking or enjoying a sunny day at the beach. It's a solid upgrade to any standard phone speakers, but at the same time, it's not a studio-grade speaker either.
Above-Average Battery Life
Generally speaking, a single charge on the SRS-XB3 will cover you for 24 hours of play time. This shouldn't go overlooked because the average for typical portable Bluetooth speakers is around 5-6 hours, providing four times the average. Given these facts, unless you end up listening to music all day, a single charge could hold you over for an entire weekend camping trip.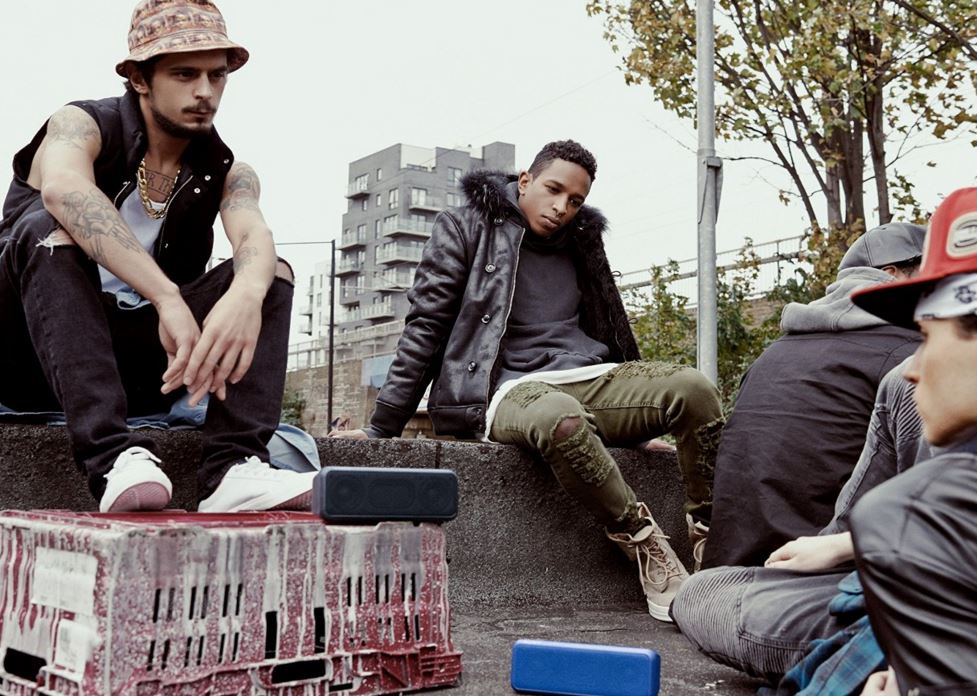 Small Size & Wide Sound
The most typical shortage among other portable speakers is a lack of amperage power (speaker-engine). The principle is – the more watts you have, the louder your speaker will be. Most speakers offer a decent sound even with a smaller wattage, but they're usually only satisfying if you don't have a whole group of people around. If you have a group of friends talking loudly and you still want the sound to penetrate, you'll need something a bit more powerful like the SRS-XB3. It's powered by a 30 watt amp that cuts through the noise and is way above the average amperage that most other portable speaker have.
Three Color Choices
Available in a variety of options, you're given the freedom to choose between three main colors – red, blue and black. It's nice to see that there aren't any crazy or obnoxious colors. The simple colors give it a simple, classy appearance.

What's Included?
Inside the package you'll find the SRS-XB3 speaker, an AC power adapter, a helpful instruction manual and information regarding the included warranty. Sony paid a lot of attention to the structure and integrity of the packaging in order to minimize potential shipping damage.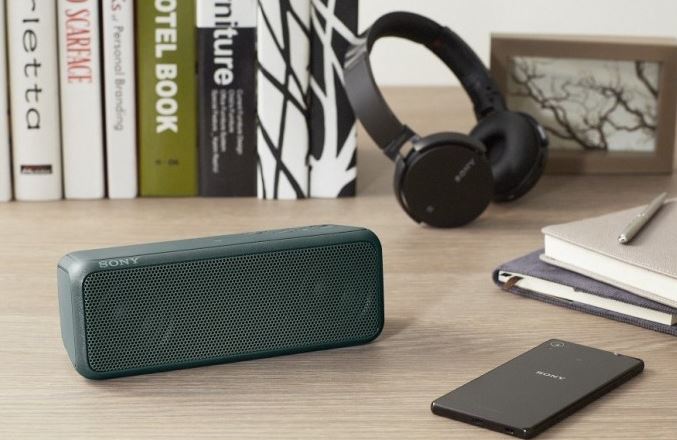 Final Thoughts
If you're wondering whether or not the Sony SRS-XB3 Bluetooth Speaker is worth it, the answer boils down to your individual needs. If you're looking for a portable speaker to play music for yourself only, you could probably do away with a simpler option. The SRS-XB3 is more on the upper-end of portable speakers as it was designed to provide a "group" feeling and is ideal for large hangouts.
The design is waterproof with a hefty amount of durability included. It sounds fantastic and features Extra Bass technology to make your music bump to the next level. All you have to do is press the "Extra Bass" button and instantly feel the difference. The bass is generally punchy but doesn't overshadow details from other frequencies. When you combine the impressive sound with an incredible battery life, it's a great option for anyone looking for great-sounding music, wherever you go.
Please consider sharing:
Note: At no extra cost to you, we may earn a commission for purchases using our links. Learn more.