There are many all-in-one printers on the market, with many companies and different manufacturers providing them. A major difference with HP, is that they can provide you with proprietary and third party support and features, as they do with the newly release PageWide Pro 447dw Multifunction Color Printer (D3Q20A).
This all-in-one printer, copier, scanner and fax machine is really a touch above many others. While the price tag is much higher than some, it more than makes up for this fact with great performance and high capacity capabilities and low maintenance – to help you save money in the long run.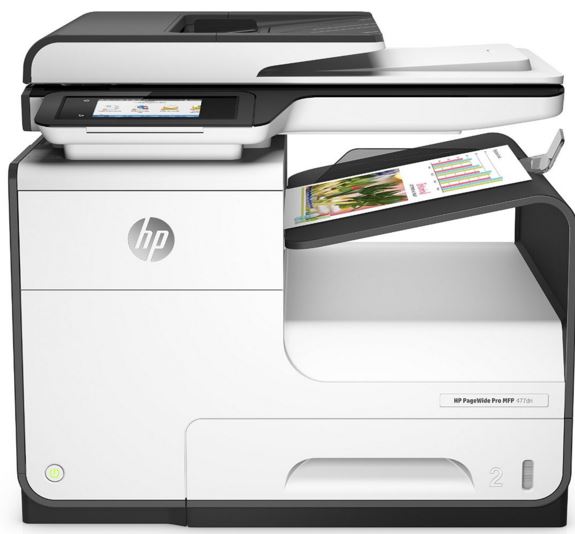 There are a long list of impressive features, but first we're going to cover the core capabilities, to see how it competes with typical all-in-one printers. Then, we'll point out the advanced features, and how they compare as well.
High Speed Printing Performance
When office tasks need to be completed, the last thing you want is a slow, unreliable printer gumming up the works. It means lower productivity from everyone who needs access to it, and big time expenses for large jobs.
The HP technology built into the PageWide Pro 447dw is designed to achieve the fastest speeds possible, with a highly economic design.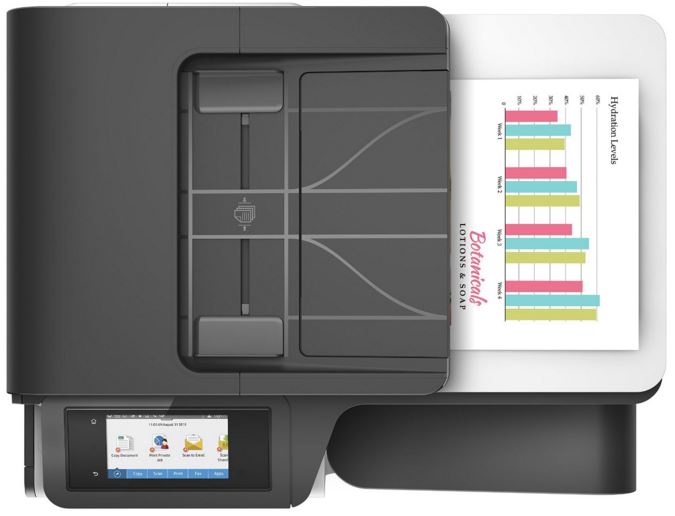 HP makes it clear that this all-in-one printer has the fastest MFP in its class. It's capable of scanning dual sided documents to the email and/or Cloud service of your choice, due to its LDAP functionality, as well.
The average print speeds for both black only and color printing is 40 ppm, which performs just as well as less expensive all-in-one monochrome printers.
From sending a print command, to when your first page is actually completed and the job is running is about 7 seconds, whether printing with black ink or color ink as well.
The PageWide Pro 447dw's Reliability
A low initial price means nothing, if your printer doesn't function the way you'd like, and decreases in value over time. HP has laid out a bunch of high-end features and statistics that make this printer a solid, reliable option after years of use.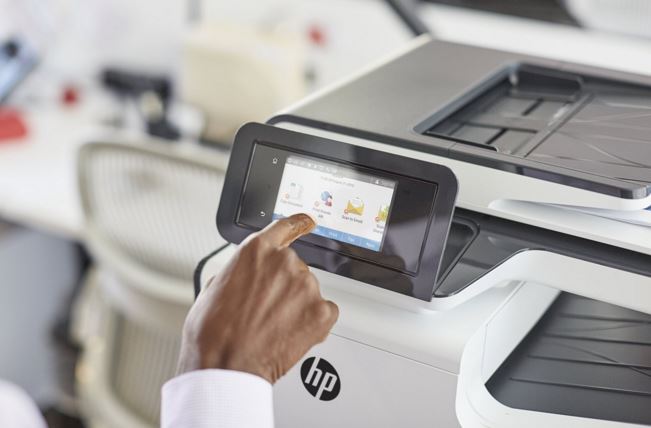 To begin with, the maximum amount of pages this printer is capable of producing is 50,000. For optimum performance, ease of maintenance and longest lifespan of this printer, HP's recommended monthly page volume is between 750 and 4500 pages.
The PageWide Pro 447dw has been tested to endure daily wear and tear, including water, smear, fade and highlighter damage to your printer.
They also offer extended warranties and support for your hardware. These packages range from basic remote assistance, all the way to one day and on-site support and hardware repair, based on your preference.
This offers a tremendous guarantee, with a lot of satisfaction behind such a large and long standing printer supply company.
Economy Printing Capabilities
Medium and large sized offices tend to have high requirements for not only getting printing, scanning, copying and fax jobs processed quickly, but also for getting many completed throughout a given month.
This leads to maintenance costs that consume both time and money. The PageWide Pro 447dw provides a solution where, the more you rely on it, the more you will be able to save overall.
First, the basic cartridge options allow you to print approximately 3,000 or more pages without requiring a placement, and the high yield options go all the way up to between 7,000 and 10,000 pages, depending on the color.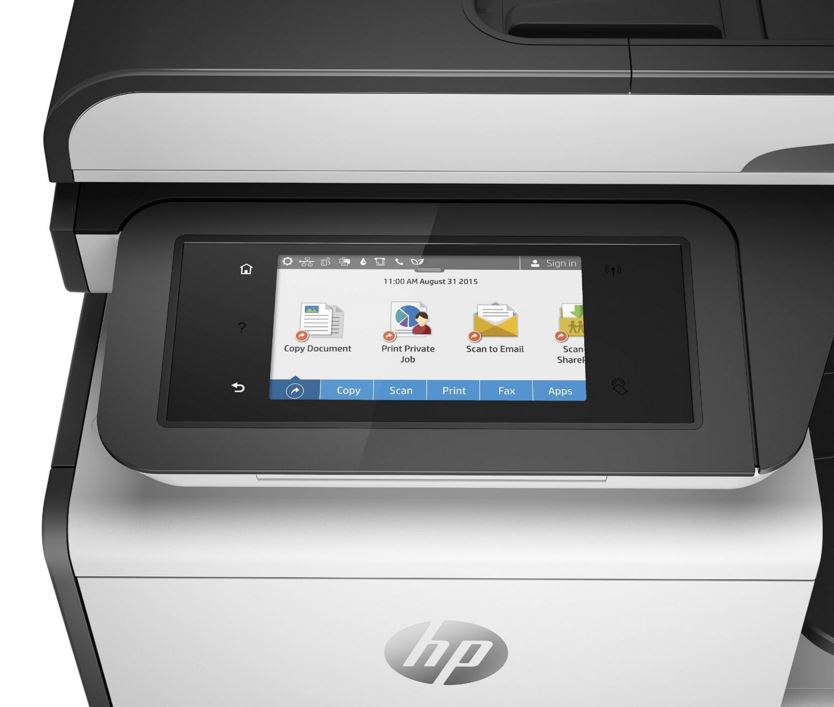 Next, it includes HP's PageWide Pro technology, which boasts lowest in class energy consumption and total cost of ownership. It allows you to schedule maintenance effortlessly as needed.
You can also create settings for the amount of color used for each print job, and further economize expenses, with HP Color Access Control.
For paper handling, each paper tray can carry 500 sheets, and multi-purpose trays can carry 50 sheets. There's also an optional 500 sheet paper tray slot, sold separately. The output bin is capable of printing and storing up to 300 sheets at a time, as well.
Provided Security Solutions
Each document and print, scan, copy and fax job processed by your printer can be vulnerable to security issues which must be addressed. One form in the wrong hands could cause months of unnecessary headache and overwhelm.
A basic feature for printing is a password PIN which you can set that'll determine who can collect finished print jobs.
Your documents will also be protected from password hacking and other vulnerabilities with software that ensures your printer is booted up securely, and that any code entered is valid.
HP also offers a third party management service called JetAdvantage, which will keep your printer safe through streamlined processes of office management.
4.3 Inch Color Touchscreen Display
Constantly having to navigate through complicated menus, especially on a tiny screen, can be somewhat of a bottleneck for the productivity of your office. When there's a mini crisis, where someone doesn't know how to access a particular function, it can be a big time waster.
The PageWide Pro 447dw's 4.3 inch touchscreen display is larger than the average touch screen, and allows for greater ease of use. For example, you can print modern Microsoft Word and PowerPoint documents directly from a USB device, with simple and fast controls.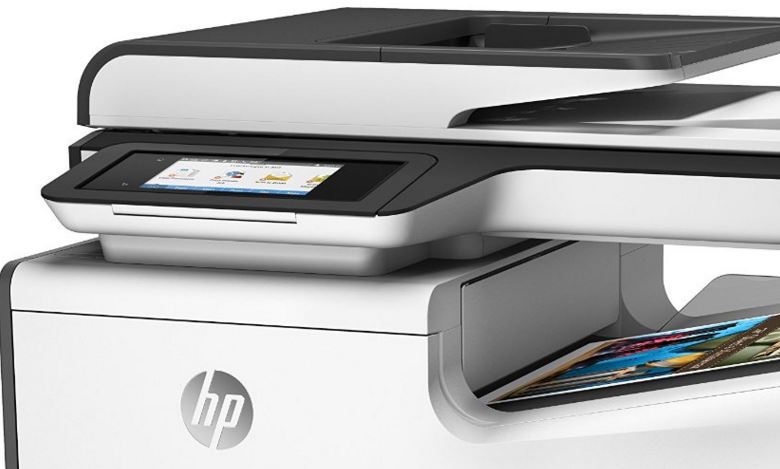 Advanced Features
This printer offers fast wireless and Ethernet speeds, with connectivity capabilities which work with a plethora of operating systems, including Mac, PC and mobile devices.
You can print via a mobile device, using HP ePrint, HP mobile applications, Google Cloud Print v2 and Apple AirPrint, among many other applications. It's also capable of printing at a professional level of quality color and paper choice.
Multitasking is also supported, which means that you can supply many different jobs at one time, and it's capable of managing each one without overwhelm.
The best print quality available for the PageWide Pro 447dw is up to 1200 x 1200 optimized dpi for black ink, and up to 2400 x 1200 optimized dpi for color ink, based on the type of paper you're using.
To further increase economy, there is an automatic dual printing feature, which allows you to print on both sides of a page, to decrease the cost of printing documents with multiple pages.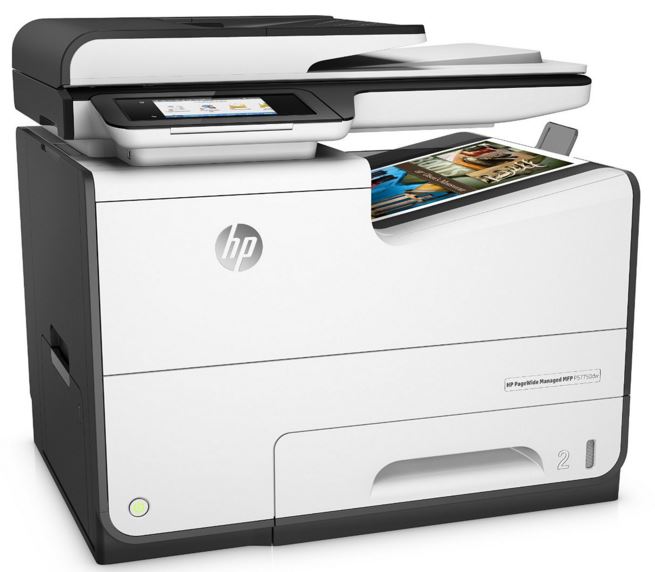 Conclusion
Many offices don't require a color printer, but the extra up front expense is thoroughly justified when you consider the high capacity printing the HP PageWide Pro 477dw Multifunction Color Printer (D3Q20A) is capable of.
With a super low total cost of ownership, the 40 ppm average print speed and versatile MFP is a worthwhile investment. HP also offers fantastic customer support and reliability guarantees that will secure your investment for years to come.
This all-in-one printer is well suited for office work. Each person can easily get the job done, with wireless, mobile, Ethernet and USB functionality that is compatible with an array of business software, and an intuitive color touchscreen display menu.
Security is provided for as well, with a PIN requirement for retrieving print jobs and safe connectivity with an entire office of devices.
Another advantage is high capacity cartridges, with options based on your office size. With streamlined maintenance and management software, the costs and distractions are kept to a minimum. Even energy consumption is accounted for, with lowest in class requirements.
This isn't the highest quality all-in-one printer available, but is fully capable of keeping up with any medium and most large sized office requirements.