This year Nikon really stepped up compared to releases from the past decade, releasing not one but a multitude of high-end cameras, as well as an entirely new "Coolpix" series. This is on top of a complete DL revamp. If you're on the fence about mid-range Nikon cameras with a decent output, the A900 has the most standout features from the new release – most notably 4K video recording, upgraded 20MP CMOS image sensor, 35x zoom and a 3″ screen.
Given its accessible price tag, one of the main advantages to the Nikon COOLPIX A900 is its 4K UHD video capture, a feature which isn't even common among high-end camcorders. Considering it's a small-size portable camera, this is quite an impressive feat, but it does cap out at 30fps. This might be a downside if you're used to shooting in 60fps and video is your main point of interest, but there's little notable difference between 30fps and 60fps to most users.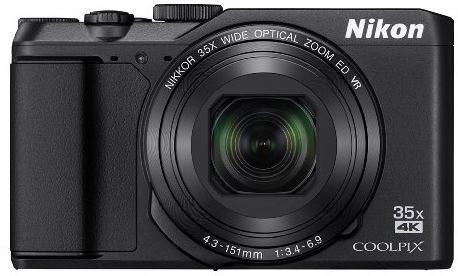 Should I Upgrade From The S9900?
If you're transitioning from the outdated predecessor model, the S9900, it's actually very similar in design and functionality. The A900 was designed to serve as a travel/portable camera and although the baseline features are similar to the S9900, most of the dedicated hardware saw upgrades. Granted the design is similar and to the naked eye they can appear indistinguishable, but there are differences in small details like the zoom – it can now zoom in up to 35x from the original 30x.
Nikon also replaced the old-school LCD with a 180-degree tilting display. The display is a regular TFT 3″, featuring the same resolution as its predecessor. The purpose for this camera is the same as the previous: to capture high quality, memorable videos and photos while you're on the go. The lens is large enough to capture everything from selfies to group photos with the landscape/cityscape in the background.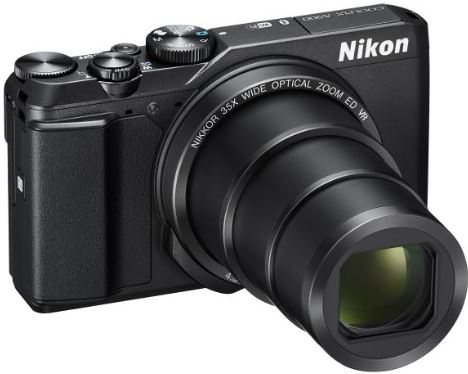 At the heart of the A900 is an updated image sensor which is responsible for producing vivid, high-resolution images. If you compare it to the S9900, the resolution was bumped from the old 16MP up to 20MP. In terms of design, it takes up roughly the same space as the S9900. For those who haven't used small cameras the likes of this one, their sensors are indeed very small. Also, the back end is illuminated in order to assist you when you're shooting in low light conditions.
The main difference between the two and the reason we recommend an upgrade is part due to the improved image quality, but most of all the upgrade in video resolution. You can now shoot in full 4K Ultra-High definition, shooting at either 24fps or 30fps with a built-in stereo microphone.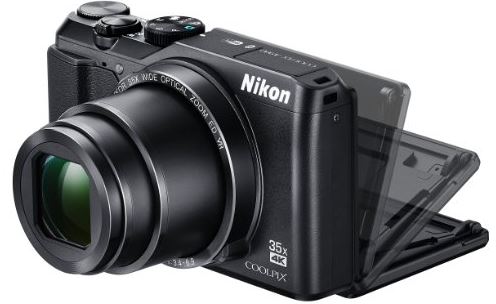 Nikon has always been strong on auto-focus. The auto-focus on the A900 will keep fast-moving subjects in check while the brand new 5-axis VR will naturally stabilize your video footage, even if you're on the run. If you're hiking along a dangerous route or some epic trail that you want to eternalize with video, the A900 is a perfect camera for that. There's no restrictions on shooting, although we noticed the battery dies out after an hour of 4K recording. There are small features in the OS that make shooting video even more fun. One of these is "Superlapse" – you can use it if you're recording a city in motion, or fast moving mediums like sports, cars, etc.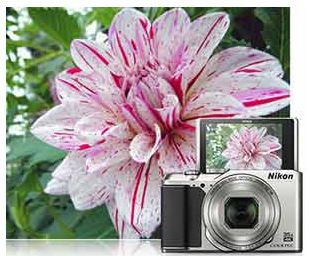 3″ LCD Screen
This little screen blows its predecessor out of the water, not only due to an improvement brightness adjustor but the tilting ability as well. You can now tilt it 180° to help you capture better 4K video, even when you're dealing with hard angles. There's also coating designed for anti-reflection that in turn helps you deal with bright environments.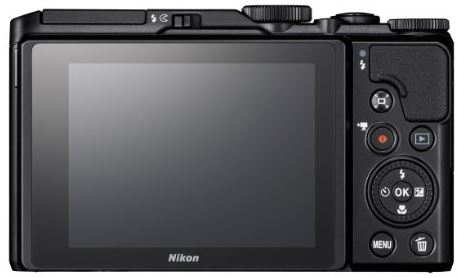 Full Manual Exposure Control
If you're a professional who works with higher-end DSLR's and need a B-camera you can interchange with your main workhorse camera, you won't be downgrading much in terms of practical features. For example, you can manually adjust settings like the shutter speed/aperture and a multitude of other adjustments in the opposite end of "automatic" mode.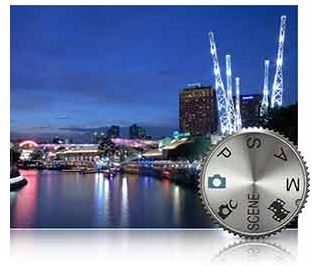 Exceptional Sensitivity/Shutter
An important feature among the "Coolpix" series is the ISO sensitivity adjuster – in this case downgraded to 3200 in manual mode. If you're relying on automatic mode, the available range stretches from 80 to 1600. This might confuse users upgrading from the S9900 because it used to cap out at 6400 ISO, but this is due to the new processor, the results you're getting are better despite the numerical difference. When you consider the compact size for the camera and the boundaries it pushes by shooting at such high resolutions, it's actually reasonable of Nikon to downsize the ISO it offers.
In terms of shutter speed, this will mostly depend on the mode you're shooting in as well as the ISO sensitivity. For instance, although the regular shutter is going to range from a second to 1/2000s, this is easily adjustable based on the shooting mode. If you have decent lighting conditions your ISO will likely be down to around 90, 150 or 200 and in that case you can dial it down to around 8 seconds. In times when you need to utilize the "burst" mode with the fastest possible shutter, it can go up to 1/4000s. In cases when you could use some longer exposure, you'll be able to shorten it down to around 20-30 seconds.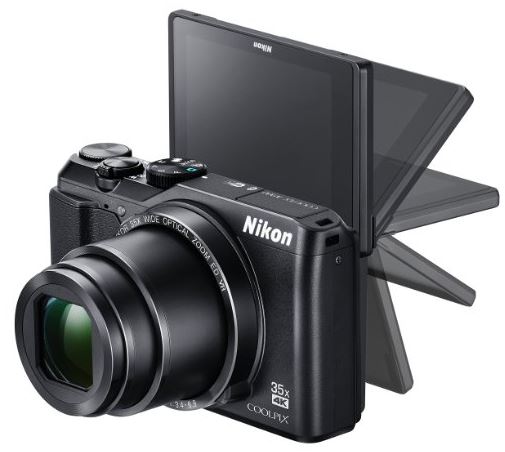 Built-In Flash
We don't recommend using flash if you're trying to produce detailed, natural looking photos, but when you have no other option at least you won't be forced to purchase an additional light source. The flash seems to do a fine job, but there haven't been any changes to it over the years – why fix it if nothing is broken, right?
Upgraded Connectivity
Connectivity for the smartphone standard is now becoming commonplace between Nikon releases, and the A900 is no exception. When you power it on for the first time it'll invite you to connect to your phone (using Bluetooth, Wi-Fi or NFC). From there, you can then install the SnapBridge app to instantly transfer photos between the camera and your phone. It can also connect to your social media accounts, make edits on the fly and even upload photos while you're on the move.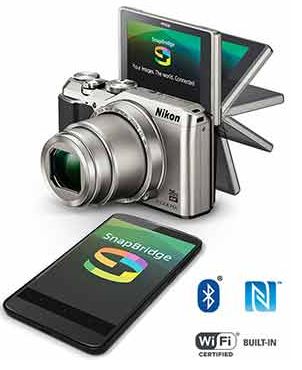 Downsides?
The main feature we noticed the A900 lacking in (compared to similar cameras) is its lack of touch-screen functionality. Nikon updated the display but left it lacking in such a base-level feature that seems to now becoming the new standard.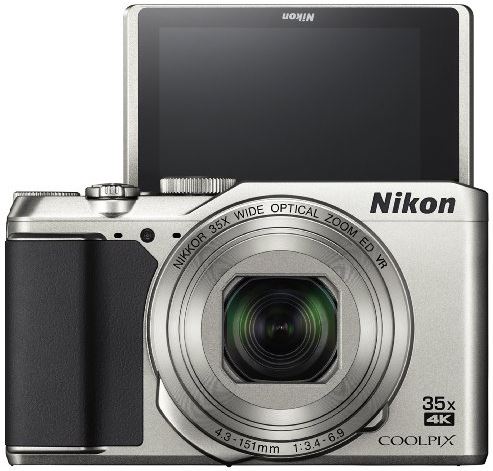 Final Thoughts & Summary
The new Nikon COOLPIX A900 Digital Camera is a leader among recent "Coolpix" releases and it should be your first option if you're trying to decide on a high-quality travel camera. As you can conclude by the photos and it's size, it feels very comfortable when you're holding it, plus it's packed full of features that are more or less similar between high-end DSLR's instead of competitor mid-range cameras.
It's small enough that you can fit it inside your pocket (or backpack), but features an upgraded NIKKOR glass lens, 20MP CMOS sensor and 4K UHD video shooting. Nikon also upgraded the display from its predecessor making it easier to shoot video from challenging angles. We can't recommend it enough for passionate travelers and first-time photographers who don't feel like yanking expensive DSLR's, but simultaneously won't settle for mediocre image quality.