Take a quick scroll through your Instagram feed. You'll likely notice that two specific things influence your feed more than any other photographic technology on the market.
What are these two things? The Kelvin filter and the Selfie stick.
But there is one key difference between these two technologies. People love the Kelvin filter. But they hate the selfie stick.
You can't even walk through times square anymore without having your personal space invaded by hundreds of these self-indulgent photo-poles, wielded by inattentive photo seekers hungry to crack triple-digit likes on their next social media submission.
Regardless what you feel about selfie sticks, there is one thing that you can't ignore. Photos look better when they appear to be candid. It's all about getting the right angle, and this is something that you just can't achieve with an outstretched arm. Rova has taken common drone technology and applied it into a system that lets you get all the benefits of a selfie stick, without having to annoy everyone around you. Let's take a look and see what this unique piece of hardware can do.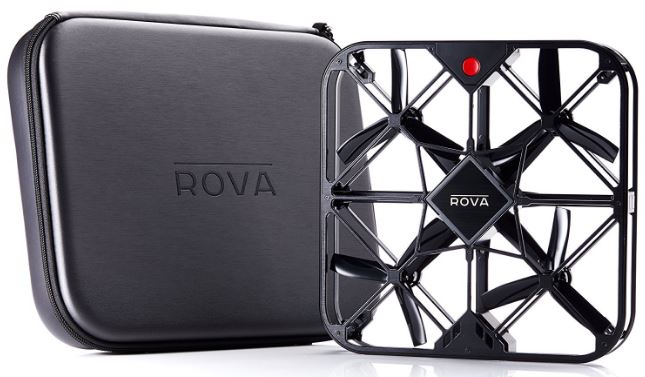 First Look
The Rova Flying Selfie is, at it's core, a drone. But unlike those high end models that need to be controlled by your cellphone, this one is fully automated. Just launch it, go about your day, and review the photos at a later date. It has the ability to shoot 1080p video, or capture photos on automated or scheduled intervals. If you're feeling really candid, you can hit a button on top of the Rova to send your photos directly to social media. Or, you can save them to your computer for further review.
What's In The Box
Unboxing the Rova feels a bit like unboxing any high end electronic device. It comes in a tidy high end box similar to the ones used on the newest Macbooks. Upon lifting the cardboard cover, you'll first see the Rova itself. It's a large quadcopter with an plastic enclosure that protects the blades on all four sides.Below that is a faux leather carrying case.This case is surprisingly plush, giving a bit of padded protection for the delicate electronic components. It's easy to open and close, and packs reasonably flat. This allows you to throw it in the trunk of your car or even in a backpack, so you don't have to worry about damaging the Flying Selfie.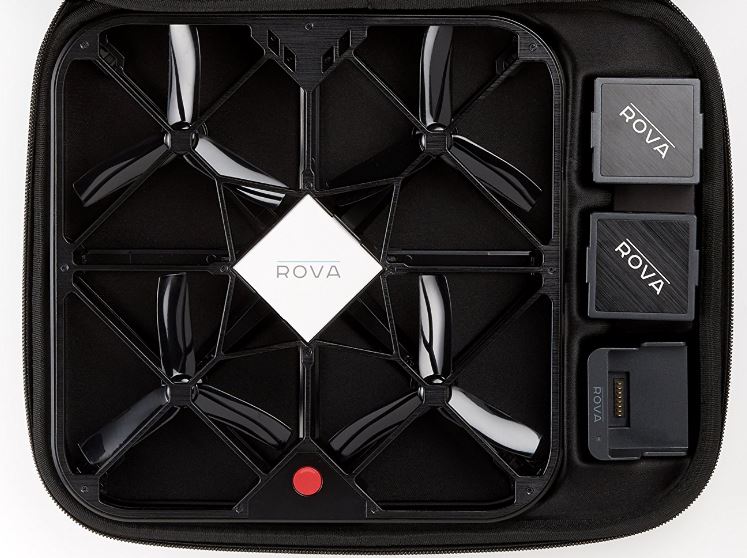 But the most impressive accessory isn't something unique. It's the 16GB SD card. These days, electronics manufacturers are working with slim margins, trying to save every dollar they can. For that reason, it's common for high end cameras or any other device that requires an SD card to require a separate purchase. The fact that it's included right in the box saves you an additional purchase, so you have everything you need to use it right out of the box.
Operation
How exactly does it work? If you've used a drone before, you might think that you know how to operate it. But the simplicity is almost striking.
All you have to do is place it on the ground, and push the big red button. The Rova will instantly spring to life, flying about 10 feet in the air. After a quick assessment of its environment, it will begin to position itself to start gathering shots. It will start back from a subject, slowly flying towards you. Once it gets close, it will fly up, rearrange itself, and focus on another subject. After the 8 minute photo session, it returns itself gently to the ground.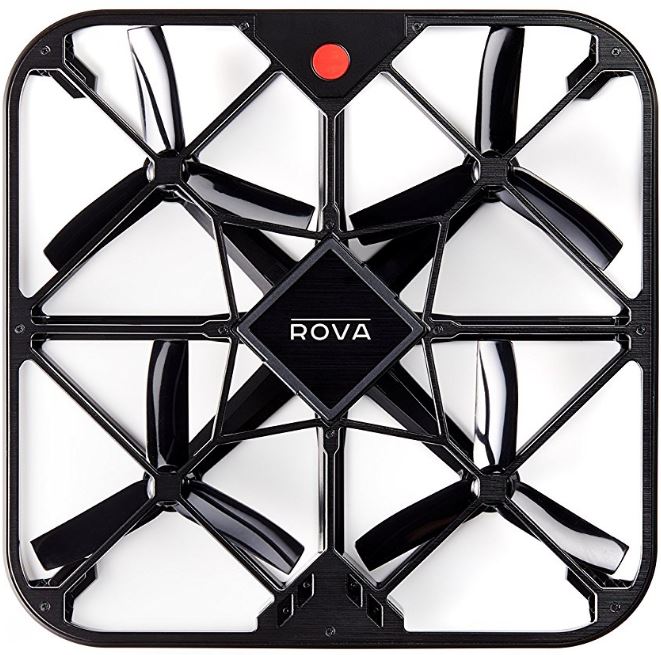 If you're looking to have some more control over your photo session, the Rova makes it easy to do so. Using the free app, you can set some controls as to how you want the Flying Selfie to work. For starters, you've got a variety of modes that help you choose how photos are taken. Personally, we preferred to have them snapped in automatic mode. The Rova has a pretty good idea of how images should be framed, and we found that they came out looking pretty good as is. But you can also have it work on a timed mode, where it takes a shot every few seconds.
But one of the most interesting features is the ability to take video. It can shoot in 1080p, recording smooth video for the entire duration of it's flight. When reviewing this video, you'll quickly realize that the way it approaches and retreats from the subject makes for a unique cinematic style video that is well beyond anything we'd be able to take with the common selfie stick.
The last step? Share your video! There are two ways you can do this. Personally, we like to throw the SD card in our computer to get some filter magic happening. But if you're feeling daring, just hit the red button again to share directly onto your social media profiles.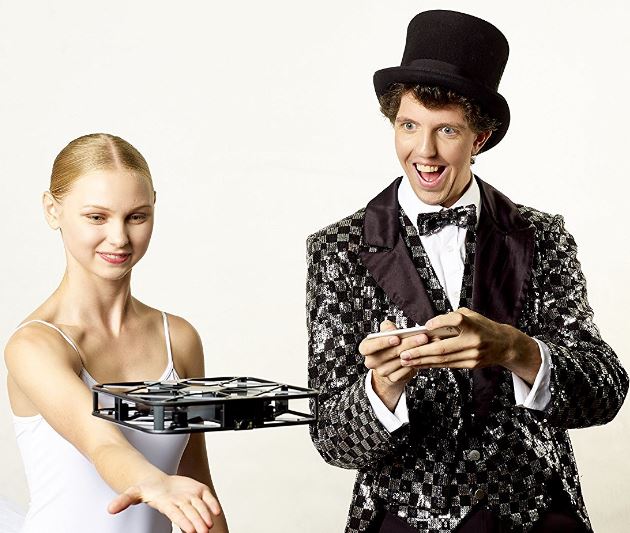 Image & Video Quality
One of the things we like about the Flying Selfie is that it has a fully featured camera integrated. You can check out almost any drone on the market. While they will shoot high quality HD video, (some even shoot 4k!) this just doesn't compare to a proper digital camera image. The built in image sensors capture still shots at 12 megapixels. This is enough to get prints made if you wanted.
This camera works best during daylight. In these conditions, the images are indistinguishable from those of a proper camera. At night, things do get a little grainy. With that in mind, it will definitely perform better than your cellphone
One of the nice things about the large 12MP images is that you can zoom or crop them without any loss of image quality. With most instagram-destined shots, what you see is what you get. But when you've got 12 megapixels of glory to work with, you can pinch-to-zoom until your singular beaming face has been cropped out from the awkward group shot you didn't want to share as-is. Without a doubt, the image quality is better than anything you'll get from other drones.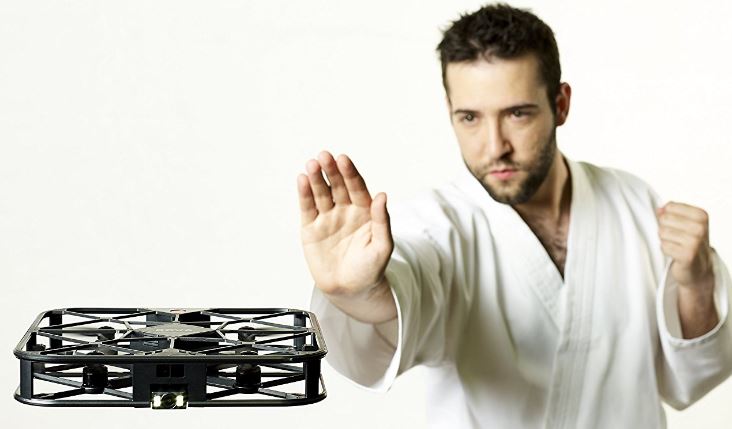 Functionality
There is one downside to modern drones – they're pretty power hungry. This isn't something you can let roam around for hours. It's more of a modern high-speed photo session. It comes with two batteries, allowing for a combined 18 minutes of flight time. To make the most of this, you should wait until you're ready to have photos taken. Hit the button, and for the next 9 minutes you'll get dozens of interesting shots taken.
Personally, we like to use the Flying Selfie sporadically. We leave the batteries on charge until something interesting happens. At that point, you slap the battery in and continue going about your day as if nothing special was going on.
It includes a sensor on each side that prevents it from crashing into anything. Not only does this make it incredibly safe, but it allows it to be a completely hands-off camera.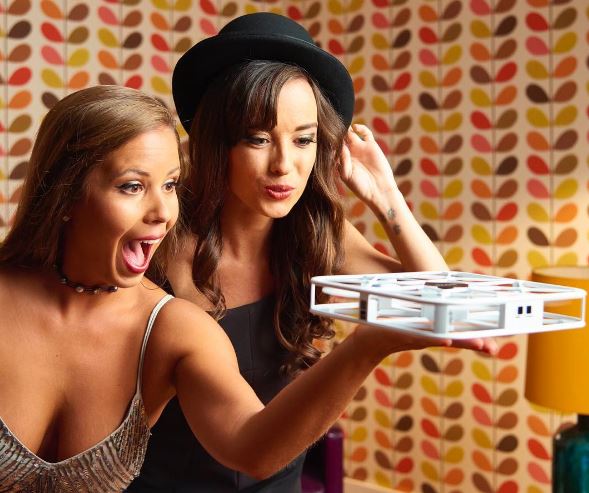 Disadvantages
The only thing that we would have liked to see with the Rova would be the ability to mount your own camera. The one that's included is still pretty good, but many people have purchased their own action cams like the GoPro, and the ability to use a high end camera would be an asset.
Final Verdict
Overall, the Rova Flying Selfie Drone is a great way to capture truly candid images of yourself without having to use a selfie stick. What we like the most is the honesty of it. It's one thing to take a photo of yourself, but entirely another thing to create staged images under the guise of being candid. With the Rova, you're essentially having an electronic photographer available 24 hours per day, 7 days a week.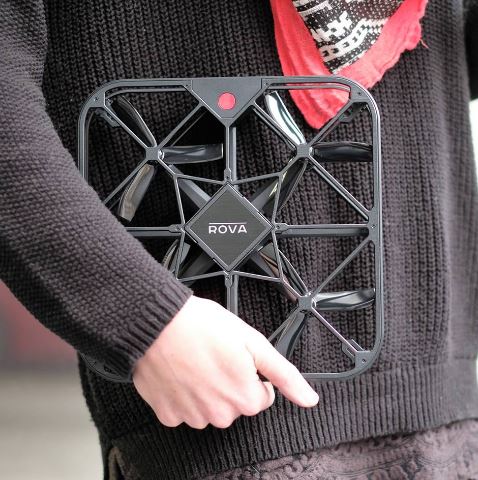 While the platform is similar to common drones, the built-in artistic programming allows it to create some truly stunning shots. There is very little doubt in our mind that any photos we took ourselves wouldn't be anywhere near as interesting as the ones captured by the Rova.
Is it worth the money? At first, it might seem a little expensive. But when you consider all of the high quality hardware in place, it's pretty obvious to us that the Rova is a well made unit that didn't cheap out on any of the important components. It might not be for everyone, but it's clear to us that the Rova represents a creative application of modern technology.
Meet Derek, "TechGuru," a 34-year-old technology enthusiast with a deep passion for tech innovations. With extensive experience, he specializes in gaming hardware and software, and has expertise in gadgets, custom PCs, and audio.
Besides writing about tech and reviewing new products, Derek enjoys traveling, hiking, and photography. Committed to keeping up with the latest industry trends, he aims to guide readers in making informed tech decisions.