With so many competing Bluetooth speakers on the market, it can be challenging to find the one that best suits your needs. For us, audio equipment has always been one of our favorite things to review. Manufacturers have been working hard to find ways to separate themselves from the crowd. Unfortunately, we've noticed that Bluetooth speakers seem to have hit a bit of a plateau. The latest generation products seem to be stuck in a cycle of boosting the bass, slapping it in a cool looking case, and calling it revolutionary.
It's been a while since we've come across something that offers truly unique functionality. Sure, there are lots of ways to improve on a Bluetooth speaker, but there aren't many features that can truly change the way you enjoy your music.
Sony is one of the most well-respected brands in the audiosphere, and they've consistently been our go-to when we're looking for tried and true products. But there SRS-XB40 isn't just another Bluetooth speaker. It's got some unique features that are designed not just to let you hear your music, but to experience it.
As we all know, marketing can only go so far. There is a lot of hype surrounding the SRS-XB40s, but we had the opportunity to go hands-on and see how this unique Bluetooth speaker performs in the real world.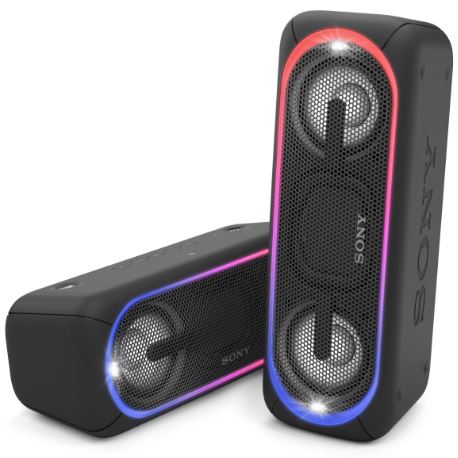 First Look
The SRS XB40 is the latest addition to Sony's XB line, which stands for eXtra Bass. The XB40 is the big brother to Sony's baby brother, the single-speaker XB10. But when you compare the features, the XB40 is the clear winner. It comes in an incredibly stylish case, which is both durable and portable. But the real power of the speaker comes from the app. This app allows you to pair multiple speakers to a single output, so you can quickly convert a couple speakers into a whole-home stereo system.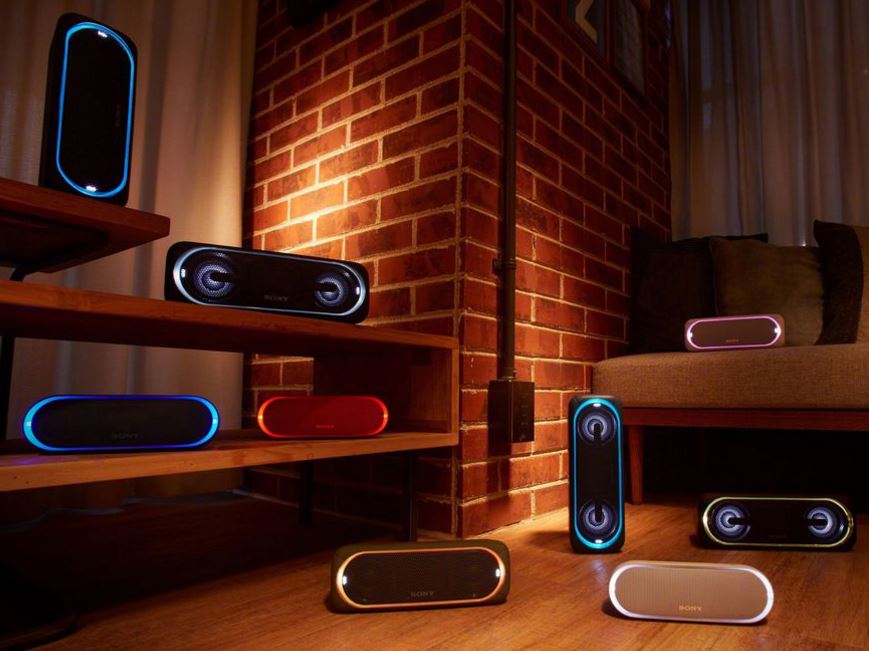 Design
The XB40 is a bit like Jekyll and Hyde. During the day, it's a stylish Bluetooth speaker that strikes a fine balance between durability and visual appeal. But at night, it's transformed into a lightshow in a box.
Before we get into too much detail, it's important to understand how the LED lighting works with the physical appearance of the speaker. All versions come with a rubberized coating on the exterior, and a smooth metal grill on the front. But that's where the differences end. The external housing is available in red, blue, white, green, and black. Each color option is bright and stylish, so there is sure to be something in there for everyone.
Now, the LED band that surrounds the speakers contains RGB LEDs. This means that they can adjust the intensity of each LED to create thousands of different colors. But the speakers come pre-programmed with a color scheme that matches the color of speaker you choose. This is incredibly striking, making it one of the more attractive Bluetooth speakers on the market.
There are also two additional LEDs located directly over top of the speaker cones themselves. This illuminates the speaker, highlighting their curves. The effect is far from subtle, and one of the most visually appealing parts of this platform.
All of this combines to create a lighting system that is far from simple. If you're just using the speaker on it's own, the large LEDs will fade and breathe while the LEDs above the speakers will pulse in tune with the music. But when you fire up the app, you're given the ability to create your own custom light show however you like. You can set specific colors, choose how response the lights are to the music, and assign specific designs to specific parts of the speaker. Even if you only have one, the customizability options make this a portable EDM party in a box.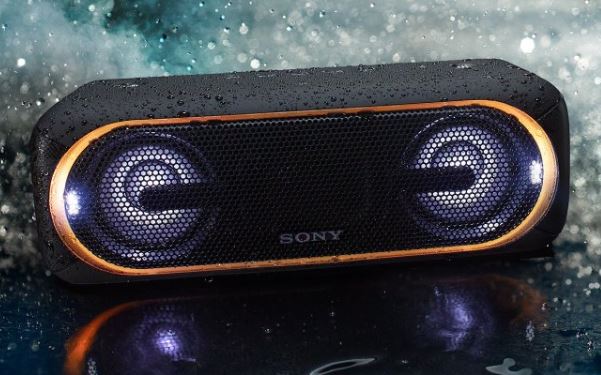 Connectivity
These speakers use Bluetooth 4.1 EDR. This allows for lossless audio, streamed with virtually no loss from your phone. If you need a backup, you can always connect to the speaker through the 3.5mm audio jack. Personally, we don't feel it necessary to be physically tethered to our speakers anymore. But this is a good option for anyone using older devices that doesn't support lossless audio over Bluetooth.
The above two options are pretty standard. Where the XB40 impressed us is the additional functionality added through the mobile app. What the app does is allow you to daisy chain speakers together. You can connect up to 10 speakers at the same time, creating a whole-home stereo system.
There are a few reasons why this is important. First, it allows you to upgrade to a stereo setup. Despite the dual drivers, this is a Mono speaker. It's very rare to find a truly stereo Bluetooth speaker. But when you pair two of them together, the app automatically sends the left channel audio to one, and the right channel audio to another.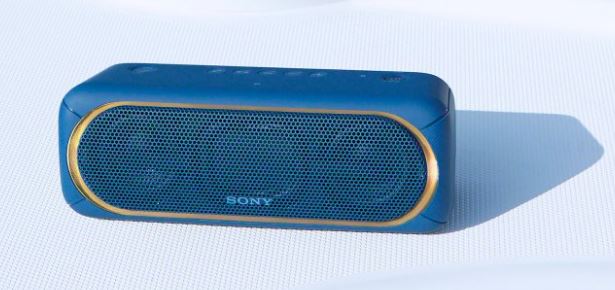 Adding additional speakers to the system is easy to do. Just tap the large plus icon in the corner, wait a moment while the app searches for all available Bluetooth speakers, and allows you to quickly add them.
This is much simpler because the app doesn't require that the speaker be in pairing mode. If it's nearby, it can be paired. This is great for parties, as all your friends can bring their speakers and fill the house with music.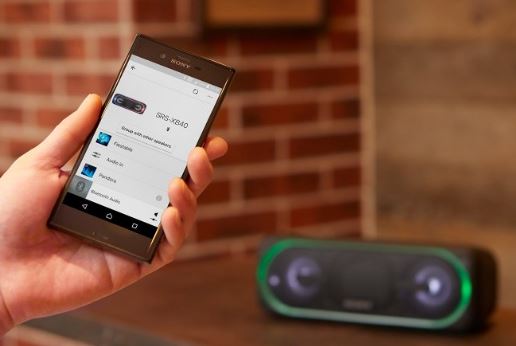 Sound Quality
As the XB line implies, the speakers are very bassy. We haven't been this impressed with the output from a speaker since we first tried out the Bose Color Soundlink. Even though it's a fraction of the size of other Bluetooth speakers, the sound seems as if it's coming from a speaker many times its size.
One of the reasons it's so 'bass-intensive' is the inclusion of a passive radiator. From the front, you'll see what looks to be a third squared-off speaker in the center. It's actually not hooked up to anything, but moves the same way as a standard speaker cone. This allows the drivers to have more movement than a standard speaker, as the passive radiator allows for air to move within the enclosure, creating a deep powerful sound.
Fortunately, Sony didn't just focus on the bass. Sound is still very clear, undistorted, and harmonic. The sound didn't blow us away, so if you're looking for the best of the best you'll have to get a full size speaker. But it's as good as any Bluetooth speaker we've heard before.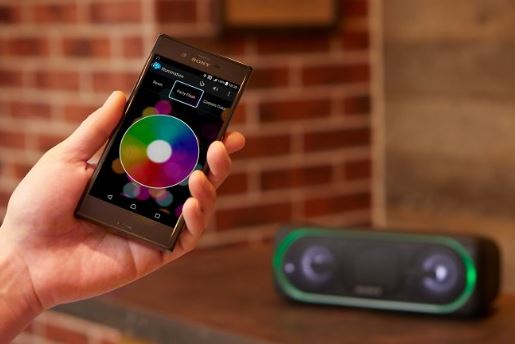 Durability
Having a speaker that is portable enough to take anywhere is only useful if you can use it anywhere. Worrying about damaging you brand new purchase is a good reason to leave your speaker at home, but another option is to buy a speaker that you don't have to worry about. The XB40 is one of these speakers. The external housing is protected with a rubbery material. It feels quite firm to the touch, but is actually capable of withstanding quite a lot of impact.
By absorbing the immediate forces and distributing them across the case, the delicate internal components are protected. You also don't have to worry about the speaker cones themselves, as the metal grill protects those quite nicely. But the most important feature is the water resistance. Although you can't fully submerge these speakers, they can handle a little splash, or some unexpected rain.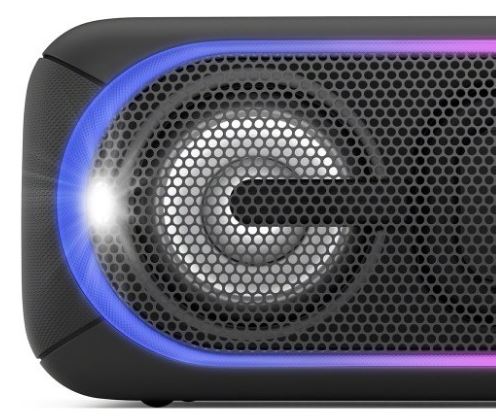 Disadvantages
One of our favorite features is the fact that the app allows you to pair multiple speakers together to create a whole-home music system. Unfortunately, this feature only works with the Sony XB series speakers. If you've got friends bringing over another type, they aren't able to join in. The XB40 is still a very new speaker, so not many people have it. For now, we'd recommend that you only bank on being able to use as many speakers as you can buy. If you like the idea of having all of your friends speakers tethered together, you'll have to make sure they buy a compatible model.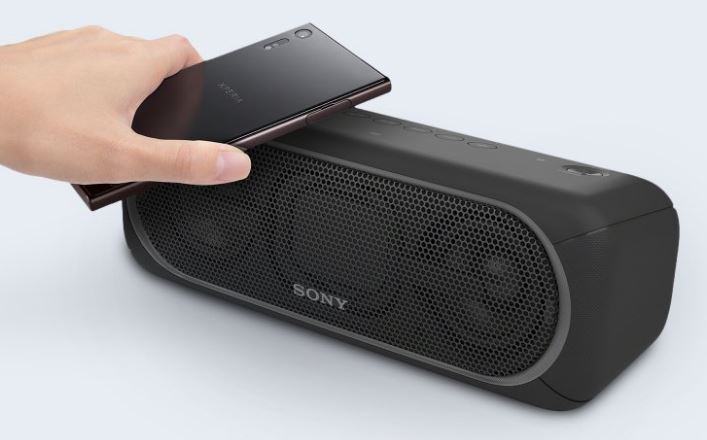 Final Verdict
Sony really hit it out of the park with the XB40. We've been using stereo sound since the 1960s, so it's surprising that it's taken so long for a company to create an easy way to get a stereo speaker system. While they were at it, they made sure that you weren't restricted to just two speakers. Even though just a single unit sounds almost as good as a full size speaker, it's extremely easy to build yourself a full size sound system just by connecting these speakers together.
Even though this is the main selling feature, Sony didn't skimp out in any other areas. It's very durable, has a nice long battery life, and is fully compatible with the latest audio standards. For now, this is our first choice for a mid-range Bluetooth speaker.
If you're looking for something a little more affordable, you might want to check out the small but mighty SoundPEATS P2. If you've got money to burn and want to get the best sound quality possible, the Beoplay M5 would be the next logical step up. But for most consumers, we think that the Sony XB40 is a great option.